Become a Part of the Sturgis Buffalo Chip's® Showcase Experience
Band Submission Opportunities
If you've made it here, it might be because you've heard there's no experience in the world quite like performing at the Largest Music Festival in Motorcycling®. Well, guess what? You heard right!
The Sturgis Buffalo Chip has become the icon of music and motorcycle lifestyle, and for over 40 years it's helped bands like yours connect with fans from around the globe. We're thrilled to foster a community of emerging artists to give you the opportunity to perform in front of one of the most unique crowds of your career.
Interested in becoming part of the Sturgis Buffalo Chip's Showcase Music Experience? Here's how to get a gig.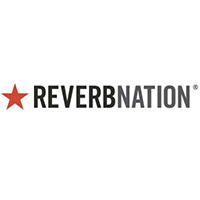 ReverbNation Opportunity
Closes 5/20/23
ReverbNation is the preferred submission platform for bands wanting to perform at the Sturgis Buffalo Chip's annual motorcycle and music festival. Each year The Chip works closely with ReverbNation's team to hand-select bands to fill the lineup. Find out more about how the ReverbNation opportunity works in the FAQ below.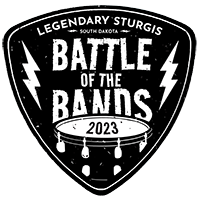 Sturgis Area Chamber of Commerce Battle of the Bands Opportunity
Closes 5/20/23
Enter this competition for the once-in-a-lifetime opportunity to kick off the festivities at the Chip and open for ZZ Top on Aug. 4, 2023 during the Sturgis Buffalo Chip's Official Sturgis Rally Kickoff. This brand-new competition culminates with a one-day, live Battle of the Bands on June 3, 2023 at Harley-Davidson Square in downtown Sturgis, SD. In addition to the slot on the Chip's legendary Wolfman Jack Main Stage, the winning band will receive a substantial cash prize, a professional photo shoot, studio time, radio play and more!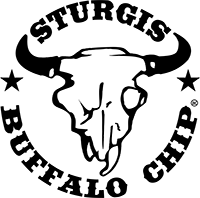 Direct Submissions
Closes 6/30/23
Submit an electronic press kit to [email protected]. If performance slots are available and you or your band are the right fit for the festival, a staff member will contact you. Each year the Buffalo Chip receives thousands of inquiries from emerging artists who dream of performing at the Best Party Anywhere. Due to the sheer volume of artist inquiries, please DO NOT send traditional paper/hard copy press kits or contact via telephone.
Want to know more about performing at the Sturgis Buffalo Chip? Check out these FAQs!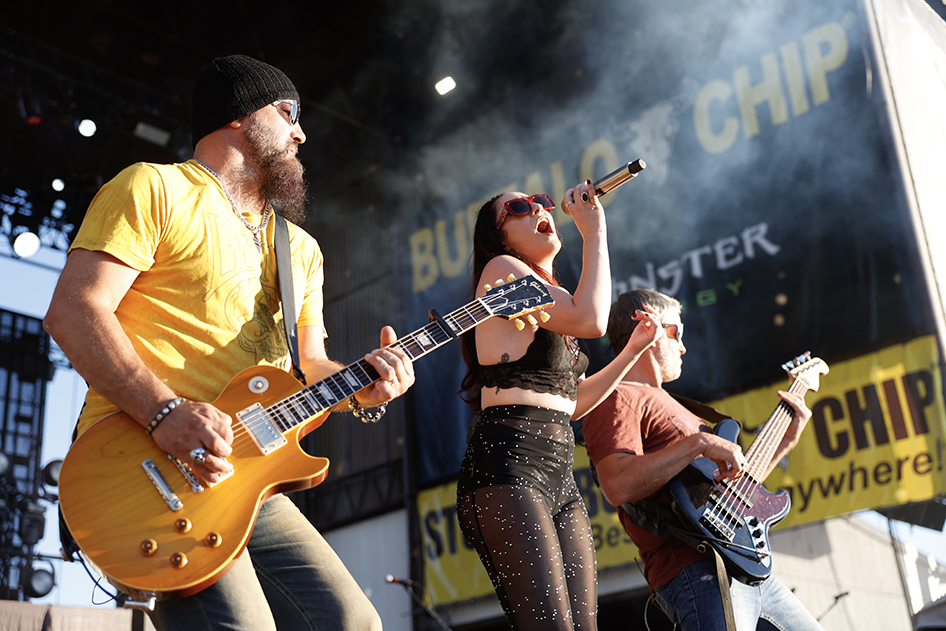 How does the ReverbNation opportunity work?
Artists must have or create a ReverbNation artist profile as well as have a basic level account in order to submit to the gig opportunity.
You may sign up for a free basic level trial account if you have not previously used your free trial. If you have previously used your free trial, you'll need to sign up for the month in order to see and submit to the opportunity.
How big is Sturgis Buffalo Chip?
The Buffalo Chip is home to The Largest Music Festival in Motorcycling®. Our venue is located three miles east of Sturgis, SD, and our nine-day annual festival coincides with the Sturgis motorcycle rally.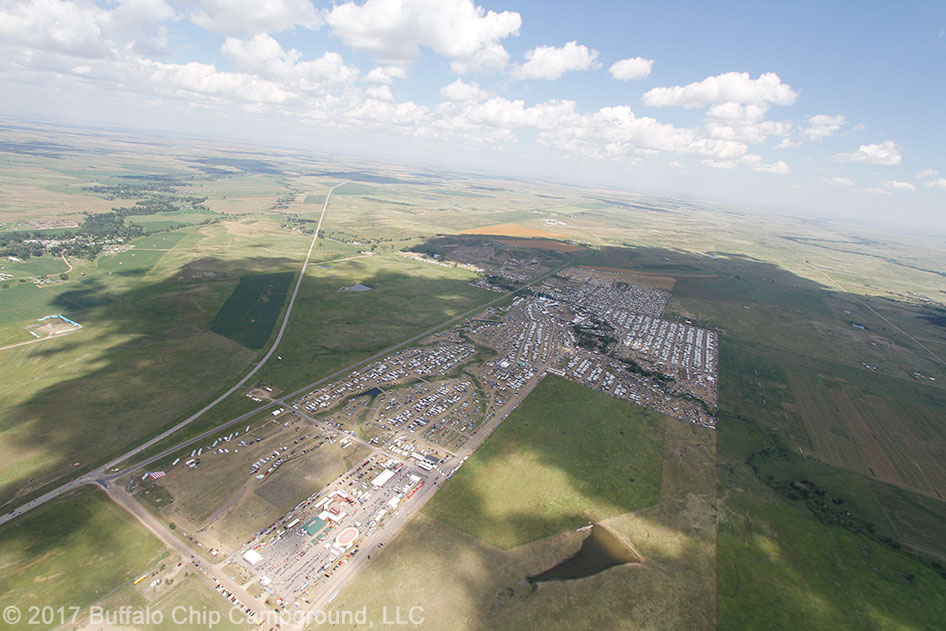 The Chip's physical size is over 600 acres, which includes the campground, a swimming hole, over 25 bars, an award-winning PowerSports Complex, the free-access CrossRoads destination, a large natural outdoor amphitheater and multiple stages.
What was the attendance at the Sturgis Buffalo Chip last year?
Attendance figures are proprietary information, and we simply do not give them out. The government estimates the Sturgis Motorcycle Rally attendance ranges from 440,000 to 739,000. The Buffalo Chip is recognized as the rally's centerpiece, and therefore a large percentage of rally attendees make it through our gates.
Thanks to the huge media presence, multiple television shows and positive word of mouth, The Best Party Anywhere® has become known the world over and welcomed millions of fans over the last 41 years.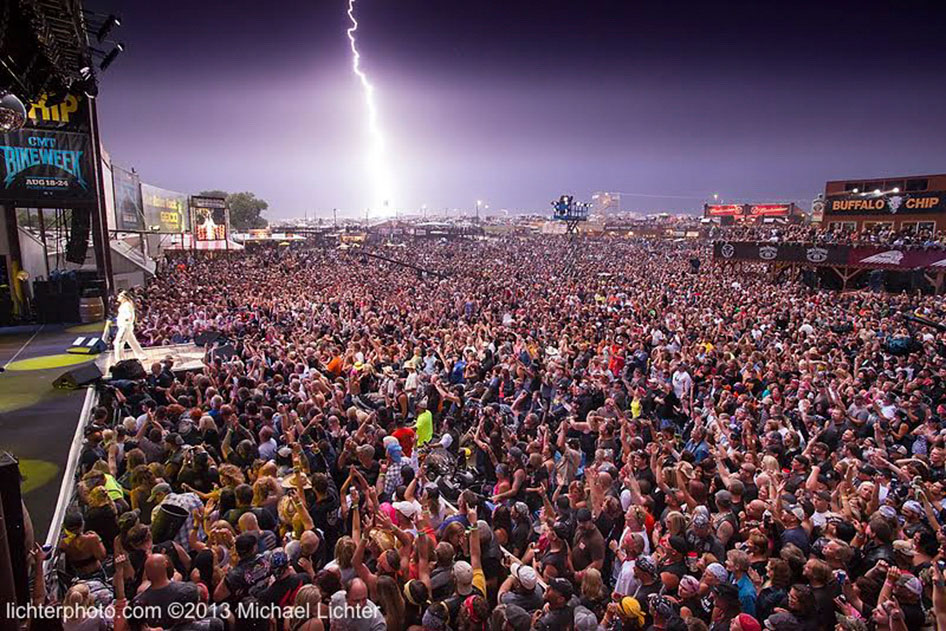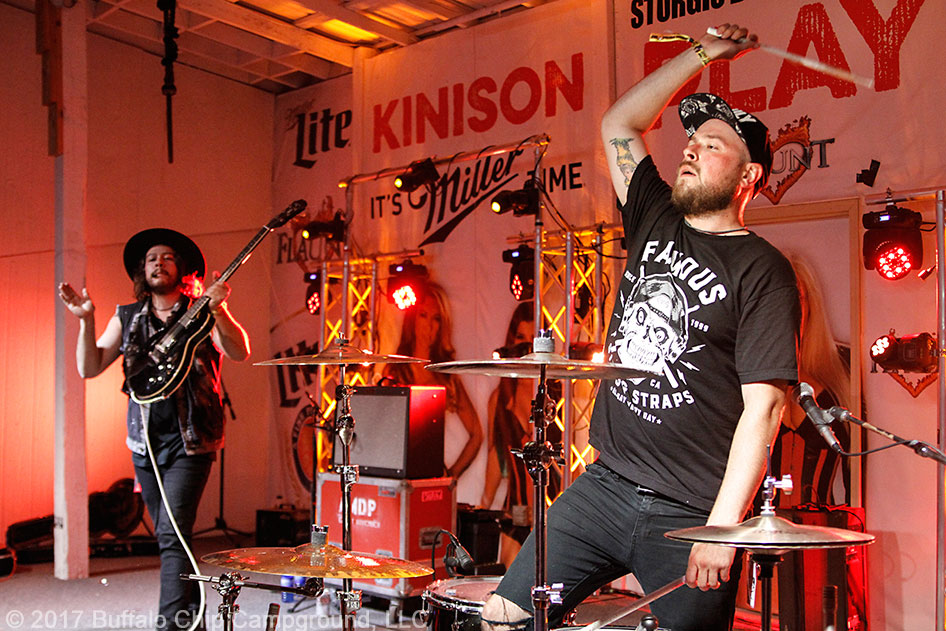 What should showcase bands expect for performance attendance?
Showcase stages audience numbers vary, it truly depends on the day, time, headliner and, most importantly, the weather. This is an outdoor music festival, and South Dakota weather can be very unpredictable.
Sometimes people will be out in front dancing, sometimes banging their heads, sometimes the artists' music will be ambient. There is no guarantee how the audience will react to an artist, how many people will be standing out front of the stage, or which stage will be popular on any particular date.
Your content goes here. Edit or remove this text inline or in the module Content settings. You can also style every aspect of this content in the module Design settings and even apply custom CSS to this text in the module Advanced settings.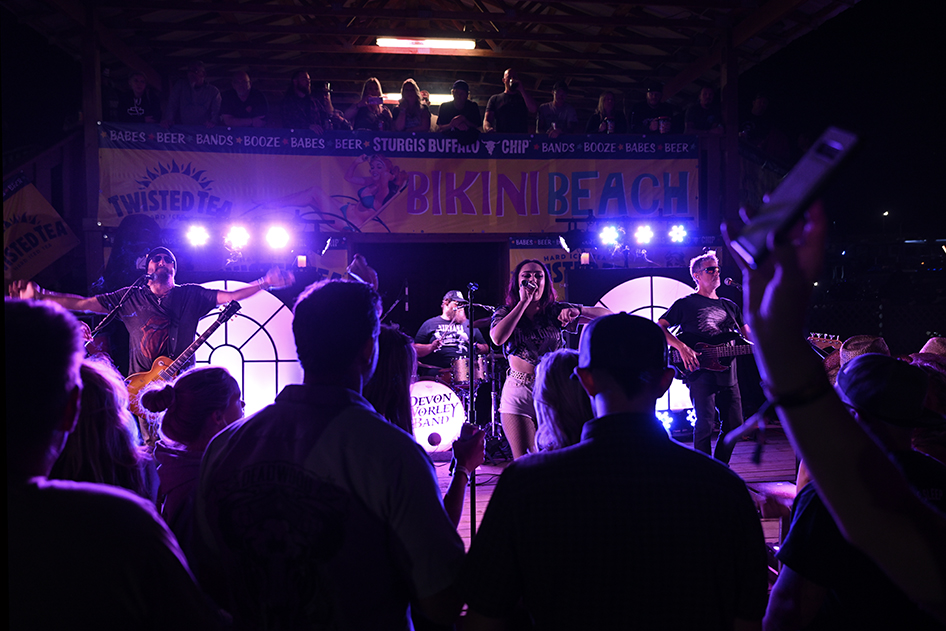 Typically, the festival gains momentum throughout the week, and guests who stay for the duration get to know who their favorite showcase bands are, and where and when they are playing.
How many shows do bands perform, and how long are the sets?
The answers vary depending on artist and circumstance. Sets are generally 60 – 90 minutes, sometimes shorter or longer depending on the need and artist capabilities.
Some showcase bands perform for one or two nights, and many showcase artists dedicate 5-9 days to performing the festival, depending on how the schedule can be arranged. Artists find that longer lengths of stay provide the highest benefit and level of exposure, because this allows guests to familiarize themselves with the performances, tell their friends and learn where to find the band throughout the week.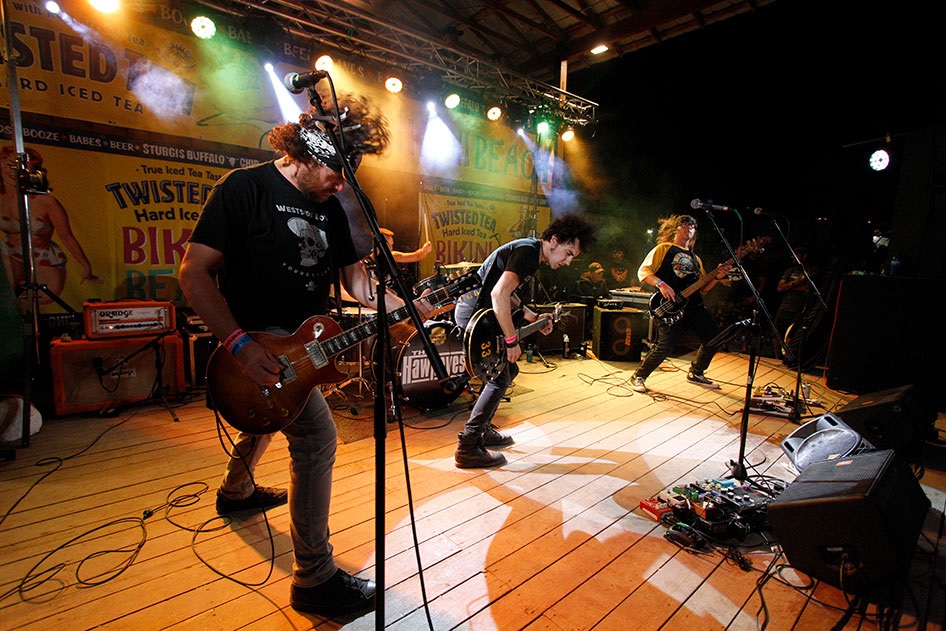 How are showcase artists booked through ReverbNation promoted at the Chip?
Festival Promotion:
Promotional photo, short bio and set time(s) featured on the highly trafficked BuffaloChip.com website
Name mention, location and set time(s) included on the comprehensive Buffalo Chip online event & entertainment schedule
Billing alongside headliners on the official show Facebook event
Billing alongside headliners in Official 2023 Full Band Lineup Announcement video
Inclusion on limited edition commemorative festival poster alongside headliners
Artist promo photo or mention and/or blog or video content shared in band-specific post on Buffalo Chip Facebook, Twitter and Instagram channels including band @mention
Onsite Promotion:
Possible broadcast of one song during performance on the Sturgis Buffalo Chip YouTube Channel (Like this one.)
Name mention, location and set time(s) included in daily itineraries sent out to tens of thousands of Buffalo Chip email subscribers
Name mention, location and set time(s) printed on comprehensive entertainment schedules posted throughout the grounds
Banner space at showcase performance locations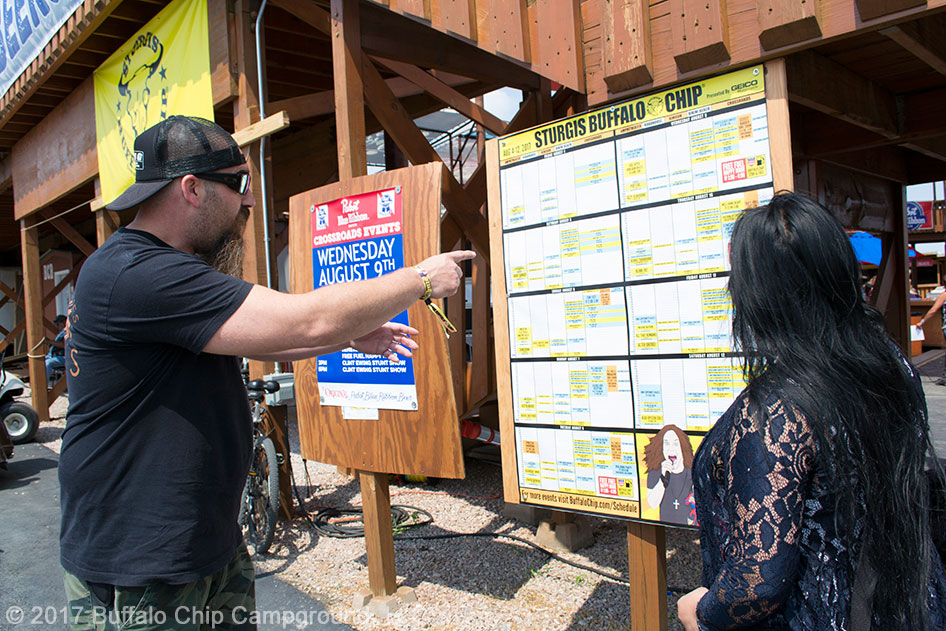 NOTE: We encourage artists like you to produce your own promo materials to distribute throughout the campground, Sturgis and the Black Hills region and digitally, both during and leading up to the event. Common examples include artist flyers, handbills, press releases and digital outreach.
Media outlets from around the world come to the Sturgis Buffalo Chip each year to cover the festival experience. Look for opportunities to promote yourself through interviews and broadcasts.
Performers usually bring an RV or bus and camp in a section of the campground with other bands. Occasionally a band will fly in and get a hotel room, but this is generally discouraged as it is expensive and the performers miss out on the true Buffalo Chip experience by leaving the grounds.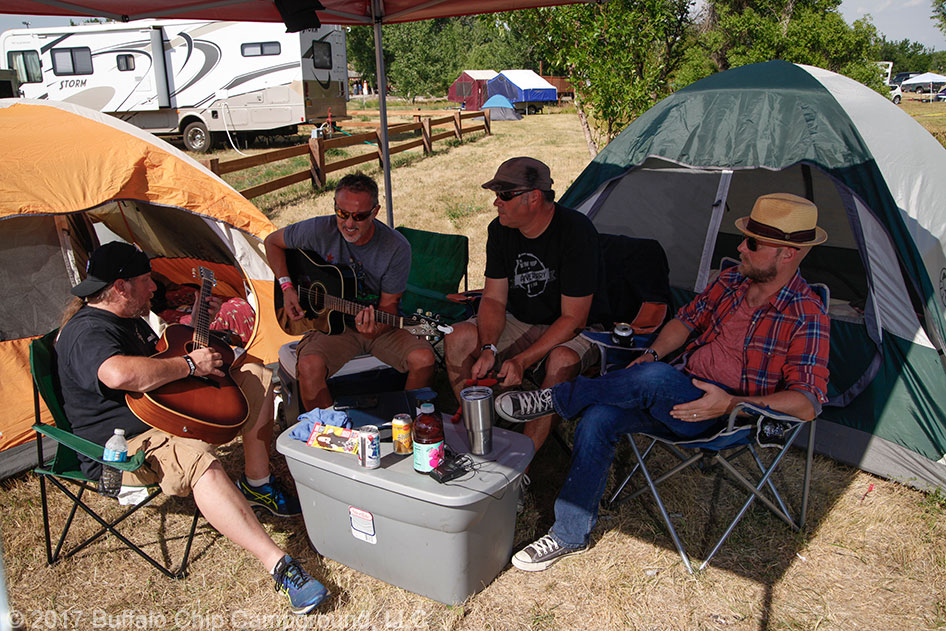 Performers are given admission wristbands to the campground and amphitheater. There are showers, restaurants, vendors, bars, a general store and so much more. It's a little city that has everything a band needs to survive for the duration of the festival!
What is the cutoff date for selecting bands?
March 31 is the cut-off date. ReverbNation will provide their recommendations, and we will fill spots with a variety of genres.
How do I become a stage sponsor?
Anyone can sponsor a stage at the Buffalo Chip: bands, sound companies, equipment manufacturers, and individuals. Stage sponsorship is available on different levels and can be as simple as supplying production and sound for the event.