What do you want to find out more about?
How Do I Get to the Buffalo Chip?
The scenic route can be shorter!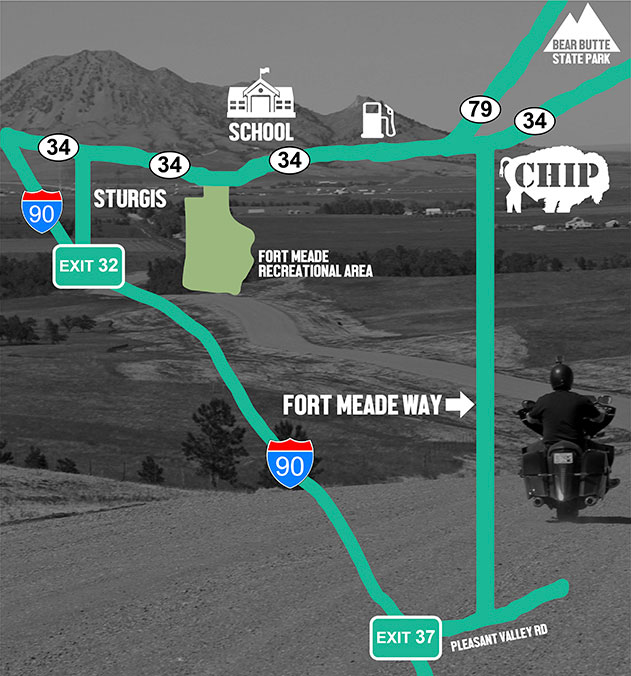 EXIT 37 IS A SHORTCUT FROM I-90!
Take Exit 37 from I-90, travel East onto Pleasant Valley Rd. (0.8 miles)
Turn North (left) onto Fort Meade Way. Travel to the Buffalo Chip. (4.8 miles) If you are coming for the concerts and don't intend to camp, turn east (right) onto 207th (1 mile), then left onto 132nd to the concert parking lot.               
Just in case you aren't comfortable riding on gravel, we've mapped some alternative routes.
ALTERNATIVE ROUTES
To Approach Via Sturgis,
Take Exit 32. Turn East-NE towards Sturgis and proceed approx. 1 mile. Turn East (right) onto Lazelle St. Travel 3 miles East to the Buffalo Chip.
Or
Take Exit 30. Travel East until you arrive at the Chip. (approx. 4 miles)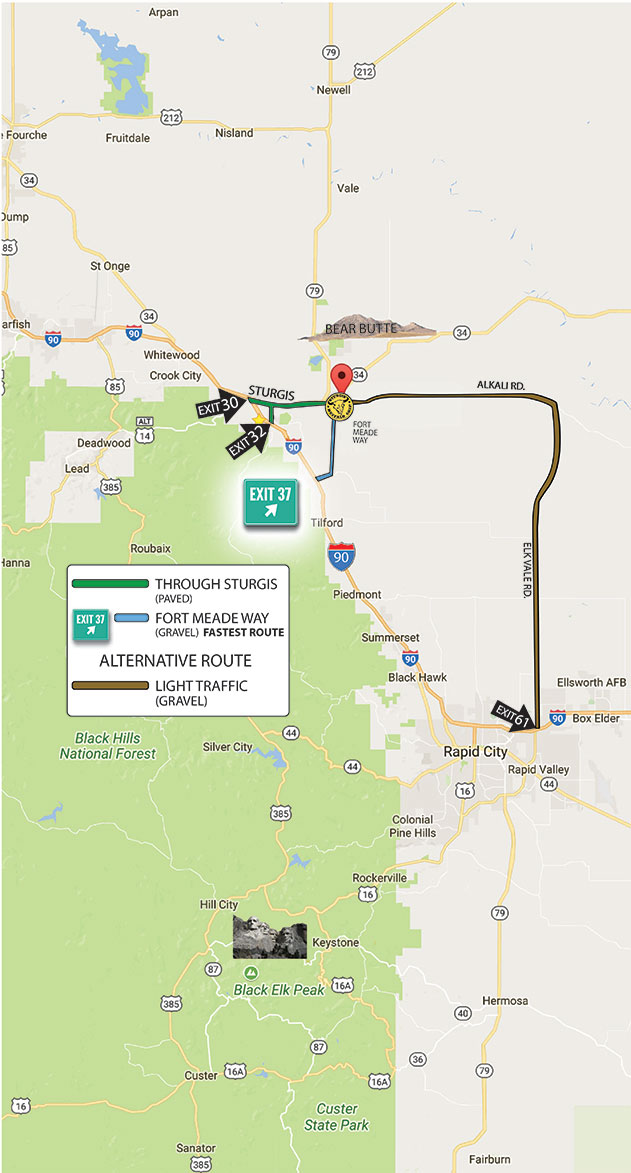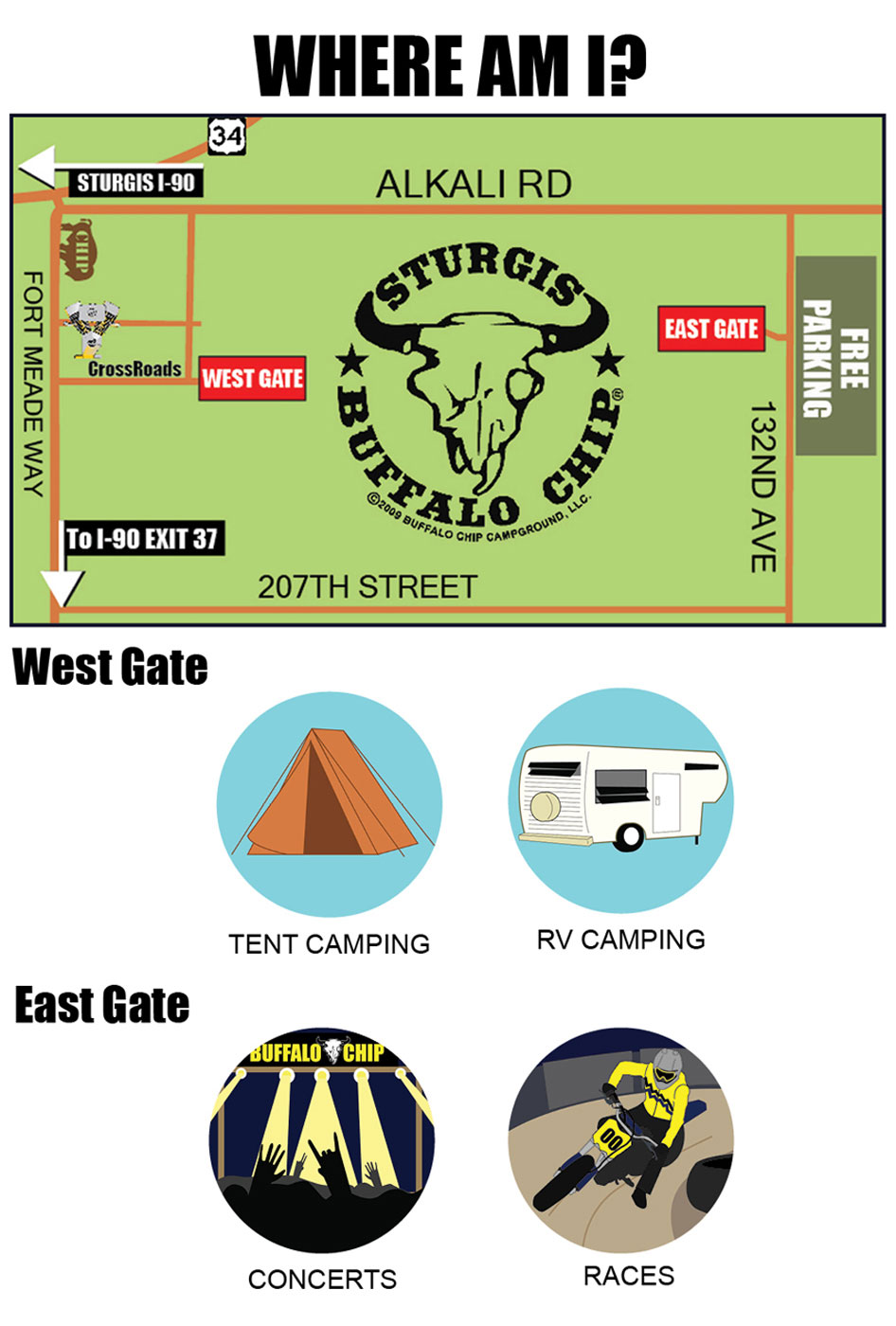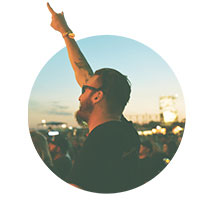 Entry procedure
You are required to wear a wristband or have a printed pass on you at all times while inside the venue. Wristbands must be worn on the right wrist (throttle hand). *In the event your wristband shows signs of breaking, you must bring the damaged band BEFORE IT BREAKS OFF to either box office for immediate replacement. DETACHED WRISTbands WILL NOT BE REPLACED.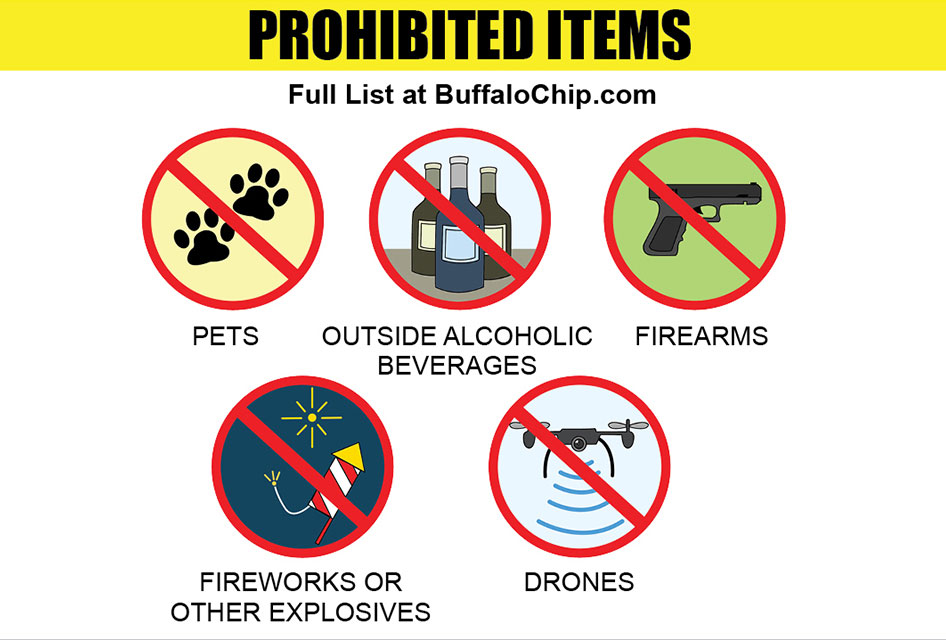 HEALTH AND WELLNESS AT THE CHIP
If you are sick and/or exhibiting symptoms of COVID-19, please isolate yourself and seek professional medical attention immediately. If you test positive for COVID-19 while at the Buffalo Chip, please contact our medic immediately at: 605-720-7938.
FIRST AID STATIONS
There are First Aid stations located at the North Showers, West Gate, and Information Center. If you require medical assistance, please visit these locations.
SANITATION STATIONS
You will find hand sanitizer and other sanitation items around the Buffalo Chip for your health and convenience. If you are in need of any additional supplies, please inquire at the General Store.
Respectful Concert Attendance
It is a Buffalo Chip tradition for members of the audience to rev their engines as part of the applause. This privilege may change at any time. Out of respect for your fellow concert goers, please keep off your throttle until the song or concert has concluded. Come on.
Revving engines during the performance of a song is discourteous to the rest of the audience who is there to see and hear the performance, not to mention the performers who are there to entertain the crowd. Anyone revving an engine during performance of a song must either surrender their keys until after the performance or leave the amphitheater.
Check out our showcase entertainment to keep the party going!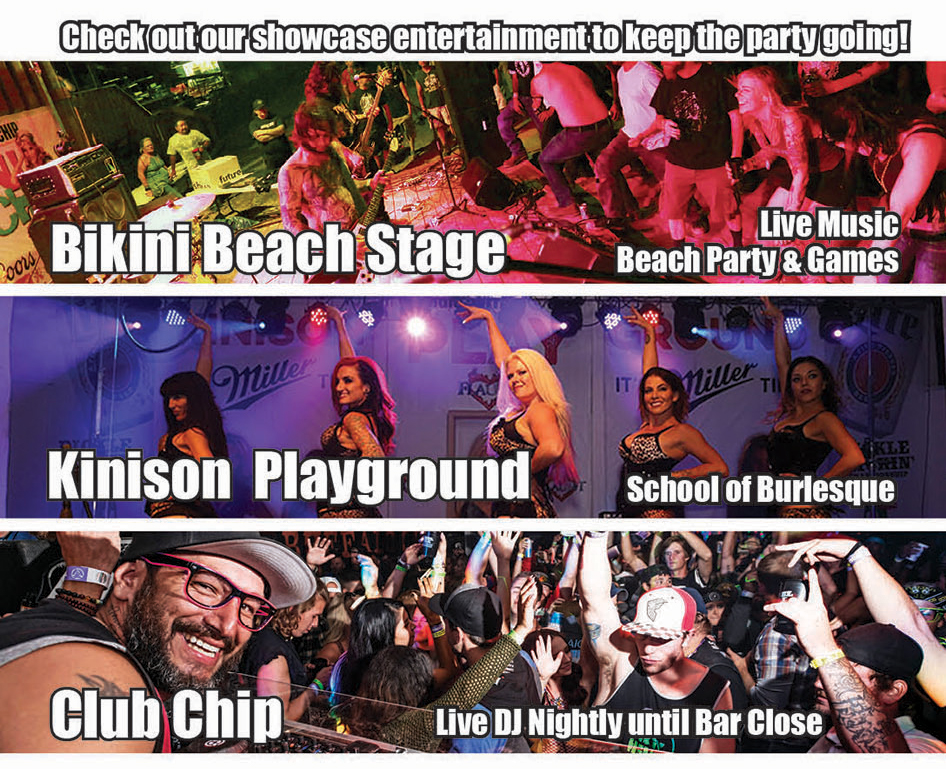 The Buffalo Chip is a full-service campground and entertainment venue offering an assortment of amenities and services to make your stay the best one possible. See the map to locate the following services

General Store
Located inside the amphitheater, the General Store is open 24 hours and offers a variety of products for campers. From condoms to toothpaste, this where you go when you realize you've forgotten something small at home.

Carry-Out Beer
While it is against the law to bring alcohol through the gates, we'll make sure you don't go thirsty once you're inside. Visit either of the two Beer and Ice shacks to pick up everything you need to enjoy some quality time at your campsite.

Laundry Facilities
Coin Operated – Take advantage of our coin operated self-serve laundry rooms if you want to throw in a few loads and fold them yourself.

RV Pump and Dump
If you are planning to stay with us for a few days, then chances are at some point you'll need to dump your RV tanks. Visit our on-site sanitation services and they'll get your poop in a group. Pump out may be purchased in advance as well.

Free Showers
There are few different options to keep yourself clean while partying at the Chip. The North and South Shower Houses are free for all guests at any time on a first-come, first-served basis.

Vendor Showers
For a more private shower experience you can visit the Vendor Showers. For a small fee, you can expect shorter lines and more modern facilities.

Information Center
The Buffalo Chip Sturgis Rally Information Center is open daily at the CrossRoads to provide you with information about the campground, entertainment or sightseeing. Feel free to stop by and say hello to our concierge, If you registered for the rally, pick up your Sturgis Rally Welcome Packet.

Gas Station
Fill up at the Buffalo Chip Stop & Fuel. The pumps are self-service and operate on a credit card. The 93 Octane fuel is enhanced with 10% Ethanol and is approved by every major motorcycle manufacturer.
If you haven't ever spent time in South Dakota during the summer months, you may not expect the drastic and rapid changes in weather patterns you can experience here.
South Dakota Weather
Woody has always warned people that the wind is going to blow 100 MPH for 2 minutes, and it is likely to rain 2 inches, possibly within the same 2 minutes. You need to be ready for those two minutes or it will screw up the rest of your vacation.
These tips will help you be better prepared for Mother Nature.
1. Pack a full set of rain gear. When you're out riding, keep an eye on the radar and look out for possible cover in the event of hail or heavy rains.
2. Prepare your camp for the possibility of rain and high winds before leaving it for the day. Secure items that could easily blow away, and put personal items under cover.
3. If you are tent camping, bring a tarp and extra stakes to put over your tent to keep valuables dry. Consider collapsing it if high winds are projected.
4. Pay attention to the sky. Ugly looking clouds could mean large hail that could be extremely dangerous.
PRICE-CONSCIOUS TIPS
Make the Most of Your Vacation at The Buffalo Chip
The earlier you book, the cheaper it is. Plain and simple. Many guests book for the following year as soon as the rally is over. Special prices end incrementally throughout the year as bands are confirmed, so don't hesitate when you decide you're going to make the trip.
Meal Plans-The Stage West Cafe offers meal plans tailored to your needs. You can save a lot of cash by buying a plan before you come. You can purchase these packages in advance at BuffaloChip.com/ Reservations. We recommend you leave room for one day to check out some of our delicious food vendors though.
Drink specials – There are many of them. Search them out at Woody's Watering Hole, CrossRoads, The Rat's Hole, The Micro Brew, Bikini Beach and don't forget the Monster Bomb special is everywhere. There's no excuse for not throwing back a cool one at unheard of prices.
The General Store in the amphitheater can provide you with pretty much anything you need. So skip the hassle and the wasted hours of going into town and just head down to the General Store
Free pancake breakfast – Get them fresh off the griddle every morning at the Sons of Light tent near the West Gate.
Find more price conscious tips by reading
How To Get The Most Bang For Your Buck – Secret Money-Saving Deals Of The Chip Revealed!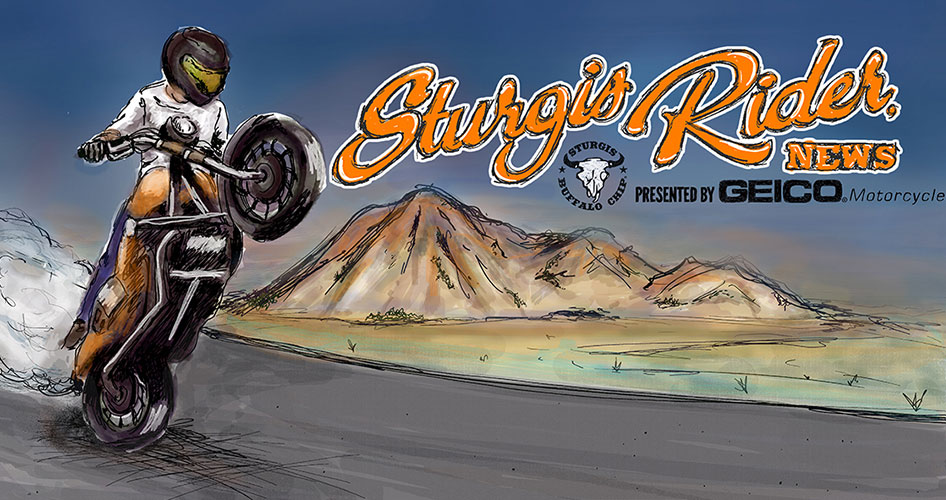 Sign up for our email newsletter to get all the news and updates about what's going on at the Sturgis Buffalo Chip®. Follow us on social media for even more great content.

Campground Policies & Procedures

Traffic Policy
All 4-wheel vehicles MUST ENTER the campground BEFORE 7:30 p.m. and must stay on roadways when traveling. They must remain parked from 7:30 p.m. until dawn. The campground is a busy place, and safety is of the highest priority. Motorized traffic after 7:30 p.m. within the campground is restricted to motorcycles, trikes and small recreational vehicles. Authorized service and emergency vehicles are the sole exceptions. Failure to comply could result in having your vehicle permanently removed from the campground.
Alcohol and Drugs
NO ONE UNDER 21 YEARS OF AGE CAN POSSESS OR CONSUME ALCOHOL ANYWHERE ON GROUNDS OF THE STURGIS BUFFALO CHIP® CAMPGROUND.
No adult is allowed to provide alcohol to anyone under 21. Violators will be removed from the campground without refund and are subject to arrest. Fake IDs will be seized and violators will be reported for prosecution.                                         
South Dakota state law prohibits the consumption of alcohol on any licensed premises other than upon the licensed premises where the alcohol was purchased. In other words, it's illegal to enter the Chip with alcohol or drink alcohol at the Chip if it was not purchased here. 
Drugs are illegal and are not allowed on the Buffalo Chip premises, unless you have a valid prescription.
Marijuana: SD voters approved legalization of both medical and recreational pot. However the state is working on regulations for medical and has challenged recreational in court. We recommend you consider all marijuana to be illegal and possession may subject you to arrest. This goes into affect July 1.

Fire and Fireworks
Pursuant to Meade County Ordinance #27, it is illegal for any person to ignite any fireworks or to have an open fire. To be able to grill for cooking, be sure your equipment falls into one of these two categories:
1) Liquid-fueled grill, meaning a metal or stone device designed to cook food using liquefied or gaseous combustible fuel; or
2) A charcoal grill, meaning a metal or stone device within a firebox not resting on the ground with a metal grate designed to cook food using charcoal briquettes, char wood, or similar fuel

Glass Bottles
Glass bottles are not allowed or sold inside the campground

Children
The Chip is a lot of fun, but the campground really isn't a place for children. We ask that you not bring under-aged children when you visit. A legal waiver signed by the parent is required for any child camping at the Chip, and they must be accompanied by an adult at all times.

Pets
For the safety of pets and in consideration of other campers, you'll need to make arrangements for your pets to stay home or board them locally while you're at the Chip. We can't make exceptions, even if your pet knows how to fetch you a beer, but we would be happy to recommend a few good kennels.

Weather
The weather can change quickly and with little notice. Please be prepared if you are camping and bring tarps, plastic sheeting or whatever you need to remain comfortable during a summer rainstorm. Inclement weather may cause a temporary delay or even a cancellation of some or all entertainment.
No refunds will be issued due to delays, non-performance or cancellations due to weather or any other reason.

Emergency Procedures
Report any problems to security personnel immediately. They will do their best to resolve campground issues as soon as possible. Problems will be addressed in the order in which they are reported.
CALL DISPATCH AT 605-720-7938

Lost & Found
If you have misplaced any of your personal belongings while you are staying with us, we have a Lost and Found located at the Buffalo Chip's Main Office. Items that are found around the campground are eventually gathered at this final lost and found location, so be sure to check before you leave if you didn't find it the first time.