If you've camped at the Buffalo Chip or attended one of the concerts or events in its legendary amphitheater during the Sturgis Rally, you probably know about the two motorcycle "sculptures" on poles in Vice Park just before the gate at the Kinison Stage. But what you probably didn't know is that one of them is actually a mausoleum. Here's the story…
For many years George McGuiggan rode his Yamaha to the Chip from St. Paul, Minnesota—no one really knows how many years. George often brought younger riders with him and by all accounts he kept them in line, making sure the camp was kept clean and they didn't raise too much hell.
As an active member of two riding clubs George had an apparent knack for organizing, and he made friends easily, meeting up each year with a group of riders from other parts, creating a community within the campground.
After he passed away in 2010, one of those young riders, an adopted son of sorts, rode George's bike to the Chip for the Sturgis Rally, bringing along a length of square pipe and George himself: as a box of ashes. It seems George wanted both he and his bike to become permanent fixtures in a place where he'd found such camaraderie.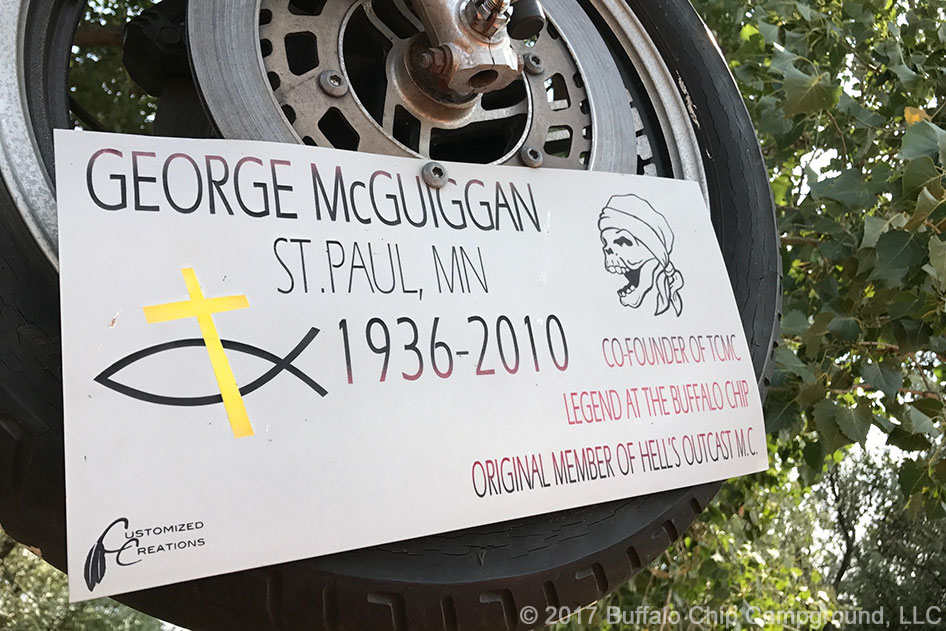 A couple of George's longtime friends, Cliff and Mike, recalled the scene as Chip staff helped stabilize the post and attach George's bike on top.
Cliff explained: "It wasn't very well planned cause the kid that brought it here got real drunk and five minutes before he said to me, 'You just take care of the ceremony.' Woody was even here and they were filming it. We didn't have a ladder, so I stood on my motorcycle. We drained all the oil out of the crankcase and filled it with ashes."
Said Mike, "Some of it blew on the cameraman and he got mad. He got a little taste of George that day!"
Cliff continued: "Then we started it up till it blew up. We took bets on how long it would run. It took about 8 minutes."
And George's bike has been on that pole ever since!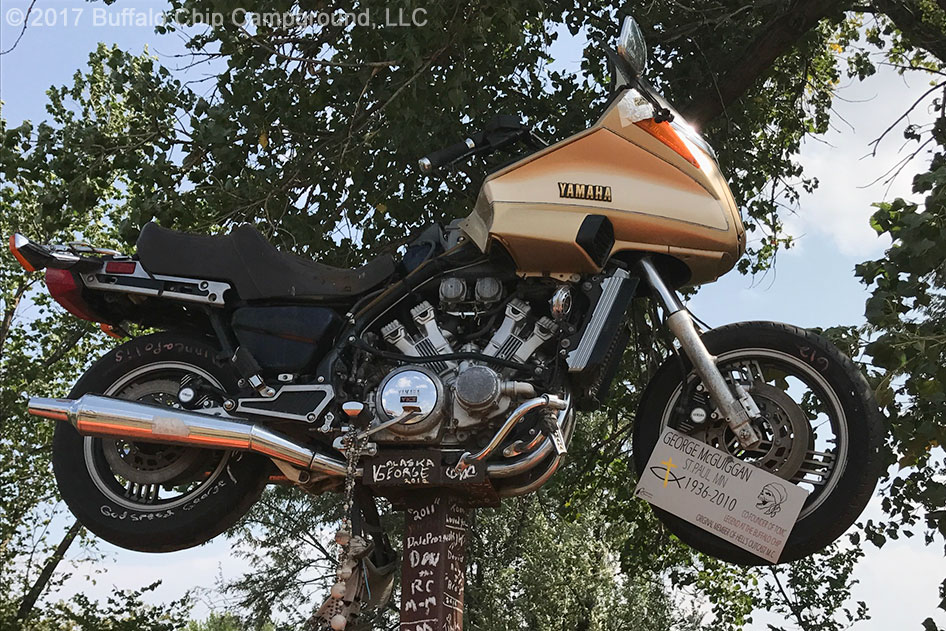 So that's the heart of the story but there's another part most people don't know. When all the ashes wouldn't fit in the crankcase in 2010, they put them in an empty Jack Daniels bottle. At the end of the rally, they buried the bottle in an undisclosed location. Each year they return, dig up the bottle, and sit "George" on the picnic table to party with his friends. They even pour a bit of Jack Daniels into the bottle so he can participate. The bottle is re-buried before leaving each time. "We get in trouble with security for digging him up, and we get in trouble with them for burying him again," said Cliff.
Mike added another little known bit: tied around the neck of George's Jack Daniels bottle is a tiny bag containing the ashes of Mike's dad. Like George, he is remembered each year at rally, too.
If it's true that no one is really gone until other people stop remembering them, it seems like George McGuiggan will be around a long, long time.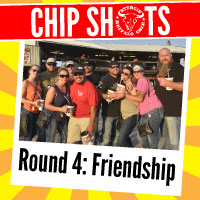 Presented by the Chip Shots Photo Contest
Do you reconnect or share time-honored traditions with old friends during the Sturgis rally? Have you met any new faces at the Buffalo Chip you now consider family? Show the world the camaraderie you've shared with friends old and new at The Best Party Anywhere® by submitting your photos from 2017 in round four of the Chip Shots Photo Contest. If your photo gets the most likes and shares, you'll be walking away with a free 2018 Buffalo Chip Extended Rally Pass, so now is the time to pull out all the stops!