People who really like to ride know they'll find some of the country's best roads in the Black Hills, ones laced with iconic monuments and western ambience to spare.
You'll find some recommendations for great Black Hills rides in this article, but for more ideas download the Sturgis Rider Friendly Establishments Mobile App.
When you leave the Sturgis Buffalo Chip, you can hang a left to shortcut directly to I-90 via Fort Meade Way, getting your ride started that much sooner. So give your steel pony a kick or push the button. Either way, get going.
THE NORTHERN HILLS
Deadwood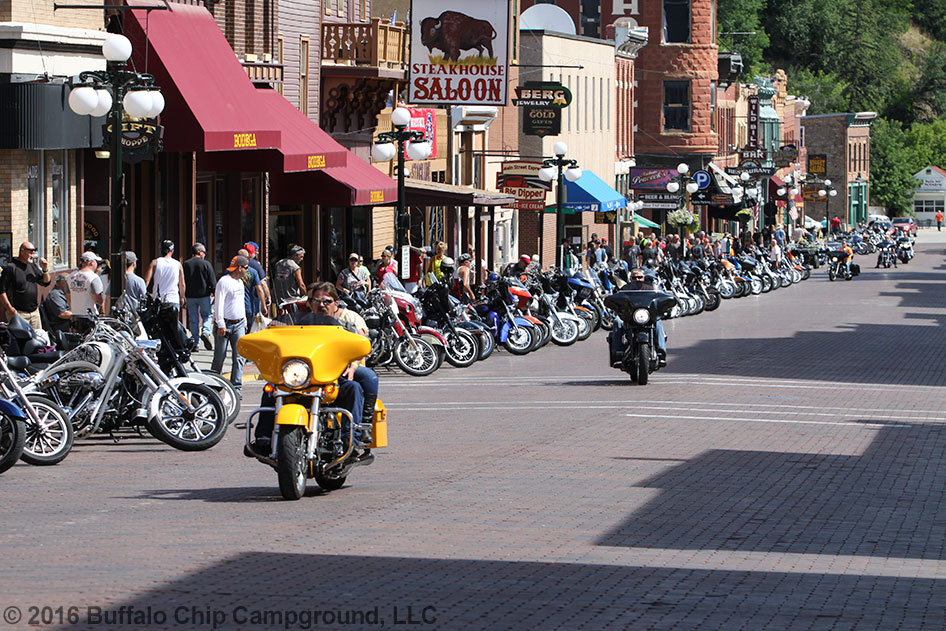 Hwy 385 is a two-lane black top that carves through the Black Hills National Forest leading to the gold mining town of Deadwood.
With the look and feel of an authentic Wild West town, complete with casinos, saloons, and rustic storefronts, Deadwood offers good food and eclectic shopping.
Don't miss the Saloon No. 10 where Wild Bill Hickok met his demise holding the dead man's hand, aces and 8's.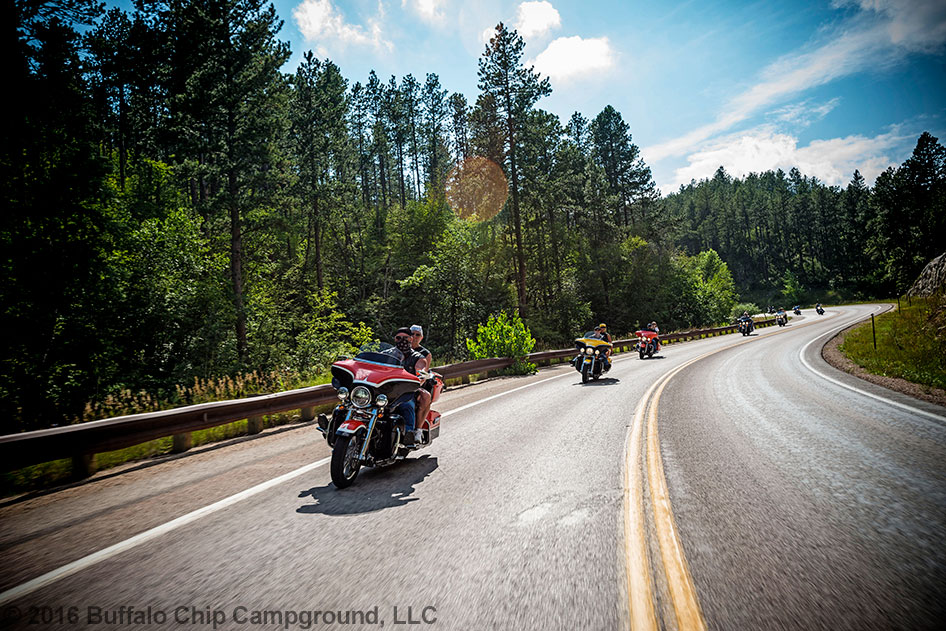 Alt. Route 14 through Spearfish Canyon, which can be accessed off I-90 exits 12 or 14, is without question one of the best 22 miles you can travel on two wheels.
It's the quintessential scenic road adorned with steep cliffs cut through the gorge, bubbling streams, waterfalls and striking vistas at every turn.
During the rally, go at sunrise to beat the traffic and make the most of this beautiful part of the world.
Scenes from the film Dances With Wolves were filmed here, and you'll see why.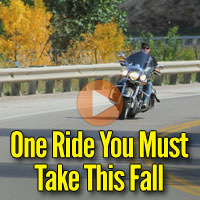 To see just how breathtaking this ride is during the height of fall colors, check out this
stunning ride video
.
THE SOUTHERN HILLS
Mount Rushmore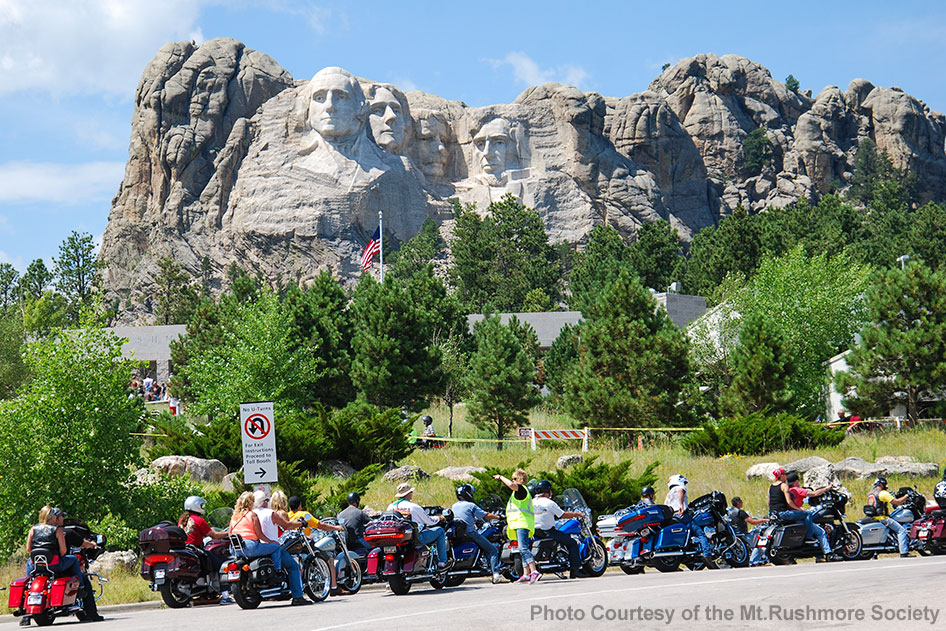 You don't have to go into Mt. Rushmore National Memorial to see the sculpture; it easily viewed from route 244 as you snake along the ridge. But it's well worth the admission to learn the history behind the monument and the park is beautifully designed to make the visitor's experience a delight.
The ride there is east and south of Sturgis and loops through Black Hills National Forest on Hwy 16/Hwy 16A to the tiny town of Rushmore, and it can easily be configured to include Crazy Horse.
Leaving Rushmore, you can take Hwy 16A back or continue the journey on the famed Needles Highway.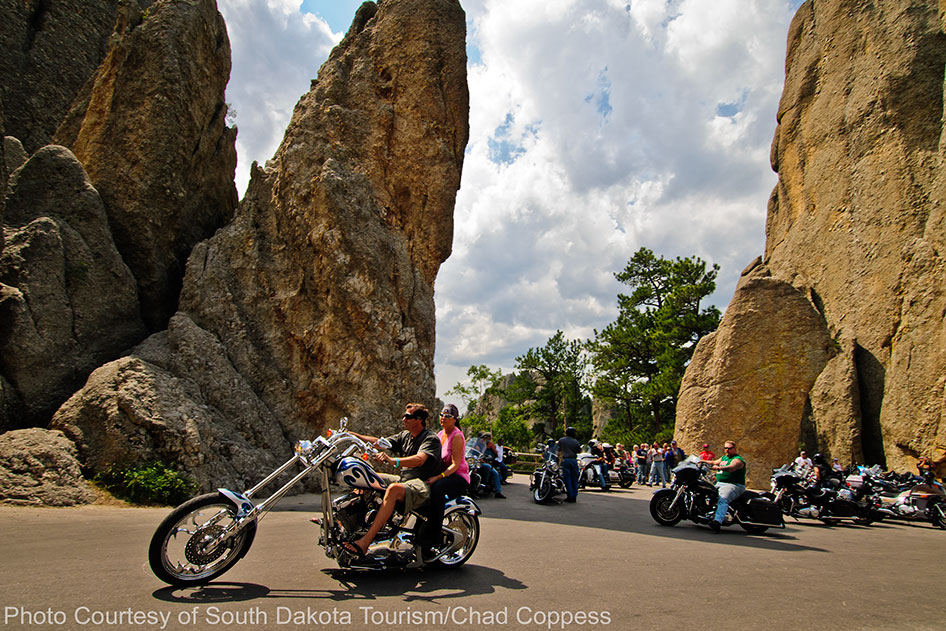 A trip down Needles Highway is like riding through a movie set. The adventure will take you through an alien-like terrain filled with giant granite spires, narrow tunnels and tight turns.
Calling this 14-mile stretch a highway is a misnomer. You'll probably never see third gear on this tight two-lane road. That's just fine because your head will likely be on a swivel trying to take in the uniqueness of the rocky landscape.
Since it's must-do for every rider's bucket list, it's usually a crowded route during the rally.
Crazy Horse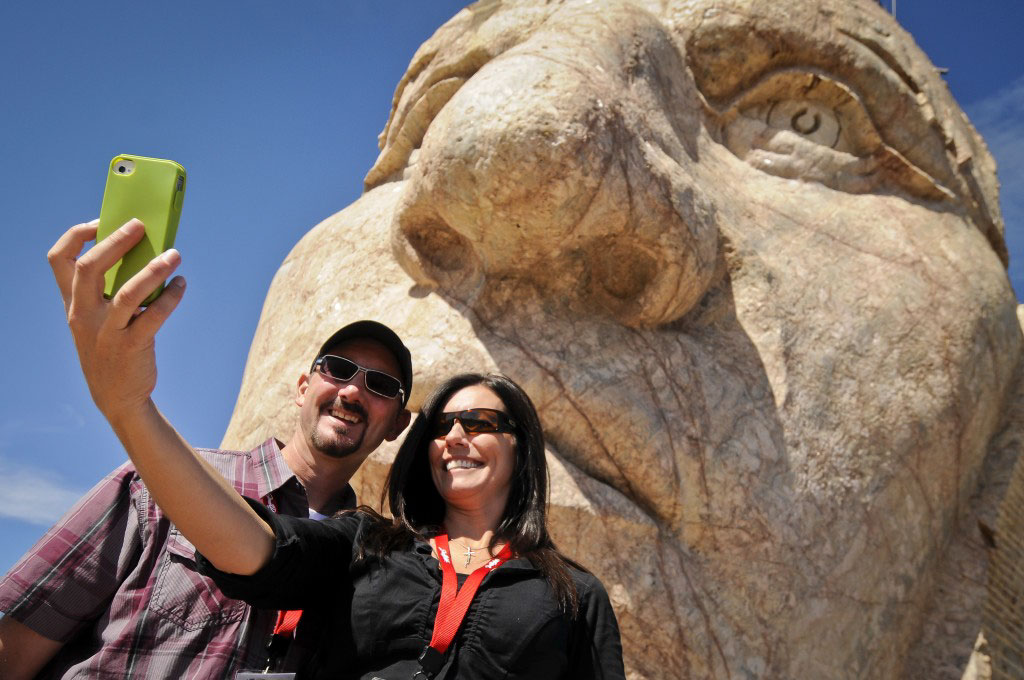 The monumental sculpture of Crazy Horse has been in progress since 1948. Way larger than Mount Rushmore, it's quite a site even in its unfinished state and the visitor's center is not only stunning architecturally but packed with Native American and regional history, too.
Highway 385 north will take you back toward Spearfish.
Custer State Park
Custer State Park was established as South Dakota's first park. Its 71,000 acres are home to herds of Buffalo that often quite literally stop traffic. Custer Park is home to the Governor's annual buffalo round-up and art festival. Riding there on 385 and 16 through Black Hills National Forest isn't a quick ride but it's a pretty one, and it passes through the biker friendly town of Hill City where you can stop for a burger or some ice cream.
Part of the Peter Norbeck National Scenic Byway, US 16A, also known as Iron Mountain Road, is a scenic roadway near Custer.
It's a bonanza of curves, 314 in 17 miles in fact, 14 switchbacks and three pigtail bridges thrown in for good measure. It's ebb and flow, the type of ride where motorcycles seemingly spend more time on their edges than upright.
It offers spectacular views of Mount Rushmore and includes three granite rock tunnels to pass
OUTLYING LOCATIONS
Hot Springs
If you're looking for a longer trek, Hot Springs, SD, is further south than Custer. In Hot Springs you'll find rugged canyons, mineral springs and one of the Black Hills' best hidden gems, The Mammoth Site, a Rider Friendly Establishment that contains the world's largest Columbian mammoth exhibit and research center.
385 takes you most of the way; 79 through Rapid City is a slightly shorter option.
Devil's Tower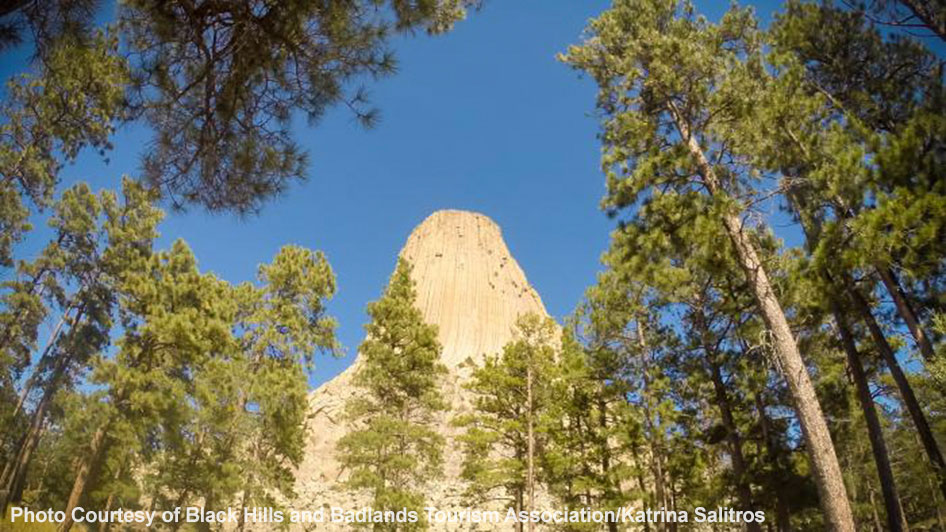 Standing 1,000 feet tall across a vast plain, you can all but see Devils Tower from I-90 but you probably want to take the long way. You're here to ride, right?
Take 34 W to Wyoming 24 W and 110 W through Hulett—an interesting stop, too. It's about 75 miles from Sturgis to this geological natural wonder.
Badlands National Park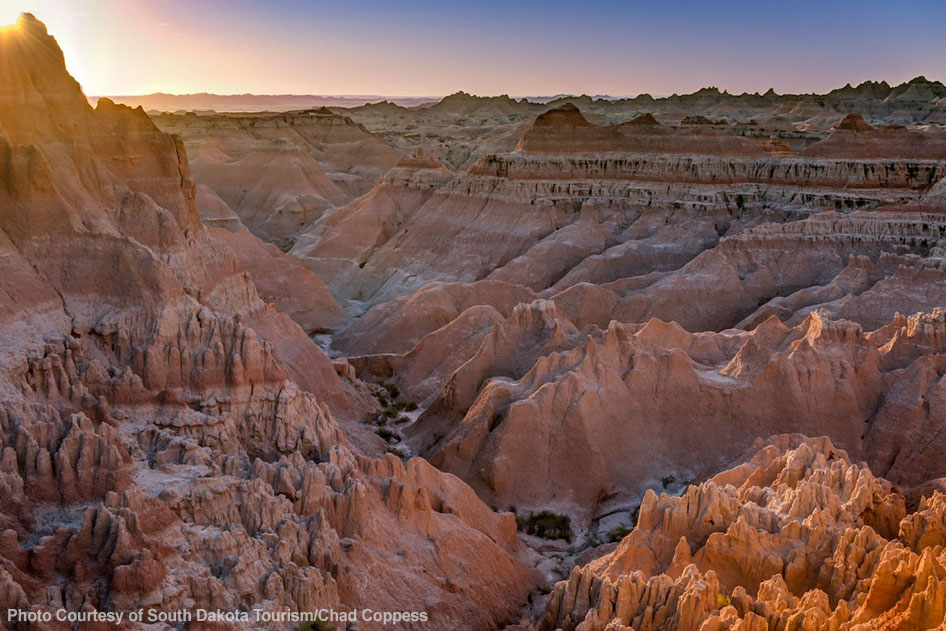 Yes, it's called the Badlands, but there's nothing more exquisite than watching the waves of rock change color with the late-day light. You'd swear those rocky spires were about to ignite. We're talking about terrain that is millions of years old and far too vast to imagine, even while you're in the midst of it.
It's a good 90 minutes east of Sturgis even taking the fast way, but well worth seeing. Stop at Wall Drug, too.
CENTRAL HILLS
Bear Butte
Though it's not a ride of much distance, Bear Butte is a quiet respite amid the frenzy of the Sturgis rally. With it's prominent peak rising above the horizon it's easy to find—if fact, you can't miss it.
This has long been a sacred place and ceremonial gathering spot to the Native American Nations. Chiefs Crazy Horse, Sitting Bull and Red Cloud met here.
Cruise past grazing buffalo to the visitor's center where Native American history is abundant. Then trek higher on to the 4426-foot summit for a four-state view over the lake you won't believe. And all within a few miles of Sturgis.
What are some of your favorite Black Hills motorcycle rides? Share your favorites with fellow riders in the comments below!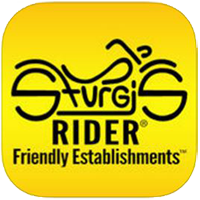 Presented by the Sturgis Rider Friendly Establishments Mobile App
Look…we all eat, we all sleep, and we all enjoy finding friendly folks who want to help us get from point A to B in life. And when you're out on the road riding in uncharted territory, sometimes finding those places and faces can be a real guessing game. But now you can find thousands of places ready to roll out the red carpet for bikers like you with the interactive map on the Sturgis Rider Friendly Establishments mobile app. See who's on your route, find out why they're place is worth a stop and share your experience with other bikers. This handy tool is a FREE DOWNLOAD on any Apple or Android device. Revolutionize your ride and download yours today!