Catch a Glimpse of Japan's V-Twin Biker Scene at this Year's August Music Festival
World-class bands of all types and genres play on the Chip's stages each year, but there's never been another band in the lineup of concerts quite like MMS. After touring Japan for years on their Harley Panheads, this Japanese biker band fulfilled a lifelong dream by making the 5,600-mile journey from Tokyo to the Buffalo Chip to perform during the Largest Music Festival in Motorcycling™ in 2014. Now, thanks to the requests from fans like you, we're bringing them back again in 2016!
MMS lives and breathes motorcycling, and you'll hear the thrill and camaraderie of biker lifestyle weave its way through many of the band's old school rockabilly tunes. Get ready to get sweaty, because the driving guitar licks, frantic vocals and heavy backbeat of songs like "Harley Valley," "Ride Without Cause," Riding High Tonight," and "Motorcycle" will have you rockin' and rollin' and kickin' up dust on the dance floor!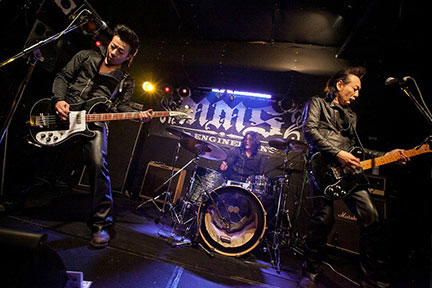 Don't miss your chance to taste a piece of Japan's biker lifestyle with MMS along with the rest of the amazing showcase band lineup during the Chip's 2016 August music festival. Reserve your passes today!
"It is a family reunion, and it gets bigger every year!" – Drew Dukes