Take a Ball-Busting Ride Through Modern Rock during the Sturgis Rally
Pop Evil is back to inject a dose of pure adrenaline into your veins when the high-energy modern rock group storms the Wolfman Jack Stage on Thursday, Aug 7, 2014 during the Sturgis Rally!
As their name suggests, Pop Evil's music strikes a balance between the syrupy pop of mainstream radio and the sharp bite of razor-edged metal. The result is a distinctive sound that will leave you and thousands of amped-up Buffalo Chip fans clamoring for more at the band's larger-than-life stage show!
Pop Evil has been mesmerizing fans worldwide for years with hit songs like "Torn to Pieces," Monster You Made," "Trenches," "Boss's Daughter," "Deal with the Devil" and "100 in a 55." But the intensity of seeing these songs performed live at the Chip, in all their fist-pumping glory, is an experience you'll never be able to recreate while sitting at home listening to your stereo.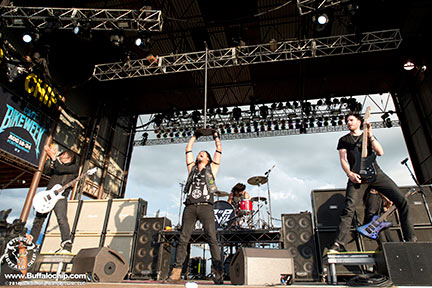 Don't miss out on an unforgettable night of in-your-face rock as Pop Evil joins Train Aug. 7 at the Chip. Break away from boring everyday life and reserve your passes for one of the most insane parties the Sturgis Rally has ever seen!
"We are going…cannot wait! The Chip is going to rock!" – John Connolly