Be Weird, Have Fun and Laugh Until You've Soiled Yourself on Saturday, Aug. 13 during the 2016 Sturgis Rally
Things are going to take a turn for the weird when one of the best-selling comedy artists of all time yuks it up at the Sturgis Buffalo Chip® Saturday, Aug. 13, 2016. "Weird Al" Yankovic will bring Mandatory Fun to the final night of the Chip's 35th anniversary celebration with a show so ridiculous you'll wanna put on a Hawaiian shirt, laugh till tears pour down your face and dance until your butt physically leaves your body. Now that would be "weird," wouldn't it? But would it be weirder than this:
Weird Al's performance at the Best Party Anywhere® will follow in footsteps of legendary comedians Cheech and Chong, Sam Kinison, and Pee-wee Herman who've all graced the Wolfman Jack Stage.
Don't be alarmed by the accordion or the array of Tommy Bahama shirts and strange costumes. In fact, you should bring your own to the party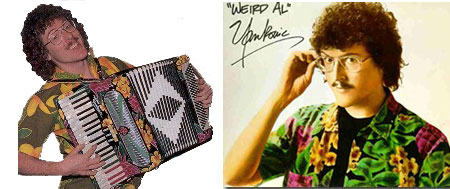 Bring a Hawaiian Shirt and Have Some Fun Saturday, Aug. 13, 2016.
The Weird Al experience is a multimedia feast for your senses, combining over 30 years of rock and roll, pop culture, comedy and a dash of polka into a hilarious spectacle you've gotta see to believe.
Since his early days of accordion-fueled polka parodies of artists like The Knack, Queen and Joan Jett, Al has branched out into every genre imaginable, parodying artists from Madonna and Michael Jackson to Nirvana and the Red Hot Chili Peppers, and practically everyone in between. With more than 150 original and parody songs recorded throughout his career, the list is too long and varied to mention them all. One thing that's certain is Al's masterful musical mimicry truly offers something for everyone under the sun.
While Weird Al isn't the first famous comedian to perform at The Largest Music Festival in Motorcycling™, he certainly is one of the most accomplished. He's sold over 12 million albums throughout his career and accumulated hundreds of millions of views on YouTube in the last decade. He's a four-time Grammy award winning recording artist who won most recently won Best Comedy Album in 2015 with his latest album "Mandatory Fun." The song White and Nerdy from an earlier album currently has over 103,766,988 views. Yes that's 103+ million views.
Weird Al has made dozens of film and television appearances over the years, including an appearance on "The Simpsons" as well as being the subject of an episode of VH1's "Behind the Music." Al seeks the permission of every artist he parodies before he records his songs, and most of them consider it an honor and a rite of passage to have been parodied by a true master of the art form.
This show is going to be completely off the wall and way over the top. Don't be an ordinary Joe Schmo. Embrace the weird on August 13.