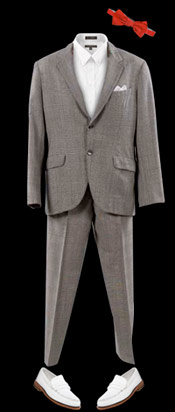 Has anyone ever told you that you look like Pee-wee Herman? If so, now's your chance to put that compliment to the test by registering for a chance to be selected by Pee-wee Herman to become his official "Lookalike-Stunt-Double-Dude" during "PEE-WEE'S BIG STURGIS ADVENTURE" shoot as well as many other exciting events at the Legendary Buffalo Chip in Sturgis, South Dakota on August 8-9, 2010.
To be considered a "Pee-wee Herman Lookalike" candidate you must be male, approximately 5' 7", weight about 140 pounds and wear your hair short, as well be able to handle some slightly physical challenges and tasks, under pressure and in some demanding environments.
If you're the lucky "Lookalike-Stunt-Double-Dude" to be selected by Pee-wee Herman, his Team will transform you into an authentic Pee-wee Herman with your own plaid grey suit, white leather slip-ons and a bright red bow-tie – so you better start practicing Pee-wee's iconic laugh, faces and hot dance moves.
You'll be asked to perform a few exciting feats dressed-up as Pee-wee Herman in front of thousands of screaming fans. All this zany action is going to be caught on tape by a professional Hollywood production team that will be following you and Pee-wee Herman around the campgrounds of Legendary Buffalo Chip for every exciting adventure.
Just fill-out the following contact entry form and you're automatically entered for a chance.
Please note, answering questions in bold are mandatory to be entered.
SUBMISSIONS ARE ONLY VALID TO THOSE WHO WILL BE IN ATTENDANCE AT THE LEGENDARY BUFFALO CHIP IN STURGIS, SOUTH DAKOTA, AUGUST 8-9, 2010