Good Morning!
It's danged nice we get to make this special band announcement in celebration of freedom and music on Bill of Rights Day.
The Buffalo Chip's Freedom Celebration is a critically important feature of the Chip's motorcycle and music festival. This patriotic celebration presents an opportunity for folks to meet and honor some of the men and women who have made great personal sacrifices in the line of duty as they protected our freedom and country. Choosing the musicians best able to reflect pride in our nation and those who have defended it is a task we take to heart. The headliner chosen to perform at the Chip for the first time in history on Thursday Aug. 11, 2016 embodies America and its core values and is arguably the most successful female singer-songwriter in country music today – Miranda Lambert.
Miranda is riding a wave of incredible success! She is now the reigning six-time ACM Female Vocalist of the Year, the most awarded solo female in ACM history with 23 honors. She also was recently awarded the Grammy for "Best Country Album" for her current collection, "Platinum." Her long list of country-rock hits capture American life and spit it back at us in witty and fearless lyrics. From "Gunpowder & Lead," "Crazy Ex-Girlfriend" and "Hell on Heels" to her newest bad-girl anthem duet with Carrie Underwood, "Somethin' Bad," MIranda shows true American grit. I'm excited and proud she chose to be part of our Freedom Celebration night. The Buffalo Chip's Miranda Lambert announcement comes as part of an exciting interactive multimedia presentation that you can experience here: http://bit.ly/1NN2asi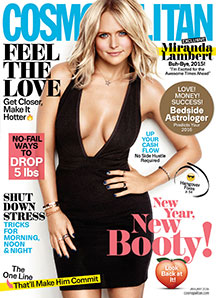 Now, while the above is all the stuff that's supposed to be said of someone who's accomplished as much as Miranda has, on a lighter note, one of the ladies in the office has just brought to my attention that Miranda appears on the cover of this month's Cosmopolitan Magazine. Oh, my gosh! Do yourself a favor and take a look at one of the good old country girls these vets have fought to protect! We owe a special note of thanks to all our vets for making it possible for this woman to be at the Chip to entertain us all as part of the Chip's Freedom Celebration.
We've now announced just two of the amazing acts in the 2016 lineup, which means there are still dozens of world-
class artists yet to be named. In addition to Miranda Lambert, the indelible rock-royal Kid Rock will perform at the 35th anniversary of the Best Party AnywhereTM on Sunday, Aug. 7. The festivities will begin on Friday, July 29 and run through Saturday, Aug. 13, 2016.
Ride Free and Take Risks, and we'll see your smiling faces in August.
Woody
Sturgis Buffalo Chip, President