Sturgis, SD (December 20, 2022): The Largest Music Festival in Motorcycling® is celebrating the holiday season by giving its fans the gift of more top Sturgis Rally entertainment. Country and Americana legends Whiskey Myers will make their Sturgis Buffalo Chip debut on Aug. 9, 2023 for the 83rd Sturgis Rally. See the announcement video at BuffaloChip.com/BANDS.
"We asked our guests and followers earlier this year about who they wanted to see perform at the Chip, and red dirt country acts like Whiskey Myers were a common answer. We are thrilled to bring in such a unique and popular group for the rally crowd," said Sturgis Buffalo Chip President Rod Woodruff. "Our diverse lineup is all about providing good times for everyone, and we can't wait till all our friends can join us for these fun shows."
Whiskey Myers
Aug. 9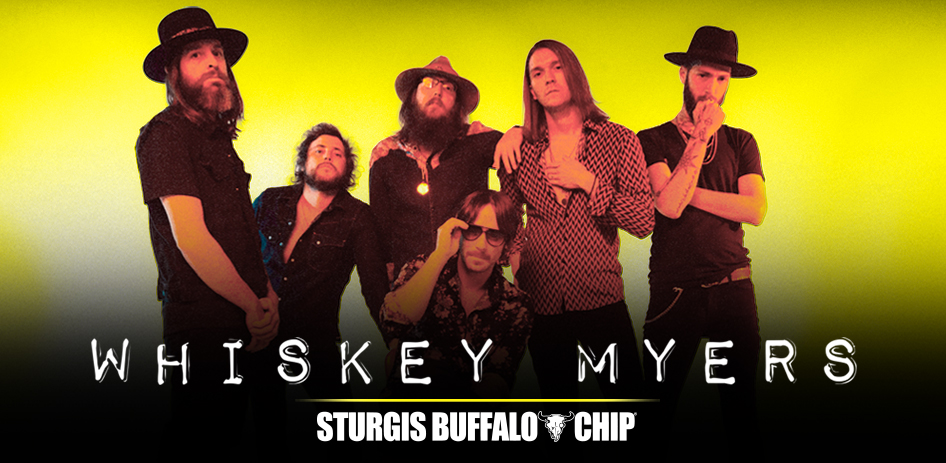 Genre-bending band Whiskey Myers has put out a string of popular song releases and played over 3000 live shows to increasing large audiences since their formation in 2007. Their high energy performances and unique sound have earned them features and appearances in popular T.V. shows such as "Yellowstone" and "SEAL Team." Whiskey Myers makes their Sturgis Buffalo Chip debut on Aug. 9, 2023.
Performances from world-class entertainers are just part of what the Sturgis Buffalo Chip will present again for 2023. Guests will have the opportunity to experience thrilling events, legendary rides, powerful freedom celebrations, worthwhile charity events, top-tier bike shows, heart-pounding stunts, white-knuckle racing, and so much more. Entertainment is free with camping. A full list of Sturgis Buffalo Chip events is available at BuffaloChip.com/EVENTS. The Buffalo Chip is home to the Sturgis Rally Information Center™ and is the official sponsor of the free Sturgis.com Official Sturgis Rally Registration Program.
###
About the Sturgis Buffalo Chip
The Sturgis Buffalo Chip® is the award-winning leader in music and motorcycle lifestyle experiences. Hailed as The Largest Music Festival in Motorcycling® and The Best Party Anywhere®, it has been the epicenter of the annual Sturgis Motorcycle Rally since its establishment in 1981. Every August, the Buffalo Chip brings together the world's largest gathering of music and motorcycle fans, with visitors from all 50 states and over 20 countries. It remains one of the world's most televised and longest-running independent music festivals. The Chip advances the Sturgis Rally by being home to the Sturgis Rally Information Center™ and the official sponsor of the Sturgis.com Official Sturgis Rally Registration Program. More details are available at BuffaloChip.com
Further Inquiries:
Cody Ertman
[email protected]
605-347-9000