Nobody will be drinking alone when George Thorogood and the Destroyers make their way to the Wolfman Jack Stage Aug. 9, 2023
Sturgis, SD (January 17, 2023): The incomparable kings of "boogie rock'n blues," George Thorogood and the Destroyers will celebrate nearly 50 years of soul-melting rock 'n roll with Southern rock/Americana superstars Whiskey Myers at the Largest Music Festival in Motorcycling® Wednesday, Aug. 9. George Thorogood an The Destroyers enter a growing lineup of big-name artists for the 83rd Sturgis Rally at the Chip including Styx, REO Speedwagon, Whiskey Myers and many more yet to be announced. More information and the official announcement video can be seen at BuffaloChip.com/BANDS.
"These artists are among the world's very best," said Rod Woodruff, Sturgis Buffalo Chip President. "Nowhere else in the world will you see both of these mega stars on one stage. This is going to be a fun night you will not want to miss!"
George Thorogood and the Destroyers
Aug. 9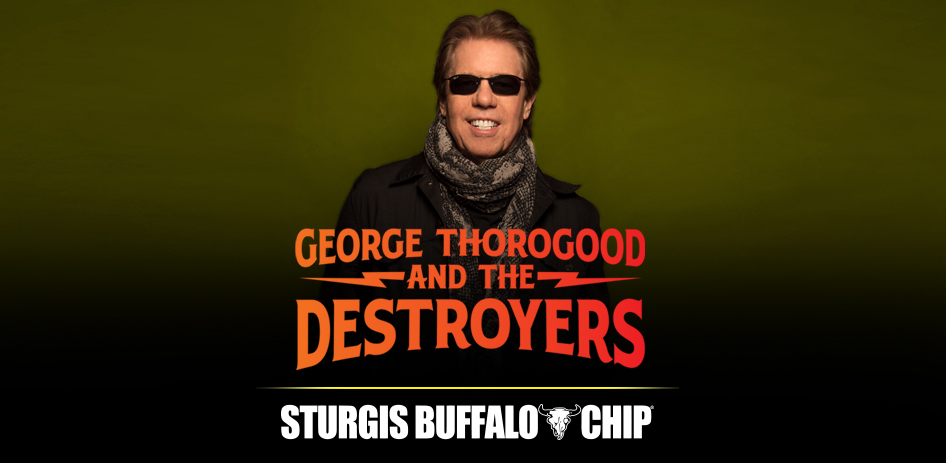 George Thorogood and The Destroyers have been rocking audiences for nearly five decades with their signature snarling, buzz saw bluesy rock 'n' roll blend of classic rock hits like "Bad to the Bone," "One Bourbon, One Scotch, One Beer," "I Drink Alone," "Who Do You Love," "Move it On Over," and many more.
Performances from world-class entertainers are just part of what the Sturgis Buffalo Chip is all about. Guests experience thrilling events, legendary rides, powerful freedom celebrations, meaningful charity events, top-tier bike shows, heart-pounding stunts, white-knuckle racing, and so much more. Entertainment is free with camping. A full list of Sturgis Buffalo Chip events is available at BuffaloChip.com/EVENTS. The Buffalo Chip is home to the Sturgis Rally Information Center™ and is the official sponsor of the free Sturgis.com Official Sturgis Rally Registration Program.
###
About the Sturgis Buffalo Chip
The Sturgis Buffalo Chip® is the award-winning leader in music and motorcycle lifestyle experiences. Hailed as The Largest Music Festival in Motorcycling® and The Best Party Anywhere®, it has been the epicenter of the annual Sturgis Motorcycle Rally since its establishment in 1981. Every August, the Buffalo Chip brings together the world's largest gathering of music and motorcycle fans, with visitors from all 50 states and over 20 countries. It remains one of the world's most televised and longest-running independent music festivals. The Chip advances the Sturgis Rally by being home to the Sturgis Rally Information Center™ and the official sponsor of the Sturgis.com Official Sturgis Rally Registration Program. More details are available at BuffaloChip.com
Further Inquiries:
Cody Ertman
[email protected]
605-347-9000