SANTA MONICA, CA – February 2, 2023 – Tixr, a global experiential commerce leader, today announced a long-term partnership with the Sturgis Buffalo Chip® in South Dakota, hailed as The Largest Music Festival in Motorcycling®. As the Buffalo Chip's exclusive commerce platform, Tixr now powers sales of all campground admission passes, VIP concert upgrades, legendary motorcycle rides, tent camping, RV camping, cabin rentals, limited-edition merchandise, and all additional amenities and services available for guests. The award-winning music and lifestyle experience, also known as The Best Party Anywhere®, returns this August 4-13, 2023 just outside Sturgis, SD. Headliners for the Sturgis Buffalo Chip, presented by Progressive Insurance, include Lynyrd Skynyrd, Styx, REO Speedwagon, Whiskey Myers, and George Thorogood and the Destroyers with more to be announced in the coming weeks.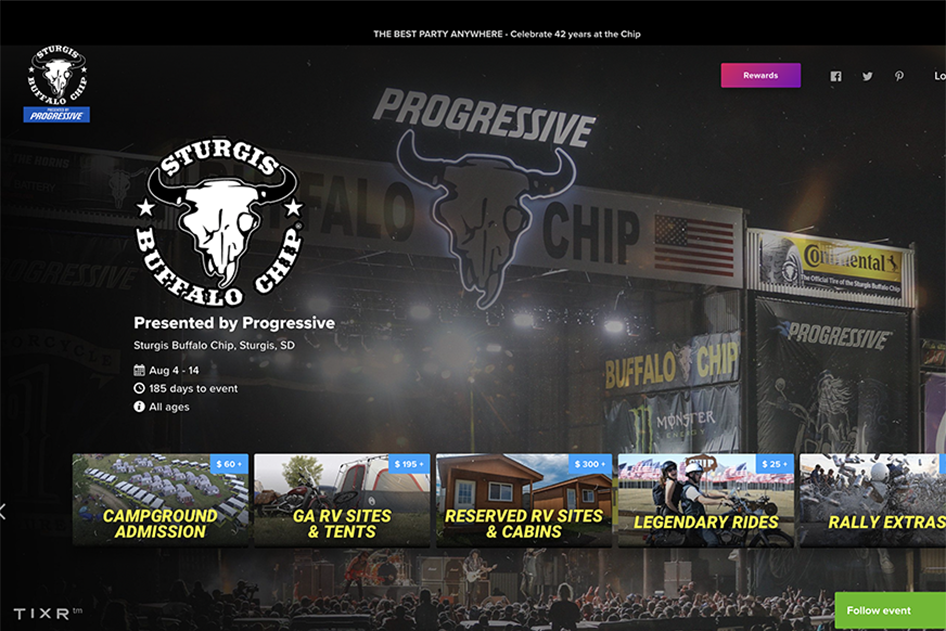 The Buffalo Chip is the original innovator that brought music and motorcycles together. The new partnership with Tixr underscores that innovative spirit and a renewed commitment to continue delivering world-class memories for its patrons. "While traditions run deep at the Sturgis Buffalo Chip, we're looking forward to giving our fans a brand new, thoroughly modern, easy-to-use purchase experience with Tixr, as our fans make their plans to rock, ride, camp, and party with us this summer," said founder, Rod "Woody" Woodruff.
Tixr's premium, white-labeled user interface puts the Buffalo Chip brand first and helps fans visualize what they're actually carting. For the first time, Sturgis Buffalo Chip guests will reserve the perfect campsite from an interactive custom rendering of the grounds with Tixr Arena, rather than select accommodations from a list. On top of a more modern purchase experience, guests can tap into Tixr's built-in, automated layaway solution for interest-free payments. Sturgis Buffalo Chip enthusiasts can also earn perks and prizes for influencing friends to purchase Campground passes via Tixr Rewards, a proprietary fan-to-fan referral program.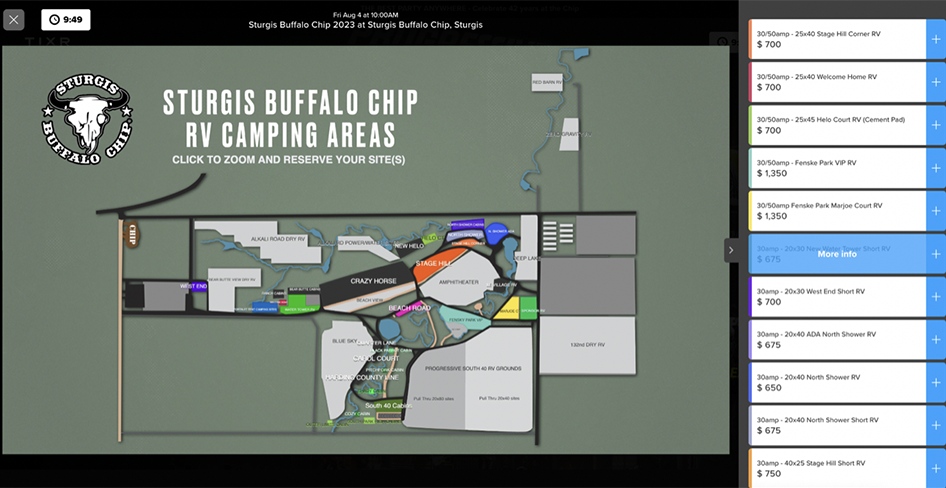 "We're thrilled to be working with this iconic American experience that's been bringing people together from all over the planet for decades," said Patrick Bradley, Tixr's Chief Revenue Officer. "The Buffalo Chip is arguably the first-ever destination festival. Our innovative toolset and the flexibility and customization the Tixr platform can give large-scale events, especially complex travel destination events like the Chip, is the right match fit to evolve the business and support its plans for even more growth."
As an experiential commerce partner leveraging unique technology to redefine the fan experience and evolve the way large-scale event producers do business, this new partnership aligns with Tixr's mission to solve highly complex legacy problems that have long plagued this industry. Firm believers that a fan's event experience begins when they're making all of their arrangements and purchases, Tixr prides itself on creating a seamless experience that's enjoyable right from the start and continues when guests arrive to have the times of their lives.
Based in Santa Monica, California, Tixr came on the scene in 2013 with a flexible technology stack that empowers event promoters to sell beyond the ticket. With its roots in music festivals and venues, the company now services over 500 of the most respected live entertainment brands with events in 40 countries including LIV Golf, Riot Games, Playa Luna Presents (Luke Bryan's Crash My Playa, Dead & Company's Playing in the Sand), Acura Grand Prix of Long Beach, RÜFUS DÜ SOL's Sundream, Topeka (Brandi Carlile's Mothership Weekend, Moon Crush), ComplexCon, The Laugh Factory, Wynn Nightlife, Lightning in a Bottle, Professional Pickleball Association, and Bell Bank Park (Mesa, AZ).
Campground admission, RV sites, rally extras, and more for the 2023 Sturgis Buffalo Chip are available now at buffalochip.com and sturgisbuffalochip.tixr.com.
About The Sturgis Buffalo Chip®
The Sturgis Buffalo Chip® is the award-winning leader in music and motorcycle lifestyle experiences. Hailed as The Largest Music Festival in Motorcycling® and The Best Party Anywhere®, it has been the epicenter of the annual Sturgis Motorcycle Rally since its establishment in 1981. Every August, the Buffalo Chip brings together the world's largest gathering of music and motorcycle fans, with visitors from all 50 states and over 20 countries. It remains one of the world's most televised and longest-running independent music festivals. The Chip advances the Sturgis Rally by being home to the Sturgis Rally Information Center™ and the official sponsor of the Sturgis.com Official Sturgis Rally Registration Program. More details are available at BuffaloChip.com.
About Tixr
Tixr, a global experiential commerce leader, is transforming the ticket-buying experience. Born from a fan-focused frame of mind, the Tixr platform empowers large-scale events, facilities, and teams with simple solutions to highly complex ticketing and e-commerce problems. Leveraging sophisticated technology, Tixr creates products that go beyond ticketing to evolve the way large-scale event creators do business and delivers a positive experience from the initial ticket sale to the moment of arrival and beyond. Find upcoming events at Tixr.com and learn more about Tixr platform at creators.tixr.com.
###
Tixr Press Contact
John Vlautin – SpinLab Communications
[email protected]
Jill Mango – SpinLab Communications
[email protected]
Sturgis Buffalo Chip Press Contact
Cody Ertman
[email protected]