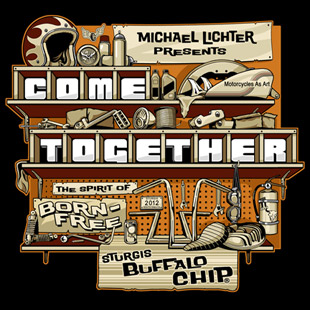 Motorcycles as Art is an internationally renowned exhibition, located at the Sturgis Buffalo Chip Campground in Sturgis, SD showcasing the works of the most influential master builders and artists in motorcycling. Motorcycles as Art has become the token exhibition of the annual Sturgis rally. Assembled by world-famous motorcycle photographer Michael Lichter, the exhibition, heralded as some of the finest industry collections ever assembled, captures the personal expression, creativity and spirit that permeate the history and culture of motorcycling.
The 2012 "Motorcycles as Art" exhibition, presented by famed photographer Michael Lichter, in conjunction with Born-Free bike show creators Grant Peterson and Mike Davis and the Sturgis Buffalo Chip, titled "Come Together – The Sprit of Born-Free" will once again raise the bar of this annual Sturgis motorcycle rally exhibition as it celebrates freedom of expression, contemporary motorcycle design and the vision of today's most innovative artists and custom bike fabricators. This Sturgis exhibition will look at what is behind the notion that motorcycle design is as much about the culture and times it was born of as it is about the machinery itself. It will do this by looking at an emerging movement within custom motorcycling.
Over the last few years, custom bike building has been returning to its roots. Hastened by the state of the motorcycle industry and the economy as a whole, custom bike builders have been looking back to simpler times, to motorcycling in the 1950's-1970's for inspiration. They are back in their small garages all across America getting their bikes to work better, look better, and represent who they are. They are using old original swap meet/Ebay parts from the decades surrounding WWII or they fabricate one-off hand-made parts whenever possible. For these builders, anything beats the catalogue ready billet-cut machine-made parts that have become so pervasive. They work by themselves and they work with their best friends. This new breed of builder is acknowledging the styles of the past as they choose to incorporate (or not) today's engineering innovations. In doing this, they are breathing new life into these old machines. Their creations reflect their personal stories, their friends and contemporary life they are so part of. Paramount to all, they are building these bikes to ride – and they ride them hard.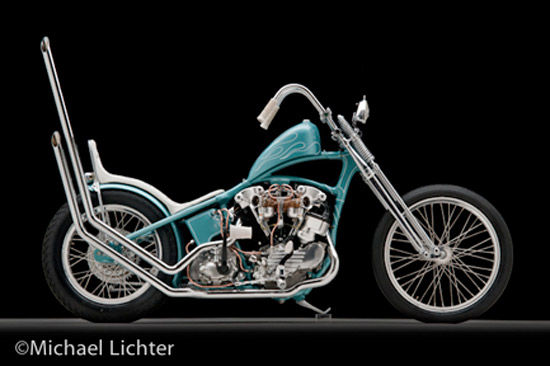 As these developments were coming to pass, two people that had no experience with bike shows, Grant Peterson of Freedom Machinery and Accessories and Mike Davis of Born Loser, decided to organize a one-day show in Southern California in 2009 "about the love of old motorcycles and like minded individuals having a good time together". They wanted the show "to unite people from all walks of life by bringing the passion that we all have of these old machines together for one special day." It was also important to them that the show was free to all that would come, and thus "Born-Free", the bike show who's title came from combining words from their two company names, began.
"Motorcycles as Art" curator Michael Lichter worked closely with Born-Free creators Grant Peterson and Mike Davis on this exhibition to fill the Buffalo Chip's 7,000 square foot Lichter Exhibition Hall with 2-dimensional art and more than 25-custom bikes. They have selected the most creative bikes and artwork associated with Born-Free to represent this spirited movement and the culture it is part of.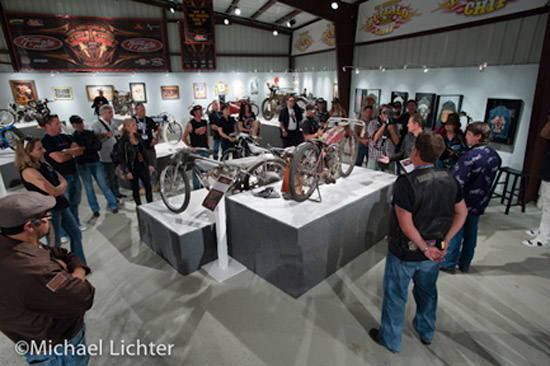 Michael, Grant and Mike would like to thank Come Together – the Spirit of Born Free sponsors, Rod "Woody" Woodruff and the Buffalo Chip, the many people on prep and installation crews and the confirmed participants, which currently includes Brandon Casquilho (Mullins Chain Drive), Caleb Owens (Cro Customs), Dave Barker (Speed Metal), Dave Polgreen, Harpoon (Harpoon Kustom Paint), Jeff Leighton (Fully Fabricated), Matt Olsen (Carl's Cycle Supply), Todd Asin (Small City Cycles), Wil Thomas and Zach "EZ" Nelson for their generous support.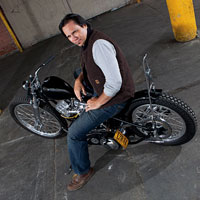 CALEB ROBERT
Caleb Robert owns CRO Customs Inc. in Culver City California, a far cry from in hometown of Miami.
With a love for Jazz and a collage degree in Art and minor in Art History/Education, Caleb is drawn to things were the pieces work in combination with each other to make a bigger statement. Caleb is particular to contrast design with details not obvious the first time you look at his bikes, but most of all to building a bike you just want to ride.
With his preference for generator era motors and choppers styles of the 50's, 60's and 70's Caleb presents his one of a kind chopper with a 1956 Panhead motor at this years Motorcycles as Art exhibition.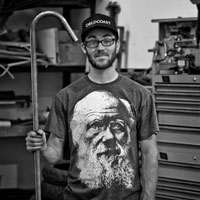 ANDY CARTER
Andy Carter has a hardcore intensity to his life that can be found in his music, his personality, his lifestyle and mostly the motorcycles he builds from hand in his shop, Pangea Speed, in Salt Lake City, Utah.
Andy finds inspiration in art, fashion, architecture and industrial design for his Art Deco style of fabricating parts and high-end custom motorcycles.
When asked what he enjoys most about building custom bikes Andy tells us, "I really like the ability to take a fairly raw material like a sheet of aluminum or steel and beat it into a beautiful shape. Planning a project on paper and then having it appear in real life by your own hands is a pretty awesome feeling."
At the 2012 Motorcycles as Art exhibition, Come Together – The Sprint of Born Free, Andy presents a turbo charged Chopper molded after the Bosozoku style movement from Japan.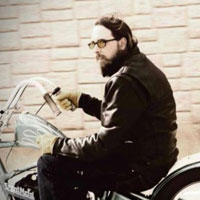 DAVE BAKER
Dave Baker grew up the son of a Champion race car driver and was interested in anything with wheels as a kid. However, his passion was music, going on to travel the world performing as a professional musician before opening Speedmetal Cycles in Denver Colorado.
Today, Dave still plays with a local popular band and fabricates bikes and parts with a style that harkens back to the mussel car era of late 60s early 70s.
When asked what he enjoys most about building custom bikes, Dave replied, "Riding something that I built for the first time! That never gets old."
For this year's Motorcycles as Art exhibit, Come Together – The spirit of Born Free, Dave presents a hot rod style chopper that was inspired by his interest in the Grand National Roadster Shows.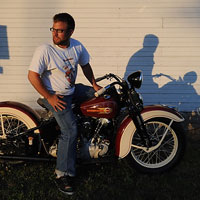 MATT OLSEN
Exhibitor Matt Olsen is one of South Dakota's favorite sons. Living in Aberdeen, Matt works side by side with his Father at Carl's Cycle Shop. Matt has had a passion for motorcycles ever since his first bike, a Honda fifty when he was 7. When he was 11, Matt built a 1948 Harley-Davison® Bobber S. This early induction to older bikes helped solidify Matt's style direction.
Today Matt says he enjoys the older, more refined bike of the past generation and draws inspiration from true craftsmen and builders that work on and restore classic bikes so they can be ridden everyday, anywhere you want to go.