Dozens of Light and Lean Machines Built for Motorcycles As Art Exhibit Curated by Michael Lichter
What happens when you thin the herd of the custom motorcycling world and gather the builders known best for creating the lightest, leanest and meanest machines on two wheels? You found out when you experienced the stunning collection of masterpieces curated by Michael Lichter for the Sturgis Buffalo Chip's® 2019 Motorcycles As Art™ Exhibition, "What's the Skinny: Motorcycling Without the Fat."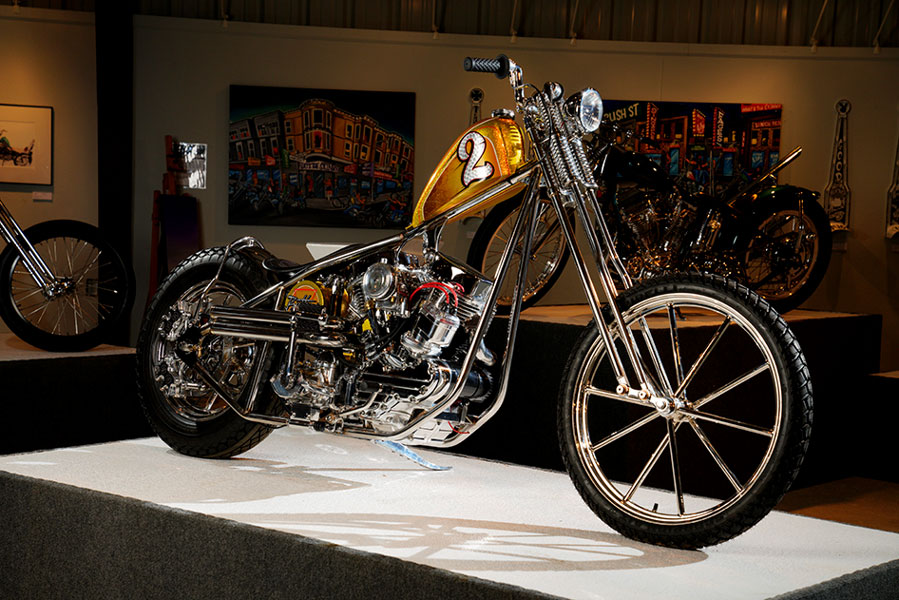 During the exhibit's 11th year at the Buffalo Chip, you got to know the works of a diverse group of over 40 custom builders and artists hand selected by exhibit curator Michael Lichter. This one-time collection assembled a remarkable group of custom motorcycles all built by master builders inspired by the "skinny" aesthetic.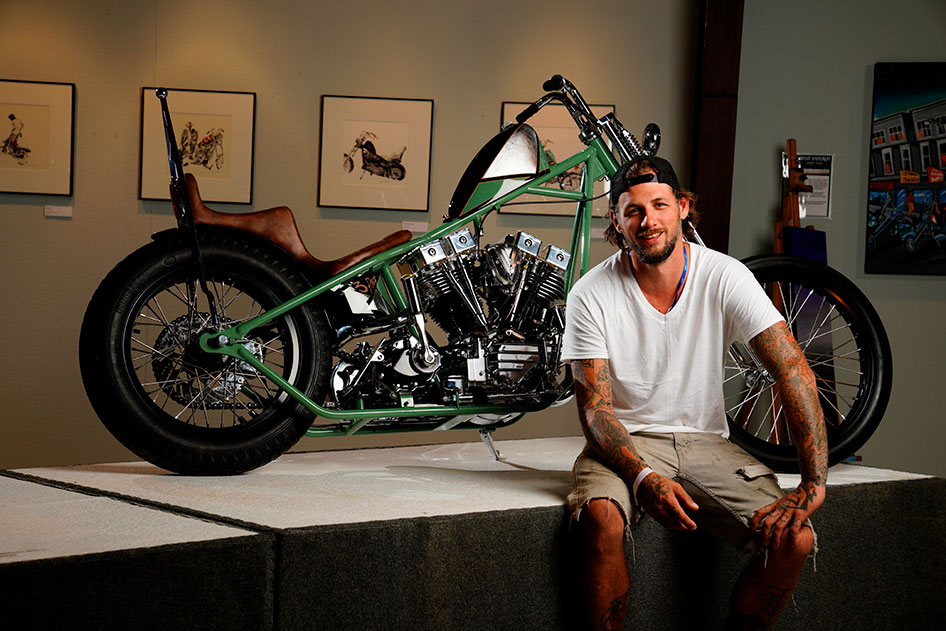 The exhibition was free to the public and open in the Buffalo Chip's Event Center 2 to 10 p.m., Saturday, Aug. 3 through Friday, Aug. 9, 2019.
What's the Skinny: Motorcycling Without the Fat showed you just how much inspiration, detail and engineering mastery can be crammed into a wiry frame in a world-class gallery setting.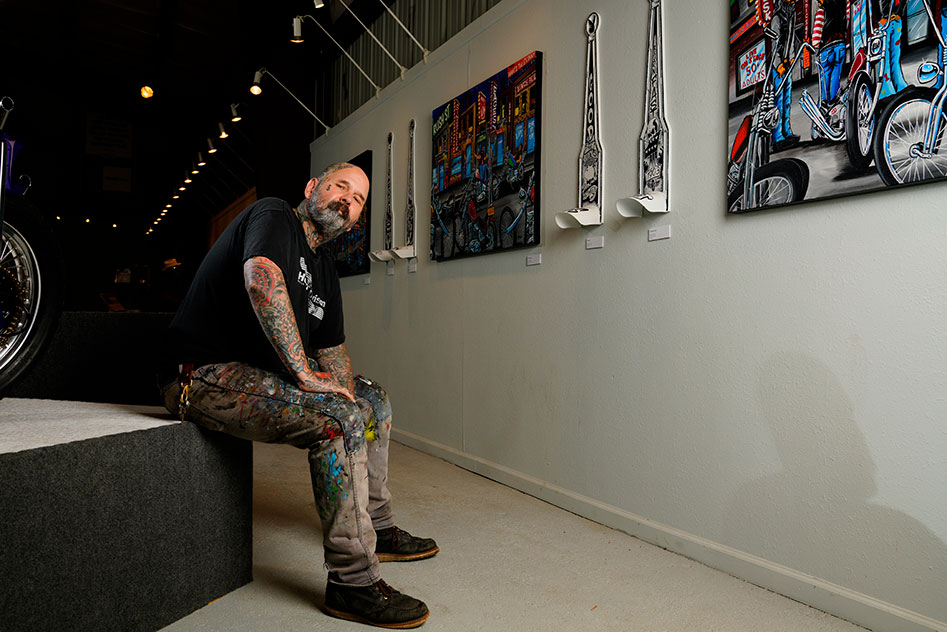 There were no rules restricting the builders on type and size of tires, how much the primary could stick out or an absolute maximum width for the fuel tank and handlebars. Lichter based each builder's inclusion solely on past bikes they have built and their interest in the "skinny" aesthetic. The bikes built were limited only by the builders' imagination and ingenuity, which is why industry professionals have been known to frequent the exhibit to pick up new ideas and trends.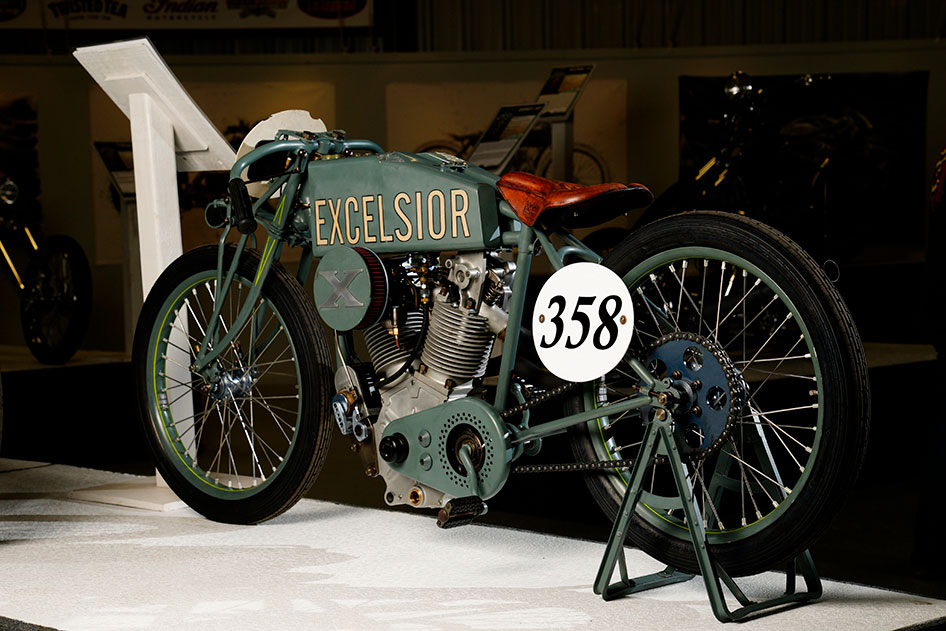 You were able to get an up-close view from every angle as each bike was individually lit and displayed atop elevated pedestals spread throughout the hall.
In addition to only displaying the work of those who've mastered the art of light and lean, every bike seen in the display was built specifically for this show. This meant in many cases you were one of the first in the world to lay eyes on them.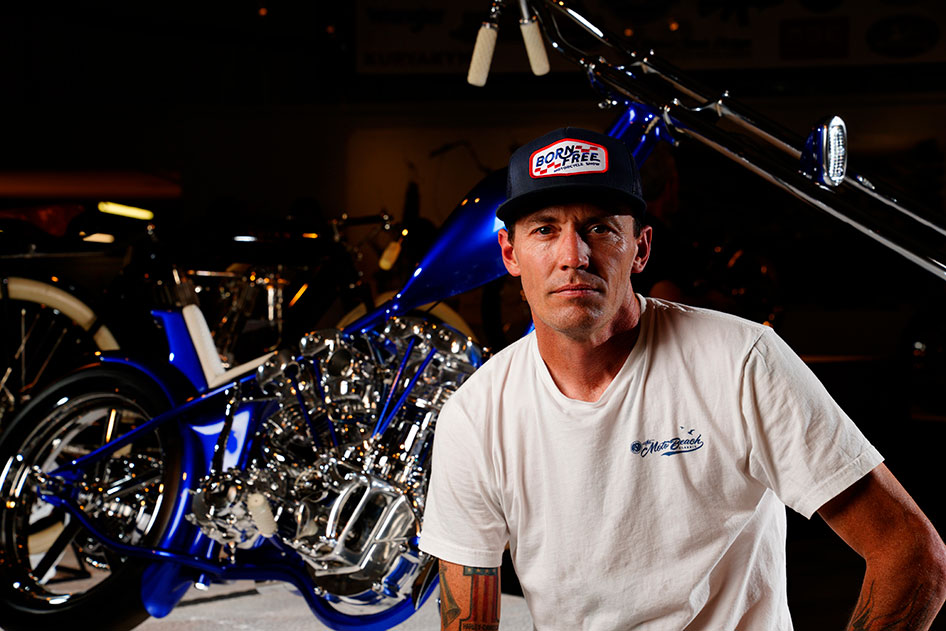 The list of custom motorcycle builders and two-dimensional artists who presented their skinny masterpieces at the 2019 "Motorcycles as Art" exhibit included:
Andrea Radaelli, Radikal Chopper Milano, ITALY
Arlen Ness, Arlen Ness Enterprises – Dublin, CA
Billy Lane, Choppers Inc – Daytona Beach, FL (with 2-Bikes)
BMW North America –
Brian Buttera, Buttera's Metal Werx – Lakeland, FL
Chris Callen, Flat Broke Chops & Rods – Tarentum PA
Chris Tope, Utopeia Moto Company – Richardson, TX
Cristian Sosa, Sosa Metalworks – Las Vegas, NV
Cole Rogers, 138 Cycle Fabrication – Springboro, OH
Dakota Toomey – Southampton, NJ
Dalton Walker – Split Image Kustoms – Hanford, CA
Dan Rognsvoog, Cabana Dan's Creations – Franksville, WI
Dave Perewitz, Perewitz Cycle Fab – Halifax, MA
Dorin Racz Arpad – Câmpia Turzii, ROMANIA
Freddie Arnold, Hickory Flat Hot Rods – Canton, GA
Hawke Lawshe, Vintage Technologies – Columbia Falls, MT
Jack Deagazio – East Syracuse, NY
Jesse Srpan, Raw Iron Choppers – Chardon, OH
Jill Parham – Anamosa, IA (with 2-Bikes)
Josh Sheehan – Minden, NV
Justin McNeely, Hooked on Speed – Jackson, MO
Ken Nagai – Ken's Factory – Nagoya, JAPAN
Kevin "Teach" Baas – Prior Lake, MN
Kyle Brewer, Paughco – Carson City, NV
Max Hazen, Hazan Motorworks – Los Angeles, CA
Michael LaFountain, Santa Clarita, CA
Mike Lange, Big Bend, WI
Mike Rabideau, Majik Mike Customs, Las Vegas, NV
Nick Beaulieu, Forever Two Wheels – Windham, ME
Nick Pensebene – Edgewater, FL
Oliver Jones, the Cut-rate, Long Beach, CA.
Paul Brodie, Flashback Fab – Langley, BC, CANADA
Paul Miller, PanicRev Customs – Calgary, AB, CANADA
Paul Yaffe, Paul Yaffe Originals – Phoenix, AZ
Samuele Reali, Abnormal Cycles – Milan, ITALY
Takatoshi Suzuki, Seven Motorcycles – Sendai, Japan
Wild Card Builder – Brandon Keene, B. Keene Built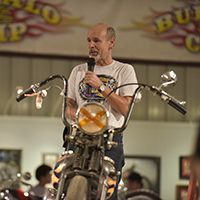 Michael Lichter began photographing custom bikes and the biker-lifestyle in the 1970s. Working with Easyriders Magazine since 1979, he has produced over 800 stories for them. Michael is also a regular contributor to 16 other publications around the world, has 11 coffee table books to his credit and exhibits his photographic art in galleries and museums in the USA and abroad.
As a curator, Michael first started creating themed exhibitions with custom motorcycles and art in 2001 at the Journey Museum in Rapid City. In 2009, the annual exhibition was moved to the purpose-built 7,000 square foot gallery at the Sturgis Buffalo Chip where it was given the name "Motorcycles As Art."
Michael has operated out of the same commercial photography studio in beautiful Boulder, Colorado for more than 35-years.
Find out more about Michael Lichter and see his work here:
Facebook: facebook.com/lichterphoto
Instagram: @michaellichterphotography
Website: lichterphoto.com
Don't miss the one-time opportunity to get up close and personal with this year's incredible collection of motorcycles and art. Click "CURRENT EXHIBIT" in the menu. As with the "What's the Skinny" exhibit, once the Sturgis Rally is over, it will never be seen again!
Which of these custom builders or artists were you most excited to see at the What's the Skinny Exhibition? Tell us in the comments below!