Over 40 Labors of Love Built for the 10th Anniversary Motorcycles As Art™ Exhibit Curated by Michael Lichter
What kinds of custom motorcycles and art can be created from pure passion and love of the machine? You found out when you experienced the stunning collection of masterpieces curated by Michael Lichter for the Sturgis Buffalo Chip's® 2018 Motorcycles As Art Exhibition, "Passion Built – Garage to Gallery."
During the exhibit's historic 10th year at the Buffalo Chip, you got to know the works of a diverse group of over 40 custom builders and artists hand selected by exhibit curator Michael Lichter. This one-time collection assembled a remarkable group of professional-quality custom motorcycles all built outside of a professional workplace during the builders' free time.
| | |
| --- | --- |
| Who: | You and your friends! |
| What: | Passion Built Exhibit |
| When: | Saturday, Aug. 4 – Friday, Aug. 10, 2018 – 2 -10 p.m.. |
| Where: | Buffalo Chip Event Center Near the East Gate |
| Why: | It's was a one-time collection of professional-quality custom motorcycles built by the passionate non-pros who are driving this industry. |
| How: | t's FREE to the public! Get there |
This groundbreaking exhibit proved non-pros have a more powerful voice than ever before, and confirmed that it won't ever be just a small handful of professionals who get to decide where the industry is headed.
The exhibition was free to the public and open in the Buffalo Chip's Event Center 10 a.m. to 8 p.m., Saturday, Aug. 4 through Friday, Aug. 10, 2018.
Passion Built – Garage to Gallery showed you just how much one can achieve with passion and hard work, by showcasing the creations of incredible at-home builders in a world-class gallery setting.
The enormous amount of time and energy these builders dedicated to their creations put their bikes on par with those built by a professional. The fact these customs were all built in the evenings and over the weekends made these labors of love arguably even more impressive than a pro build.
By creating an exhibition filled entirely with the work of those who build in their spare time, curator Michael Lichter ensured you saw just how diverse the world of custom bike building truly is.
No matter the style, you were able to get an up-close view from every angle as each bike is individually lit and displayed atop elevated pedestals spread throughout the hall.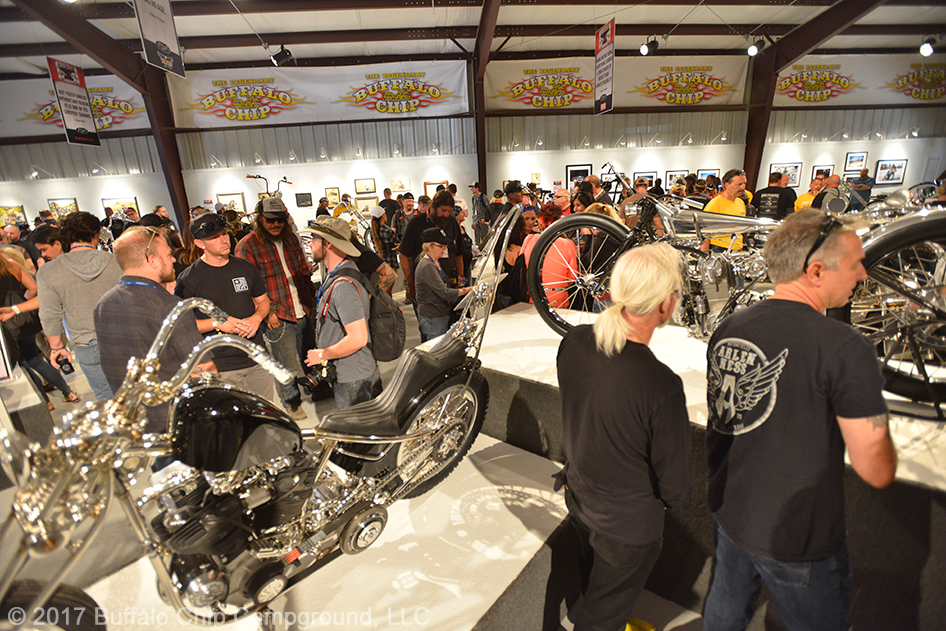 In addition to only displaying the work of those who build in their spare time, every bike you saw in the display was built specifically for this show. This meant in many cases you were one of the first in the world to lay eyes on them.
Outwardly, the builders Michael Lichter selected for Passion Built were about as different as they come. They varied in ages, walks of life and geographic locations, and their "day jobs" spanned from attorney to nationally touring rock star. The remarkable attribute they all shared was the energy and passion that drives them to work on their projects after returning home from a full day's work.
Ben Jordan – Waxhaw, NC
Ben Zales – Burbank, CA
Brad Gregory – Glenwood, IA
Brad Richards & Ry Seidler – Milwaukee, WI / Detroit, MI
Bryan Lane – Waxhaw, NC
Bryan Stalcup – Arlington, TX
Oscar Salas & Carsten Fritzen – Beaufort, SC
Chris Callen – Tarentum, PA
Chris Graves – Milwaukee, WI
Chris Tope – Richardson, TX
Christian Newman – Buffalo, NY
Clinton Wallace – Cleveland, TX
Dan Rogensvoog – Franksville, WI
Dave Polgreen – Santa Ana, CA
Eric Stein – Monroe, NC
Gilby Clarke – Sherman Oaks, CA
Jack Deagazio – East Syracuse, NY
Jeff Holt – Orange County, CA
Johnny Humphrey – Terre Hill, PA
John Barwood – Payson, AZ
Justin McNeely – Jackson, MO
Kevin "Teach" Bass – Prior Lake, MN
Mark Shell – Idaho Falls, ID
Marty Davis – Pensacola, FL
Nick Pensabene – Edgewater, FL
Peter Ballard – Barrington, NH
Randall Noldge – Saint Louis, MO
Rick Pew – Fort Lupton, CO
Skeeter Todd – Maryland, NY
Stacy McCleary – Manteca, CA
Steven Bates – Saginaw, TX
Tim Dixon – Ten Mile, TN
Tim Scates – Waller, TX
Ulf Musekamp – Munich, GERMANY
Walker Pew – Frederick, CO
Wayne Burgess – Fenwick, Ontario, CANADA
Wil Thomas – Los Feliz, CA
Xavier Muriel – Round Rock, TX
In addition to the custom motorcycles on display, you had the opportunity to take in complementary 2-dimensional art hanging throughout the hall alongside each motorcycle, as well as a display of ten hand-painted helmets, each from a different artist, provided by exhibition sponsor Biltwell.
Which of these custom builders or artists are you most excited to see at the Passion Built Exhibition? Tell us in the comments below!