The Chip is the Best Party Anywhere®!
More World-Class Concerts!
Get an exclusive campground admission pass to unrivaled entertainment that'll get you so excited you'll understand why "Holy sh** that was f***ing awesome!" is an understatement!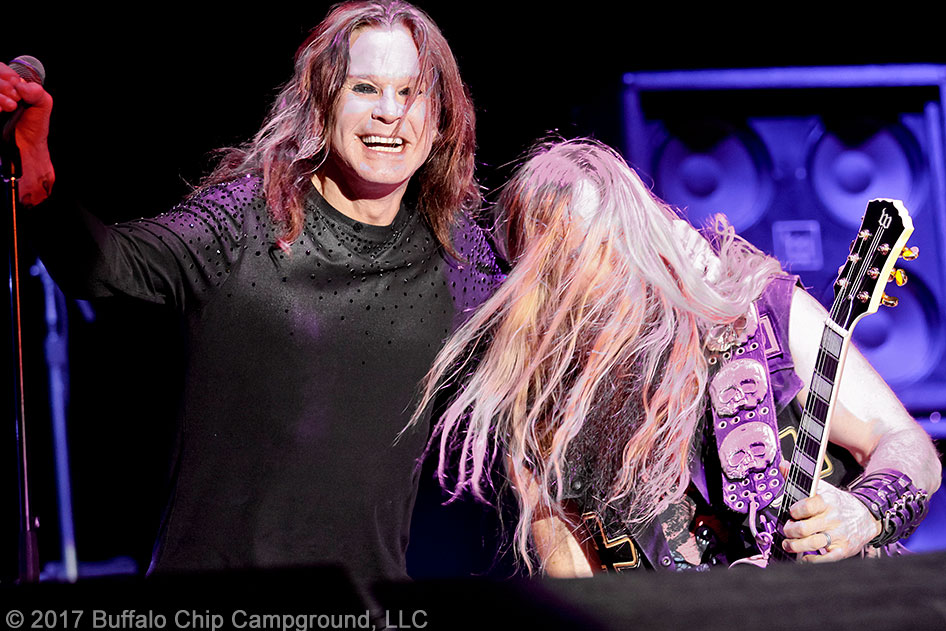 In 2010, Ozzy Osbourne yelled "I F***in' love this place" from the mainstage. In 2017 he returned reunited with guitarist Zakk Wylde.
Each year the Buffalo Chip Campground main stage hosts some of the biggest names in music. Legendary acts including Ozzy Osbourne, Kid Rock, Bob Dylan, Willie Nelson, Aerosmith and hundreds more have played the Chip since 1981.
In addition, multiple showcase stages throughout the campground keep your party going before and after the main stage with amazing performances from up-and-coming talent.
Entertainment is free with camping.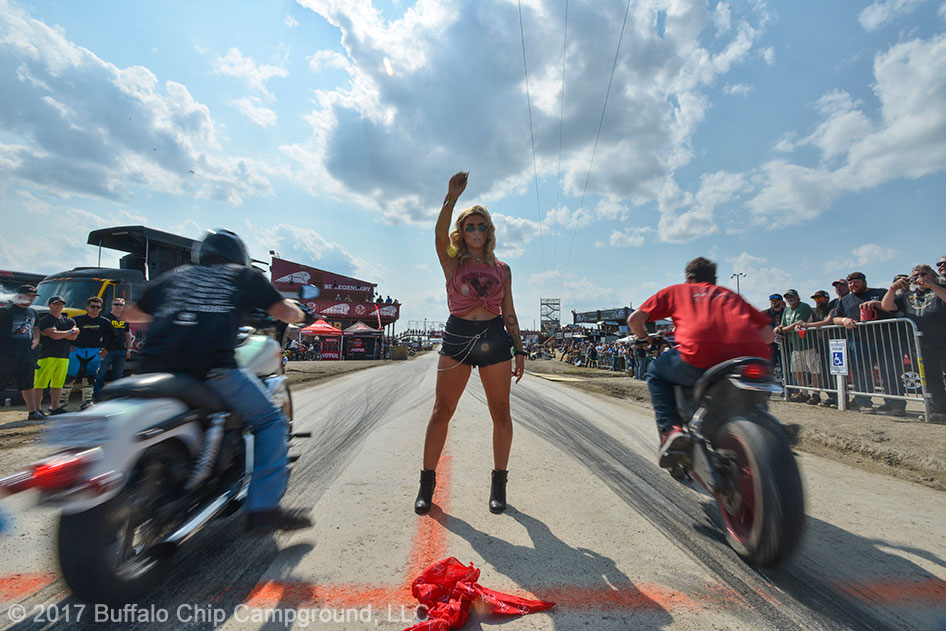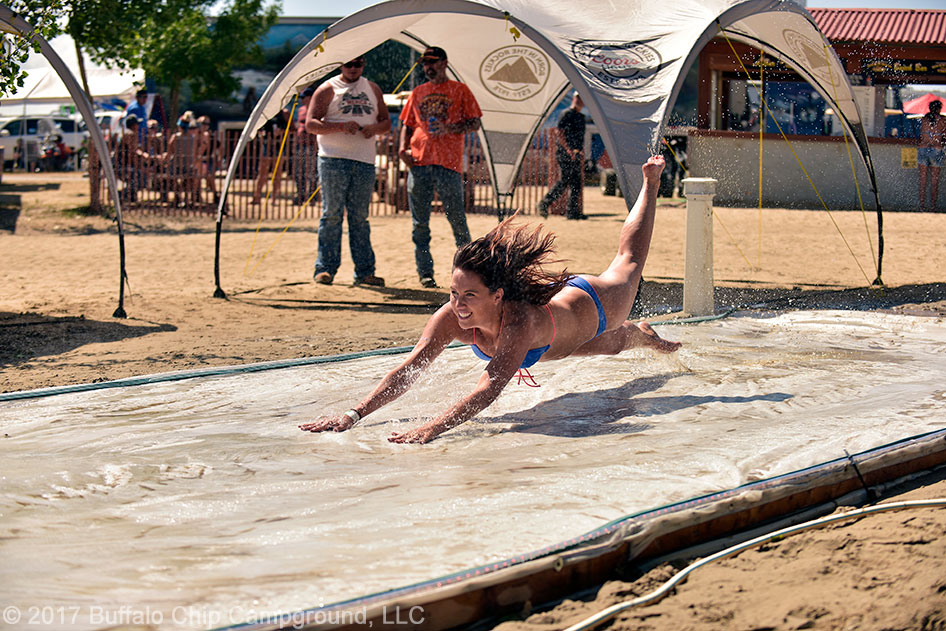 The Slip and Slide Contest is just one of the many hilarious and fun contests that happen daily at Bikini Beach.
"It's all about the experience and what kind of attitude you go there with. Go to have fun…you'll have fun! Where else can you experience all the Chip has to offer plus your campsite for around $300 for the week?"
 – Cheyenne Blackstone
More Friendly Crew Members!
The Chip crew continually strives to provide the best customer service and camping in Sturgis. To that end, we take all of your comments and suggestions very seriously—whether they're good or bad. So let us know how we are doing and where you think we could use improvement. Send us your comments!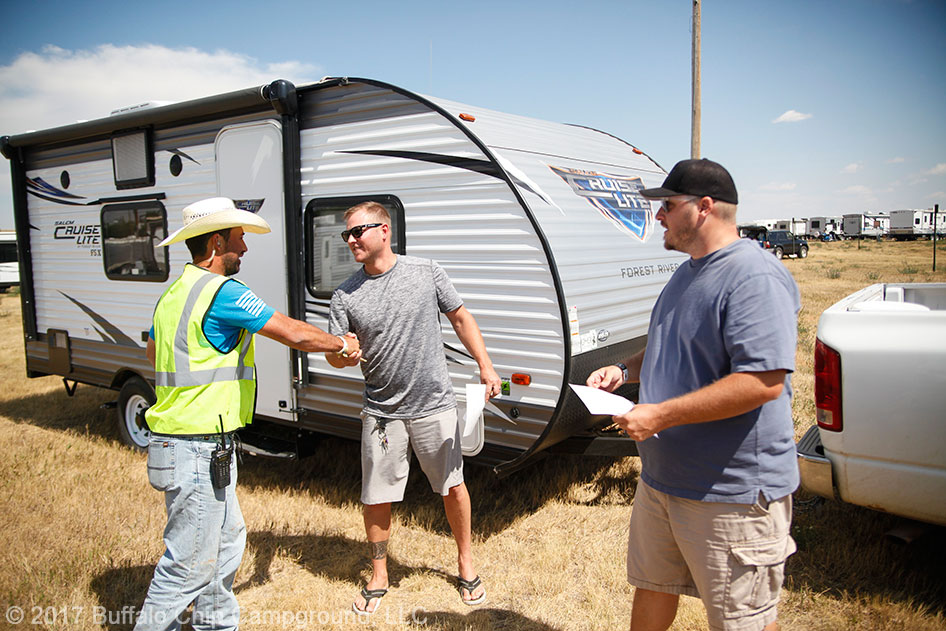 From the time you enter the grounds to the time you head home, friendly crew members like Ty from the Buffalo Chip parking crew (above) are happy to guide you through the experience and answer questions you may have.
Each year the Buffalo Chip receives many heartwarming compliments. It's really motivating for our crew, most of whom return year after year to provide you with the friendly service you've grown accustomed to. Thanks to each and every one of your who've expressed your appreciation via email, Facebook, Twitter, Yelp and Trip Advisor!
"I just wanted to say it was a pleasure to meet you and we are SO thankful for all your help during that crazy 1st day! We had the time of our lives and will never forget the 75th! We will be back every year from here on out! Thank you for all you do to make the Chip the best place in Sturgis! Have a great rest of your year, and we'll see you next summer!" – Lindsay Kuula
If you're wondering whether to spend your vacation at the Chip, find out what others have to say about the Best Party Anywhere in our testimonials section to learn! Then check out our photo gallery and video gallery to see what all the hype is about!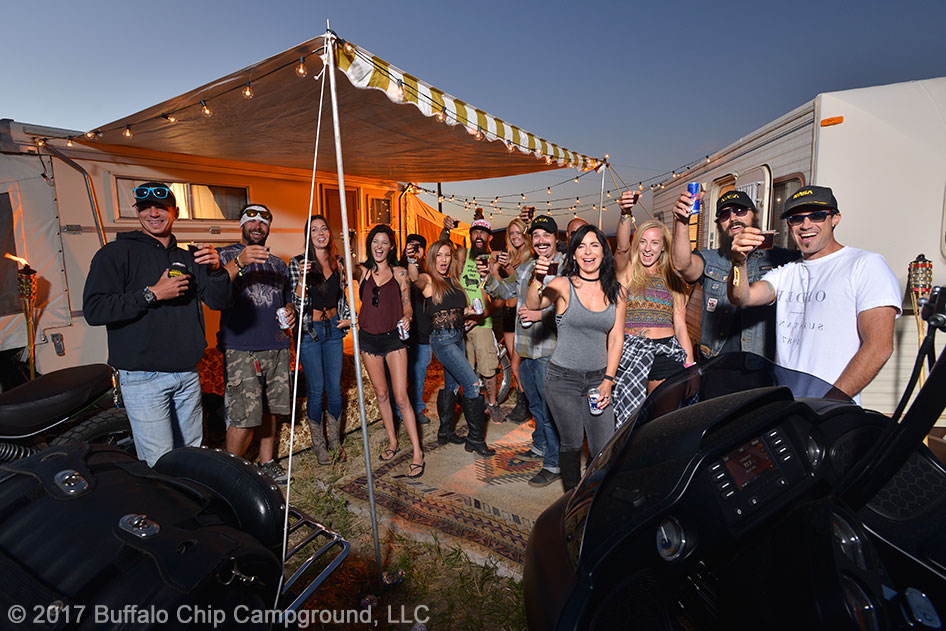 The people you meet at the Buffalo Chip don't just become your friends; they become the family you can't wait to reunite with again every August.
"I stayed at the Legendary Buffalo Chip and had the time of my life! My face hurt at the end of the week from smiling. I met people from all over the world, good people. Was definitely one from the bucket list! Thanks again!!!!" – Chad Hall
Just because you're camping doesn't mean you can't enjoy many of the comforts and conveniences of home while on vacation at the Chip during the Sturgis Rally.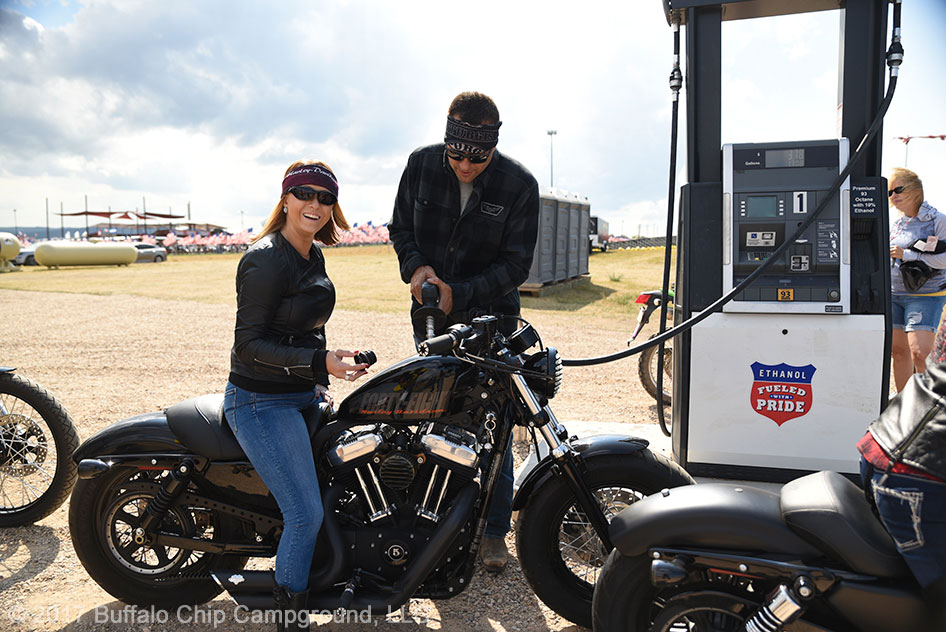 If you need to fuel up before hitting the road, you can't beat the convenience of the Buffalo Chip Stop & Fuel Gas Station, and you won't find a better price nearby. This self-service gas station offers 93-octane fuel 24/7/365 near the corner of Russ Brown Blvd and Flag Avenue.
Take advantage of the on-site laundromats, savor a delicious meal in the air-conditioned SpeakEasy Steakhouse & Winebar, fuel up at the 24/7 Buffalo Chip Stop & Fuel Gas Station, service your ride at the Buffalo Chip Garage, and so much more!
You won't find a better value anywhere else! One week of camping at the Sturgis Buffalo Chip costs far less than staying at a hotel in town that offers you no concerts, races, events, dancing girls, contests, neighbors begging you to join them in some serious life-changing fun…you get the point.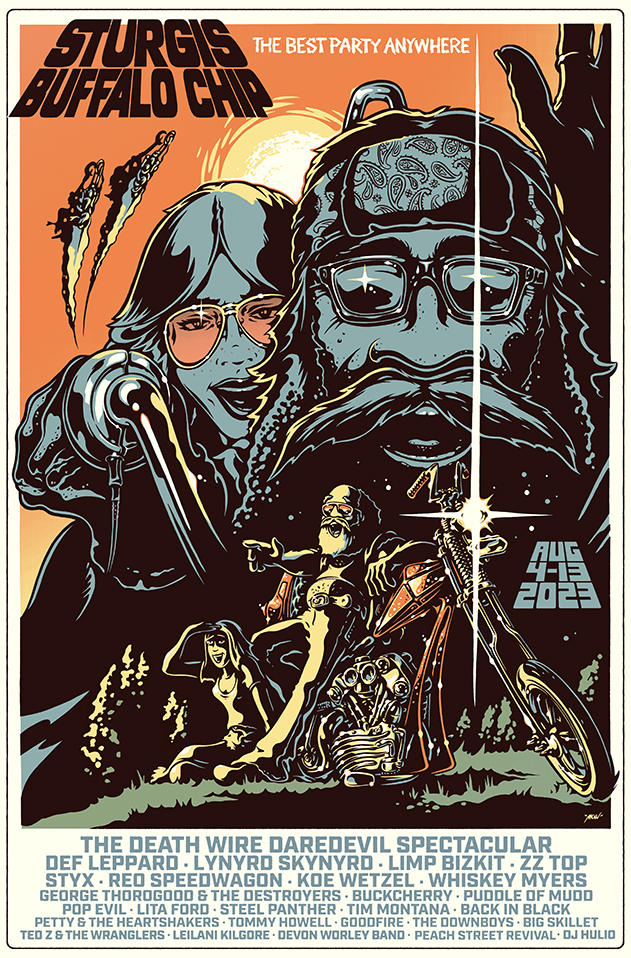 "An Alice Cooper concert ticket would normally be over 50 dollars. The Buffalo Chip provided us with Alice Cooper, Five Finger Death Punch, and Sweet Cyanide for roughly 28 dollars if you bought your pass early. To me, that's extremely cheap! So if you plan on Sturgis, you better stay at the Buffalo Chip! The best parties, the best bands, best entertainment, and you'll meet some of the nicest people ever while you're there! And, it's not even close to compare any other places."
– Chad Stuewe
Book your camping packages in advance, and you'll be rewarded with the lowest prices. Each package includes tent camping, free admittance to concerts and races, and access to shopping, free showers and a whole host of amenities.
Prices will increase as the Sturgis Rally draws closer. Make your reservations now to get the best concerts, entertainment and camping at the lowest possible price.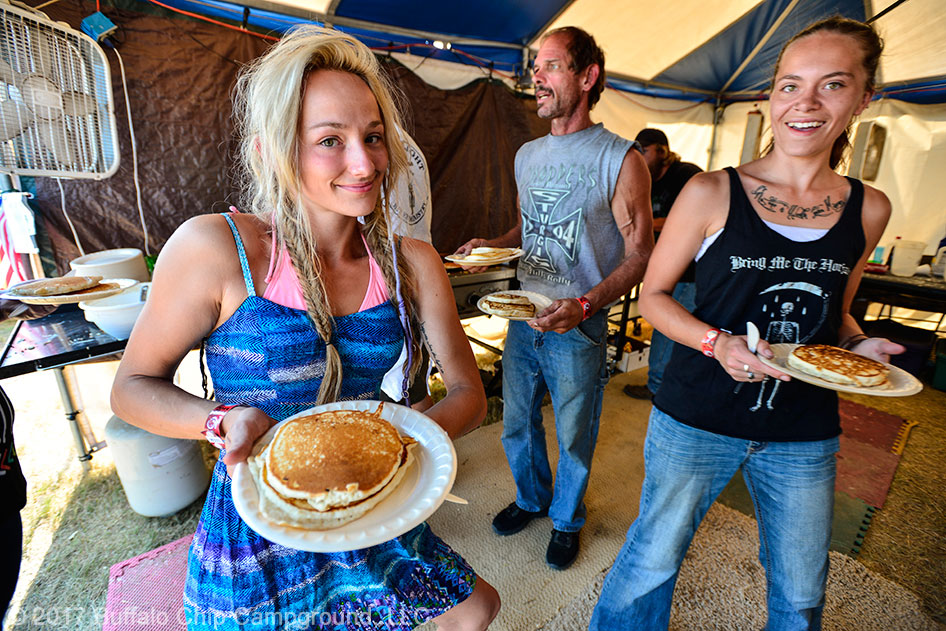 Free pancake breakfast near the West Gate is just one of many ways people can stretch their dollar at the Buffalo Chip.
More Campground Improvements!
For over four decades, guests like you have partied at the Buffalo Chip like it was their last hurrah. Over 20 years of major physical improvements to the 600-acre grounds ensure your stay will be more comfortable, more accessible and more fun each time around. To that end, camping at the Chip during the Sturgis Rally has never been as good as it will be in the coming years.
See How the Sturgis Buffalo Chip Compares to Others
Sometimes it's good to have options. And as you can see below, only the original biker-dedicated destination that brought music and motorcycling together during the Sturgis rally gives you more options than anybody else. See for yourself why it's the best choice for your vacation! Entertainment is free with camping.
You can't get more for less anywhere else in the world.
Prices are at the lowest they'll be all year, and they will increase at any time, so get yours now!
Your home for
Music, Motorcycles, Freedom & Friendship
is the Sturgis Buffalo Chip!