Free Public Access – Show Your Appreciation by Visiting this Stunning Display of 800 American Flags
Take in the moving experience of honoring soldiers past and present by walking or riding through the Buffalo Chip's free public access majestic Freedom Field. This awe-inspiring display of 800 proudly waving American flags stands as a tribute to all servicemen and women who have sacrificed to protect our freedom. One stately flag stands every 10 feet for nearly as far as the eye can see. All are welcome to visit this free exhibit and watch the flags fluttering in the wind as a reminder that no force is strong enough to knock down the American spirit.
The Buffalo Chip first established the Freedom Field as a way to honor the brave men and women who had fallen while fighting in the Iraq war. One flag represented one American lost, with a soldier's name sewn on each flag. Eventually the count became so high that there no longer was room to expand. Today the breathtaking display serves as a tribute to all soldiers, who paid the ultimate sacrifice in defense of our country.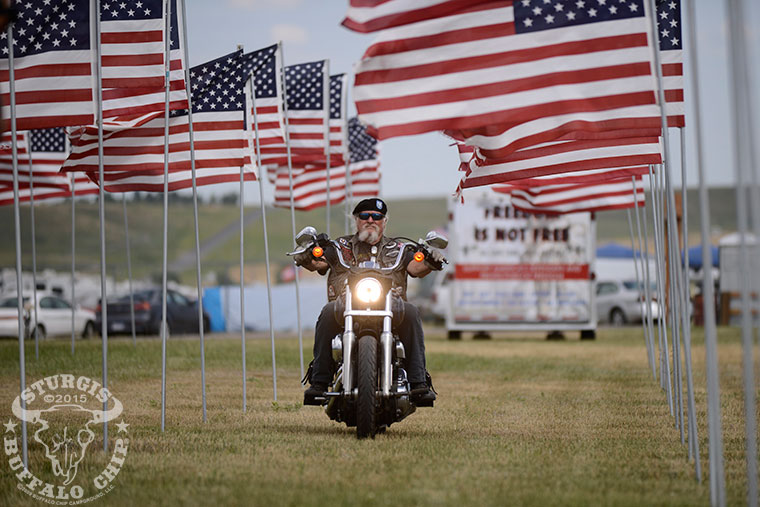 Each year a large group of patriotic volunteers from the Sturgis, SD area respectfully raises the flags on the northwest corner of the Buffalo Chip grounds so both visitors and passersby may see them. The 2023 Flag Raising will happen on July 28 at 6 p.m. The flags then stand resolute through the end of the Sturgis Motorcycle Rally, allowing visitors like you the opportunity to come pay tribute.
The magnificent display surrounds a solid granite memorial stone honoring all branches of service and our Fallen Soldier Memorial. The benches circling the stone offer a peaceful place for you to rest and reflect. During the Sturgis Motorcycle Rally, the American Veterans Traveling Tribute Memorial Wall also provides the field's solemn backdrop.