Get FREE ACCESS to Sturgis Rally Live Music, Bike Shows, Stunts, the Magnificent Freedom Field, Cheap Drinks at the Big Engine Bar™ and More!
Meet up with friends, see the industry's top bike shows and enjoy the best of the Sturgis Rally's FREE motorcycle, music, and freedom-oriented events and attractions at the free-access Buffalo Chip CrossRoads!
Sassy & Classy Over 35 Model Search
Cool Hand Speedco Antique Hangout
Sturgis Rally Information Center™
Events & Entertainment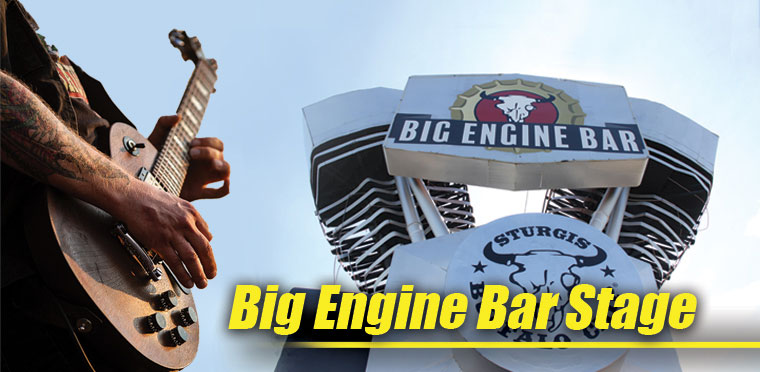 Big Engine Bar Stage - Daily
Knock back a couple cold ones with friends while taking in non-stop entertainment on the Big Engine Bar Stage. Beat the heat and get out of the elements inside the Big Engine Bar while taking in nine days of killer music.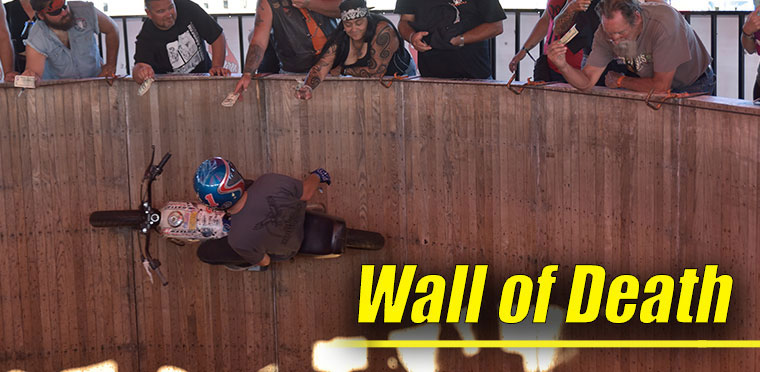 Ives Brothers' Wall of Death - Daily
Hang over the edge and watch in amazement as the world-famous Ives Brothers defy death, performing stunts on their traveling vertical wooden board track. They'll be performing multiple daily shows throughout the rally. Check out the times posted by their motodrome and plan to take one in.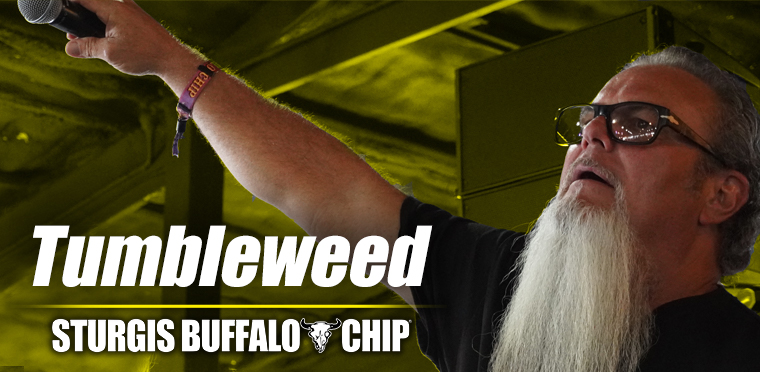 Tumbleweed - Friday, Aug. 5 - Saturday, Aug. 13, 2022
On the Big Engine Bar Stage, the bands bring the rock, and the master of ceremonies brings the roll. Stage emcee Tumbleweed keeps the party going between stage performances, letting the fun move in whatever direction the wind takes him. Watch or participate in a variety of crazy contests and events he hosts including the Buffalo Chip's Sassy & Classy Over 35 Model Contest, Biker Games, Buffalo Chip Fan Fest and many others.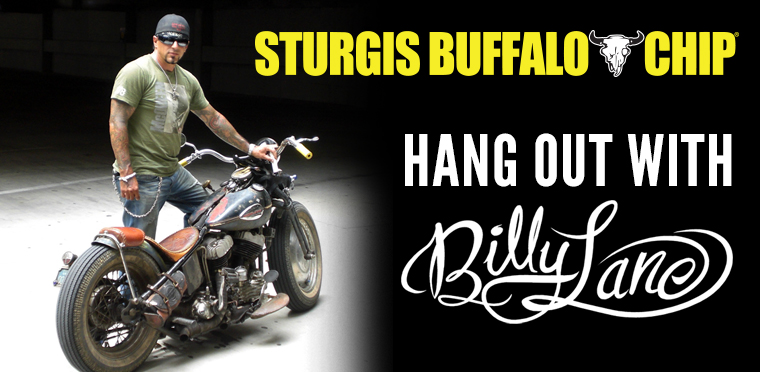 Billy Lane Hang Outs - Learn More
When it comes to a rally hang-out buddy, you won't find someone cooler, faster or more creative than the one and only Billy Lane. The mastermind behind Choppers Inc., Cool Hand Speed Co. and Sons of Speed will be set up at the CrossRoads all week long to meet fans, talk motorcycles and show off his creations. Find him at Buffalo Chip signature events and locations throughout the property, too!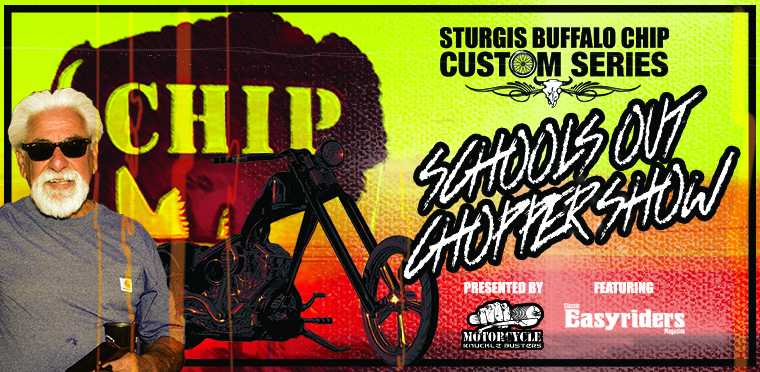 School's Out Chopper Show Presented by Motorcycle Knuckle Busters - Saturday, Aug. 5, 2023
Featuring Classic Easyriders and Mondo Porras of Denver's Choppers
The first campers to ever pass through the Buffalo Chip gate in 1981 rode in on choppers, so it's only fitting that the Chip starts the week off with a show for chopper lovers. Old school, new school and everything in between will be on display, plus you'll have the chance to meet star chopper builders including Mondo of Denver's Choppers and win prizes to get you going on your next chopper build.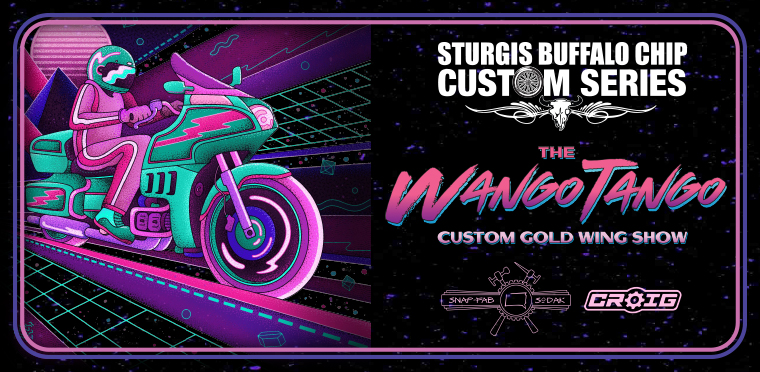 The Wango Tango Custom Gold Wing Show - Saturday, Aug. 5, 2023
Presented by Snap Fabrications & CROIG
If you've got a Wang, show off that thang at the Wango Tango Custom Gold Wing Show! Honda's development of the Gold Wing changed the face of two-wheeled touring back in the '70s and '80s. Now, it's about to change the face of America's greatest V-twin event, as it fills the no. 1 Sturgis Motorcycle Rally destination with a sea of vintage and modern metric customs.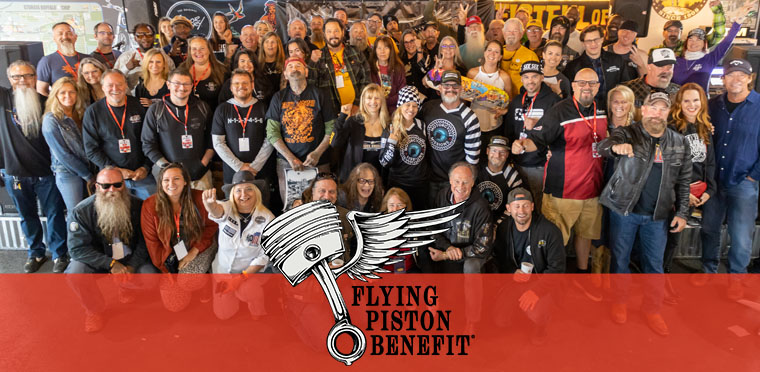 Flying Piston Breakfast - Sunday, Aug. 6, 2023
Kickstart your vacation with the cool kids at the Sturgis Rally by meeting the world's front line custom builders at the Flying Piston Breakfast Benefit. This exclusive event allows you to meet and mingle with some of motorcycling's most distinguished builders whose bikes appear in this year's Motorcycles As Art exhibition. Surprise special guests, too! And best of all, proceeds benefit charity.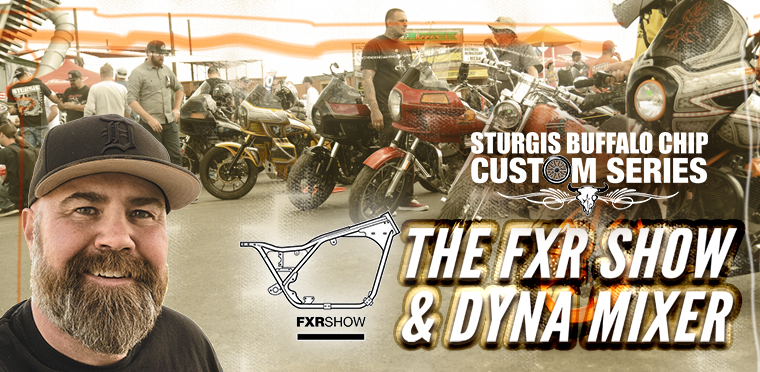 FXR Show & Dyna Mixer - Sunday, Aug. 7, 2023
Featuring Joe Mielke of Snap Fabrications
Ride in and register for free for this no-nonsense motorcycle event coordinated by Joe Mielke that brings together motorcycle riders to have fun and show and talk motorcycles. Now in its 10th year, this show is all about the riders, their stories and their ride. Tons of great prizes will be awarded based on popular vote thanks to the support of many of the biggest names in the motorcycle world and aftermarket parts industry. One hundred percent of the revenue generated from donations and t-shirt sales at this show go directly to LifeScape of SD.