The BH&B Association's Pioneer Award and Special Achievement Award honor the Sturgis Buffalo Chip and Rod Woodruff for greatly influencing the Black Hills visitor industry and impacting the region's tourism economy.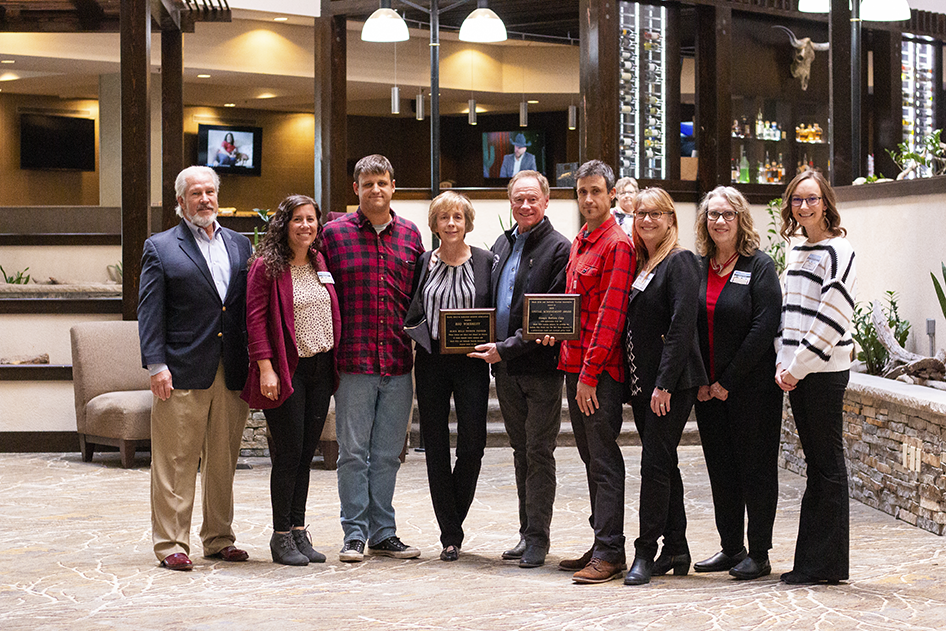 Photo courtesy of Black Hills & Badlands Tourism Association
Sturgis, S.D. (October 28, 2021): The Sturgis Buffalo Chip joined the ranks of top tourism destinations on Wednesday when it received two awards presented by the Black Hills & Badlands Tourism Association during the organization's annual meeting. Buffalo Chip founder and president Rod Woodruff accepted the Pioneer Award, which honors an individual whose devotion and passion have greatly influenced the Black Hills visitor industry. The Sturgis Buffalo Chip received the Special Achievement Award, an award reserved for a person, event, organization or business that has significantly impacted the Black Hills and Badlands region's tourism economy.
Rod Woodruff was one of two honorees for this year's Pioneer Award, sharing the distinction with Julie Jensen of Visit Rapid City. The two award winners join the ranks of such tourism pioneers as Nick Clifford (Mt. Rushmore National Memorial), Rollie Noem (Custer State Park), and Susan Johnson (Black Hills Central Reservations). Past winners of the Special Achievement Award have included the Mount Rushmore Society, Prairie Berry Winery, and Holy Terror Days Association.
"We're honored to be recognized alongside all the incredible pioneers and businesses who have accepted these awards in the past," said Rod Woodruff. "We're proud to have an impact on the tourism industry here, and we will continue to promote the tourism of this great region and this great state."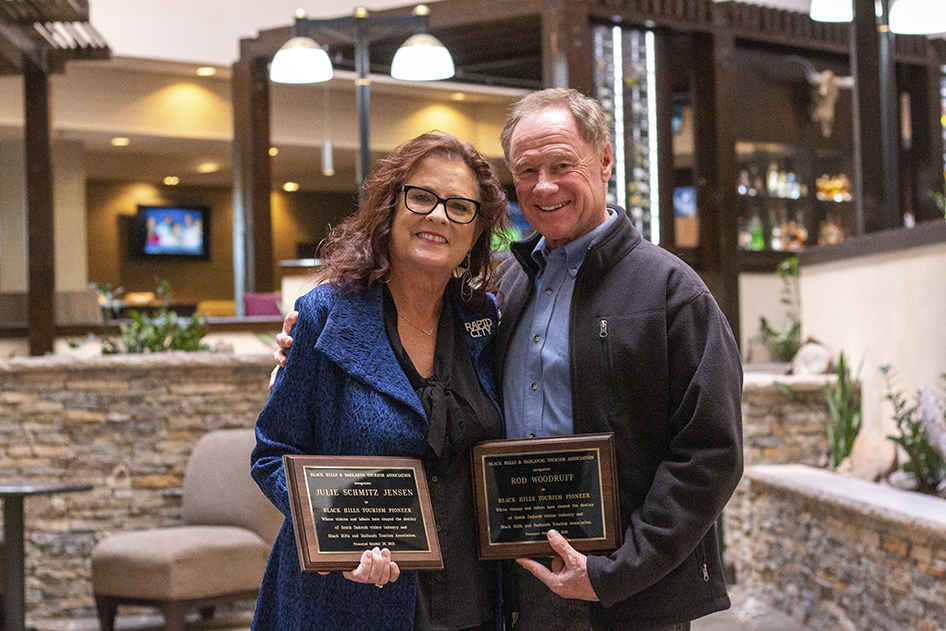 Photo courtesy of Black Hills & Badlands Tourism Association
As president and CEO of the Sturgis Buffalo Chip, Woodruff has devoted the past 41 years to building the world's leading entertainment destination for the motorcycle enthusiast. Passionate about saving the rally after bikers were removed from Sturgis City Park, he has welcomed millions of motorcyclists from every state and nearly 30 countries to attend annual events at the Buffalo Chip.
For 41 years, the Sturgis Buffalo Chip has been the single largest promoter of the Sturgis Rally. Each year, the venue spends millions of dollars to bring people to the Black Hills of South Dakota and provide them with larger-than-life experiences that impart a desire to return again, oftentimes with their friends and family.
The Sturgis Buffalo Chip continues to innovate its events, marketing and promotions. Notably, in recent years, the Buffalo Chip brought professional racing events to the Black Hills region, started the rally's first all-day tribute to women and their role in motorcycling, booked top national entertainers such as Superbowl Halftime Entertainer Snoop Dogg, and hosted SD Governor Kristi Noem on the Legends Ride.
The 41st annual Sturgis Buffalo Chip Music and Motorcycle Festival is set for Aug. 5-14, 2022. See the full schedule of events at BuffaloChip.com/EVENTS.
About the Sturgis Buffalo Chip
The Sturgis Buffalo Chip® is the award-winning leader in music and motorcycle lifestyle experiences. Hailed as The Largest Music Festival in Motorcycling® and The Best Party Anywhere®, it has been the epicenter of the annual Sturgis Motorcycle Rally since its establishment in 1981. Every August, the Buffalo Chip brings together the world's largest gathering of music and motorcycle fans, with visitors from all 50 states and over 20 countries. It remains one of the world's most televised and longest-running independent music festivals. The Chip advances the Sturgis Rally by being home to the Sturgis Rally Information Center™ and the official sponsor of the Sturgis.com Official Sturgis Rally Registration Program. More details are available at BuffaloChip.com
Further Inquiries:
Cody Ertman
[email protected]
605-347-9000