Encounter this One-Time Collection of Tattoo Inspired Motorcycles and Art at the Buffalo Chip's Russ Brown Events Center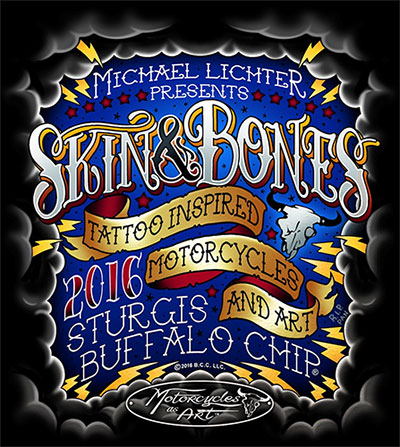 | | |
| --- | --- |
| Who: | You and your friends! |
| What: | Skin & Bones – Tattoo Inspired Motorcycles and Art Exhibit |
| When: | Sunday, Aug. 7 – Friday, Aug. 12, 2 p.m. – 10 p.m. |
| Where: | Russ Brown Events Center near the East Gate of the Sturgis Buffalo Chip® |
| Why: | Experience the creativity, spirit and personal expression of motorcycle history and culture. |
| How: | Get there however you can. Once you arrive, entrance to the exhibit is FREE! |
Observe a harmonious marriage of inner power and outer beauty during the 2016 Motorcycles As Art Exhibition: Skin & Bones, curated by renowned motorcycle photographer Michael Lichter. Take a walk through this one-time collection of tattoo-inspired motorcycles and art on display at the Sturgis Buffalo Chip's Russ Brown Events Center, and the experience is sure to leave a permanent mark on your soul.
Creating a custom motorcycle masterpiece worthy of being chosen for this exhibit requires a deep understanding of mechanical engineering and aerodynamics, as well as an innate appreciation for style and design. The "skin" of each bike in this exhibit must work flawlessly with its inner "bones." To that end, builders will expose their personalities to you by lending an added layer of tattoo design to the outside of what already were remarkable machines.
Over 30 masters of the trade earned the invitation to display one of their custom motorcycles in the 2016 Skin and Bones exhibit. You'll be able to closely examine each of their works as they sit atop elevated pedestals that offer an unencumbered view from every angle.
Motorcycles As Art curator Michael Lichter strives to include new talent and builders in the exhibition each year in order to keep the show relevant. In 2016 more than half of the builders exhibiting their work will be doing so for the first time.
Aki Sakamoto, Hog Killers, Hawaiian Gardens, CA
Andrea Radaelli*, Radikal Chopper, Milano, Italy
Bill Dodge, Blings Cycles, Daytona Beach, FL
Bobby Seeger*, Indian Larry Motorcycles, Brooklyn, NY
Bryan Fuller, Fuller Moto, Atlanta, GA
Chris Callen*, Cycle Source Magazine, Pittsburgh, PA
Chris Eder*, Misfit Industries, Addison, TX
Dalton Walker, Split Image Kustoms, Hanford, CA
Dan "Bacon" Carr, DC Choppers, Spicewood, TX
Eddie Trotta – Thunder Cycle, Fort Lauderdale, FL
Eric Allard*, FNA Custom Cycles, Lakeland, FL
George Stinsman*, Chaos Cycle, Mastic, NY
Jeff Cochran, Speedking Racing, West Harrison, IN
Jeff Holt*, Hot Bike Magazine, Orange County, CA
Kevin Dunworth, Loaded Gun Customs, Selbyville, DE
Nick Beaulieu*, Forever Two Wheels, Windham, ME
Ola Stenegard, Ronny and Benny Norén, Sebastian Gutsch, BMW Motorrad, Munich, Germany
Pat Patterson, Led Sled, Daytona, OH
Paul Yaffe, Paul Yaffe Originals, Phoenix, AZ
Richie Pan*, DST, Jackson, NJ
Rick Fairless, Strokers, Dallas, TX
Roadside Marty Davis, Flat Broke Chops and Rods, FL
Roland Sands, RSD, Los Alamitos, CA
Shaun and Aaron Gaurdado*, Suicide Machine Company, Long Beach, CA
Steve Peffer*, Steel City Choppers, Butler, PA
Taber Nash*, Nash Motorcycle Company, Long Beach, CA
Teach Kevin Baas, Baas Metal Craft, Lakeville, MN
Trent Schara*, Atomic Forge, WY
Trevelen Rabaual*, Superco, Los Angeles, CA
Uwe Ehinger*, Hamburg, GERMANY
Will Ramsay, Faith Forgotten, New Albany, IN
Yuichi Yoshizawa*, Custom Works Zon, Shiga Prefecture, Japan
* First time in the exhibition
THE ARTISTS SCHEDULED TO PRESENT
Richie Pan – More than 50 pieces of art by Richie Pan will be displayed in his memory.
Other Artists Include:
AD Cook
Darren McKeag
George the Painter
Latricia "Trish" Horstman
Mario Burkhardt
Michael Lichter
Nik Pew
Tay Herrera
Timothy White
Biltwell helmets – There will also be a display of Biltwell "Gringo" helmets painted by tattoo artists from around the country.
In addition to the custom motorcycles on display, you'll have the rare opportunity to lose yourself in the deep colors and richly symbolic art of celebrated tattoo artist Richie Pan. The late owner of Dark Star Tattoo in New Jersey will have paintings hanging throughout the hall alongside each motorcycle.
When he wasn't creating distinctive tattoo designs, Pan painted and brought his oils to rest in depictions of machines and people that make you feel like what you're seeing is ink embedded in flesh. While his use of intense color and curious design is deeply rooted in the world of tattooing, you'll also observe his love of everything motorcycle in both the subject matter and characteristic symbolism displayed in his pieces. Pan was killed in an accident in 2015, but you can see his spirit live on in this amazing group of paintings.
Don't miss the once-in-a-lifetime opportunity to get up close and personal with this incredible collection of motorcycles and art at the Buffalo Chip's Russ Brown Event Center, because once the Sturgis Rally is over, it will never be seen again! As always, Motorcycles As Art is free and open to the public.
Which custom motorcycle builders do you think will get under your skin the most at the Skin & Bones Exhibition? Tell us in the comments below!