Witness this Amazing Collection Curated by Michael Lichter and Paul d'Orleans at the Chip's Free Motorcycles as Art Exhibit
Explore a beautiful and though-provoking display of motorcycles and related art during the Sturgis Rally at the Buffalo Chip's 2014 Motorcycles as Art Exhibition. This year's theme, "Built for Speed – Race Inspired Motorcycles and Art," marks the sixth year in a row that the annual Buffalo Chip exhibit has been curated by famed motorcycle photographer, Michael Lichter, and the second year with the Vintagent's Paul d'Orleans. Together, they will show you the connections between motorcycle racing and custom bike designs inspired by racers with this impressive display, Saturday, Aug. 2 through Friday, Aug. 9.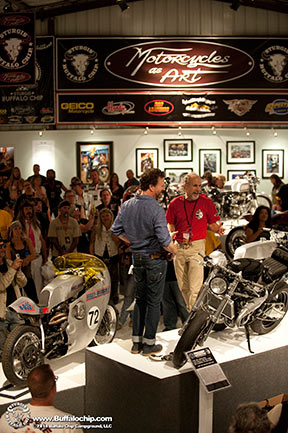 The purity of purpose in the "Cut-downs" of the 1920s, "Bob-jobs" of the '30s, Café Racers of the '50s, "Drag-bike" choppers of the '60s, and "Street Trackers" of the '70s has had enduring appeal with customizers today. This display will guide you through both the original racers and the beautifully crafted custom bikes taking inspiration from them.
Each custom bike in the Built for Speed Exhibition reflects a different branch of racing: Speedway, Flat Track, Drag Racing, Board Track, Grand Prix and Land Speed Record. Race-themed painting, photography and prints by artists equally inspired by competition motorcycles will adorn the walls surrounding these amazing machines, in addition to an all new "21 Helmets" display from SeeSee Motor-Coffee in Portland.

The 35 motorcycles in Built for Speed include customs by long established and emerging builders, side by side with factory-loaned machines.
Builders sending bikes include:
Alan Stulberg
Arlen Ness
Atomic Trent Schara
Bill Dodge
Bill Rodencal
Brad Richards
Brandon Holstein
Brian Klock
Dan "Bacon" Carr
Dan Rognsvoog
Danny Schneider (Switzerland)
Jason Paul Michaels
John Reed
Kenji "Ken" Nagai (Japan)
Kevin Baas
Kirk Taylor
Matt Olsen
Nate Jacobs
Pat Patterson
Paul Cox
Paul Wideman
Roland Sands
Skeeter Todd
Tator Gilmore
Warren Lane
Zach Ness
Factory-built machines include:
Harley-Davidson's Custom Street 750
Indian's "Spirit of Munro" Streamliner
Confederate Motorcycles' Land Speed Racer
Icon's "Iron Lung" Road Racer
George Smith's "Tramp" (replica) from S&S
Deus Ex Machina Buell Bully
Clem Johnson's original Vincent "Barn Job" from John Stein
Artists on the walls include:
Marc Lacourciere
Darren McKeag
David Uhl
Eric Hermann
Jeff Nobles
Michael Lichter
Paul d'Orleans
Richie Pan
Scott Jacobs
Scott Takes
Tom Fritz
Trish Horstman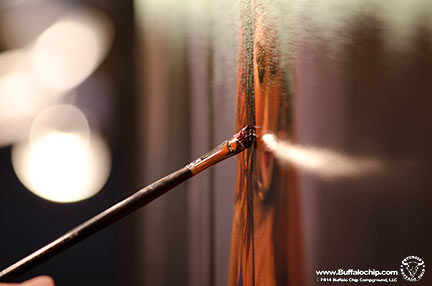 Don't miss your once-in-a-lifetime opportunity to see this stunning collection of motorcycles and art assembled at the Buffalo Chip's Russ Brown Event Center during the Sturgis Rally. As always, Motorcycles as Art is free and open to the public.
What's your favorite era and style of bike built for speed? Tell us below.
Special thanks to the 2014 Motorcycles as Art industry sponsors: Ace Cafe Orlando, AMSOIL, Avon Tires, Baker Drivetrain, Carhartt, Crusher Performance, DHL, GEICO Motorcycle, Hot Leathers, Icon Motorsports, J&P Cycle, Keyboard Motorcycle Shipping, Kuryakyn, Motor Bike Expo, Mustang Seats, Progressive Suspension/Burly Brand, Ridewright Wheels, Russ Brown Motorcycle Attorneys, STI-CRST Specialized Transportation, Spectro Oils, S&S Cycle and Tucker Rocky / Biker's Choice.