Dozens of Machines Coming Out for their First Exhibit
Each exhibit's annual theme has assembled a unique group of craftspeople. Depending on the year, you might find the work of café racer builders or garage builders or a showcase of bikes with no paint. Unlike those years, the Emergin' Virgin is open to anyone whose work has never before been in a Motorcycles As Art Exhibition.
Removing any kind of thematic limitation will allow some fantastic new faces and works of art to emerge. Having this freedom gives the Buffalo Chip the chance to offer you a display that shows how truly diverse of the world of custom motorcycling is today.
Take a stroll through the dedicated 6,500-square-foot exhibit space, and you'll come across everything from a custom electric race bike to a customized Vintage 1984 BMW K100RS, a 1972 S2 aluminum Kawasaki, a custom Suzuki Speedway bike, a custom KTM, Panhead and Knucklehead choppers, and so much more.
Never again will you have the opportunity to see such a distinct collection of custom motorcycles all in one place. Don't miss your chance! This one-time exhibit is free and open to the public at the Sturgis Buffalo Chip Event Center from 3-11 p.m. Saturday, Aug. 6 through Wednesday, Aug. 10, 2022, and from 3-5 p.m. on Thursday, Aug. 11, 2022.
Alex Maslin – DesmoBIBU – Des Plaines, IL
Anthony Robinson – Gasoline & Coffee – Lancaster, CA
Brian Cox – Classic Bike Building – Alturas, CA
Brock Bridges – MadFab – Girard, IL
Chris Cosentino – Cosentino Engineering – Jersey City, NJ
Colt Wrangler – Colt Wrangler Motorcycles – New Braunfels, TX
Dan Starkey – Carthage, IN
Dan Toce – Toce Performance – Manchester, CT
Daniel Heman – HF Heman Fabrication Company – Indianapolis, IN
Danny Wilson – Motor Witch – Phoenix, AZ
Doug Stedman – Portland, OR
Dustin Werner – Werner's House of Horsepower – Maize, KS
Franklin Lussier – Lussier Built Customs – Las Vegas, NV
Garett Wilson – Dub Style Designs – Windsor, CO
Gayden Mansir – J-Bird Designs – Kalispel, MT
Go Takamine – Brat Style Co. – Long Beach, CA
Heath Reed – River Rat Cycle Fab – Davenport, IA
J. Ryan Anderson – Gusher Cycles – Springfield, TN
Jeff Zielinski – NAMZ Custom Cycle Products – Oreland, PA
Jeremy Valentine – Joker Cycle Works – Fort Wayne, IN
Joe Marshall – Joe Marshall Customs – Purcellville, VA
Kully Millage – Kullyco Products – Hartford, SD
Larry Curik – Lone Star Choppers – Waterloo, IL
Maggie Holt – VTwin Visionary – Macon, GA
Mike Morman – Morman Kustom – Portsmouth, OH
Mitch Witkamp – Heber City, UT
Nigel Petrie – Engineered to Slide – Geelong, Victoria, Australia
Randy "Detroit" Hayward – Detroit's Antique Motorcycles – Ferndale, MI
Ray Llanes – Ormond Beach, FL
Rick Dozer – Sadieville, KY
Sam Rapschutz – Kansas City, MO
Sean Gallagher – No School Choppers – Montrose, CO
Steve Olds/Terry Heydt – Speed Machine MC – Friendship, WI
Bryan Helm – Bryan Helm Photography – Brooklyn, NY
Jerimiah Smith – Jerimiah Smith Photo – Helena, AL
Liam Kennedy – Liam Kennedy Photography – Nashville, TN
Pulsating Paula – Pulsating Shadows – Rockaway, NJ
Rob Nemeth – Machinepit – Nashville, TN
Tony Morgan – Tony Morgan Studio – Saint Helens, OR
Bell Helmet Painters
Andrew Riffle – Triple's Paint Works – Peoria, AZ
Brad Barnes – Boosted Brad's/Death Metal Racing – Ridgely, TN
Gerad Poepke – Valley Kustoms – Chatsworth, CA
Jace Hudson – Fast Life Garage – Red Oak, TX
Jeremy Seanor – Lucky Strike Designs – Wexford, PA
Jesse Amos – Jamos Creations – Chino Hills, CA
Josh Stokes – Stokes Studios – San Jose, CA
Phil Leonard – Syrarium Studios – Hollister, CA
Skratch – Skratch's Garage – Haltom City, TX
Travis Hess – Bucky's Ltd Auto Body – Martinsburg, WV
Michael Lichter began photographing custom bikes and the biker lifestyle in the 1970s. Working with Easyriders Magazine since 1979, he has produced over 800 stories for them. Michael is also a regular contributor to 16 other publications around the world, has 11 coffee table books to his credit and exhibits his photographic art in galleries and museums in the USA and abroad.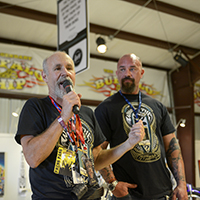 As a curator, Michael first started creating themed exhibitions with custom motorcycles and art in 2001 at the Journey Museum in Rapid City. In 2009, the annual exhibition was moved to the purpose-built 7,000 square foot gallery at the Sturgis Buffalo Chip where it was given the name "Motorcycles As Art."
Michael has operated out of the same commercial photography studio in beautiful Boulder, Colorado for more than 35-years.
Find out more about Michael Lichter and see his work here: