What would you ask members of your favorite bands if given 15 minutes of their time? Would you lob the same tired questions they get in every interview? NO WAY! You'd dive in for something real, and–if you were anything like comedian Chris Trew–you'd also ask some questions that were downright weird. Watch this video shot backstage at the Sturgis Buffalo Chip® to see what surprising sound bites rose to the surface in 2017 from legendary acts like Ozzy Osbourne, George Thorogood, Shinedown and many others when Chris Trew was left with them unsupervised for nine nights!
Which of these performers would you like to interview most? What kinds of questions would you ask? Tell us in the comments below!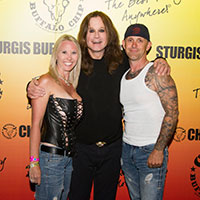 Presented by the Sturgis Buffalo Chip
Known as The Best Party Anywhere®, the Legendary Buffalo Chip believes festivals should be fun like a high five, reenergize you like a broken rule, and romance you like someone you just met and have to take home.
This nine-day festival of concerts and motorcycle events promises to bring you exciting events like flat track races and live performances from artists like Aerosmith, Ozzy Osbourne, Willie Nelson, Five Finger Death Punch, Kid Rock, Rob Zombie and many more.
Find out more or get passes to the Best Party Anywhere at www.buffalochip.com and find out why it continues to be one of the most televised festivals in the world.