If you weren't at the Sturgis Buffalo Chip's 2018 motorcycle and music festival, no combination of words could adequately explain what you missed out on. Only "Holy flat-trackin', dragster driftin', tire roastin', Dirt-riotin', Moto-Stampedin', guitar-shreddin', rock-n-rollin', mini Gamblers, Batman!" could really even come close. Thankfully, this event highlight video does a pretty damn good job of taking you through the festival moto, music and party madness that's been on our minds since the second it ended. Check it out for yourself to see the best of the Best Party Anywhere® in 2018!
What was your favorite part of your trip to the Chip during the 2018 Sturgis rally? Tell us what it was in the comments below.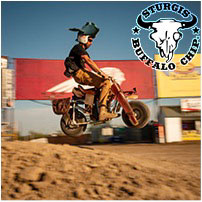 Presented by the Sturgis Buffalo Chip
Known as The Best Party Anywhere®, the Sturgis Buffalo Chip believes festivals should be fun like a high five, reenergize you like a broken rule, and romance you like someone you just met and have to take home.
This nine-day festival of concerts and motorcycle events promises to bring you exciting events like flat track races and live performances from artists like Aerosmith, Willie Nelson, Five Finger Death Punch, Kid Rock, Rob Zombie and many more.
Find out more or get passes to the Best Party Anywhere at www.buffalochip.com and find out why it continues to be one of the most televised festivals in the world.