That's a wrap! The 40th anniversary of the Best Party Anywhere® has officially come to a close, and the last camper has rolled off Sturgis Buffalo Chip® property. Now that the dust has settled on nine days of good times during the 2021 Sturgis Rally, the only thing left at the Chip is this question…
WHAT. THE. EFF?
That's because 140 of the most head-scratching items ever collected have made their way into the venue's lost and found. Check out all the weird and wild stuff left behind and see if you can help the Chip find its rightful owners.
An Urn Full of Ashes



RIP Brother.
A Pair of Mannequin Legs



Signed by Slugger, Cowboy and Billy Bob.
The Bill of Sale for a Vanderhall



Let us take her for a spin, and you can have it back. 😉
The World's Sweetest Cat



This little cutie has a bottomless tank for kibble. Hoping to find its home before it poops in another one of the Buffalo Chip's office plants.
A Pole with Custom Flooring and Lighting



"Red light, yellow light, green light, GO!"
This Squeeze Horn



Wanna hear the saddest sound in Sturgis?
A 2021 Rat's Hole Beer Mug



Still filled with ice-cold Bud Light.
This Flag Pole Tire Stand



"Biden is Your President" flag not included.
The Biggest Rubik's Cubes We've Ever Seen



Does anyone know how to solve these things?
Dozens of Roasted Tires

Hopefully they hit up the 2-for-1 deal on Continental Tires at Fozzy's Cycle Shop at the Buffalo Chip Garage.
Some Skeletal Remains



With arms…



…and without arms.
A Set of Brakes Repurposed as a Towel Ring



Necessity is the mother of invention.
Boatloads of Floaties



In all sorts of sizes and shapes, like…
Jesse's Girl



Where can I find a woman like that? The South 40, that's where.
Several Broken Mirrors



That's seven years of bad luck left behind.
Loads of Rockin' Chairs



And one "Grandmothers are God's Gift to Children" embroidered pillow.
An "I ♥ USA" Flag



Uncle Sam wants YOU to pick up your flag at Lost & Found.
A Hat Screwed to a Tree

Sporting the mantra of the FXR Show & Dyna Mixer.
Goggles

Who's ready to dive to the bottom of the Bikini Beach swimming hole?
Wild Windy

The 20-ft wacky waving woman that marked the entry to Camp Easy Ride is looking pretty sad now that everyone's gone home.
Tons of Tents



In various states of disrepair.
Enough Mattresses to Outfit a Hotel



To be fair, not a hotel we'd want to sleep in.
Grills Galore



We were hoping to find some delicious tri-tip from Baja Jerky for these grills, but instead we found…
This Big Pile of Heartburn



Busch Lattes, Dawgs, and Fireball? Pass the Pepto, please.
A Pair of Assless Sweats



When your girlfriend asked to see you in grey sweatpants, this is NOT what she meant.
This One-Armed Sailor Jerry Hula Girl with a Neckless Guitar



Looks like SOMEONE wasn't drinking Sailor Jerry responsibly.
A Fancy Bolster Pillow



Where's the mint though?
A Men's Wedding Ring



Uh oh…
16 Sets of Keys



Looks like a party in the making.
23 Credit Cards



Cha-CHING!
10 Identification Cards



McLovin? What kind of stupid name is that?
20 Cell Phones & Cases



Including one triple-bagged phone rescued from the depths of a porta-potty.
A Nolan Motorcycle Helmet



Watch your noggin', man.
A Leather Hat with Buffalo Nickel Decoration



Just looking for some head.
1 Hearing Aid



The reason you can't hear motorcycles isn't just because you're not in Sturgis anymore.
1 Bottle of Nitroglycerin Tablets



Guess you'll have to blast some Motley Crüe if you need to kickstart your heart.
5 Electronic Items
1 Apple Watch
2 Bluetooth Speakers
1 GoPro
1 Sd Card



Must be able to properly identify in order to claim.
Does any of this stuff look familiar? If so, call (605) 347-9000 to search for and log lost and found items.
Want to see even more weird things campers have left behind after the Sturgis rally? Check out the Buffalo Chip's Lost and Found from 2020, 2019, 2018, 2017, 2016, 2015 and 2014!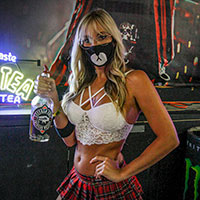 Presented by the Sturgis Buffalo Chip
Known as The Best Party Anywhere®, the Sturgis Buffalo Chip believes festivals should be fun like a high five, reenergize you like a broken rule, and romance you like someone you just met and have to take home.
This nine-day festival of concerts and motorcycle events promises to bring you exciting events like flat track races and live performances from artists like Aerosmith, Willie Nelson, Five Finger Death Punch, Kid Rock, Rob Zombie and many more.
Find out more or get passes to the Best Party Anywhere at www.buffalochip.com and find out why it continues to be one of the most televised festivals in the world.
Did you find anything at the Chip after the Sturgis rally wrapped up that's waiting to be reunited with its rightful owner? Tell us what it was in the comments below.