Throwing a nine-day party every August for 39 consecutive years requires shaking things up. A willingness to try new things is vital to keeping things fresh, so having an open mind is key. While judging people is against everything The Best Party Anywhere® stands for, sometimes it's hard not to look back at some of the events and resulting odd moments that have taken place over the years and go, "uhh… wut?!" Check out some of the weirdest moments that have ever taken place at the Best Party Anywhere and be assured that your mental health is still in good standing.
1. Biker Wedding with Kangaroo Best Man
Any wedding at the Buffalo Chip is guaranteed not to be your usual stuffy traditional affair, but Midget Bowling enforcer Lady Victoria kicked things up a notch in 2009 when her wedding featured a marsupial as the best man. After Jack escorted her up the aisle, he was rewarded for his service with a BreathSavers mint.
2. That Time Zac Brown Bowled a Midget
Speaking of Midget Bowling, no recounting of weird Buffalo Chip moments would be complete without reminiscing about the time country-rock superstar Zac Brown of Zac Brown Band grabbed Short Sleeve Sampson, the diminutive human bowling ball, and let his little lubed-up body rip down the lane toward a set of pins. Not that Midget Bowling is THAT weird (you can do it every day at the Chip), but we're willing to bet it's an experience Mr. Brown wasn't expecting and certainly hasn't replicated since.
3. Pee-wee Herman's "Tequila Dance" on the Wolfman Jack Stage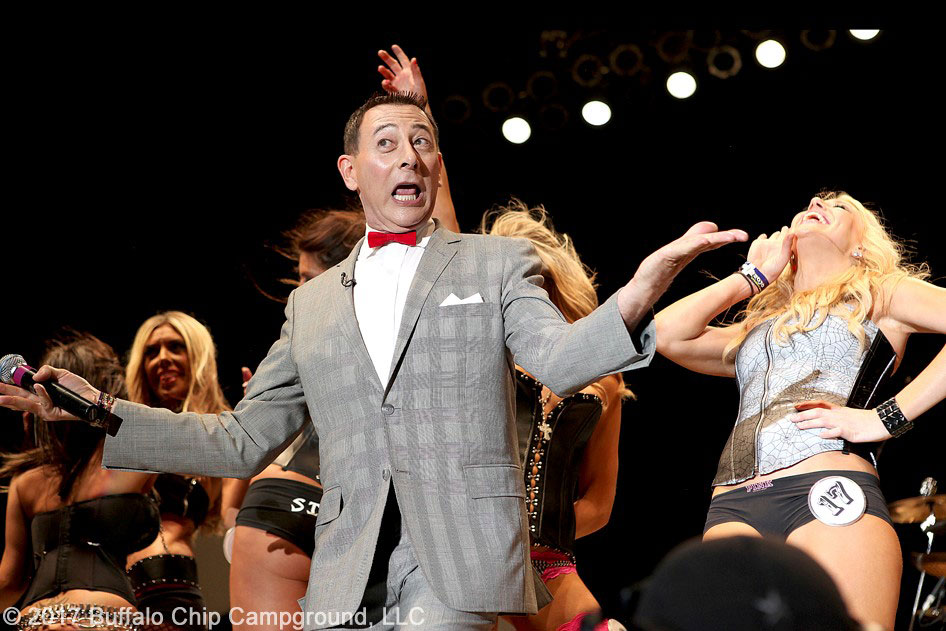 When Paul Reubens, better known as Pee-wee Herman, came to the Buffalo Chip in 2010, nobody was really sure what to expect other than the unexpected. Consequently, when he zip-lined onto the stage and proceeded to recreate the classic "Tequila dance" scene from his film "Pee-wee's Big Adventure" alongside the 2010 Miss Buffalo Chip contestants, the expectations that something outrageous was going to happen were met.
4. The Shithouse Jump
The Chip has seen its fair share of crazy stunt attempts, but the "Flaming Shithouse Jump" completed by Robert Foley was arguably the weirdest. "I've had over 200 volunteers shit in it already," Foley proclaimed prior to the jump, "There will be shit in the shithouse." Foley, aka "The Road Warrior," rode fearlessly over the ramp, plowing his Harley through the bulls-eye painted on the side of the flaming outhouse and into the annals of Chip history.
If you thought that was crazy, then you need to check out these 8 Shocking Moments in Chip History!
5. "Weird Al" Yankovic's 2016 Performance
It doesn't get much weirder than the wizard of weird himself– "Weird Al" Yankovic. When Al made his Sturgis Buffalo Chip debut in 2016, he brought a multimedia circus and, seemingly, an entire 'weirdrobe' along with him. Numerous costume changes, including the fat suit, Kurt Cobain-inspired garb, a working Segway that he rode around onstage and a very strange squid/ice cream cone hybrid worn during his Lady Gaga parody were only a few of his wild getups.
6. Rat vs. Gecko– Ultimate Zip-Line Showdown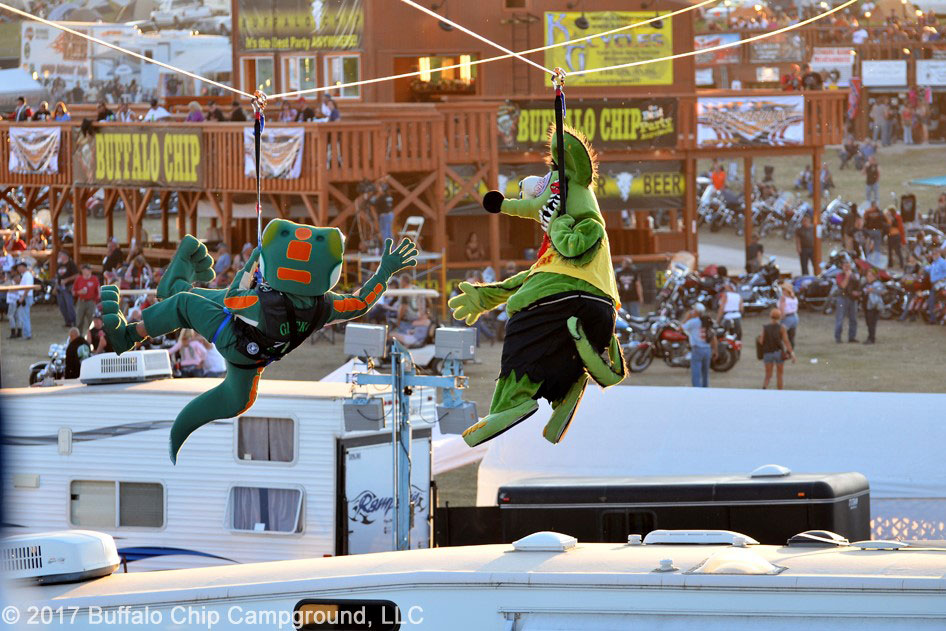 The number of things going on at The Best Party Anywhere can leave one's head spinning, so unfortunately a question as important as "Who would win in an ultimate zip-line showdown– Rats Hole Bike Show Rat or GEICO Gecko?" is not commonly asked. Regardless, these fearless mascots were determined to settle that issue once and for all in 2011. However, it was too close to call so the need for a rematch is required in order to determine who is the king of the zip-line.
To see other crazy things you could do at the Chip, check out these 32 Sturgis Events Your Mom Would've Warned You About.
7. Big Woody's Panty Party
One hundred eighty-two bikers donned their most dashing pair of drawers and their brightest smiles on Aug. 5, 2015 to be part of one of the rally's most outrageous world-record-breaking attempts – the most people in one place wearing only underwear! While the group did not manage to break the record, they did manage to have one hell of a time.
Motorcycle daredevil Doug Danger has jumped a motorcycle over just about everything you could think of, including 22 cars in 2015, but on Thursday, August 10, 2017, he jumped Evel Knievel's 1972 Harley-Davidson XR-750 over a series of custom-made plexiglass crates filled with two pissed off prairie rattlesnakes in the middle of the Buffalo Chip amphitheater! The inspiration for this unorthodox jump came from one of Evel Knievel's earliest stunts where he attempted unsuccessfully to clear a twenty-foot box filled with a few rattlesnakes and two mountain lions.
*****
If reading about these weird Buffalo Chip moments has you itching to see some of the weird, wild action of the Best Party Anywhere live and in the flesh, you may want to start planning for the 2020 rally. Passes are on sale now and prices have never been lower. Reserve yours today!
Tell us about some of the weirdest Buffalo Chip moments you've seen in the comments below!
Presented by the Sturgis Buffalo Chip
Known as The Best Party Anywhere®, the Legendary Buffalo Chip believes festivals should be fun like a high five, reenergize you like a broken rule, and romance you like someone you just met and have to take home.
This nine-day festival of concerts and motorcycle events promises to bring you exciting events like flat track races and live performances from artists like Aerosmith, Willie Nelson, Five Finger Death Punch, Kid Rock, Rob Zombie and many more.
Find out more or get passes to the Best Party Anywhere at www.buffalochip.com and find out why it continues to be one of the most televised festivals in the world.