Even if you've been a motorcycle enthusiast your entire life, there are things you've never seen and may not see again. Attending the annual Motor Bike Expo in Verona, Italy will open your eyes to aspects of the industry you never knew existed. This incredible show's ability to surprise and please you is why more than 175,000 enthusiasts flock to the event every January. MBE shows the world brand new bikes from major manufacturers, historic motorcycles, dangerous stunts, world-class builders, daring racers and brings together international industry figures. If you haven't been there to witness it yourself, here's photographic proof you should have been.
Highlights from Motor Bike Expo 2020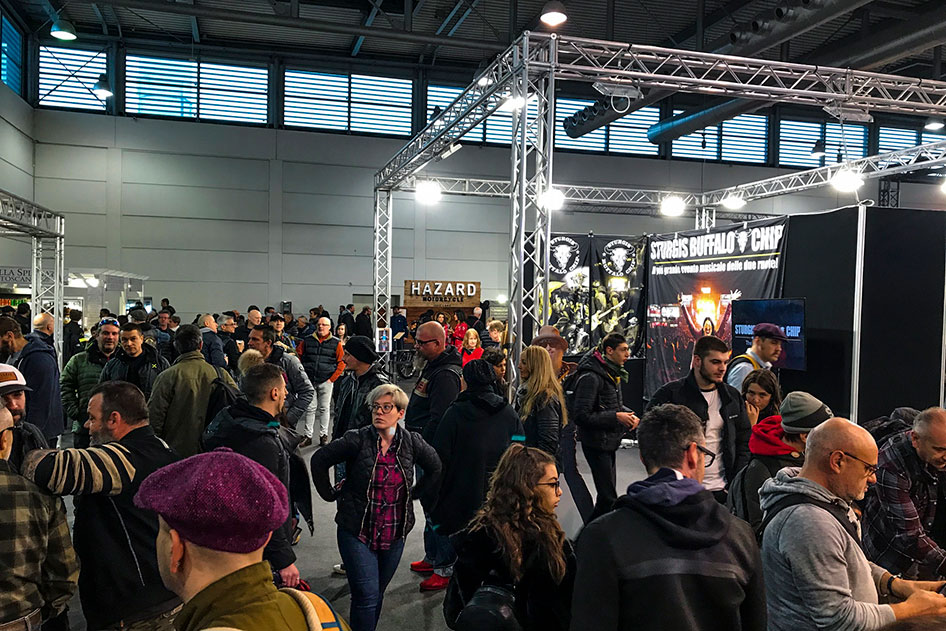 A sea of motorcycle enthusiasts from across the globe filed through the exhibit halls throughout the four-day expo.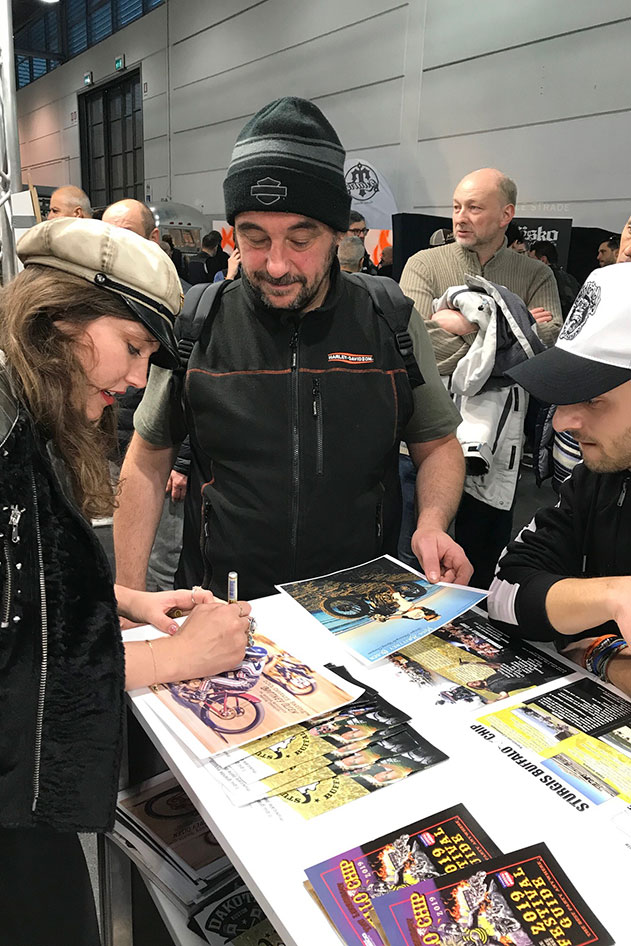 Antique motorcycle racer Brittney Olsen hung out in the Buffalo Chip booth signing autographs.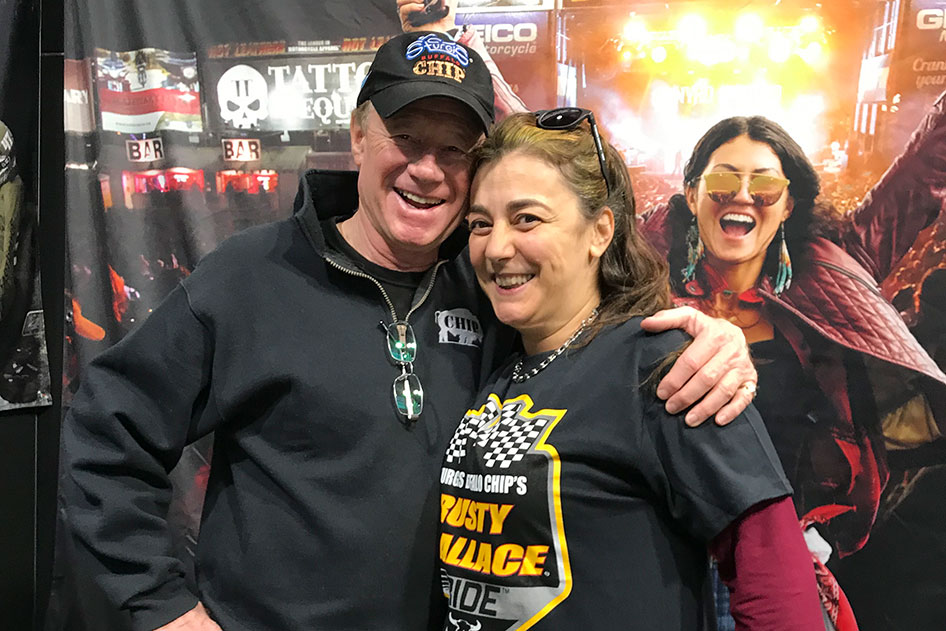 Well-known Italian moto maven and owner of Ioparto Miriam Orlandi is planning a cross-country trip in the states. She swung by the Buffalo Chip to learn about staying at the campground during the Sturgis Motorcycle Rally.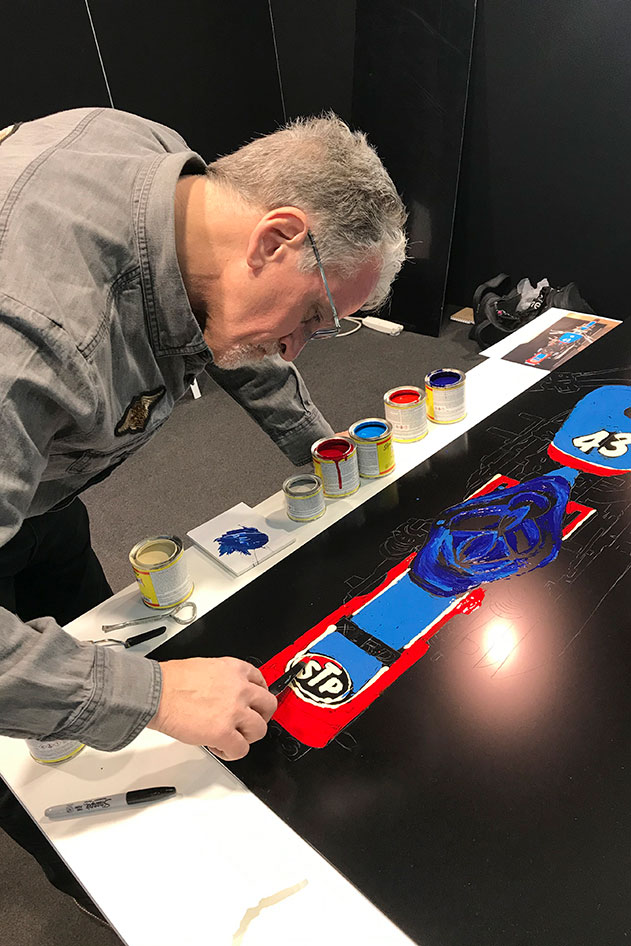 Ray Drea, the principle stylist for Harley-Davidson, was set up next to the Buffalo Chip booth doing live art. Here he can be seen painting the first motorcycle of Paola Somma, one of the owners of MBE.
Everyone was eager to pick up the first issue of the revised Easyriders Magazine. Editor Pepper Foster stopped by the Buffalo Chip display to celebrate the launch.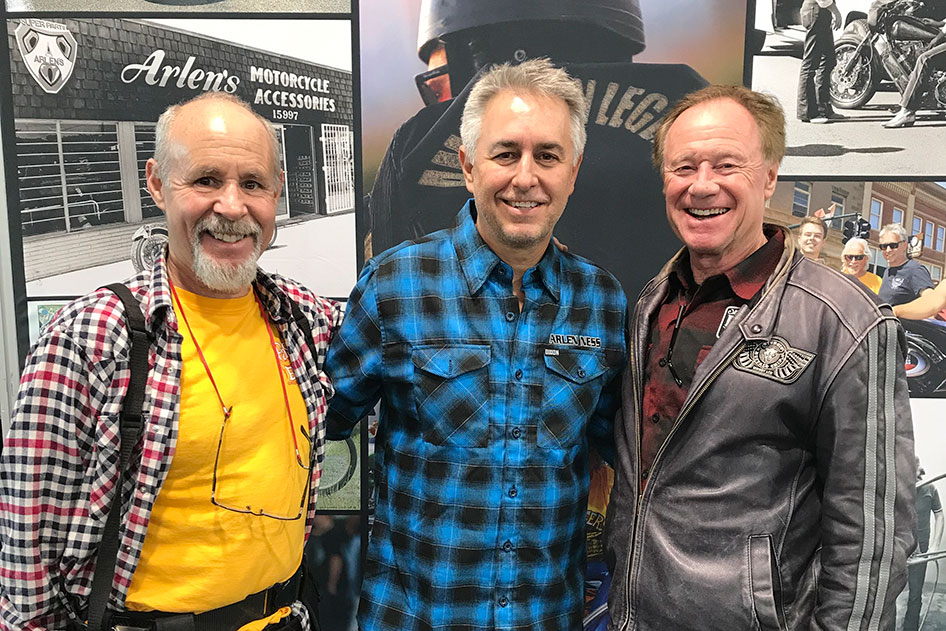 Big names in the industry could be spotted throughout the show. Here, renowned photographer and curator of the Motorcycles As Art Exhibit Michael Lichter got out from behind his camera to pose for a photo with legendary builder Cory Ness and Buffalo Chip president Rod Woodruff.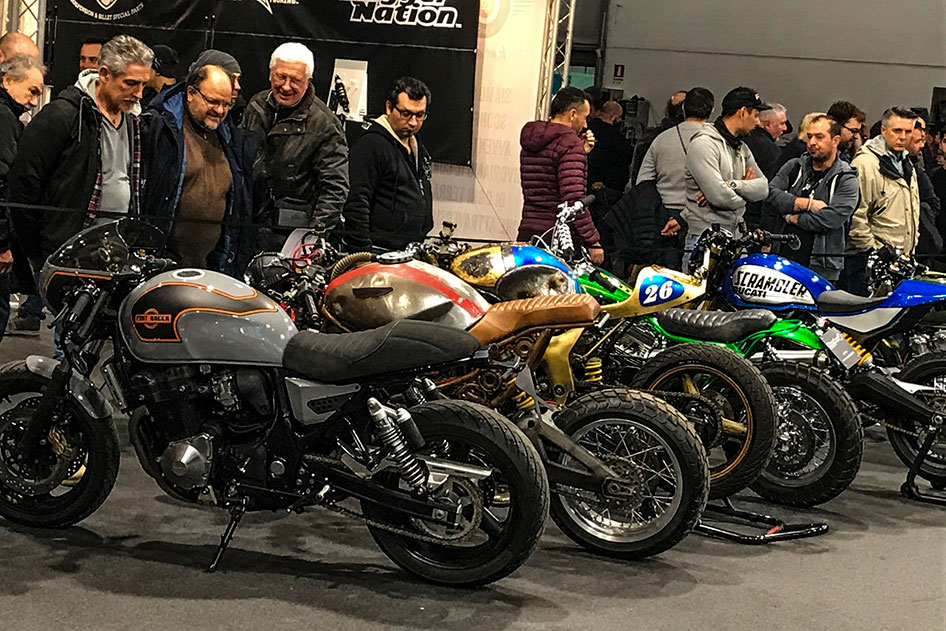 Thousands of customs and new models gave onlookers way more than an eyeful.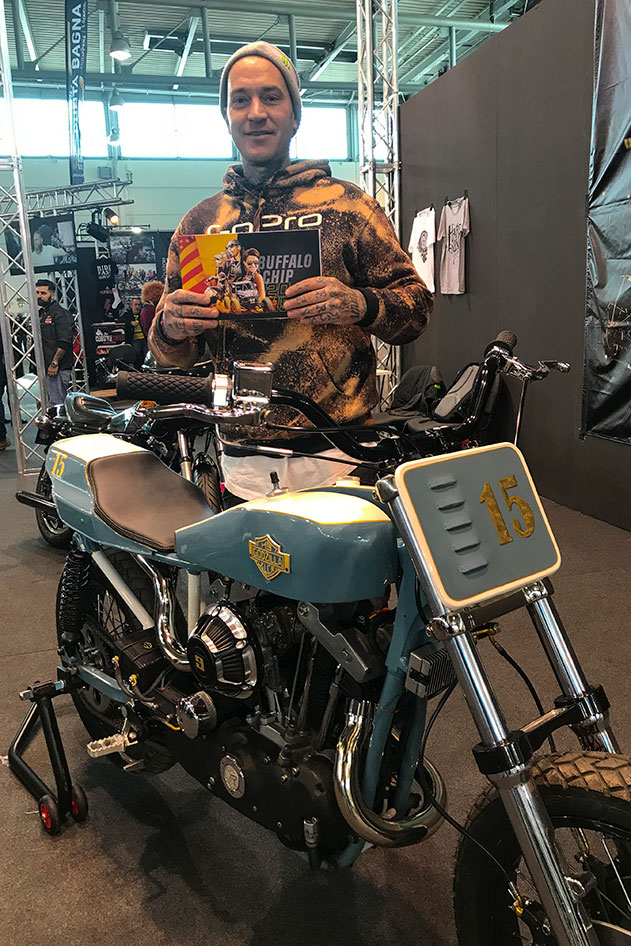 Swiss customizer Danny Schneider brought several of his bikes to display at the show. He is looking forward to doing the same at the Buffalo Chip in 2020.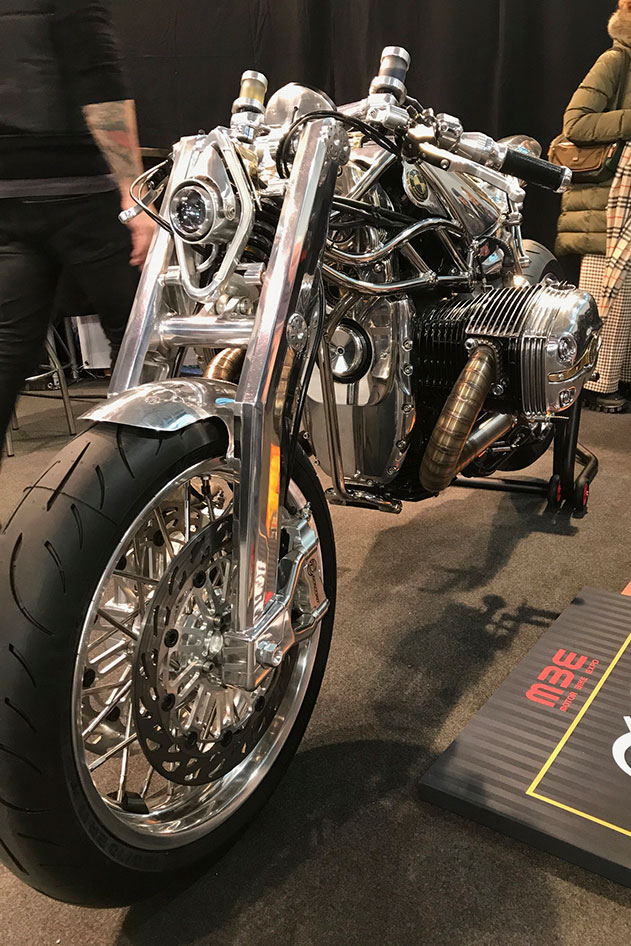 Beautiful details could be found around every corner…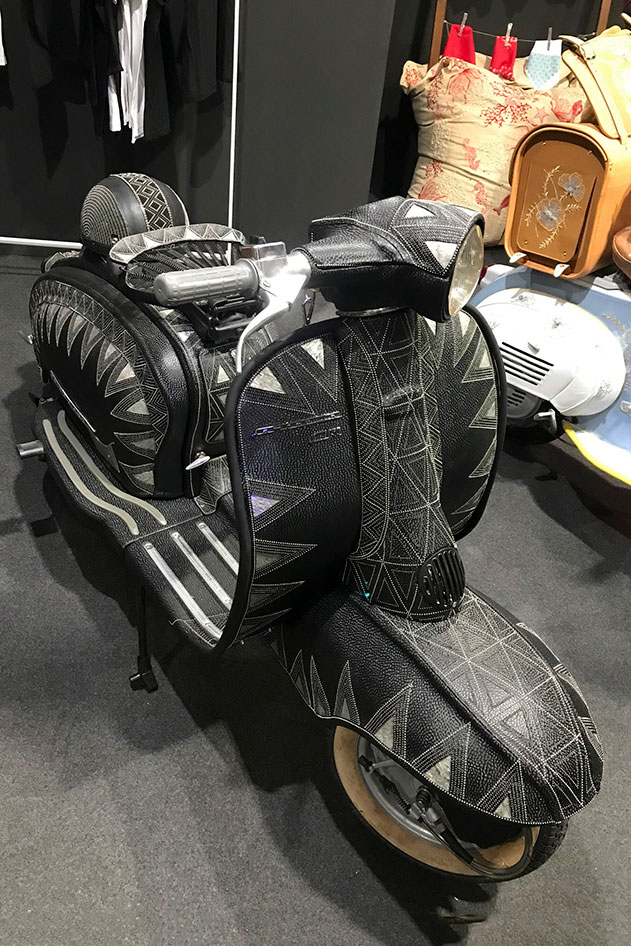 …in some of the most unexpected places.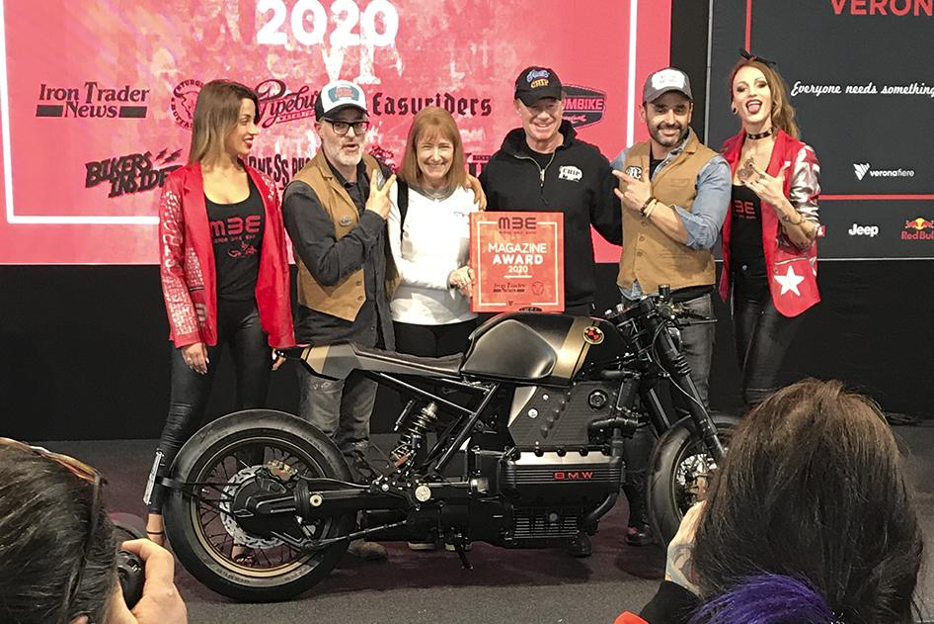 Rod Woodruff of the Sturgis Buffalo Chip joined forces with Marilyn Stemp of Iron Trader News to award Bottega Bastarda with the prestigious 2020 Magazine Award on the final day of the show.
Highlights from Motor Bike Expo 2017
A space so enormous you could get lost for days
Inside the gorgeous Verona Fiere facade guests could find over 600 exhibitors filling over one MILLION square feet of exhibition space.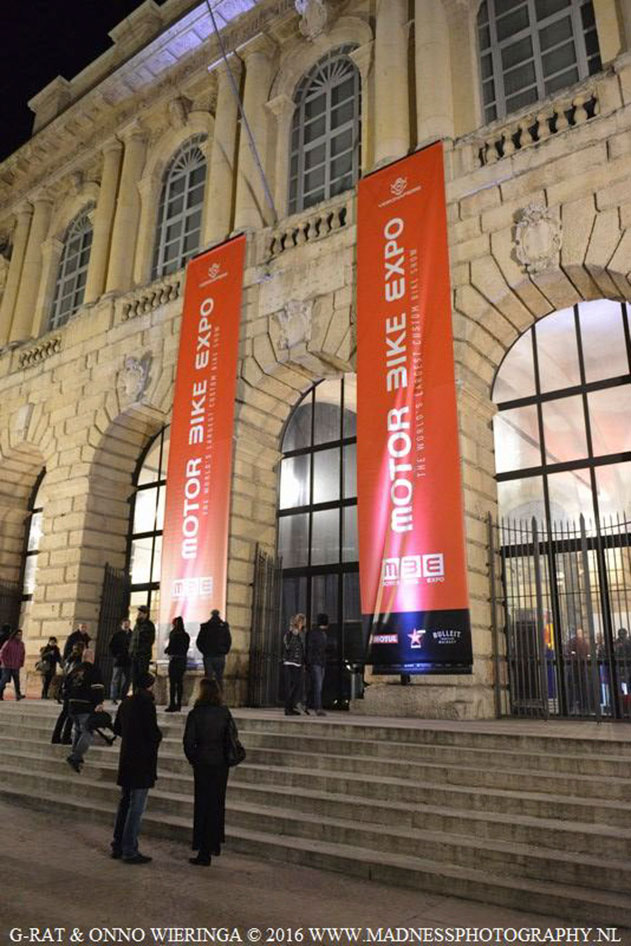 Unique bikes filled the expansive space, boggling nearly 160,000 sets of eyes
All the major motorcycle manufacturers were there displaying their newest models and concepts including Indian, Ducati, Moto Guzzi, Harley-Davidson, BMW, Triumph, Honda, Kawasaki, Royal Enfield and many more–not to mention countless custom builders.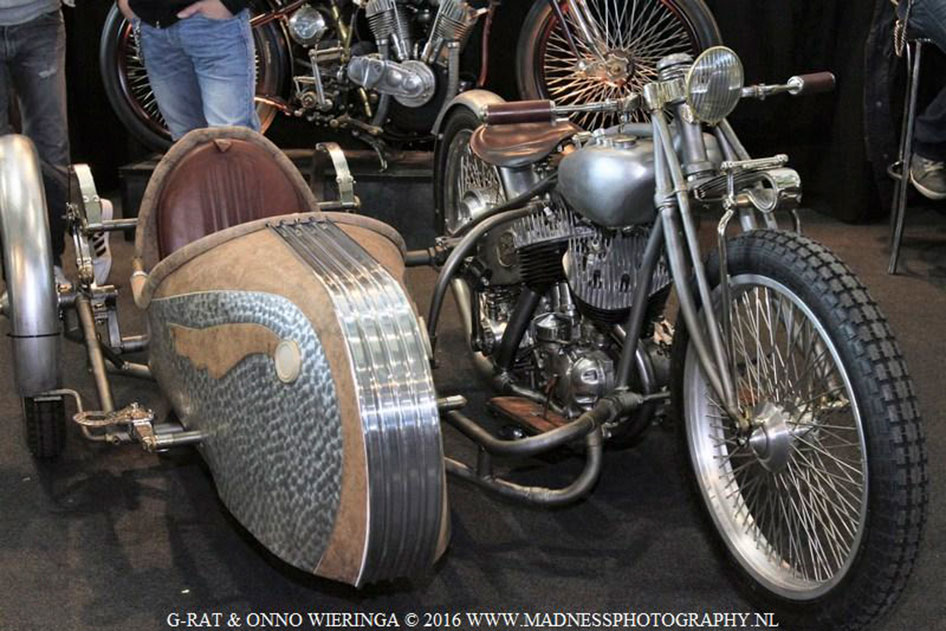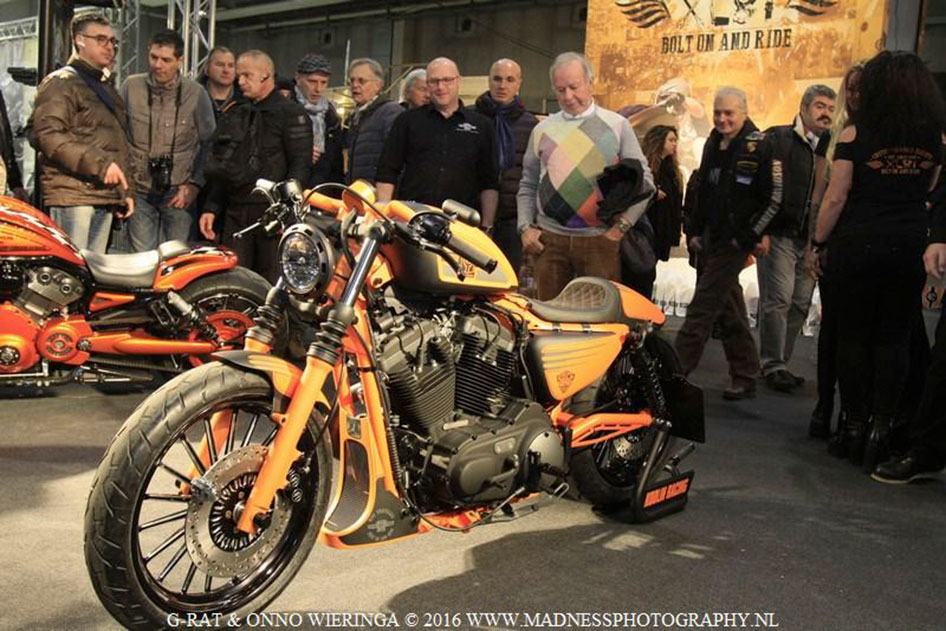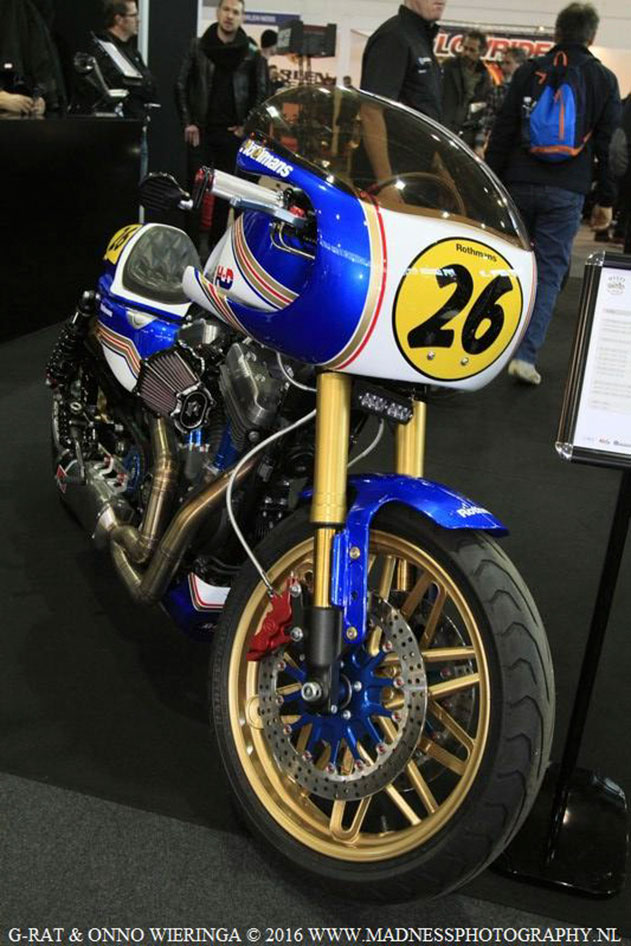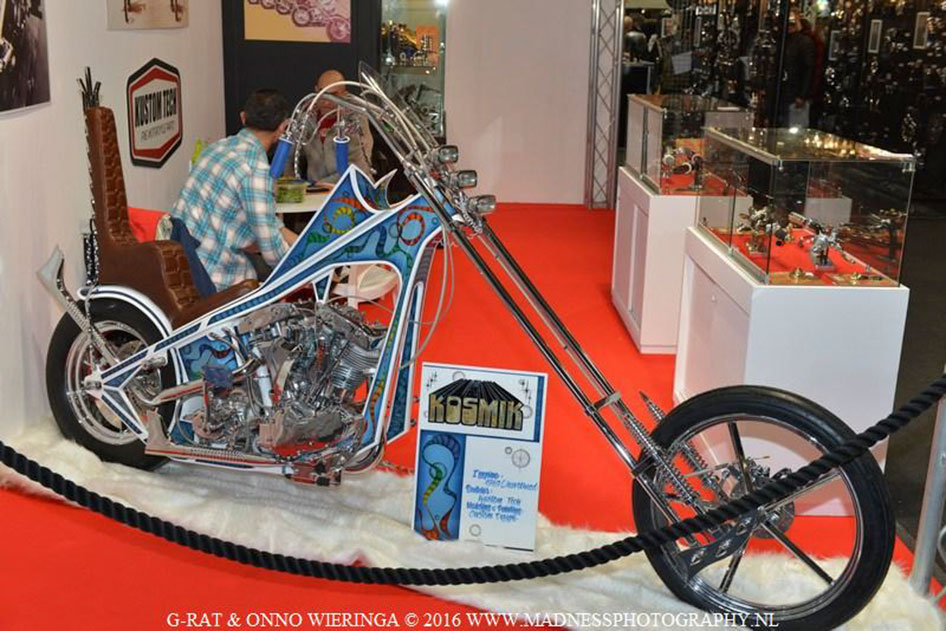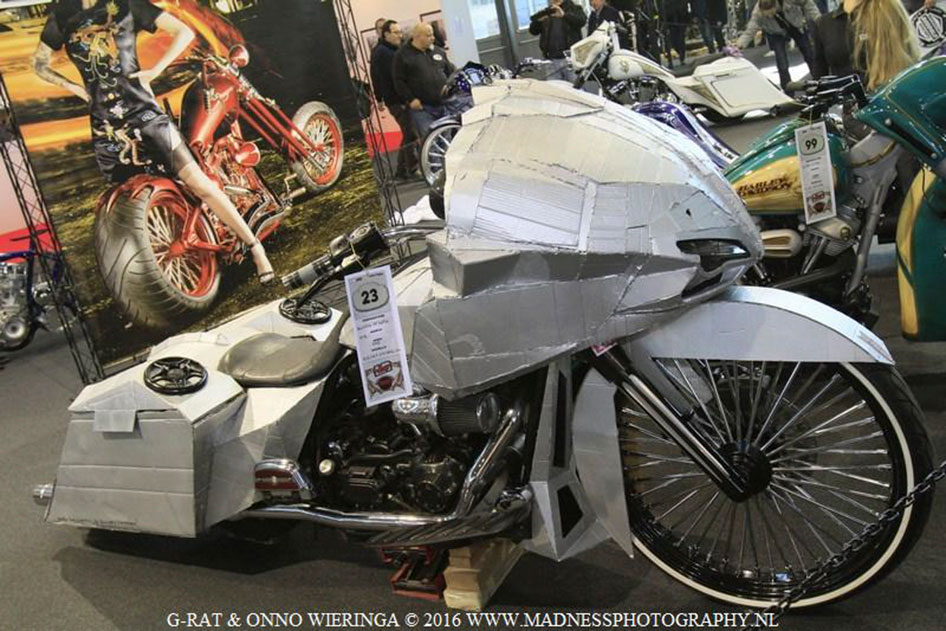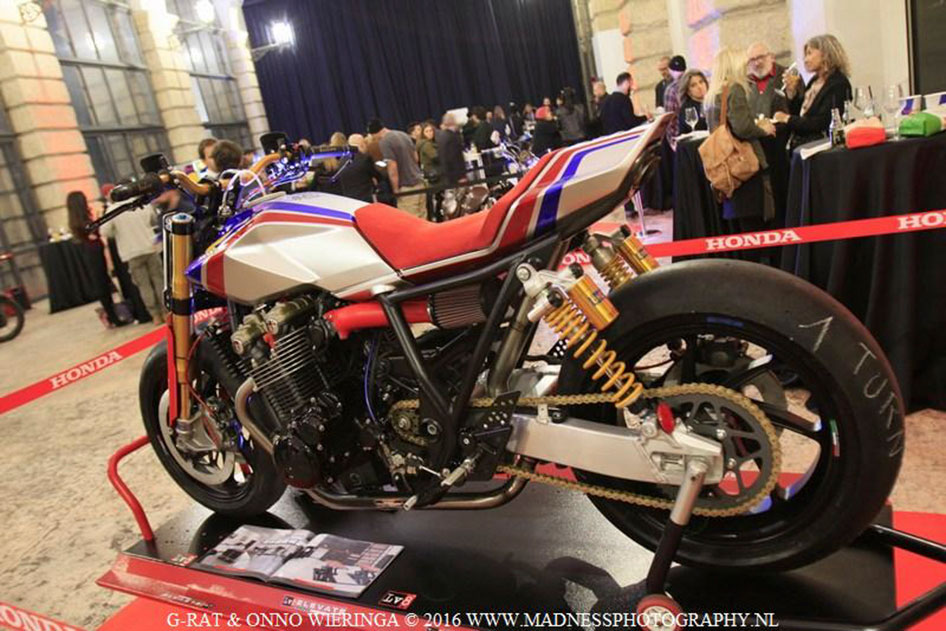 Women worth a second look got it
Bikes are nice. But Italians are great at making so many other things, and beautiful women rank right up there with food, wine, art and motorcycles. Gorgeous models turned heads, popped eyes and caused deep sighs of wishful thinking as they made appearances throughout the show floor.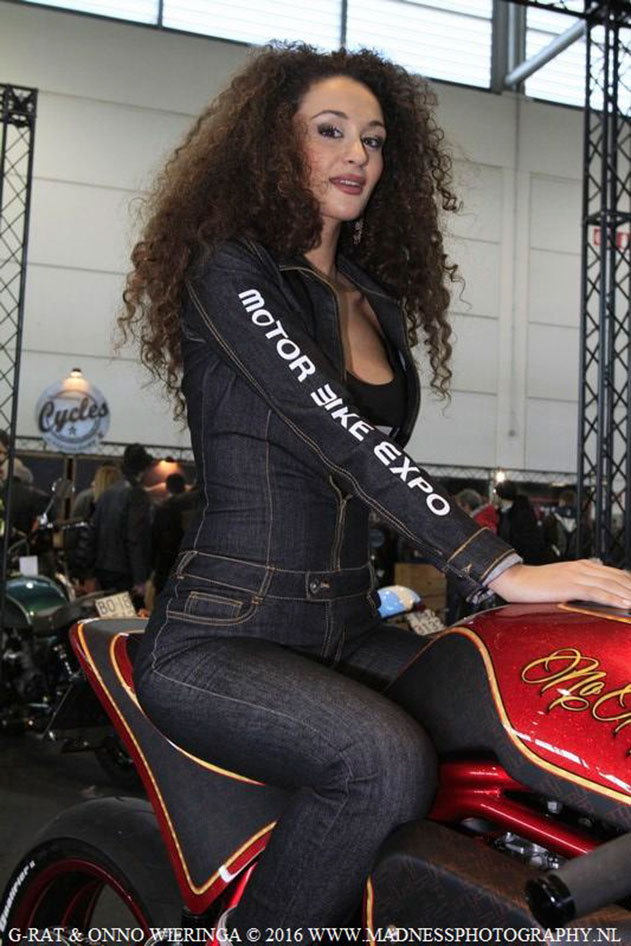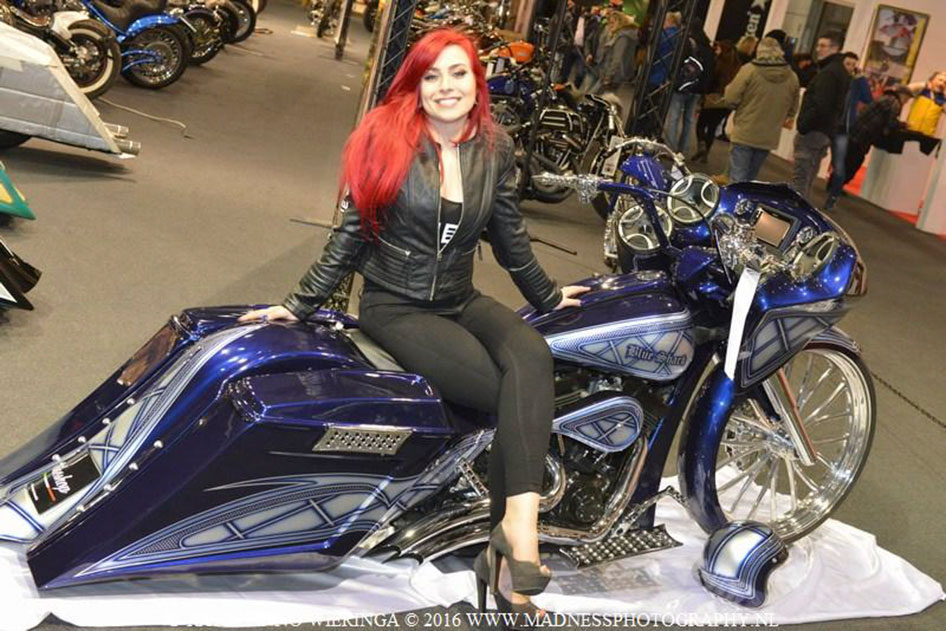 The who's who were all there too and waving like they knew everyone!
OK, maybe not everyone, but the Sturgis Buffalo Chip® booth was situated next to famous American motorcycle personalities Jody Perewitz, Cory, Zach and Max Ness, and Michael Lichter, and the popular kids did stop by and laugh a lot with each other.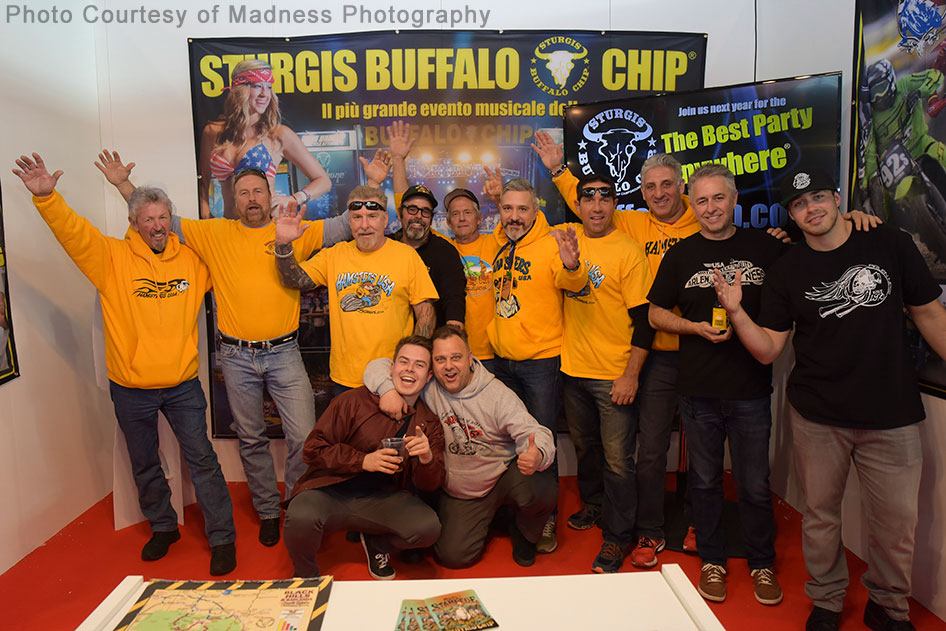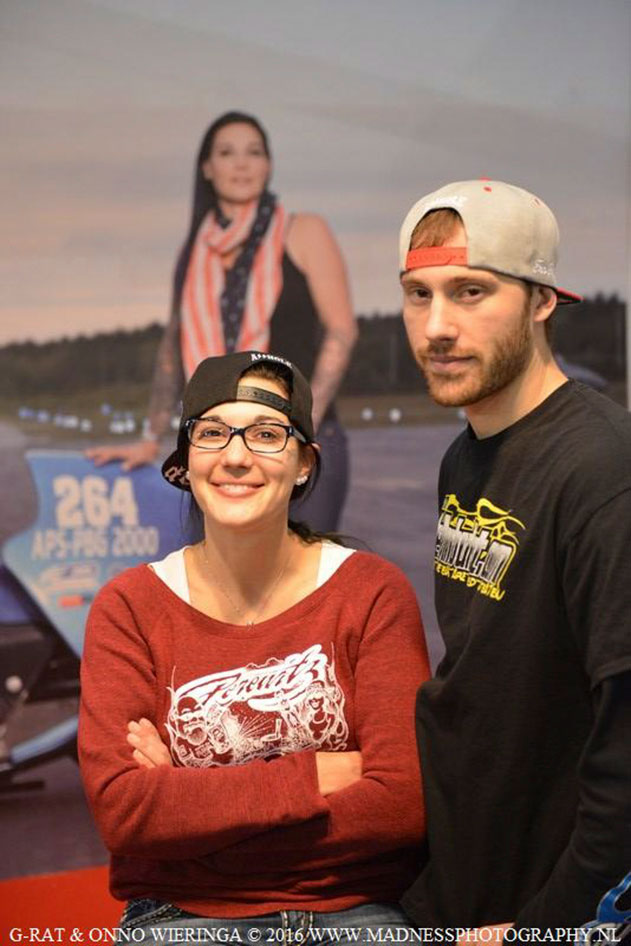 Paul Teutul Sr. of Orange County Choppers, Kirk Taylor of Custom Design Studio and Mark Wilsmore of Ace Cafe were also seen walking up and down the aisles at the show.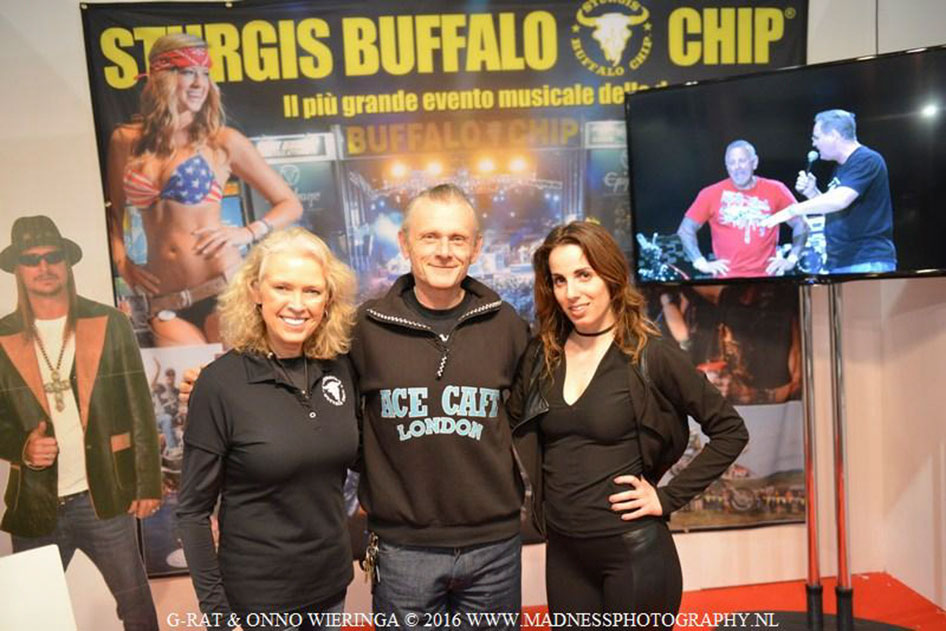 Meats, cheeses and breads begging to be washed down with drink made saliva practically drool down people's chins. Just look at these guys: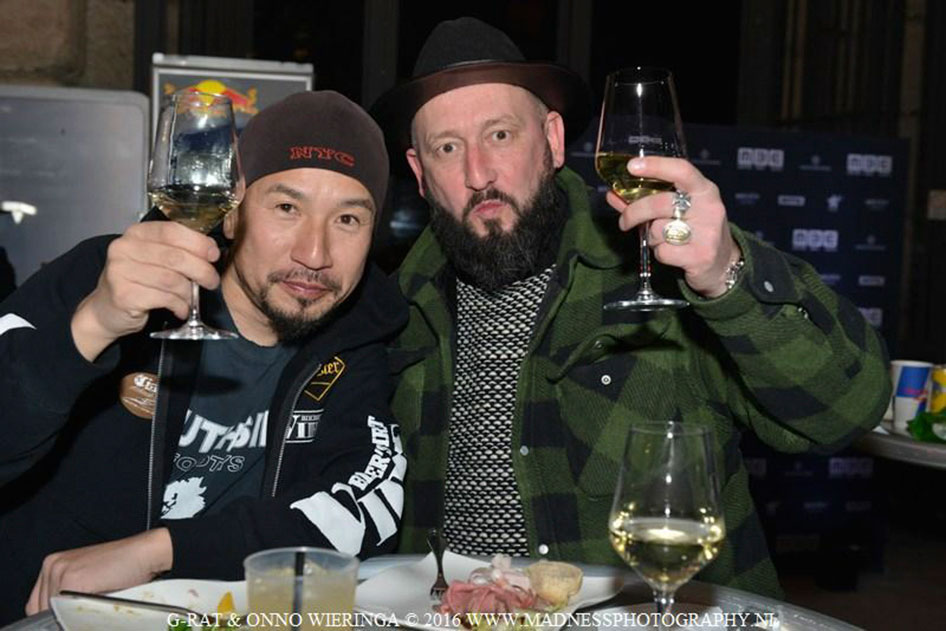 Food vendors were everywhere, filling the air with savory smells and bellies of guests with rich cuisine that made many long for a siesta. Most offered some sort of sizzling meat stuffed into a hard roll, dripping with cheese and mustard. Several wood fires were kept blazing under an eight-foot high spit rotating roasting lamb, beef and pork.
Bags got filled up!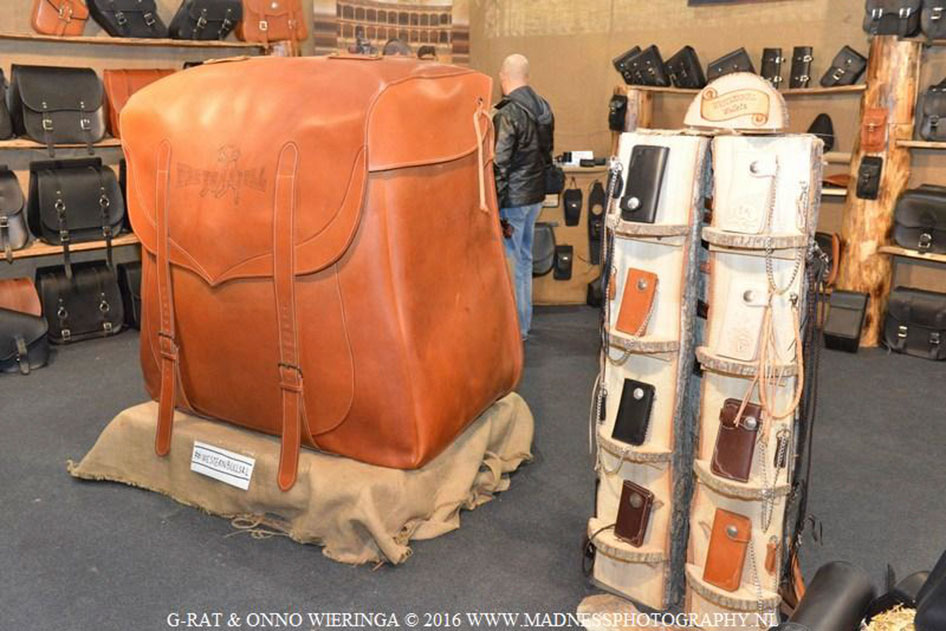 Whether it's bags, boots, helmets, clothing, parts, you name it…there was a larger-than-life selection for which to slide a credit card through a machine. Most people did just that over the less popular browsing. Try getting this saddlebag on your bike though.
To see more great photography from the 2017 Motor Bike Expo, visit www.madnessphotography.eu. Find out more about other motorcycle shows in the Buffalo Chip family of events here.
Have you ever been to Motor Bike Expo? How does it compare to motorcycle shows have you visited? Tell us in the comments below!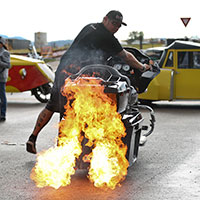 Presented by the Sturgis Buffalo Chip
Known as The Best Party Anywhere®, the Legendary Buffalo Chip believes festivals should be fun like a high five, reenergize you like a broken rule, and romance you like someone you just met and have to take home.This nine-day festival of concerts and motorcycle events promises to bring you exciting events like flat track races and live performances from artists like Aerosmith, Willie Nelson, Five Finger Death Punch, Kid Rock, Rob Zombie and many more.Find out more or get passes to the Best Party Anywhere at
www.buffalochip.com
and find out why it continues to be one of the most televised festivals in the world.