Most bikers have a need for speed; it's in their DNA. So it should come as no surprise that one of the world's largest motorcycle events—the Sturgis Motorcycle Rally—started as an annual series of flat-track races. What is surprising, however, is that rally founder Clarence "Pappy" Hoel was never himself particularly interested in speed racing. So what was he really into? The second article in our series revealing the events and moments that shaped Sturgis history will explain how Pappy incorporated his true love into the event by stunning friends and onlookers with some pretty wild and surprising antics. We'll also reveal how and where that crazy spirit still lives on today.
Pappy Hoel had always been drawn to what he called "tricks, fun and damned foolishness." This interest had been with him since childhood, and it explained why Pappy never took to the track during the rally, but rather focused on hill climbs, trials, scrambles and hair-brained motorcycle stunts.
There were many stunts and tricks in Pappy Hoel's repertoire, but the Burning Wall Crash he performed during the 1938 Sturgis Motorcycle Rally became a long-standing tradition. Crowds that had gathered for the races would watch as an assistant doused gasoline onto a framework containing a six-foot-tall, one-inch-thick knotty pine wall and lit it on fire just moments before Pappy came crashing through on his Indian.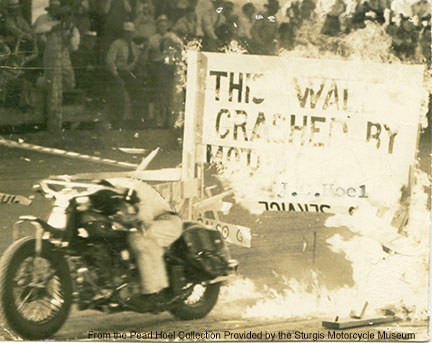 In his memoir, "Life's Bits & Pieces," Hoel discussed his strategy for successfully completing these motorcycle stunts. "The trick in this was to tuck in my knees, put my head down on the tank below the bars, hit it straight and, above all, not to change my mind at the last minute," he wrote.
It's likely Pappy Hoel employed some of this same strategy when attempting another of his memorable motorcycle stunts, the "Donecher Crash." In this stunt, Pappy pretended to be a drunk being chased by the cops. He created an unforgettable spectacle for crowds when he went crashing through an occupied donecher (another word for outhouse).
Throughout time, motorcycle stunts started by Pappy became an important piece of the Sturgis Rally. Campgrounds such as the Sturgis Buffalo Chip® have kept this risk-taking spirit alive over the years through a series of wacky and even death-defying stunts. And most daredevils that come along aim to outdo the stunts of the past.
In 1986, one such daredevil, a man called Nine Toes, paid homage to Pappy by crashing his bike through a whole series of flaming walls at the Buffalo Chip.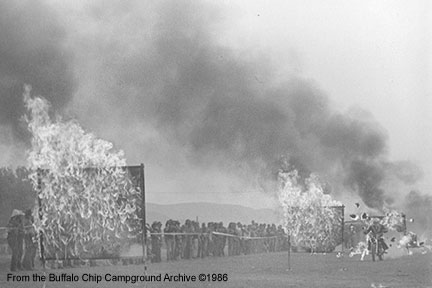 Then in 1992, Chip owner Rod Woodruff and motorcycle jumper Robert Foley revived the Doncher Crash, but with a twist. They called it the "Flaming Shithouse Jump." The jump included explosives, flames and—as you might have guessed—a full load of shit. Foley proudly proclaimed just prior to his jump that day, "I've had over 200 volunteers to shit in it already."
While these motorcycle spectacles certainly weren't without their risks, the danger associated with stunts has continued to increase in more recent times. In 2015, you'll have the chance to watch an attempt at the mother of all motorcycle stunts…the one even the great Evel Knievel® could not successfully complete.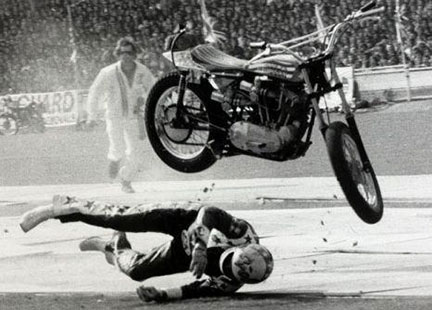 On Thursday, Aug, 6, 2015, time will stand still as you wait to witness an unlikely victory during the Buffalo Chip's Evel Knievel Thrill Show. Your heart will race, and you'll clench your teeth, but nothing will be able to pull away your gaze as daredevil Doug Danger attempts to jump 22 cars on Evel's® own vintage 1972 Harley-Davidson XR-750 in the Buffalo Chip amphitheater. There's no telling what will happen, but one thing is for sure; the outcome will be an unforgettable turning point in Sturgis history! It all started with Pappy, and it continues at the Buffalo Chip today.
If you're looking for the Authentic Sturgis Experience™ during the rally's 75th anniversary, look no further than the Sturgis Buffalo Chip®. In 1981 the Chip became the world's first entertainment destination created specifically for motorcycle enthusiasts, and they've been keeping alive events that made Sturgis history ever since. Reserve your passes now for the party created By Bikers, For Bikers™ so you don't end up being the only one to miss out on tricks, fun and damned foolishness of historic proportions.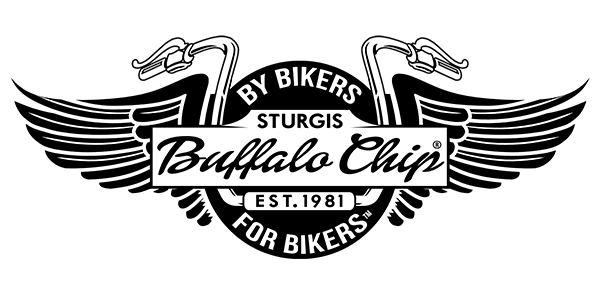 Want to know more about Sturgis history? Be sure to check out Part 1 of our series on influential Sturgis Motorcycle Rally moments, "Why We Owe It to the Indian."
What are some other important moments in Sturgis history you'd like to know about or add? Let us know in the comments below!