Unless you've been living under a rock, you've probably heard that 2015 will be a historic year for the Sturgis Rally. Predictions for the upcoming 75th anniversary event start at one million attendees and only go up from there. For those who don't know the history, it's baffling to imagine how an event of such epic proportions would end up in a sleepy little town like Sturgis, SD. So how did it? The first article in our series revealing the events and moments that shaped Sturgis history will answer this very question.
It's technically been 78 years (counting three years off during WWII), making this the 75th reunion since motorcyclists first started gathering annually for the Black Hills Motor Classic, an event that would later become known as the Sturgis Motorcycle Rally. Even if you ride a Harley, a Victory or a Yamaha, you've still got an Indian dealer to thank for that.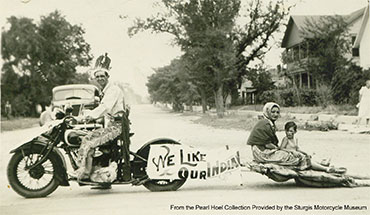 Combining a lifelong love of motorcycles, adventure and the outdoors, Clarence "Pappy" Hoel (seen above in a 1936 parade photo) opened Sturgis' first Indian Motorcycle dealership in 1936. A group of local enthusiasts rallied around Hoel and began supporting his business by purchasing new Indian Motorcycles, parts, and accessories and seeking mechanical support. Later that year, the group officially chartered as the "Jackpine Gypsies Motorcycle Club."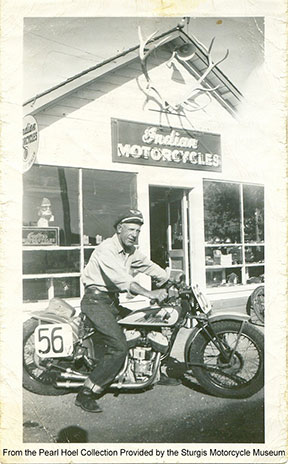 The Indian-loving Gypsies had a friendly rivalry with a neighboring group of Harley-Davidson enthusiasts, the Rapid City Pioneer Motorcycle Club (RPMs). Together the two clubs held group rides, picnics and field days filled with biker games like slow races, egg races and suitcase races (seen below).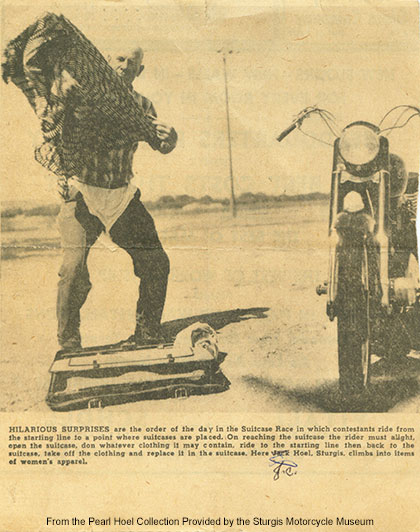 The Jackpine Gypsies and RPMs competed in their first dirt track races on an old Rapid City horse track, but early in 1937, the Gypsies brought the festivities to Sturgis for good. Hoel and his "boys" brought new life to the weed-ridden, half-mile track at the Meade County Fairgrounds. This horse track had earlier been converted to accommodate cars, and racers found they could achieve higher speeds than anywhere else on its banked corners.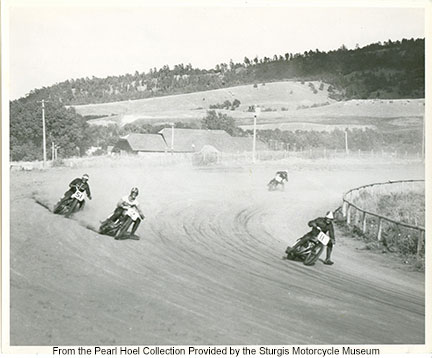 With the exception of the second World War, there wasn't much that could slow the rapid expansion of the Sturgis Rally after the first dirt track races in Sturgis held in August 1937. The races were a win-win–providing entertainment for locals, a challenging new track for racers and a big boost to the Black Hills economy. Throughout the years, the races and their related events grew from a two-day affair to a spectacular week-long celebration, all the while receiving tireless support from Pappy, his wife Pearl and the Jackpine Gypsies.
So when you roll into Sturgis for the 75th rally, be sure to give a nod to the old Hoel Indian dealership marked with the sign that reads "Vintage Gypsy." (It's on Junction Avenue right next to the newly carved sculpture of Pappy.) Because like it or not, the entire Sturgis Rally might not have happened if it weren't for them.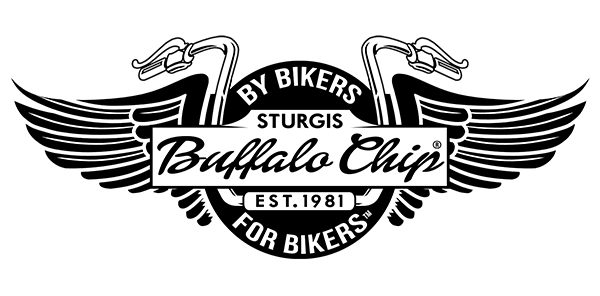 If you're looking for the Authentic Sturgis Experience™ during your time at the 75th, look no further than the Sturgis Buffalo Chip®. In 1981 the Chip became the world's first entertainment destination for the motorcycle enthusiast. Reserve your passes now for the party created By Bikers, For Bikers™ so you don't end up being the only one to miss out on the fun during this historic year.
What are some other important moments in Sturgis history you'd like to know about or add? Let us know in the comments below!