What were you doing the last time you could honestly say you were "living your best life"? Were you turning heads on your motorcycle? Standing within arm's reach of your favorite band? Sharing your talent with the world? Laughing till your sides hurt?
Well, there's a party where folks gather every year to do all that and so much more—the Sturgis Buffalo Chip®–and the biker babes featured in this article were there to drink up every moment of it in 2020!
Be sure to read to the end to find out how you and three of your friends could be living your best life in 2021 by winning a $30,000 Sturgis vacation prize package!
Rippin' Around on Mini Bikes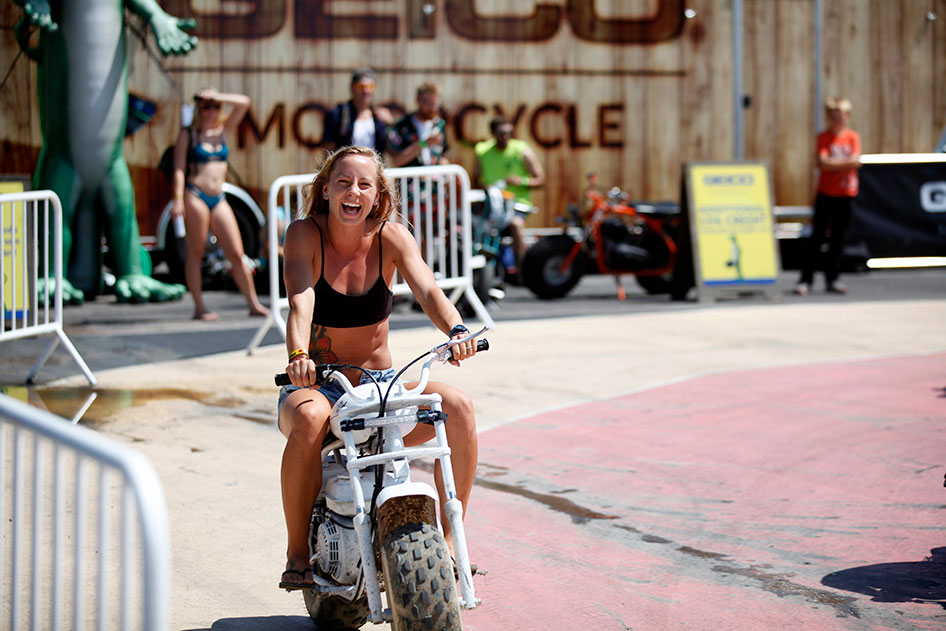 Racing on the Mini Bike Oval Track at the
CrossRoads
is just as much fun as it looks (maybe even more).
Rockin' Out in the Front Row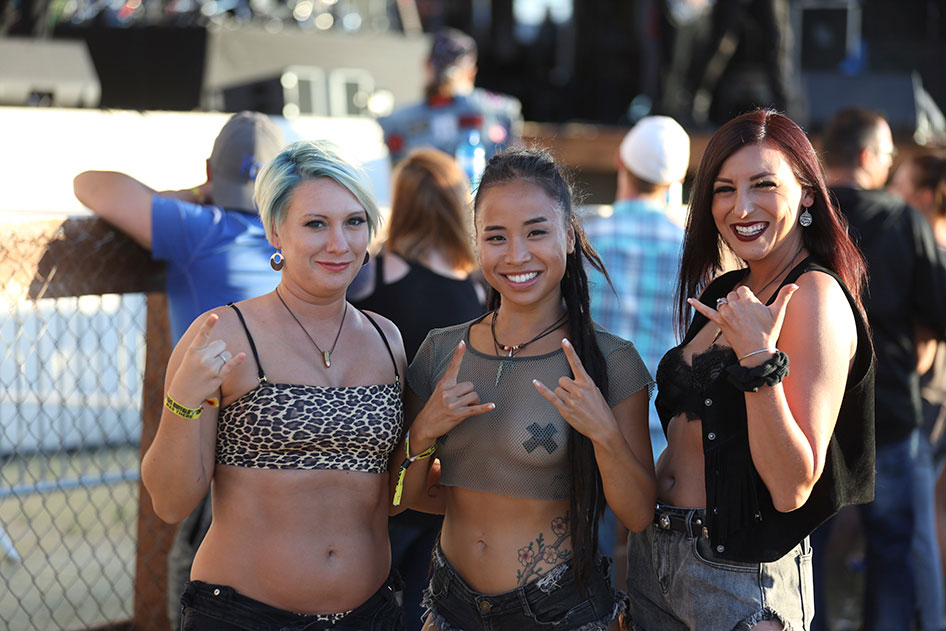 See more photos and learn more about Mai here!
Posting Up Under a Perfect Rainbow
Sitting on a limitless supply of Monster and getting one of the best amphitheater views at the Monster Energy Lounge is as good as finding that pot of gold.
Showing Off Mean Machines…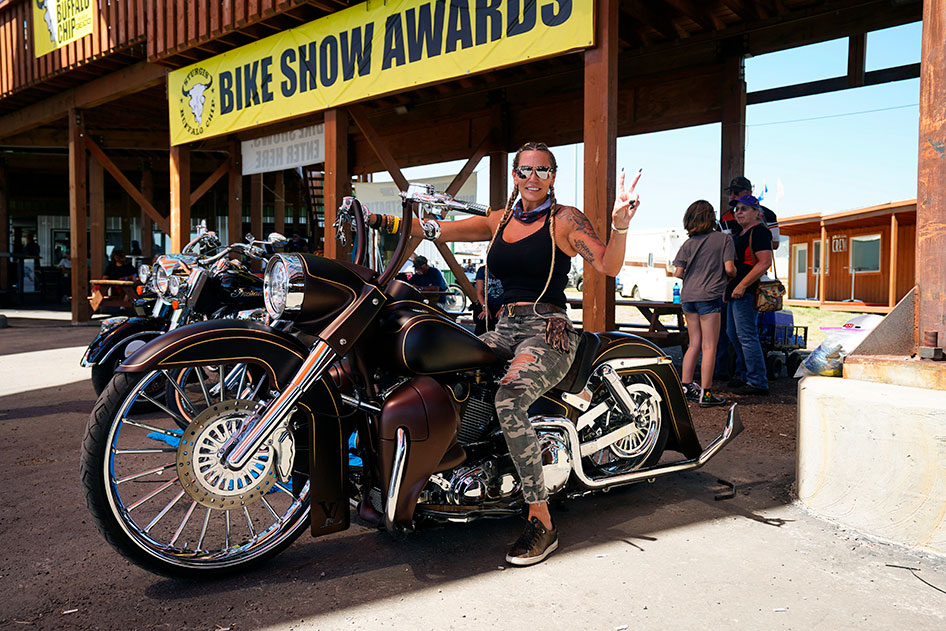 …and Mini Machines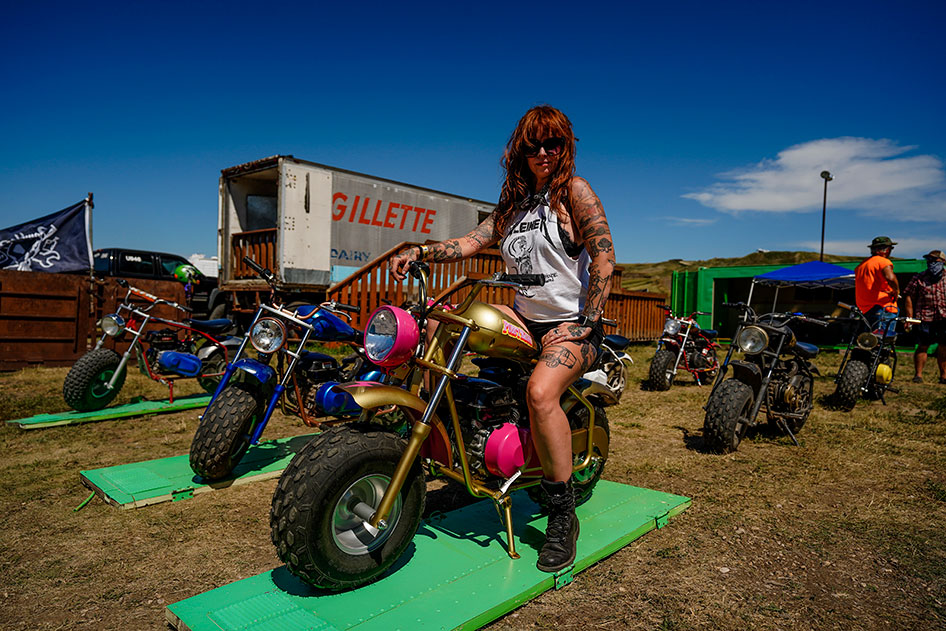 Savannah Rose knows good things can come in small packages, which is why she entered the Camp Zero Mini Bike Show.
See more of the fun from Camp Zero in Camp Zero Doesn't Live Up to the Sturgis Name.
Playing It Cool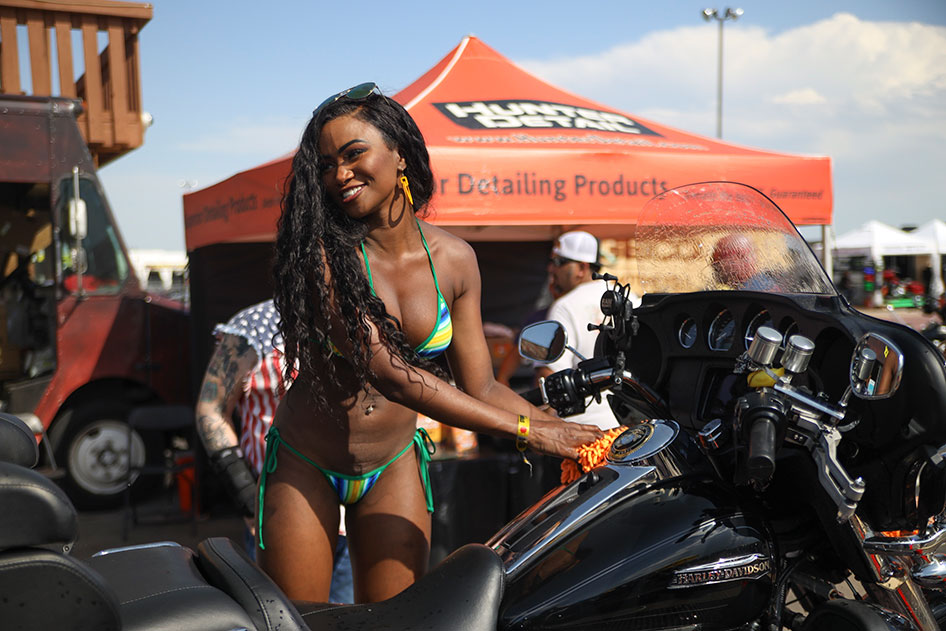 If you have to clock in on a hot August Day, there's no better dress code than the one at the
Miss Buffalo Chip
Bikini Bike Wash at the
CrossRoads
.
See more photos and learn more about Daijah Nicole here.
Administering Thirst Aid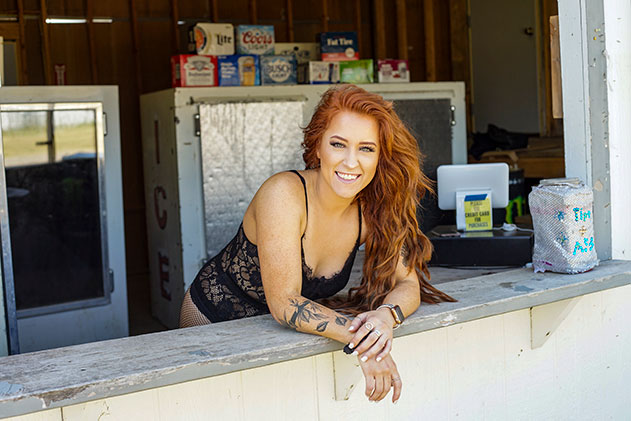 Speaking of solid
rally jobs
, you'd be hard pressed to find one more fun than being a Chip bartender.
Thinking Outside the Box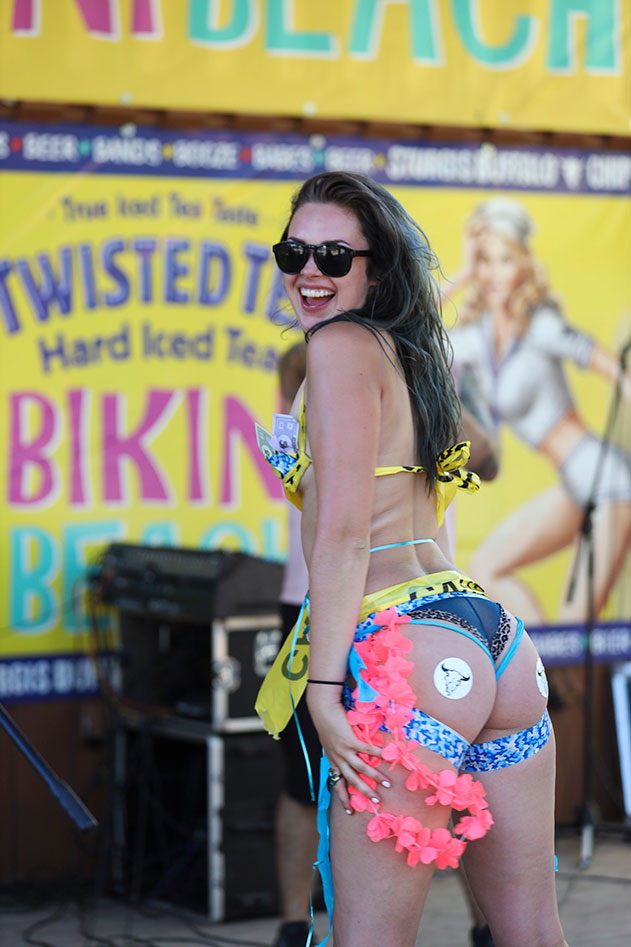 Monopoly money? Caution tape? Hawaiian lei? Just about anything can become a bikini when you flex your creative muscle and participate in the
Homemade Bikini Contest
.
Celebrating their Age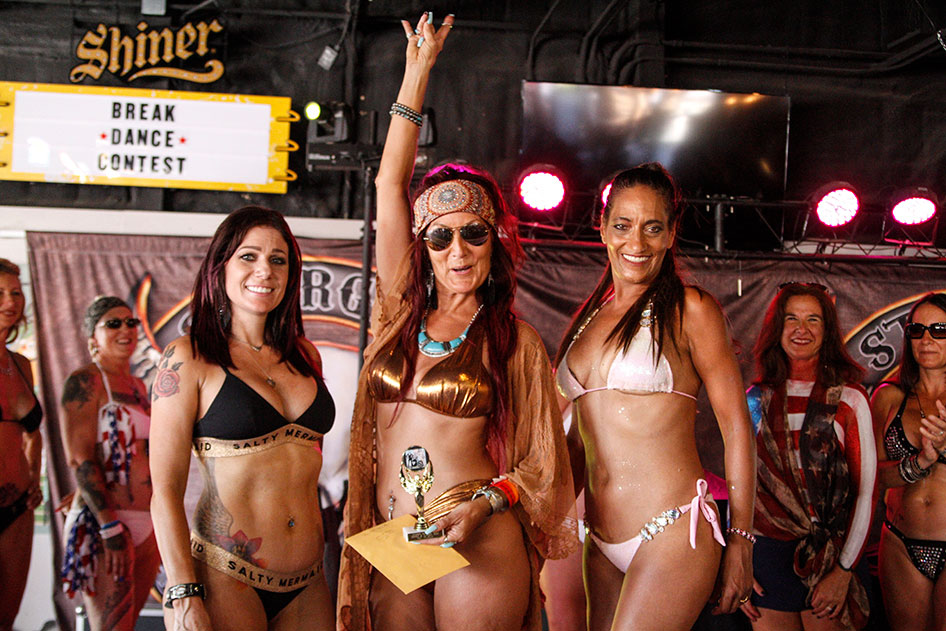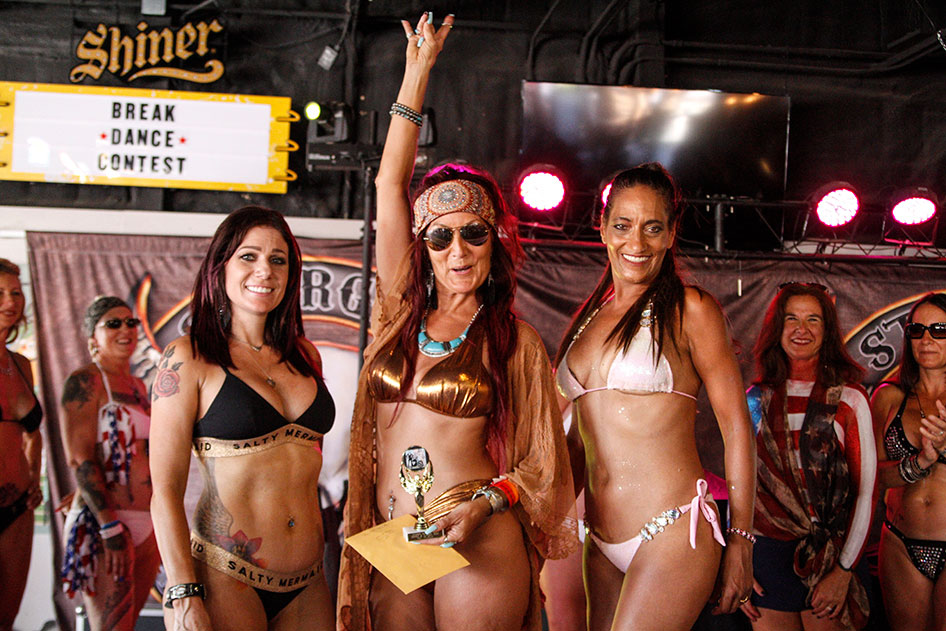 Like a fine whiskey or your favorite pair of leather boots, these women participating in the Buffalo Chip's
Sassy & Classy Over 35 Modeling Search
are proof that
certain things just get better with age!
Learn their secrets by checking out 5 Reasons Biker Women Get Sexier with Age!
Supporting Great Causes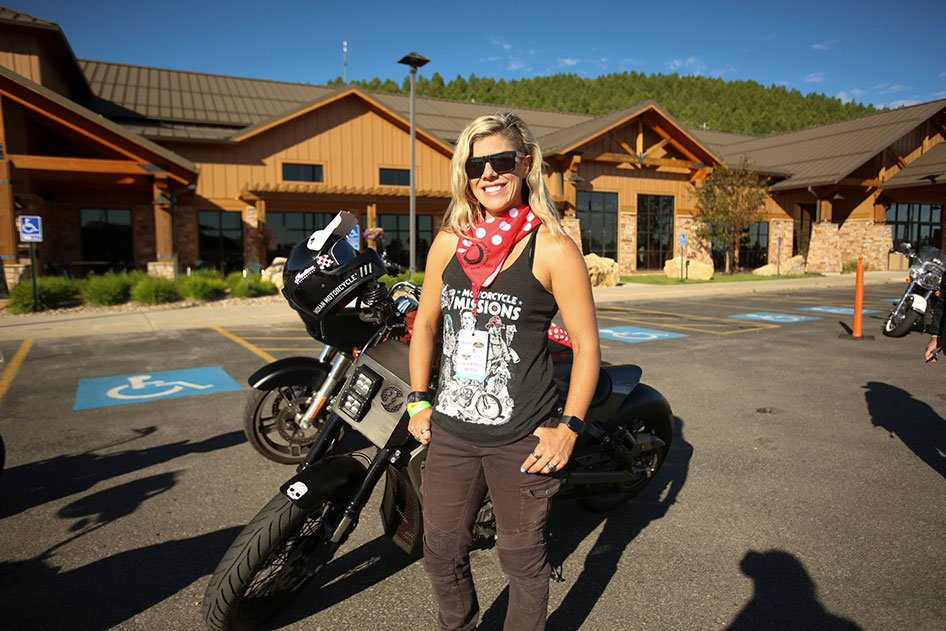 Krystal Hess of Motorcycle Missions was one of nearly 100 rad moto babes to celebrate women in motorcycling and raise money for charities benefitting women in the 12th annual
Biker Belles®
.
Making Masks Look Goooood
Mask and you shall receive…this Budweiser.
Kicking Ass and Taking Names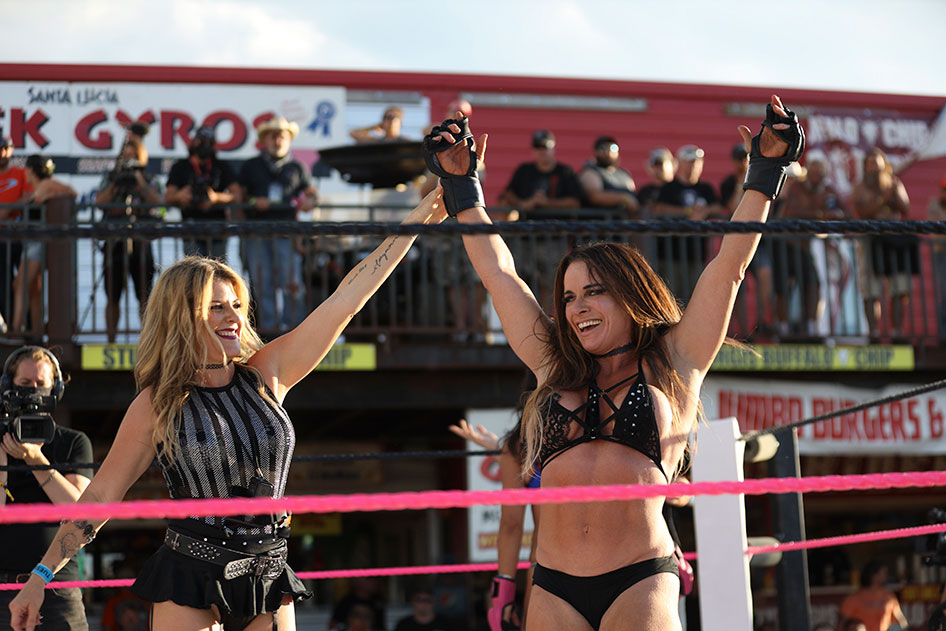 Jenny "Bloody" Valentine (right) and the rest of the competitors in the Lingerie Fighting Championships managed to knock the crap out of each other wearing nothing but gloves and some skimpy lingerie.
Flying the Flag of Freedom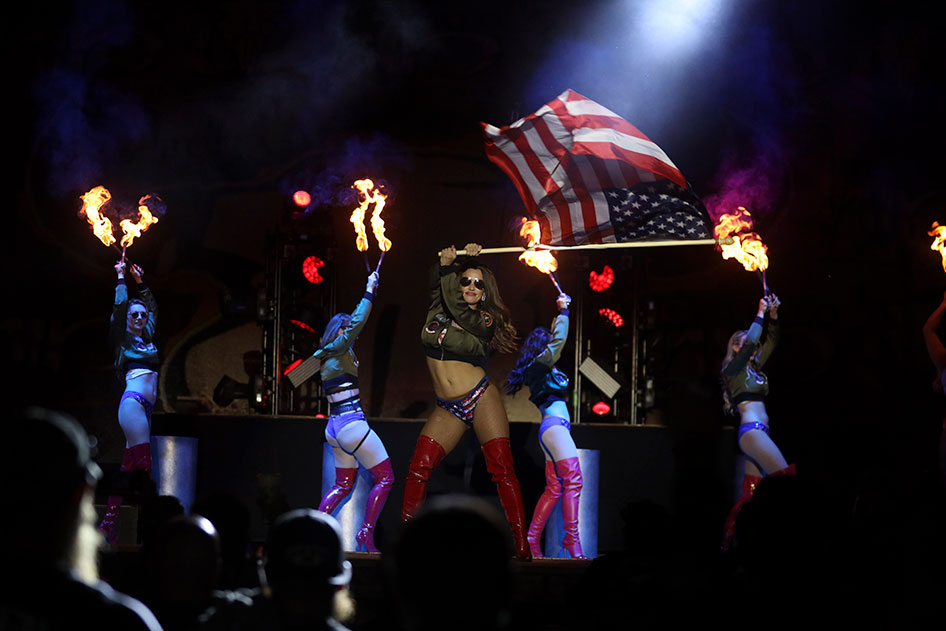 Laughing Till Their Sides Hurt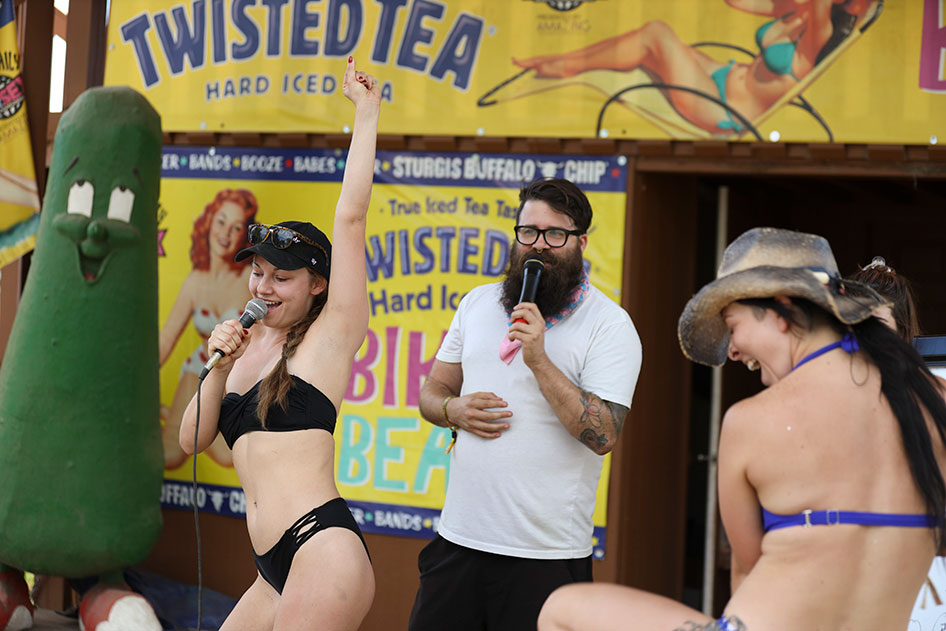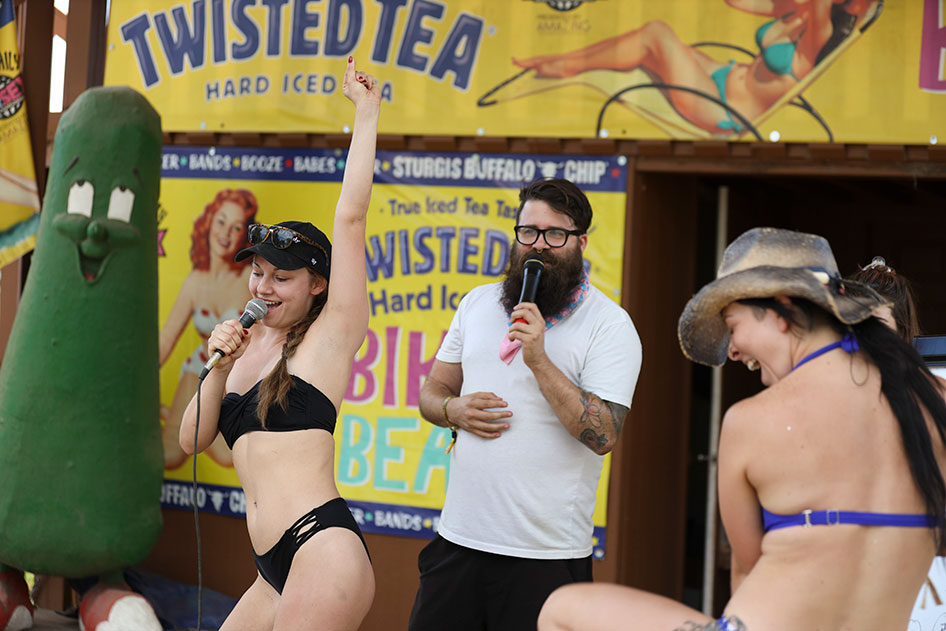 Spreading Peace, Love and Happiness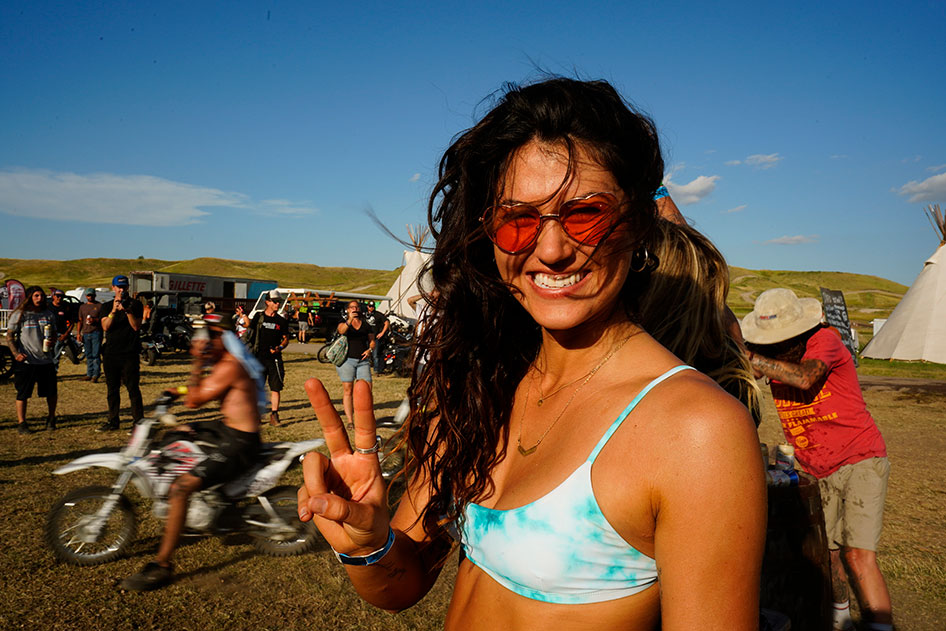 Playing with Fire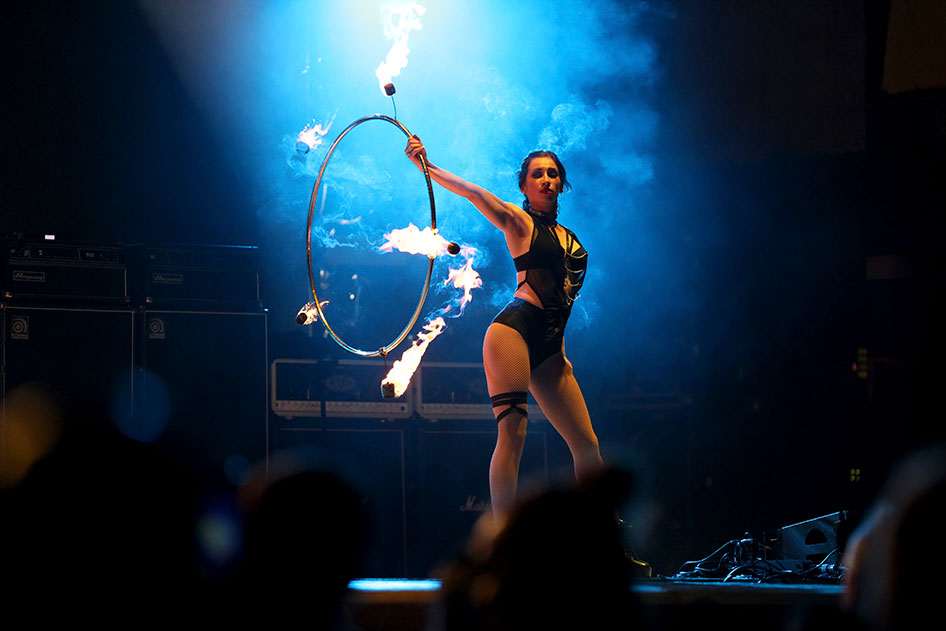 Ana Malll and the rest of The Flaunt Girls know how to bring the heat and light up a crowd.
Making New Friends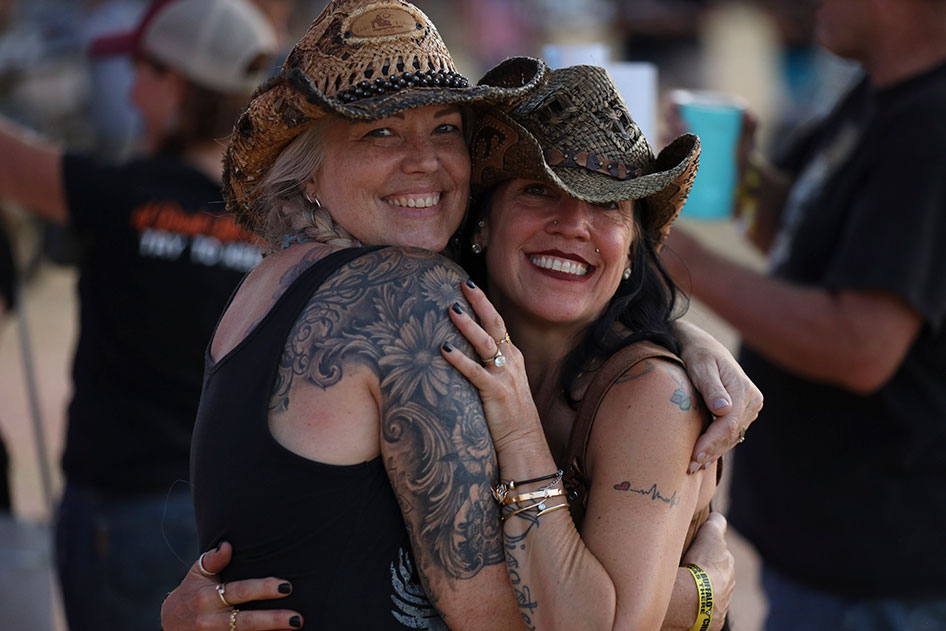 The friends you meet at the Buffalo Chip soon become your family.
Taking Part in Long-Held Traditions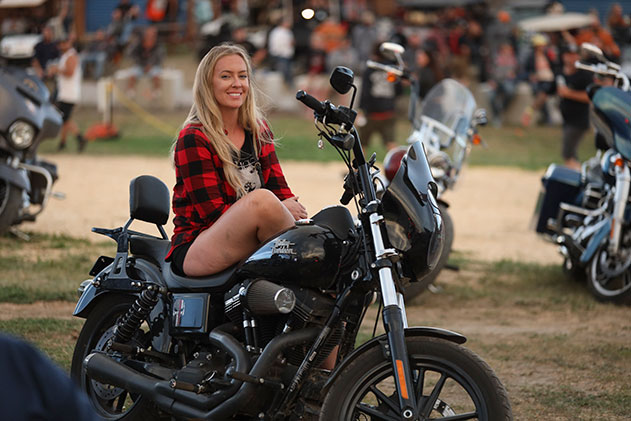 The Buffalo Chip is the original ride-in concert venue, inviting guests to enjoy the show from the seat of their motorcycle for nearly 40 years!
Transforming Themselves into Living Works of Art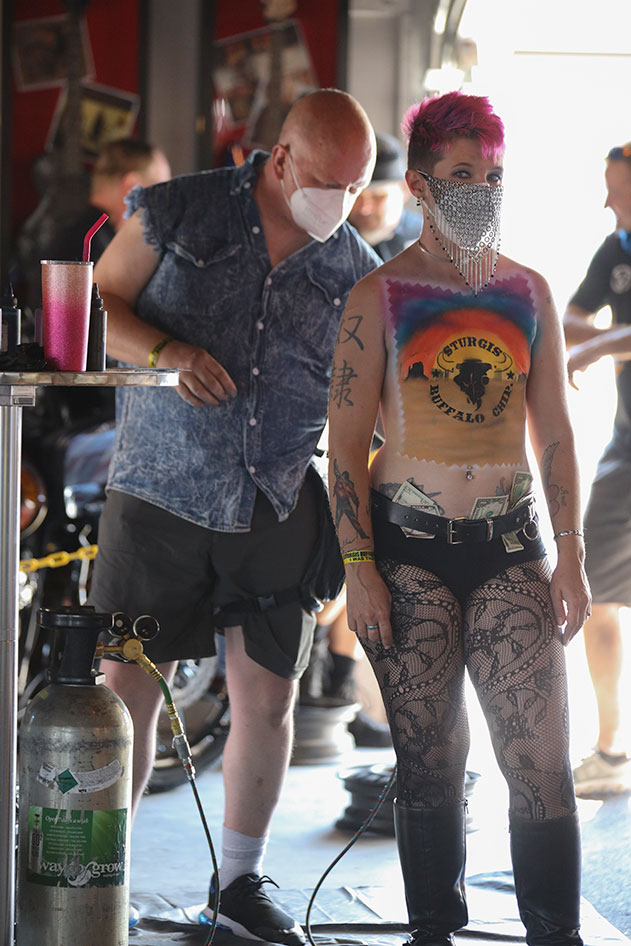 It isn't every day you can walk around displaying the work of airbrush artist Tim Weiss.
Sharing with Friends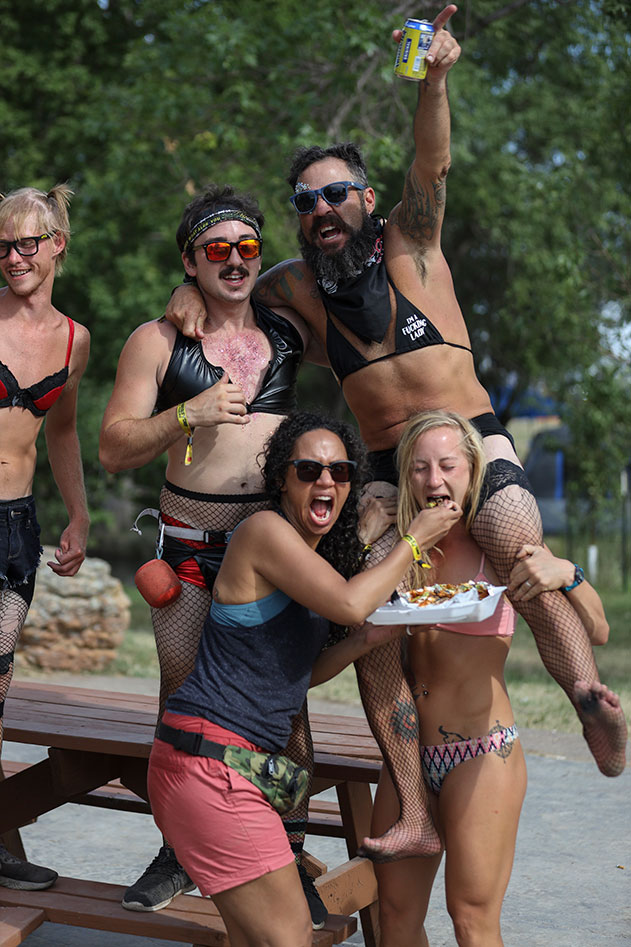 Forgot your bikini at home? Left camp without grabbing lunch? Your Chip fam will make sure you're covered.
Want to see more photos of biker babes doing their thing at the Buffalo Chip? You'll find lots more in the 2020 Biker Babes Photo Gallery!
*******
Want to live your best life during the 2021 Sturgis Motorcycle Rally?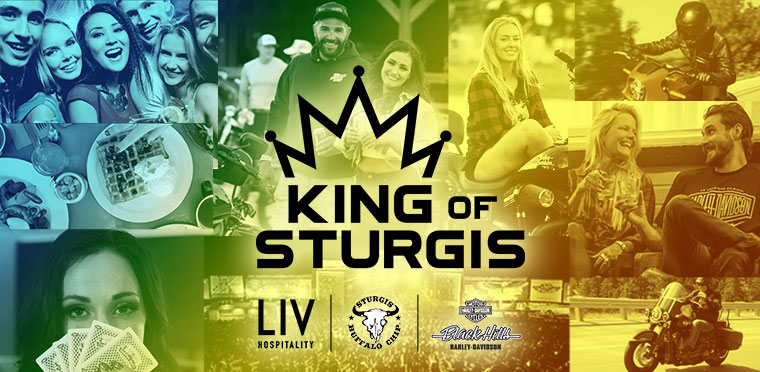 If you win the King of Sturgis grand prize, you and three of your friends will ride through the Black Hills in style with a $10,000 Black Hills Harley-Davidson shopping spree, party like royalty with Sturgis Buffalo Chip VIP concert and event experiences, and play like high rollers at Liv Hospitality's top dining, gaming and lodging destinations.
Have you lived your best life at the Buffalo Chip? Tell us about your experience in the comments below!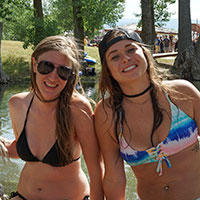 Presented by the Sturgis Buffalo Chip
Known as The Best Party Anywhere®, the Sturgis Buffalo Chip believes festivals should be fun like a burn out, reenergize you like a broken rule, and romance you like someone you just met and have to take home.This nine-day festival of concerts and motorcycle events promises to bring you exciting events like flat track races and live performances from artists like Aerosmith, Willie Nelson, Five Finger Death Punch, Kid Rock, Rob Zombie and many more.Find out more or get passes to the Best Party Anywhere at
BuffaloChip.com
and find out why it continues to be one of the most televised festivals in the world.