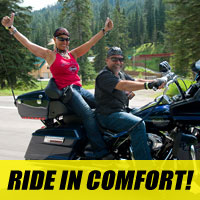 When you're out for a ride, the rumble of the road, the sun on your face and the wind in your hair can be your best friends. They can also be your worst enemies—causing aching bones, tingling hands, frozen fingers and feelings you might describe as "not so fresh." If you want to spend more time riding and less time complaining once you arrive at your destination, check out this list of parts and riding gear from some serious innovators in comfort.
Riding on a traditional solid seat pan can be hard on your body, but Danny Gray's new Independent Suspension Technology (IST) eliminates the compression and shock they can cause your body to endure. IST is built right into Danny Gray saddles, which means you can have a custom look that perfectly complements your bike while enjoying longer, more comfortable rides.
Participants in the 2015 Buffalo Chip Challenge™ installed Danny Gray seats onto both the John Shope Signature 2014 Indian Chieftain and the Paul Yaffe Signature 2014 Harley-Davidson Road King that will be auctioned off in support of the Legends Ride on Aug 3, 2015. Find out more about these bikes and how to own one of them here.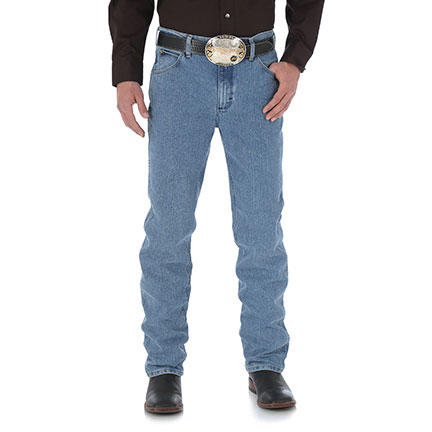 Feel as free as when you're on the open road in new Wrangler® Premium Performance Cool Vantage™ Cowboy Cut jeans with superior moisture-wicking technology. Designed to address denim getting hot, heavy and restrictive while working or riding in the heat of day, Wrangler Cool Vantage jeans incorporate the newest innovation in comfort to keep men cool, dry and comfortable.
Wrangler has teamed up with the Sturgis Buffalo Chip® to outfit all riders on the Legends Ride® and Freedom Celebration Ride with a complimentary pair of Wrangler Cool Vantage jeans. When you reserve your place on either ride and submit your jean size, your Wrangler Cool Vantage jeans will be ready and waiting at the Chip registration. Ladies, choose your favorite style by redeeming your coupon code (also available at registration) by visiting Wrangler.com.
3. Black by Victory Motorcycles Heated Gloves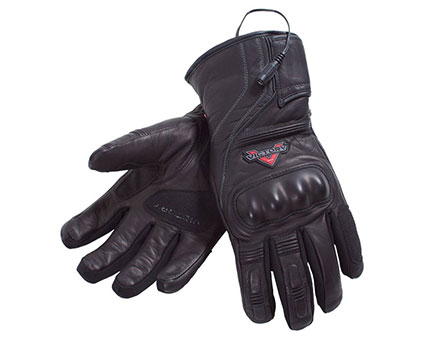 It's easy for your hands to get cold when the wind's been flying over them for hours. But you can still ride in comfort when the temperature drops. Black by Victory Motorcycles Heated Gloves keep you warm and dry without all the bulkiness of a well-insulated winter glove. These gloves connect directly to your motorcycle battery or auxiliary power socket to deliver heat to the areas where wind and element exposure dominate—the top of the hand and fingers. The gloves are fully waterproof, windproof and breathable, and they are available for both men and women.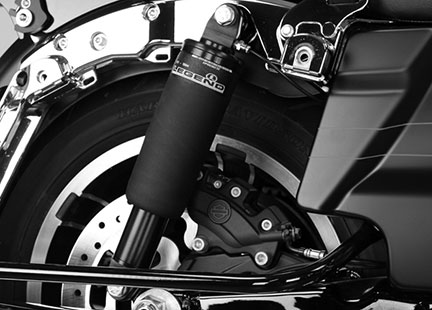 Most of your bike's weight rests on the rear tire, which means your rear shock absorbers can make or break ride quality. Your stock system won't offer much shock travel—giving you about the bare minimum in shock absorption. This can give your hips, spine and tailbone a serious beating.
Adding a Legend Air Suspension will keep your bike stable, provide a smoother-than-stock ride and ensure you won't bottom out no matter the load condition. In addition, a Legend air ride system adds an ultra cool element to your bike by giving you the ability to raise and lower the entire suspension system at will.
You'll enjoy the ultimate in riding comfort from Legend Suspension's brand new AERO FL Long Stroke System if you are the high bidder on Paul Yaffe's Signature 2014 Harley-Davidson Road King at this year's Legends Ride auction. This system provides the bike's rear suspension, thanks to a modification that makes the swing arm pressure-ready—allowing it to hold air for the suspension. Randy and Nick Cramer of Dakota V-Twin completed the modification and instructed the group of Buffalo Chip Challenge student participants who took on the rest of the bike's customizations. Find out more about this bike and how you can own it here.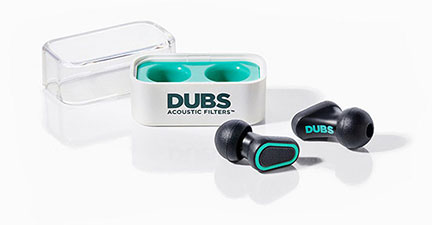 Most of us live for the sound of a loud engine, but your motor's 100dB rumble combined with the wind noise from highway speeds can cause fatigue, hearing damage and difficulties communicating with your passenger. Luckily, you can go louder and longer with DUBS Acoustic Filters. DUBS aren't your traditional foam earplugs that block all noise and muffle the sounds of the world around you; these advanced tech earplugs are specially engineered to reduce volume without sacrificing clarity of sound. Plus, their unique form factor allows you to wear them comfortably and keep them sitting flush against your ear. DUBS are reusable and come with a case that keeps them secure in your pocket.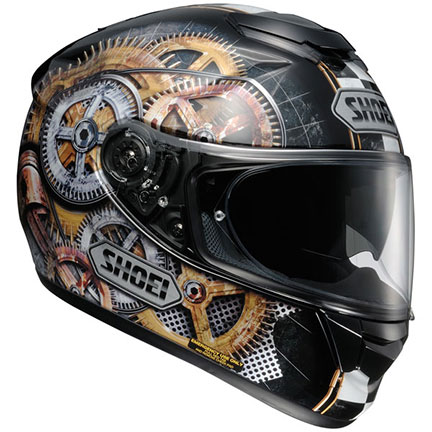 Not knowing what lies ahead can be a thrilling part of riding, but it can also catch you off guard if you don't have the right riding gear. Luckily, SHOEI's all-new GT-Air helmet makes it easier for you to adapt. Just like the name implies, the GT-Air is light and aerodynamic, which puts less strain on your back and neck. Adjusting to ever-changing conditions is also a breeze thanks to its convenient flip-down internal sun shield, an easily adjustable ventilation system and Pinlock Anti-Fog System.
Find out more about the SHOEI GT-Air helmet in this independent AMA member test.
7. Avon Air Cushion Anodized Grips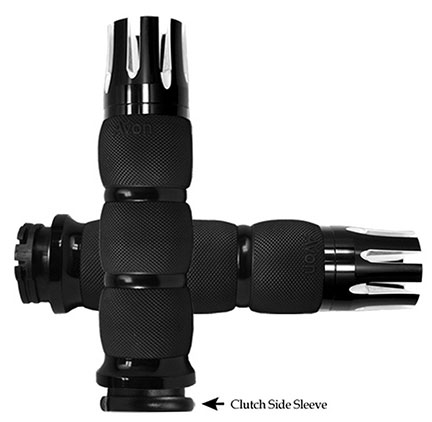 If you're tired of the tingle you get in your hands from the constant vibration of your handlebars, it's time you pick up a pair of Avon Air Cushion Back Anodized grips. Known as the "Air Ride For Your Hands," these grips feel great and soften the overall feel of the ride thanks a special core bar that creates air pockets inside the grip body. Plus, the soft serrated texture on the grip surface helps you hold on to your bike with no-slip confidence. They come in a variety of styles and fit HD 1″ Push Pull & Fly By Wire.
8. Klock Werks Flare™ Windshields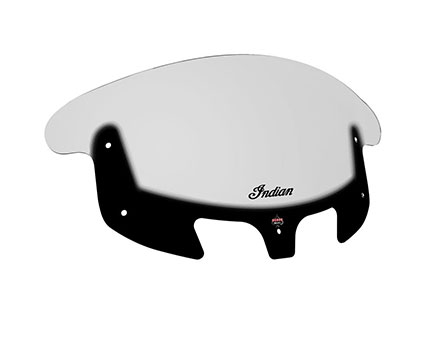 Does your windshield create a vortex of swirling air that shakes your glasses around on your face and creates excess wind noise? Many do, but not Klock Werks' Flare™ Windshields. The flip at the top of the Flare redirects wind up and back as clean, less turbulent air for the rider and passenger, and the "hips" at its sides re-route wind, adding downforce to the front-end of the motorcycle to improve stability. Flare Windshields range in height from 9-15 inches and are available for various models of Victory Motorcycles, Indians, Harley-Davidsons, Kawasakis, Hondas and Yamahas.
What parts or riding gear do YOU use to help ensure the most comfort when out on the road? Share your favorites in the comments below!
For more riding gear tips, check out 10 Essential Pieces of Gear You Shouldn't Ride Without and be to sign up for the Sturgis Rider® New Blog!