Spearfish, SD (January 16, 2016) – The Sturgis Buffalo Chip® has kicked off what has for the past five years been helping shape the next generation of motorcycle industry experts with its Buffalo Chip Challenge industrial education and scholarship program. In partnership with some of the industry's leading professionals, the Challenge program enables local high school students to take hold of dreams that might otherwise seem impossible. The free program is returning in 2016 to give participating students an opportunity to earn $8,500 in scholarships and work hands-on with the nation's top builders to create award-winning custom motorcycles.
Spearfish student Sidney May, winner of a $5,000 scholarship in 2015, is one of many who have been taking full advantage of the program. As a Spearfish High School junior, May served on the pit crew for "Girl Power Racing" and worked as an apprentice technician at White's Queen City Motors, training to earn the title of an ASE Certified Student Mechanic and GM Certified Technician. During this time she never missed a day of the Buffalo Chip Challenge program and maintained a spot on the school's "A" Honor Roll.
"I absolutely loved working on the bikes! " May said. "I was so proud when I saw the Harley and Indian sitting in the parking lot as our months of hard work came to an end."
May attended the famed Donnie Smith Bike and Car Show in St. Paul, Minn. last March where Buffalo Chip Challenge students and instructors displayed the two bikes they had built. She enjoyed answering attendees' questions about the bikes and was amazed at the number of them who were interested in younger people joining the custom motorcycle community. The 2015 Challenge participants proved they had learned the skills to put them on par with some of the world's best builders by winning first place in the Full Custom/Other Bagger Class with their 2014 Indian Chieftain and second place in the Harley Road King w/26″ Wheel (full custom) Category with their 2014 Harley-Davidson Road King. The two bikes were later auctioned off in support of the Buffalo Chip's signature Legends Ride® charity event.
The $5,000 scholarship May received will help her achieve clear-cut educational and career goals she's set for herself.
"I want to own a hot rod shop someday," she explains. "My educational goals include a business degree and hands-on training. After gaining valuable on-the-job experience, I will begin to pursue owning a business. I'd also like to attend the Hot Rod Institute in Rapid City. The Challenge scholarship will help me get the schooling I know is necessary to reach my goals. I'm sad I will not be part of it this year; it was an amazing experience, definitely the best part of my high school career!"
The 2016 Challenge program will again encourage students to apply for one of the three scholarships totaling $8,500 that will be awarded to the winners by Buffalo Chip President Rod Woodruff.
"Our goal is to encourage economic development in the Black Hills while opening the door to new career choices for young adults that may otherwise be out of reach," says Sturgis Buffalo Chip president Rod Woodruff,. "Through the partnership and generosity of many in the motorcycle industry, students will have an opportunity to explore a career, learn valuable new skills and earn funds that will help them further their education. This program is a win-win for the Black Hills."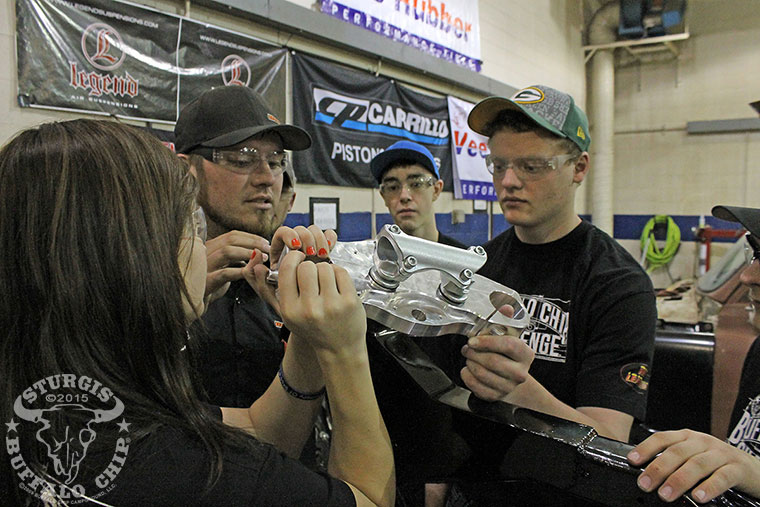 Students taking part in the innovative high school mentorship program in 2016 will be customizing a 2015 Victory Cross Country and a 2015 Indian Chief Classic at the Dakota V-Twin and Baggster shops in Spearfish. Under the direction of Keith Terry of Terry Components, Randy Cramer of Dakota V-Twin will lead Team Victory to build a Rusty Jones Signature Victory Cross Country and Chris Malo of Baggster will lead Team Indian to build a John Shope Signature Indian Chief.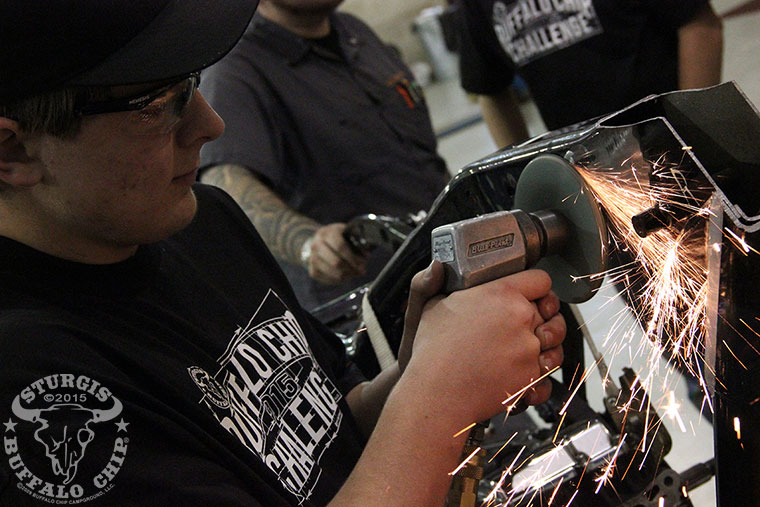 John Shope, star of HISTORY's "Biker Battleground: Phoenix," and Rusty Jones of Rusty Jones Customs complete 2016's team of world-renowned customization leaders who will teach the Black Hills area students state-of-the-art technical skills. The students will have about three months to transform the stock bikes into head-turning, show-winning custom works of art. Both bikes are scheduled for completion in time for entry into the Donnie Smith Bike and Car Show April 2-3, 2016. The Sturgis Buffalo Chip will auction off both bikes Monday, Aug. 8, 2016 in support of the Legends Ride.
Many of the motorcycle industry's top companies continue to sponsor world-class parts for the Buffalo Chip Challenge program each year, recognizing its significance as part of the growth and success in building the next generation in American motorcycling. Special thanks to American Iron Magazine, Baggster, Dakota V-Twin, Dirty Bird Concepts, Hot Leathers, Indian Motorcycle Sturgis, Rusty Jones Customs, Terry Components, Arlen Ness Enterprises, Carl Brouhard Designs, Hawg Halters, Inc., Jamie's Repair, KewlMetal, Kreun Kustom, Legend Suspensions, MTX Audio, Owens Interstate Sales, RC Components, Trask Performance and Vee Rubber America for contributing to the program.
Follow the Buffalo Chip Challenge on the Legends Ride Facebook page to see photos, videos and articles updating the public on the project's progress.