There's something thrilling about turning your motorcycle down an unfamiliar stretch of pavement. The excitement and anticipation that springs from the unknown is what fuels our need as bikers to seek out new adventure. So for those of you on the hunt for that next unforgettable stretch of highway, here are some of the world's best rides according to celebrities, world travelers and seasoned riders.
1. John Hopkins, Zac Brown Band Bassist – Glasgow, Scotland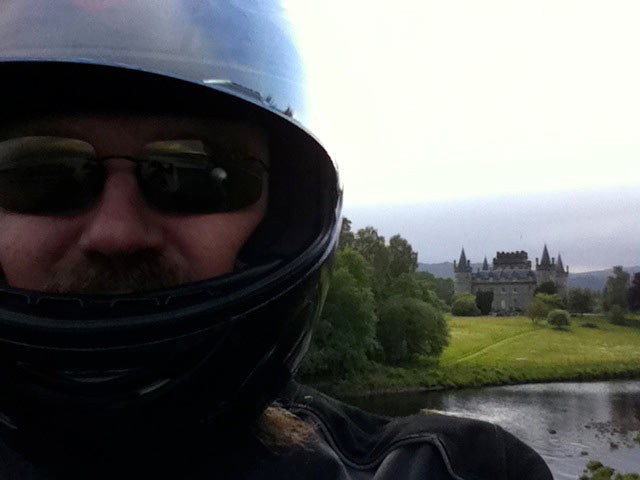 We were touring the UK in June of 2011 and had a day off in Scotland. We rented Harleys from the Glasgow HD dealer. We also hired a guide to lead us through the area. We went north first and then made our way all the way to the western coast. We stopped for dinner in Oban and then headed back to Glasgow. It was fantastic!
The weirdest part for me was driving on the left side of the road. You really have to be extra careful at intersections and in passing lanes. Scotland is also at higher latitude than we realized. When we got back to the HD dealer at 10 p.m., it was still twilight outside. Our guide felt bad calling the owner of the dealership so late. He said, "Aye, we've destroyed his wee snooze."
John Hopkins
www.zacbrownband.com
2. Pat Simmons, Doobie Brothers Vocalist/Guitarist – Sturgis, SD to Milwaukee, WI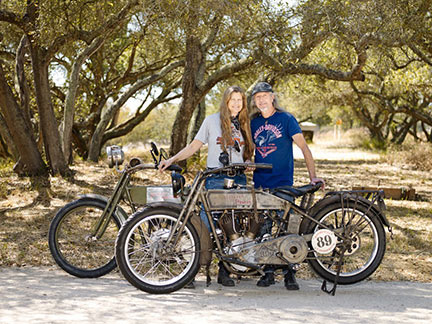 Last summer, accompanied by my wife Cris, I took the ride of my life. We rode from the Sturgis Motorcycle Museum all the way to Milwaukee, and ended our ride at the Harley-Davidson Museum to celebrate Harley's 110th Anniversary. What made this extra special was that I rode my 1914 two-speed Harley, and Cris was on her 1915 Harley.
We rode out of Sturgis on Hwy 34, on to Hwy 14 to our first stop—Pierre, SD. We continued on 34 following the Missouri River for a while, on to Hwy 47, and up to Hwy 14 again. I won't describe every back road and little town we passed, but the scenery was amazing—farms and Americana at its best. Places with names like Sleepy Eye, Walnut Grove, Springfield, and New Ulm.
As we neared the Mississippi River, we drove up to cross at Winona, and followed the river down on the Wisconsin side toward La Crosse. We then took back roads all the way into Milwaukee, passing Amish communities, over mountain roads. (There are some pretty steep hills in WI, believe it or not!)
Everywhere we stopped people came out to check out the old bikes and trade stories. We ate at great Mom and Pop restaurants, poked around in fantastic antique stores, and stepped back in time as we drove and walked through historic old towns. Simply one of the best rides I've ever been on. An amazing journey on these old bikes, but it would be a great ride on any motorcycle.
Pat Simmons
www.doobiebros.com
3. Charlie Brechtel, Bikers Inner Circle – Moscow to St. Petersburg, Russia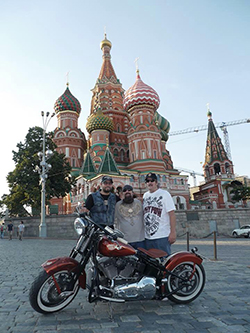 Vladimir Roshchin is a Russian friend of mine that I met while playing at the Buffalo Chip. He invited me to Russia to help him organize a motorcycle tour geared toward American riders. I've now been touring Russia for the last three years, discovering the most scenic rides, beautiful architecture, delicious food and fascinating culture that Russia offers between Moscow and St. Petersburg. Soon I will be leading 10 people at a time on this very same trek.
To ride straight from Moscow to St. Petersburg would take around nine hours if you rode through straight. But our tour will stretch the trip out to seven full days. Starting in Moscow, riders hop on an American-made motorcycle to explore the city—taking in some of Russia's most iconic sights, including the Red Square and the Moscow River. It's amazing to see so many historical locations that were built centuries before the founding of the U.S. and to ride through places where Americans weren't always allowed.
After Moscow, we meander through the Russian countryside—taking in gorgeous landscapes, stopping for unbelievable meals and sleeping in quaint Russian cottages. St. Petersburg, with its Venice-like canal system and magnificent art museums, serves as the tour's final destination.
Developing this tour has been the most amazing experience of my life, and I can't wait to share what I've seen once we start taking groups on tours!
Charlie Brechtel
www.bicproductions.com
www.facebook.com/bikersinnercircle
4. Missy Covill, Iron Cowgirl Missy Guitarist/Vocalist – Mount Rushmore National Memorial – Keystone, SD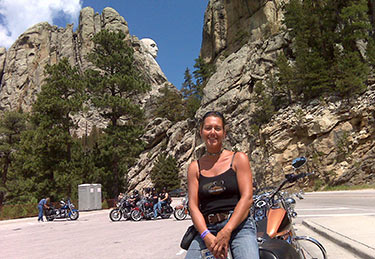 Do you have a sense of adventure, love motorcycling and have a love of American history? If so, the ride to Mount Rushmore National Memorial and the sights in between will leave you in awe and show you the true meaning of beauty with some of the most historical and spectacular views you'll ever see. It's only about 70 miles from Sturgis and is perfect for a day adventure.
Introduce yourself to a beauty beyond compare by rolling through the switchbacks, taking curves and seeing jaw-dropping views of inland lakes, granite sculptures, and the rolling hills! The ride also provides views of wildlife, from goats and mule deer, to buffalo and beautiful birds. There's no telling what you'll see.
This ride is truly amazing, and the history behind the monument will confirm just how passionate its creators were. This adventure will test your riding abilities, so be careful. Traffic is usually heavy during the Black Hills Bike Week.
Missy Covill
www.ironcowgirl.com
5. Hank Rotten Jr., Entertainer – Eureka Springs, AR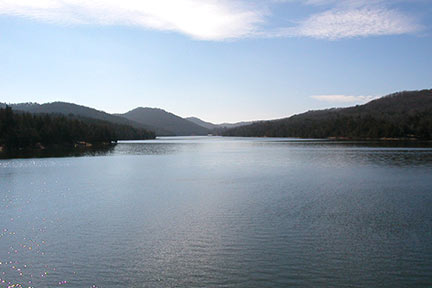 Living in Missouri, close to the Arkansas, Kansas and Oklahoma borders, allows me to explore a number of diverse rides without having to journey far from home. But my favorite has to be the highways and side roads in the Ozark Mountains surrounding Eureka Springs, Arkansas.
I look forward to the freedom of a state with no helmet law as I travel the 18 miles from my home to the Arkansas border. The winding roads force you to slow down and enjoy the forested landscape dotted with its clear mountain lakes. While the scenery can be distracting, it's important not to let your eyes stray far from the roads. Many of them overlook steep cliffs!
It's easy to get lost while riding through the hills and curves in this area, but I don't mind. I feel fortunate just to be able to get on the bike and ride!
Hank Rotten Jr.
6. Cris Sommer-Simmons, Author & Motorcycle Enthusiast – Avenue of the Giants – Northern California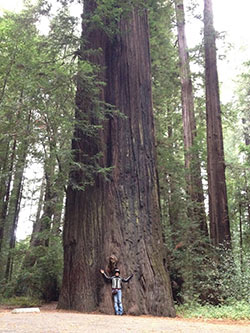 In my thirty-some years of long-distance riding, I have many favorite and memorable rides. But standing out at the top of that list has got to be the Avenue of the Giants in northern California. It's a 31-mile stretch of old Highway 101 that parallels the newer Highway 101. It's one of the best places to experience the beauty of the most majestic redwood trees left on the earth.
Surrounded by Humboldt Redwoods State Park, the Avenue of the Giants has some of the largest remaining stands of virgin redwoods. The best part is that there is very little traffic, and you can mosey along and stop wherever you want to take a break or wander into the various groves. This is one of the most beautiful places you will ever ride. There is something so magical about this place.
Cris Sommer-Simmons
www.cannonballcris.com
7. Shelly Rossmeyer Pepe, Bruce Rossmeyer's Daytona Harley-Davidson General Manager – Red Mountain Pass – Between Ouray and Silverton, CO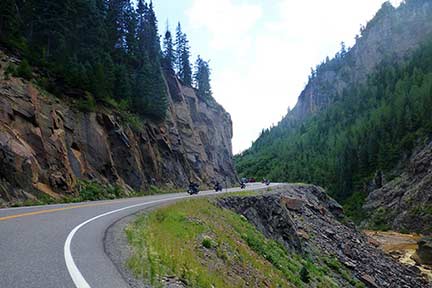 This place is so memorable is because it was my first big ride on my motorcycle after moving to Colorado back in 1995. My father bought Grand Junction Harley-Davidson a few months after moving there. The following summer I rode from Aspen to Grand Junction to meet up with some of the employees from the dealership, and we all rode to the 4 Corners Rally outside Durango. It took my breath away and I always said I would return to this place with someone special!
Well, 7 years later I returned with Dean, who is now my husband of 10 years. It was our first motorcycle trip together, and we rode about 1,000 miles around the state making sure we included this area for sure!! It's a MUST see spot when riding through the beautiful state of Colorado!!
FYI, this pass is closed during the hard winter months.
Shelly Rossmeyer Pepe
www.brucerossmeyer.com
8. Doug Lindholm, Roadsmith Trikes General Manager – Daytona Beach, FL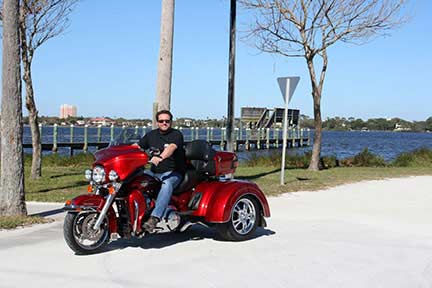 The outside temperature read double digits below zero for the third week in a row, and the snow in the parking lot was averaging about 57 inches. Being in the motorcycle business in the middle of a Minnesota winter can be frustrating for someone who loves to ride.
The only consolation is the first week in March when the Roadsmith team packs up the semi and heads down to Daytona Beach, FL for the start of the annual rally season, Bike Week. As we head south from our factory in White Bear Lake, MN, we slowly begin to thaw out and start dreaming about that first ride on our favorite trike when we reach our destination.
For me, the ride down Beach Street along the Halifax River and, ultimately, to the famous "loop" is always the "official" start of the riding season. This ride doesn't take place on the curviest roads with the most beautiful scenery. But it's the ride that represents my first taste of freedom after enduring several months of Minnesota winter, and it's the one that always "feels" the best.
Doug Lindholm
www.roadsmithtrikes.com
Several of the ride contributors for this article agreed that, of all the rides in the world, there was one that stood above the rest. What was it? Check out One Ride You Must Take Before You Die to find out!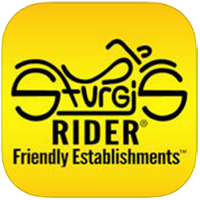 Presented by the Sturgis Rider Friendly Establishments Mobile App


Look…we all eat, we all sleep, and we all enjoy finding friendly folks who want to help us get from point A to B in life. And when you're out on the road riding in uncharted territory, sometimes finding those places and faces can be a real guessing game. But now you can find thousands of places ready to roll out the red carpet for bikers like you with the interactive map on the Sturgis Rider Friendly Establishments mobile app. See who's on your route, find out why they're place is worth a stop and share your experience with other bikers. This handy tool is a FREE DOWNLOAD on any Apple or Android device. Revolutionize your ride and download yours today!
So what rides are on your bucket list? Tell us where you've always wanted to ride, or share some of your best motorcycle rides in the in the comments below!