Once you've ridden your motorcycle down a great stretch of highway, you understand the intimate connection that forms between biker and landscape. Ask any biker what their favorite ride is, and you won't just hear how the pavement twists and turns. You'll hear about the smell of the air, the sound of the breeze, the friendly faces at a roadside stop and countless other elements that create a memorable ride. The Sturgis Buffalo Chip® recently asked a group of seasoned riders about their best motorcycle rides, and to our surprise, many described the same location. So what is this place? Why is it special to so many? Keep reading to find out why, out of all the rides to take in the world, these riders' favorite ride is the one you must take in your lifetime.
Sturgis Rider News® asked a group of seasoned celebrity riders like Dee Snider of Twisted Sister and Rod Woodruff of the Sturgis Buffalo Chip about their best motorcycle rides. To our surprise, many described the same location. So what is this place? Why is it special to so many? Keep reading to find out why, out of all the rides to take in the world, these riders' favorite ride is the one you must take in your lifetime.
Rod Woodruff's Favorite Ride
My favorite ride is the road through Spearfish Canyon. Exit 14 at I90 onto US 14 Scenic, make that first turn and the world is immediately better. Instantly it's just me, the bike and a flowing mountain stream slowly, joyously winding our way between granite walls.
The pine, birch and aspen remind me I don't ride to be in a hurry. Bridal Veil Falls and trout ponds beckon. So does the new creek flow around that 200-ton boulder that rolled into the creek two weeks after the highway engineer certified its perch was secure.
Sometimes I'll stop and climb a mountaintop, and maybe peek into a cave on the canyon wall. Always it is necessary to take a little detour at Savoy, ride one mile to the pristine ponds immediately upstream from Roughlock Falls, see the Falls. Relax. This is as close as I'll get to the Garden of Eden.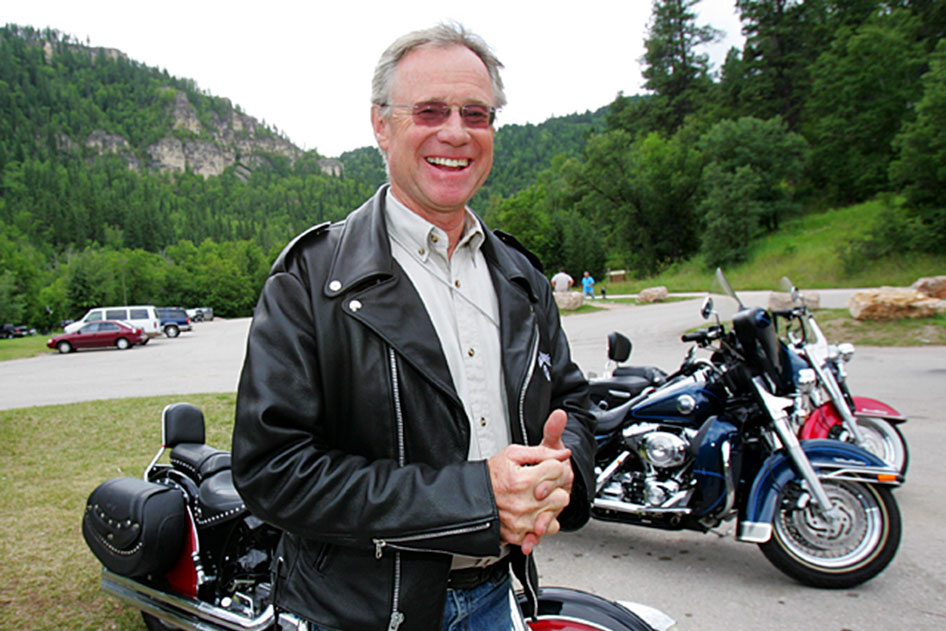 Rod Woodruff
Sturgis Buffalo Chip President
Kristy Swanson's Favorite Ride
Just west of Sturgis, SD on I-90 you'll find a town called Spearfish and its magnificent Spearfish Canyon—a ride that is "the ride" for me. The first mile or two has long twisting turns and a little straightaway where riders take their place in the lane one after another. It's here I start to feel that it's not only myself and my friends, but a never-ending family of riders searching, enjoying and realizing together why they ride.
No speed is needed on this ride, and maybe that's why I love it so much. The road and the scenery require each rider to slow down and enjoy the open air, the smell of the morning and the continuous sounds of crackling pipes. As we head through 22 miles of incredible cliffs and continuous twists, the sun stays slightly hidden behind the rock faces, only peering out every now and then, and the air becomes much, much cooler.
Riders stop everywhere on the side of the road. Some take photos of the cliff faces or Bridal Veil Falls. Others stop simply to rest and chat with fellow bikers. There's always something new to see. With trees that overhang the road and a creek that runs almost the entire length of the ride, this is some of the most beautiful scenery imaginable.
The ride slowly comes to an end as we reach our destination, Cheyenne Crossing—the best breakfast place I've found while in Sturgis. The people are so friendly, the food is great and they even have fun games at the table to test your mind. The talk at the table is always about the memories created over the years of coming to a place where you're treated as family. My day can now begin as this early morning adventure has given me a sense of why I ride.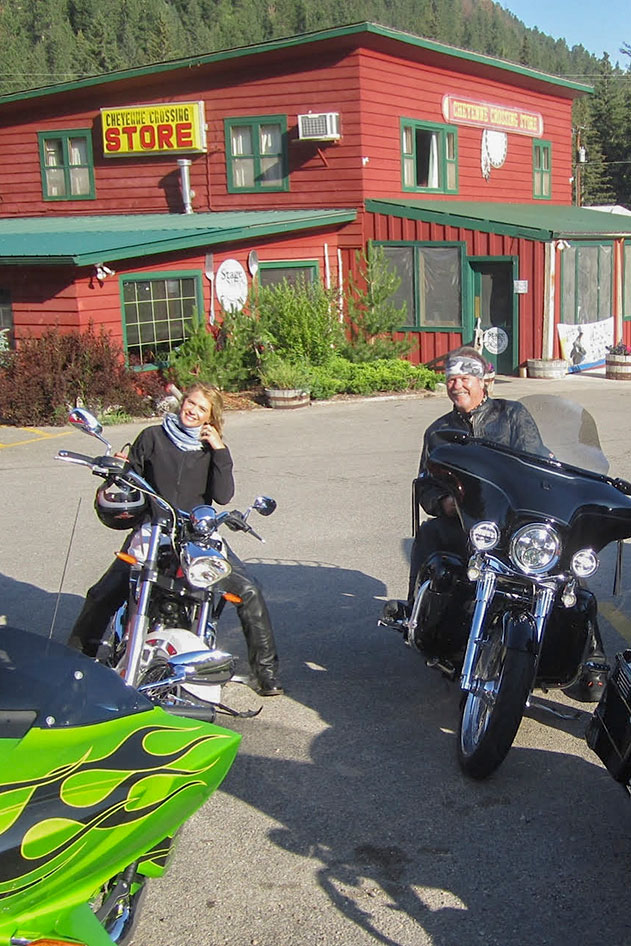 Kristy Swanson
Actress
Dee Snider's Favorite Ride
Being fortunate enough to have been to Sturgis and the Legendary Buffalo Chip many times, I've had the chance to cruise virtually all of the highways and biways the Black Hills have to offer. The Bad Lands, Custer State Park, Needles Highway, Iron Mountain Road, Mount Rushmore, Crazy Horse and all the smaller rides in between…I never tire of revisiting these incredible routes. To me they are what Sturgis and riding is all about. That and rockin' out at the Buffalo Chip each night!
But my favorite run is one of the simpler ones: Spearfish Canyon. Maybe it's because it was my first ride on my first chopper (literally delivered to me at Spearfish Airport), but there's something about cruising that winding canyon road that just feels right. To get out early in the morning with my crew, before the traffic builds (Fortunately, by day two or three most of the bikers at Sturgis and the Chip are late risers.) and head down that canyon road is pure magic. And finishing it off with the best breakfast around at the Cheyenne Crossing Restaurant is just about as good as it gets!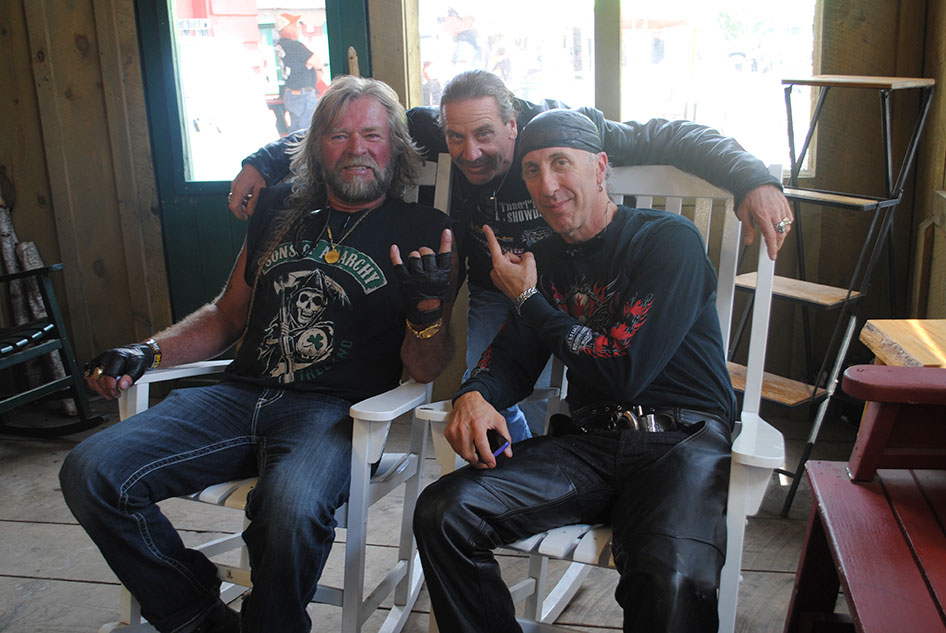 Dee Snider
Twisted Sister
Rick Fairless' Favorite Ride
I have ridden motorcycles all over this fine country of ours. If I had to pick my favorite place that I have ever ridden, I would have to say that place would be the Black Hills of South Dakota. I've been to the Black Hills (Sturgis) Rally for 27 years in a row, and there's something that draws me back, year after year. I can't quite tell you what it is, but I'll try!
The Black Hills Rally is what motorcycling is all about to me. If God created the world to revolve around motorcycles what would it be like? It would be the Black Hills Rally every August! For one week a year I get to escape to a happy place with hundreds of thousands of knuckleheads just like me! It's wonderful. Kinda scary, but wonderful. Ya see, the Black Hills is a sacred place for motorcycle riders from all over, and brother I don't care where you're from or what kind of motorcycle you ride, because up there in them Black Hills, we're all the same.
As for my favorite road to ride? Well, it would have to be Spearfish Canyon. If you've ever ridden Spearfish Canyon, then you know why. If you haven't, then I suggest you get your ass up there this coming August and you can ride with me and a half million of my closest pals!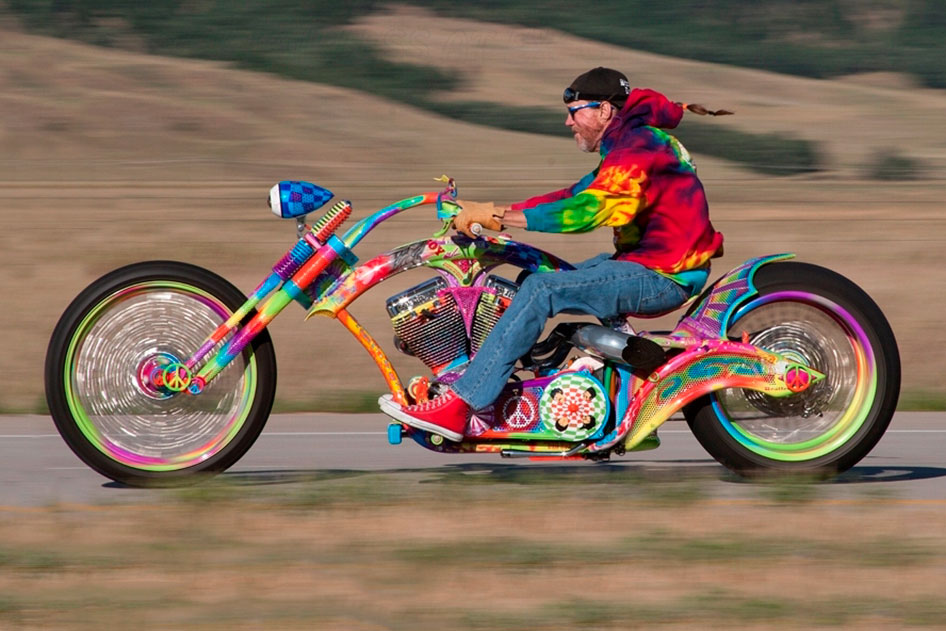 Rick Fairless
Strokers Dallas
*****
To learn about more great rides from well-traveled riders, be sure to subscribe to the Sturgis Rider® News Blog and read Rides to Add to Your Bucket List.
Want to cross Spearfish Canyon off your bucket list? Now is your chance! Reserve your passes at the Buffalo Chip's Motorcycle and Music Festival, and you can experience some of the world's most scenic stretches of highway including Spearfish Canyon.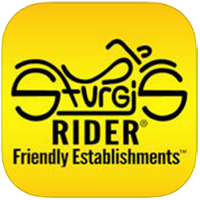 Presented by the Sturgis Rider Friendly Establishments Mobile App


Look…we all eat, we all sleep, and we all enjoy finding friendly folks who want to help us get from point A to B in life. And when you're out on the road riding in uncharted territory, sometimes finding those places and faces can be a real guessing game. But now you can find thousands of places ready to roll out the red carpet for bikers like you with the interactive map on the Sturgis Rider Friendly Establishments mobile app. See who's on your route, find out why they're place is worth a stop and share your experience with other bikers. This handy tool is a FREE DOWNLOAD on any Apple or Android device. Revolutionize your ride and download yours today!
Have a favorite ride you'd like to tell us about? Share your experience with other readers in the comments below!