The unrivaled roads, breathtaking beauty and legendary locales found in the Black Hills of South Dakota make the area a dream destination for motorcycle enthusiasts worldwide. If you're planning a trip to the hills, it can be easy to fill up your schedule just by hitting up a few of the well-known destinations. Although these big players are certainly worth adding to your agenda, you'll find there are scores of extraordinary Black Hills attractions a bit off the beaten path. Here are seven hidden gems the Sturgis Rider® Friendly Establishment Program™ strongly recommends adding to your Black Hills vacation itinerary.
Long before motorcycles became the area's most abundant beasts, the Black Hills were home to a group of remarkable creatures you won't see unless you visit the Mammoth Site in Hot Springs.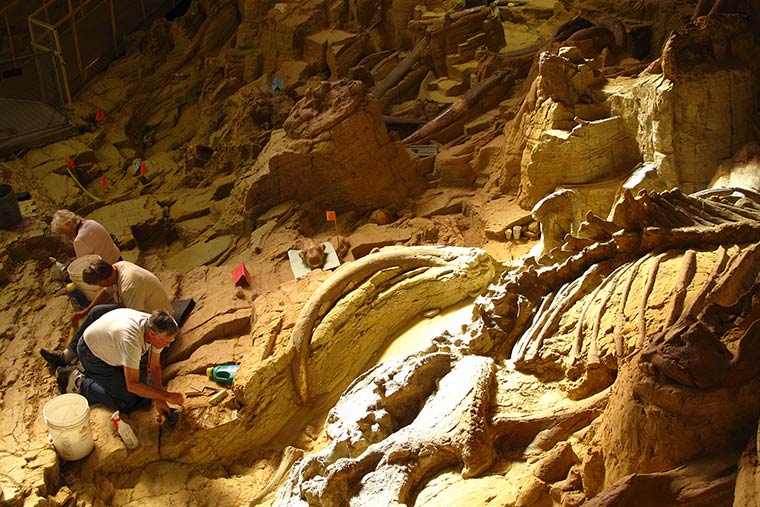 This National Natural Landmark is a Rider Friendly Establishment that allows you to travel back to the late Ice Age and walk the edges of a sinkhole where Columbian and wooly mammoths, camels, wolves and giant short-faced bears became trapped 26,000 years ago. Your 30-minute guided indoor tour will take you though an active paleontological dig site that has unearthed over 61 mammoths to date as well as the Ice Age exhibit hall featuring full-sized replicas of mammoths, a giant short-faced bear and a walk-in mammoth bone-hut.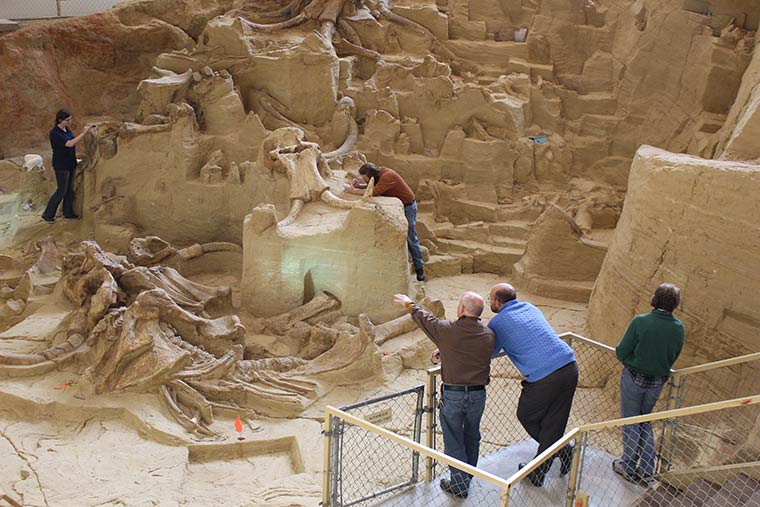 After your guided tour, you'll be invited to stroll the sidewalks of the dig area and exhibit hall at your own pace. So even though you can get in an out in 30 minutes, you may want to set aside one to two hours for your visit.
Map your route to the Mammoth Site during your Black Hills vacation using the Sturgis Rider Friendly Establishments App!
1800 US 18 By-Pass
Hot Springs, SD
Exhilarating twists and turns through stunning scenery are what makes the Black Hills so fantastic for riders; these characteristics are also what makes Rush Mountain Adventure Park's new Mountain Coaster a must-do for thrill seekers of all kinds. Fly solo or hold your honey tight as you zoom over 3,400 feet of rails that descend Rush Mountain through a series of whoops and pigtail bridges that give Needles Highway a run for its money.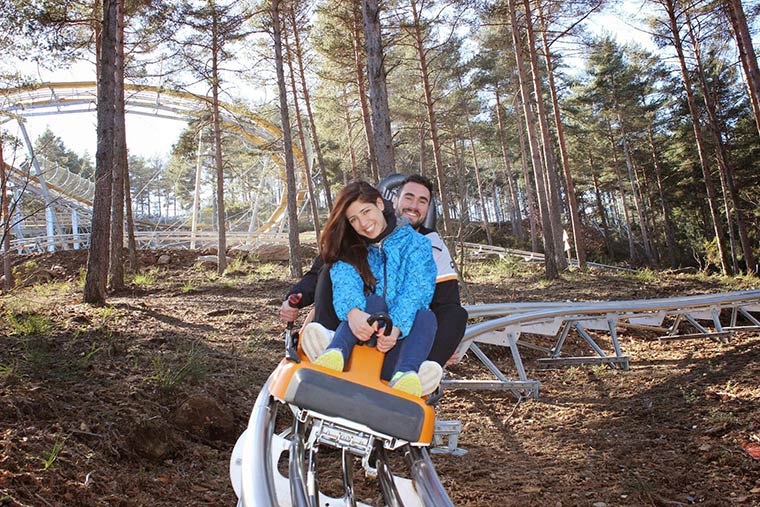 Carts can get up to 31 mph, a speed at which you may feel you could be tossed off into the woods at any moment. But rest assured, each cart is equipped with state-of-the-art safety features and hand breaks that allow you to control your own speed. Your ride will last 6-8 minutes depending how fast you go, but whether slow or fast, you'll be headed over 50-foot towers and around both a 360 and 540-degree turn.
After you've viewed Rush Mountain from the air, check out the scene underground by taking a tour through Rushmore Cave. The cave's beautiful stalactite-filled caverns remain a constant 58°F, which makes it a great place to escape the heat on a hot summer day. The cave's 98 percent humidity does make things a bit damp, so we recommend a light jacket and sturdy pair of rubber-soled walking shoes.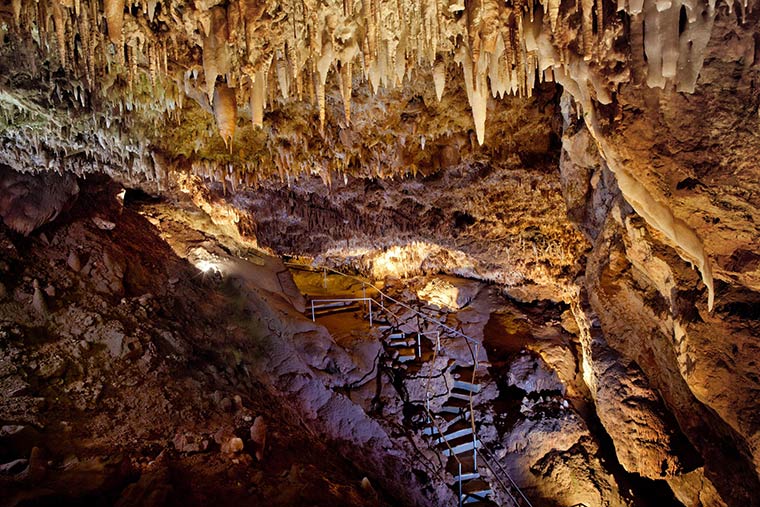 Rushmore Cave contains great examples of drip formations including stalactites (from the ceiling), stalagmites (from the floor) and formations known as cave bacon and helictites.
If you're looking to make a day of your trip to Rush Mountain, you can also soar over the treetops on their Soaring Eagle Zipline and practice your shooting skills at the Gunslinger 7-D Interactive Ride.
Map your route to Rush Mountain Adventure Park during your Black Hills vacation using the Sturgis Rider Friendly Establishments App!
13622 SD-40
Keystone, SD
If you're looking for a true taste of the old west, it doesn't get much more authentic than Fort Hays Old West Town. This attraction will take you back in time to experience first hand many of the trades that made towns in the old west thrive. You'll find craftsmen making handmade necessities including tools, ropes, bricks and plates, and many will teach you their craft. Use a 100-year-old lathe to make your own tin plate in the tin shop, mix South Dakota red dirt and sand together to make a customized brick in the brick factory or even watch your own hunting knife take shape at the blacksmith shop.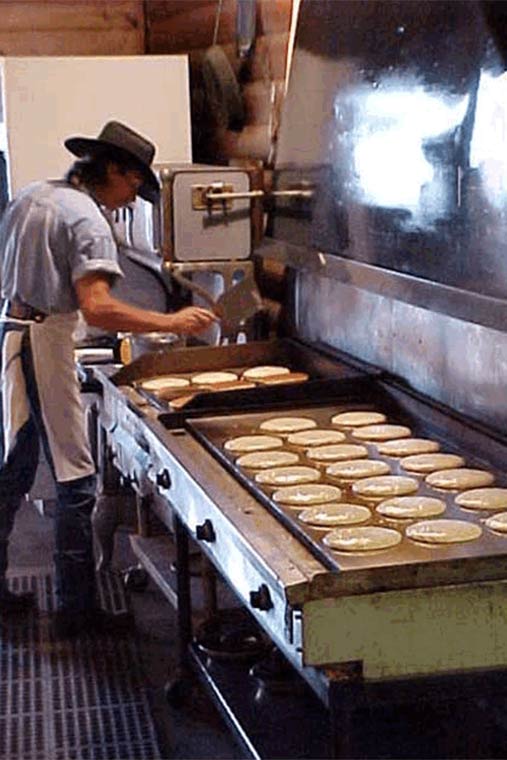 If the workshops have worked up your appetite, you can partake in the Cowboy Pancake Breakfast with all-you-can-eat pancakes for just 99 cents. Breakfast is served daily from 7-11 a.m. (On handmade tin plates, of course.)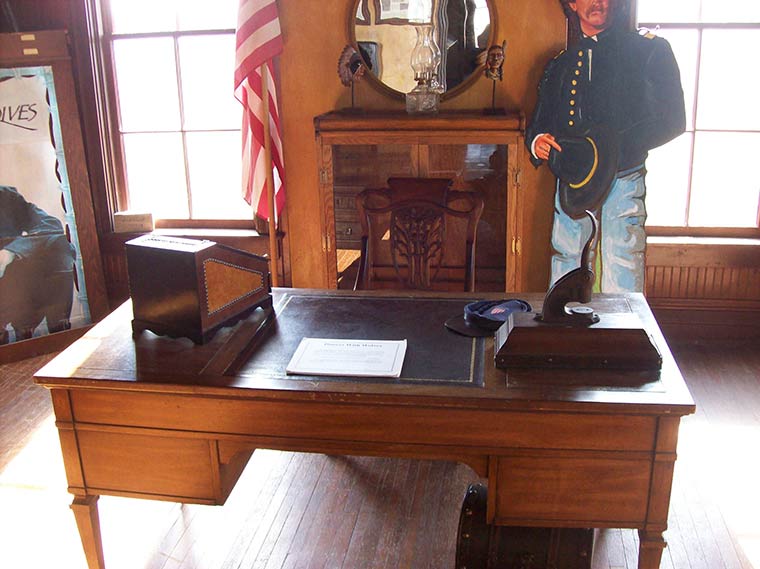 Fort Hays is also home to the "Dances With Wolves" film set, which means you can see the original buildings used in the movie and stand in the very spot where John D. Dunbar (Kevin Costner) received his new posting orders for Fort Hays.
Fort Hays sits right off HWY 16, just five miles south of Rapid City, which makes it a convenient stop if you're on your way to Mt. Rushmore or Iron Mountain Road. With free admission and endless photo opportunities, there's no reason for you to ride past without stopping.
Map your route to Fort Hays Old West Town during your Black Hills vacation using the Sturgis Rider Friendly Establishments App!
2255 Fort Hayes Dr.
Rapid City, SD
Uncover the Black Hills' rich mining past while learning about its fascinating science future at the Sanford Lab Homestake Visitor Center. This recently built attraction gives you a look inside what was once the western hemisphere's largest producing gold mine and shows you how scientists are now using the space to seek answers to some of the universe's most puzzling questions.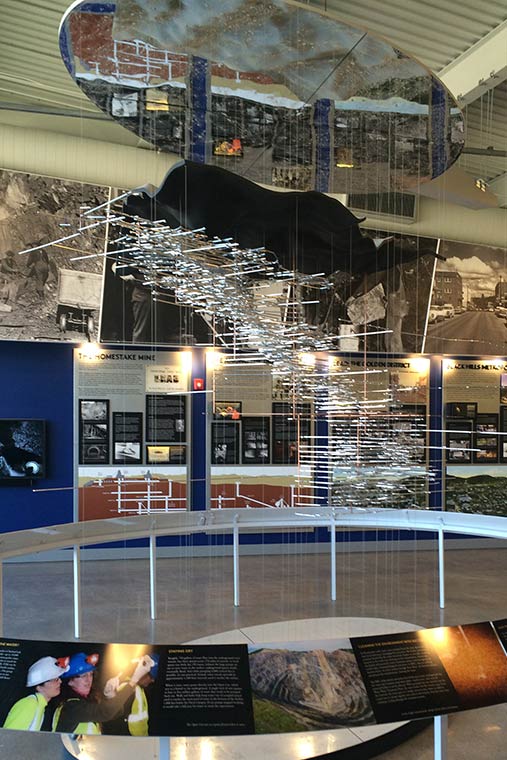 The centerpiece of the Sanford Lab Homestake Visitor Center is this 3D scale model that depicts all 370 miles of underground tunnels built by Homestake Mining Company. The model also points out the 12 miles of tunnel currently being used by Sanford Underground Laboratory to conduct research projects.
There is no cost to visit the center, but chances are once you see its interactive displays and 3D model, you'll be more than willing to drop $7.50 to take one of their trolley tours. These hour-long excursions include a trip through historic Lead and a surface tour of Sanford Lab where you can see the hoists that have been sending employees down the Yates Shaft since 1939.
Before you leave the Visitors Center, be sure to step out onto its observation deck overlooking a striking feature known to locals as the "Open Cut." In the past this expansive pit was used for surface mining, but today it serves a much more light-hearted purpose, allowing visitors like you to take a swing and get your first hole in one!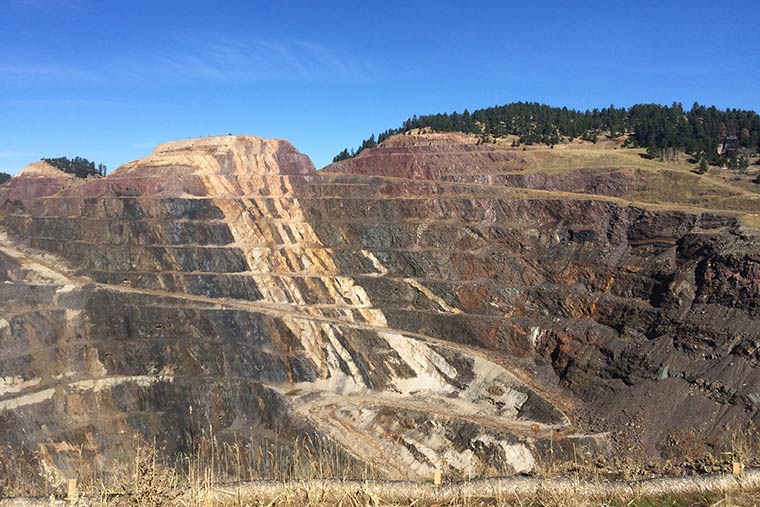 The view of the Open Cut as seen from the Sanford Lab Homestake Visitor Center. The Open Cut measures one mile wide and 1,200 feet deep.
Map your route to the Sanford Lab Homestake Visitor Center during your Black Hills vacation using the Sturgis Rider Friendly Establishments App!
160 West Main Street
Lead, SD
The Black Hills has countless miles of scenic beauty to explore, but there's one stretch of breathtaking backcountry you'll never be able to see by bike between Hill City and Keystone; it's the route taken by the 1880 Train.
A ride on this vintage steam train will allow you to experience a spectacular stretch of National Forest Service land along Battle Creek in the same way the early settlers and gold prospectors did. The 20-mile round trip allows you to kick back, listen to the soothing sound of the train whistle and enjoy the scenery for two hours as you pass by native wildlife and the remains of old gold mines. The ride's host will impart information about the train, the Black Hills and points of interest along the route.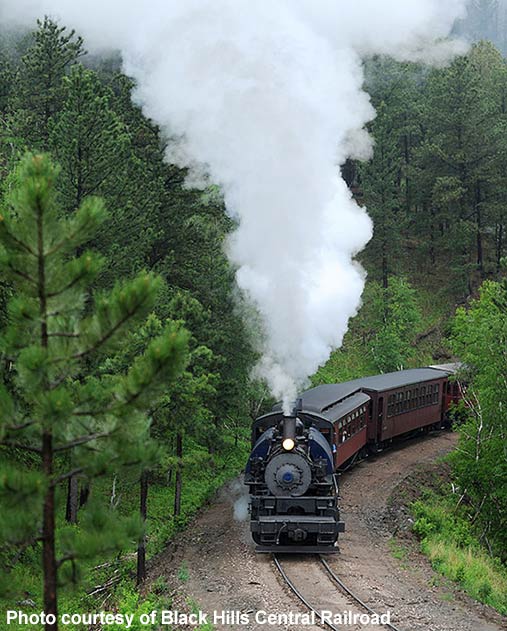 The train tracks and County Road 323 cross paths several times, giving you the chance to enjoy the sound of the steam whistle.
You can hop on the train at either station, but keep in mind the Hill City depot has plenty of free parking. In Keystone, a city parking lot is available close by with a three-hour limit.
Map your route to the 1880 Train during your Black Hills vacation using the Sturgis Rider Friendly Establishments App!
Hill City Station
222 Railroad Ave
Hill City, SD
Keystone Station
103 Winter St
Keystone, SD
Ask any biker, and they'll tell you a trip to the Black Hills isn't complete without a ride down Spearfish Canyon. Ask a local, and they'll tell you that pairing your trip down the canyon with a stop at nearby Termesphere Gallery & Museum is a must. It's less than three miles from the mouth of Spearfish Canyon to this hidden gem, and while the last half mile is gravel, there's no reason to be deterred; the surface is very compact and well maintained.
Inside a charming geodesic dome nestled in the trees you'll find a surprising collection of one-of-a-kind spherical paintings called "Termespheres," which are the brainchild of internationally renowned Black Hills artist Dick Termes. Each Termesphere presents an inside-out view of the physical world surrounding one revolving point in space. The result is an optical illusion that will challenge your thoughts about of space and time.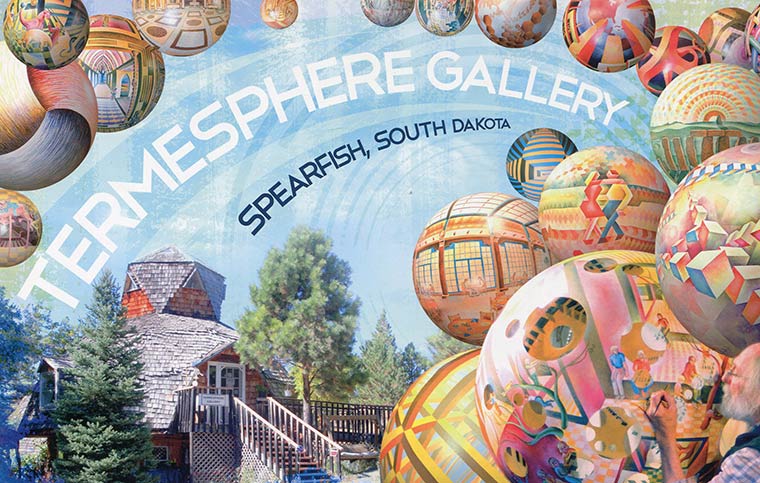 Throughout his life Termes has created more than 400 Termespheres ranging from one to seven and half feet in diameter, and at any given time you'll find 30 to 70 of these masterpieces on display at the gallery. Each is suspended from a ceiling motor that slowly rotates the sphere at one revolution per minute.
Take all the time you need to walk through this mesmerizing display at your leisure. The Termesphere Gallery & Museum is open daily 9 a.m. – 5 p.m. and admission is free.
Map your route to Termesphere Gallery & Museum during your Black Hills vacation using the Sturgis Rider Friendly Establishments App!
1920 Christensen Drive
Spearfish, SD

To find more amazing places in the Black Hills and throughout the country, be sure to download the Sturgis Rider Friendly Establishments mobile app. This app's interactive map contains over 1,400 businesses ready to roll out the red carpet for bikers like you. It'll show you which ones are on your route and let you know why they're worth a stop. This handy tool is a FREE DOWNLOAD on any Apple or Android device, so revolutionize your ride by downloading the app now!
What are some of your favorite Black Hills attractions to visit? Let us know in the comments below!