There are few things in this world that make it past a 75-year milestone. This number often exceeds the human lifespan, and it's certainly older than most motorcycles seen out on the road. So how is it the Sturgis Rally has made it this far? How could such an event not only be surviving at this age, but thriving? The answer lies in a small group of significant influencers that any rider worth his salt should get to know.
Meet the Player's Who Made Sturgis History…
1. J.C. "Pappy" Hoel and the Jackpine Gypsies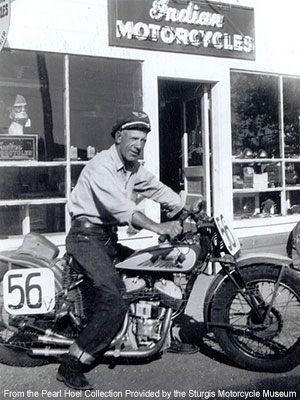 When one peels back the layers of the Sturgis Motorcycle Rally looking for the catalyst responsible for its creation, they will arrive every time at one man and one seemingly insignificant shift: J.C. (Clarence) "Pappy" Hoel and the dawn of modern refrigeration.
Clarence Hoel was a South Dakota boy, born and raised, and growing up his interests fell right in line with that of many other boys his age. But despite being drawn to what he called "tricks, fun and damned foolishness," Hoel set foolishness aside to take on the responsibilities of running his family's ice business.
In the 1930s, electric refrigeration began to quickly eat away at Hoel's business. When Ft. Meade, one of his biggest customers, made the switch, Hoel knew that there was little future in ice.
Hoel had always loved motorcycles; he grew up riding them, had owned three of his own, and maintained he was one of the first to ever use one to herd cattle. In the wake of his dying ice business, he aspired to open his own motorcycle dealership. His request to Harley-Davidson for franchise rights was denied, but shortly thereafter Indian gave him the green light.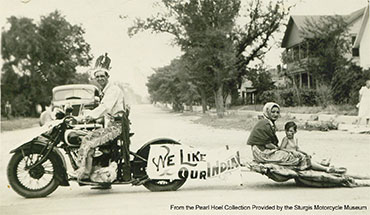 Hoel's Motorcycle Shop opened in 1936, and a group of local enthusiasts found themselves drawn to his charismatic personality. They immediately began rallying around both the business and Hoel, purchasing new Indian Motorcycles, parts, and accessories and seeking mechanical support. Later that year, the group officially chartered as the "Jackpine Gypsies Motorcycle Club." Since Hoel was the oldest of the 13 charter members, the younger ones of the bunch began calling him "Pappy."
Prior to club chartering, several Jackpine Gypsy club members had been participating in activities organized by the Rapid City Pioneer Motorcycle Club (RPMs). The RPMs primarily rode Harleys, which helped to spur a friendly rivalry with the new Indian-loyal club. The competition between Harley and Indian brought about the very first dirt track races between the two clubs on an old Rapid City horse track. But early in 1937, the Gypsies brought the festivities to Sturgis for good. Pappy and his "boys" brought new life to the weed-ridden, half-mile track at the Meade County Fairgrounds. This horse track had earlier been converted to accommodate cars, and racers discovered the track's banked corners allowed them to achieve higher speeds than anywhere else.
The 1937 field day drew a large crowd, something that didn't go unnoticed by Sturgis business owners. Hoping to capitalize on these guests, the Sturgis Commercial Club established an organization known as the Black Hills Motor Classic (BHMC) that officially began to manage the rally and races the following year. Membership in the BHMC was limited only to business owners, which created some hard feelings amongst the Jackpine Gypsies. But because Pappy himself owned the local Indian franchise, he was able to join and serve as liaison between the different organizations.
The first-ever Black Hills Motor Classic, held in 1938, attracted 200 participants, and that number quadrupled the following year. Many factors were responsible for this growth, but Pappy's personality was a huge component. His passion for motorcycles and charismatic nature attracted people in, and his kind-hearted generosity kept them coming back. Pappy welcomed riders into his home, allowing them to sleep in spare bedrooms and camp in the yard. He allowed them to use his tools, workspace and parts, and gave money to racers who didn't win any money at Sturgis so they could buy enough food and gas to get them to their next race.
Pappy remained an integral part of the rally for five decades. He expanded event offerings in the '50s to incorporate scrambles and hill climbs and stood up to Sturgis city fathers who proposed banning so-called "outlaws" from entering the city in the '70s. He always saw the good in everyone.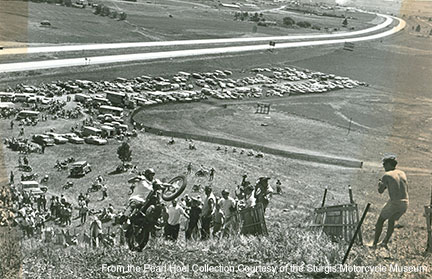 When Pappy Hoel died in 1989, the event he was responsible for starting was drawing close to 100,000, and attendance showed no signs of slowing. While the rally's success continued thanks to the efforts of many, it's likely the event as a whole would've never come to be if it weren't for Pappy's passion, dedication and mentorship to a generation.
2. Pearl Hoel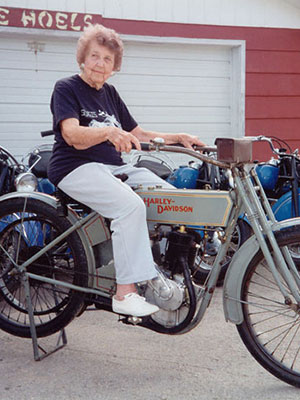 It is often said that behind every great man there's a great woman, and this certainly applies in the case of Sturgis Motorcycle Rally and Jackpine Gypsies founder Clarence "Pappy" Hoel. Pappy's wife Pearl was always the woman in the background who preferred letting her husband get the spotlight, but if it hadn't been for her devotion to his dream, the Black Hills Motorcycle Classic might never have survived through its earliest days.
Pearl and Pappy met on a blind date during a community dance in Sturgis, and the two married in 1928. As a new wife, Pearl gave up her position teaching third grade in nearby Piedmont to look for work in Sturgis. When modern refrigeration began taking its toll on the family ice business, she fully supported her husband's desire to open a motorcycle franchise in their family garage.
In addition to keeping the books for both businesses, Pearl always held a job outside the home. With the exception of 1935-36 that she spent at home with her infant son, Jack, Pearl held many important governmental positions. After years spent with the Works Progress Administration, she served as Meade County Clerk of Courts, assistant to the County Superintendent of Schools, Register of Deeds and County Auditor. Outside of work, Pearl was active in her church, served as an officer in her lodge and was involved in bridge club and other community organizations. Through these affiliations she became friends with the area's key figures and their wives and claimed to have learned the names of everyone in Meade County. This level of stature lent credibility to the Black Hills Motor Classic and helped to convince the community's influential leaders it was an event they should support.
Once the rally got off the ground, it was Pearl's hard work and generous spirit that helped keep the wheels rolling. She led a group of Gypsy wives and girlfriends who worked tirelessly preparing food, sending mailings, typing programs and distributing posters. During those early years, the Hoel's pitched a circus tent in their backyard to provide visiting riders a place meet, visit, sleep and enjoy plenty Pearl's of homemade donuts and coffee.
Beginning in 1938, Pearl started an annual tradition of preparing and serving a picnic lunch for all the Gypsy Tour riders. The night before the tour, Pearl and one or two other Gypsy wives would work late into the night to finish preparations. In the morning, they would pack all the food up in Pappy's old pickup and lead the tour out of town before heading to that year's picnic location to set up. After lunch, Pearl would follow the motorcycles back to Sturgis in the truck, picking up anyone who broke down along the way.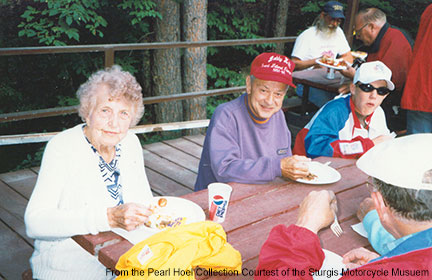 Pearl had to stop providing the Gypsy Tour lunch in the '50s after the number of riders became too large to feed, but that didn't prevent her from finding ways to make riders feel like they were welcome and at home while at the rally. She served as the official greeter at dozens of rally functions, and at 98 years of age still hosted a Thursday-morning breakfast at her home in honor of the Retreads Club.
In her advanced years, Pearl became an invaluable source of information pertaining to Sturgis Motorcycle Rally history. Even at 99, she had a remarkable ability to recall details from the early years. Her eagerness to pass down the event's oral history helped ensure that important pieces of Sturgis Rally history never be forgotten.
Pearl Hoel passed away on February 27, 2005, just months before her 100th birthday. While she is greatly missed among those whose lives she touched, her legacy as the First Lady of the Sturgis Motorcycle Rally will live on forever.
3. American Motorcyclist Association
The American Motorcyclist Association is an organization whose historical timeline doesn't date back much farther than the Sturgis Motorcycle Rally itself, but the rally's early association with the organization was crucial to the event's growth and evolution into what it is today. Founded in 1924, the AMA was quick to communicate its commitment to motorcycle competition, and it soon grew to become the controlling body that ensured competition rules be built around the ideals of safety, fairness and spectator appeal.
In the spring if 1938, the Black Hills hottest racer, Al Nelson, met a young racer named Johnny Spiegelhoff at a hill climb in Albert Lea, Minn. whom he invited to compete in the Jackpine Gypsies' half-mile event in Sturgis during the first rally. Spiegelhoff had become an AMA member early on in his career and was loyal to the organization. He told Nelson he refused to be a part of an "outlaw" event, but assured him he would consider attending should the Gypsies seek AMA sanctioning. Upon his return to Sturgis, Nelson urged Clarence "Pappy" Hoel to seek AMA status in order to build reputability and attract more racers. The AMA sanctioned the races, Spiegelhoff came, and ultimately he ended up earning the title of Feature Race Champion in '38, '39, '41 and '46.
The AMA's sanctioning of the Sturgis racing program spurred national publicity for the races. The attention and reputability the AMA brought attracted out-of-state racers, who in turn provided rural and inexperienced racing fans the thrill of watching competitions between accomplished professionals.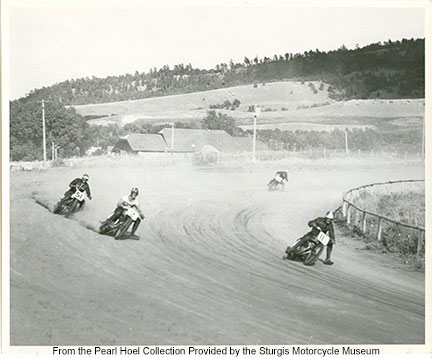 The bond between the Gypsies and the AMA continued to strengthen as more events became part of the annual Sturgis tradition. In 1940, the AMA sanctioned the first-ever Endurance Run, which timed and estimated racers' speeds between checkpoints throughout the Black Hills. Then in 1941, the AMA sanctioned the Gypsy Tour, encouraging participants to enter by offering to award prizes.
During World War II, AMA-sanctioned motorcycle racing was suspended entirely, but it celebrated a fantastic revival in 1946. The AMA added many distance races to a new championship program called the "Grand National Series," and in 1952 it would choose no other track than Sturgis' for the National Championship half mile in the flat track category. After all, the track in Sturgis had been recognized as the "world's fastest half-mile dirt track."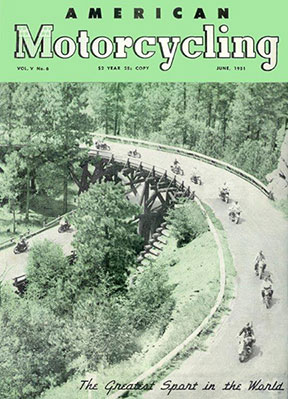 The AMA's National Championship Races held in Sturgis each year from 1952 to 1955 helped the Rally gain national exposure. Thanks to the AMA, non-racing aspects of the rally were receiving national attention as well. The organization used photos of the Black Hills Gypsy Tour on the cover of its magazine, "American Motorcycling," in 1951, and the attention helped bring an increased respectability to the event.
In the decades that followed, the AMA continued its affiliation with Sturgis. Today it strives to educate rally goers, promotes the motorcycle lifestyle and works to protect the future of motorcycling for generations to come. The AMA also continues to sanction events throughout the area including the exciting new track at the Sturgis Buffalo Chip.
4. Bill Gikling and Harley-Davidson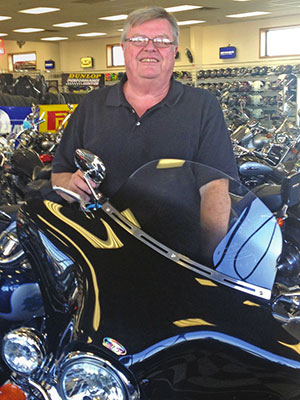 The Sturgis Motorcycle Rally landscape would likely look much different if it weren't for longtime motorcycle businessman Bill Gikling. For over 30 years, Gikling worked tirelessly to grow the scope of the event, create a strong bond between the Rally and Harley-Davidson, and ultimately attract more bikers.
Before becoming a partner at Black Hills Powersports in Rapid City, Bill Gikling spent decades learning how to become a successful businessman, event promoter and marketer from some of the best in the business. Gikling's love for motorcycles began at a young age, and he didn't waste any time becoming involved in motorcycle racing and business—getting his start while he was still a teenager. He worked with Don Rice at Rice Cycle and also with Clarence "Pappy" Hoel to help start the White Plate Flat Trackers Assocation in 1979. The organization was dedicated to preserving the memory of early Sturgis racers.
In 1977, Gikling scraped together enough money to purchase a Yamaha and Harley-Davidson dealership in Rapid City called North West Sports. At the time, metric and Japanese motorcycles dominated the Sturgis Motorcycle Rally scene, and Harley-Davidsons were the exception to the rule. But for the next 20 years, he was able to grow the dealership and help to drastically change that landscape.
Gikling split the Harley-Davidson and Yamaha divisions into two separate dealerships, and in order to sell more T-shirts, he changed the name of the Harley dealership to Black Hills Harley-Davidson. The plan worked, and between 1980 and the 50th rally anniversary in 1990, he went from selling $40,000 in "soft goods" to his first $1 million year, and it only grew from there.
Following the Black Hills Harley-Davidson name change, Gikling began actively lobbying the Harley-Davidson Motor Company to get them more involved in the Sturgis Motorcycle Rally. He had seen the amazing layouts at dealer shows elsewhere and was convinced bringing one to the Black Hills would inspire rally goers to buy Harley products. In 1982, he persuaded Bill Davidson himself to come out, and together they cut a deal with the Rushmore Plaza Civic Center to rent out the entire property to develop an expo that allowed bikers to marvel over Motor Company's new product lines and displays. The Black Hills Harley-Davidson Expo became a hugely successful event that eventually moved to downtown Sturgis. Throughout the years, the expo's success created a seismic shift in the bikes seen at the Sturgis Motorcycle Rally.
Bill sold the Harley-Davidson stores in Rapid City and Sturgis in 2000, but he still works with his son Todd at Black Hills Power Sports in Rapid City. He still loves to ride and has traveled the world from Europe to Japan to Australia to experience spectacular riding.
In 2013, the Sturgis Motorcycle Museum inducted Bill Gikling into its Hall of Fame and awarded him the prestigious J.C. "Pappy" Hoel Outstanding Achievement Award for his tireless endeavors that worked to breathe new life into the rally and create positive experiences for his customers and the greater biker community.
5. Michael Lichter and Easyriders Magazine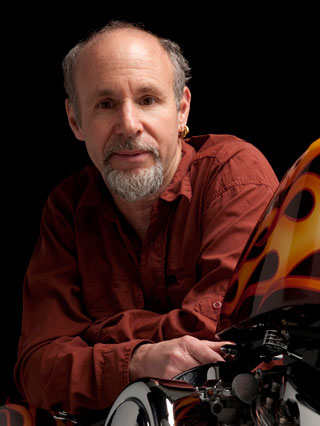 If a picture is worth a thousand words, then the stories told through the work of motorcycle photographer Michael Lichter could fill an entire library. The striking images produced by this renowned artist over a career spanning five decades have given society at large an authentic look into the world of motorcycles and the culture and events that surround them. Lichter's passion for motorcycle photography has taken him to biker gatherings all over the world, but the event that's nearest and dearest to his heart is the Sturgis Motorcycle Rally. His fondness for the event has shaped him into a virtual one-man Chamber of Commerce for the City of Sturgis, the Sturgis Motorcycle Rally and the Black Hills of South Dakota as a whole.
Many moto-photographers initially develop a love for riding and then start capturing the experience, but not Lichter; his first love was always photography. His fascination with the medium started as a child spent countless hours looking at photography exhibits at the Museum of Modern Art. At age 12, his father sent him to an art camp over summer vacation, supplying him with a WWII vintage Penticon. The burgeoning young artist loved his experience so much that he began amassing equipment and turned his parents' laundry room into a bona fide dark room. Lichter then graduated high school early and went to a self-directed work camp that allowed him to shoot alongside other photographers. It was an experience that set in motion a series of events that would develop into a lifelong career behind the lens.
Lichter picked up his first motorcycle in California in 1977–a used '71 Harley-Davidson Shovelhead he owns to this day. On the ride from California back to Colorado, he began taking photos from the bike and of the bike itself. His passion for photographing motorcycle lifestyle continued to grow, and one thing led to the next.
In the late '70s, Lichter began shooting in Sturgis during the rally, capturing the tumultuous time that would become the final years of rally events and camping in Sturgis City Park. He submitted 10 photos to Easyriders Magazine in 1979 and was dismayed when the publication only selected three to print. One of these photos was Lichter's most iconic, titled "Early Morning."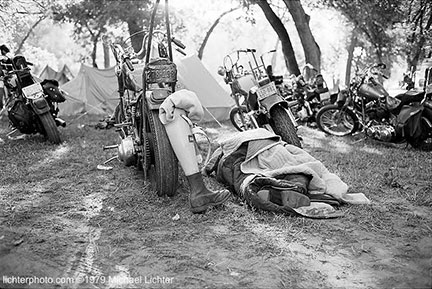 The following year Lichter met some people from Easyriders in Sturgis City Park, and they encouraged him to submit photos to the publication. When he explained the poor reception his last batch of submissions had received, they assured him he should be happy to have any photos accepted, and they asked he send more. By the following September and October, Lichter was doing stories for Easyriders in Kansas, Nebraska and Colorado; the next summer, editor Keith Ball put him on assignment for the publication in Sturgis.
When Lichter began shooting for Easyriders, only a handful of bikers attended the event in comparison to the party today. As the largest newsstand selling motorcycling magazine, the publication brought Lichter's captivating imagery from this emerging event to an enormous circulation of 550,000. As Lichter continued to provide photos for Easyriders, the Sturgis Rally grew exponentially. His portrayal of the event suddenly made Sturgis the event that every biker had to have on their bucket list, and as rally attendance increased, so did Lichter's potential to capture all of the activity and character surrounding it.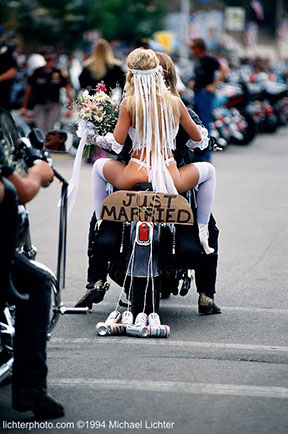 Behind Lichter's attention to detail and his understanding of composition was an uncanny ability to form relationships with his subjects. He used his eyes to ask for permission to shoot, and the relationship this created opened people up and made them comfortable. Soon Lichter's subjects forgot he was even there, allowing him to grab very authentic, natural images.
Despite continued assignments for decades for Easyriders, Lichter's motorcycle photography was relatively unknown to many outside the industry. Meanwhile, his commercial photography business shooting for the biomed and tech industries was doing quite well. But at the dawn of the new millennium, widespread usage of digital cameras caused this business to decrease. So just like he had done so many times before, Lichter reacted to the changing world around him and began printing photos from his archive that were unknown to the world. He created a postcard book, and when one of his clients, Exabyte, picked it up and saw the photo "Puppy and Bear Butte," they knew they had to have it for a commercial ad. Lichter's work and the Sturgis Rally had hit mainstream, and for the first time, Lichter saw the viability in all the work he had done with motorcycles over the years.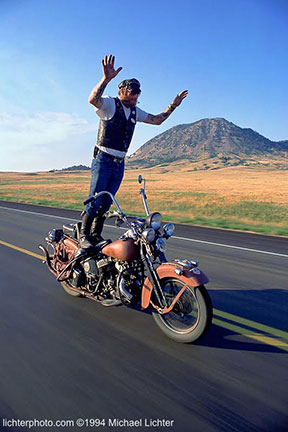 The advent of social media worked to further elevate Lichter's portrait of the Sturgis Motorcycle Rally. People started to recognize his name and face, which allowed him to forge stronger relationships with his subjects and have new doors opened for him and his work. Rides started being organized around his name, and exhibition halls began requesting to showcase his work. At each event, Lichter gushed over the Sturgis experience to anyone within earshot. His influence brought international builders and corporate CEOs to the event for the first time. All it took was for Lichter to sell them on the idea once; the experience once they arrived would make them all become repeat guests.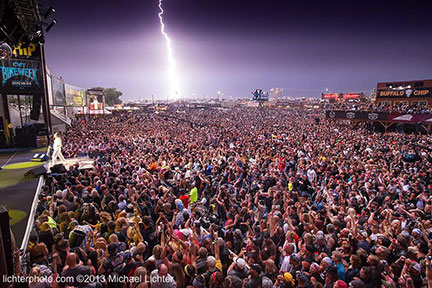 After nearly 40 years of photographing the Sturgis Motorcycle Rally, Michael Lichter still continues to capture some of the event's most breathtaking shots, and he displays many of them annually at the Buffalo Chip's Russ Brown Events Center for an exhibit he curates, Motorcycles As Art. In addition to assignments for Easyriders and motorcycle OEMs, he continues to shoot for himself–reacting to whatever is happening in the environment around him and capturing unforgettable moments that will help spread the good word about Sturgis.
6. Rod "Woody" Woodruff and the Buffalo Chip Campground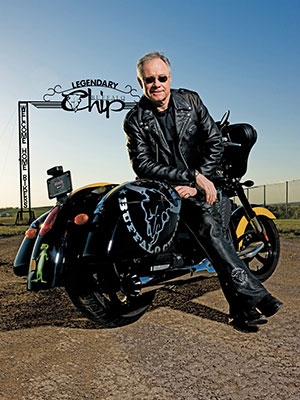 The Sturgis Motorcycle Rally may have never seen its 50th anniversary, let alone 2015's historic 75th anniversary, if it weren't for Rod Woodruff and the Buffalo Chip Campground.
Long before 1981 when the Buffalo Chip Campground's annual Motorcycle and Music Festival was established and owner Rod Woodruff became the smiling face behind the mega biker entertainment destination, the central hub of rally activity had been Sturgis City Park. That was until the Mayor of Sturgis stated he would like to "get the riff-raff out of town" and City Park's gates were closed presumably forever to bikers.
In 1979, the rally had been experiencing growing pains as the number of visitors, vendors and city tensions rose. The following year, an estimated 40,000 people attended the rally, and although the attendance generated rave reviews among local merchants, residents became concerned with the 3,900 guests registered to camp in City Park. To combat concerns, the city placed a cap on the number of campers allowed, doubled its camping fees and imposed strict regulations that prohibited visitors. As a result, bikers revolted and raised such a ruckus that months later angry Sturgis residents circulated a petition attempting to bring the rally to an end. Although the rally survived a referendum vote by a slim margin, it had become clear that a welcoming place was needed in order for the event as a whole to continue.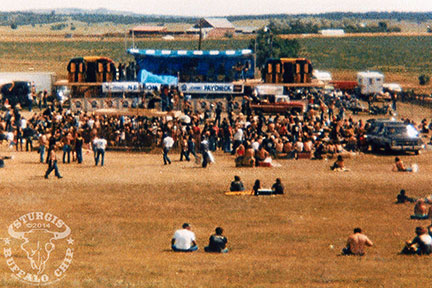 It was then that a bold decision was made to welcome bikers to gather on a small piece of property outside of town called the Buffalo Chip Campground. As a biker himself, Buffalo Chip owner Rod Woodruff felt it important he provide a welcoming environment where bikers could experience freedom and music with their friends. "Welcome Home Bikers®" became Woody's mantra back in the '80s and it's an expression that stuck. To this day he still spends time traveling the campground to personally greet guests vacationing at what has now become known as The Largest Music Festival in Motorcycling™.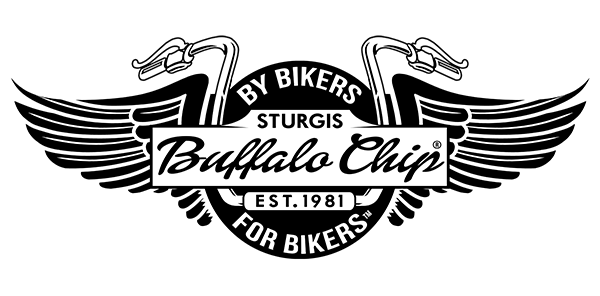 For more than three decades, Rod Woodruff served as a driving force to promote the rally. The Chip's one-of-a-kind entertainment experiences, unique charity events and large contingent of celebrity guests commanded the attention of producers, networks and audiences worldwide, all of which helped cement the Buffalo Chip, the Sturgis Motorcycle Rally and the Black Hills on the bucket lists of riders and festival goers from around the globe. Coverage from media outlets included NBC, the Travel Channel, National Geographic, Discovery, CMT, VH1 and HISTORY.
Throughout the years, top name entertainment acts have consistently filled the Chip's concert lineup. Performances from legendary acts like Aerosmith, Bob Dylan, Kid Rock and Ozzy Osbourne helped the Buffalo Chip earn a solid reputation as a vacation destination for motorcycle and music enthusiasts alike.
Guests continued making their annual pilgrimages to the rally, pointing their wheels to the Chip because it allowed them to experience the music, freedom and camaraderie they wanted with others who shared their same values. As the years went by, the By Bikers For Bikers™ campground grew, expanding to a now sprawling 600 acres.
Today many consider the Buffalo Chip to be the heartbeat of the rally and Rod Woodruff the man responsible for welcoming their smiling faces every August.
7. Michael Ballard and the Full Throttle Saloon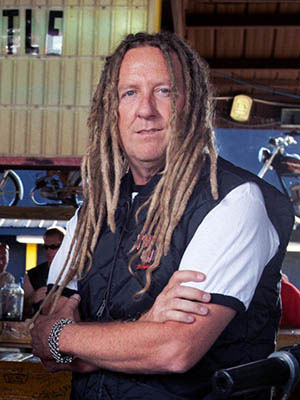 Biker or not, there are few people in America who haven't heard of the Full Throttle Saloon. The self-proclaimed "World's Largest Biker Bar" is the brainchild of Tennessee native Michael Ballard. And although the establishment has only been open since 1999, the spectacle that surrounds it has helped the Sturgis Motorcycle Rally become a household name.
After inking a deal with truTV, Michael Ballard found himself, his girlfriend and his bar the stars of a wildly successful reality television series that bore the same name as the business. The series, which premiered