There's nothing more powerful, unifying and exhilarating than rumbling down the road with hundreds of fellow riders. The world has millions of miles of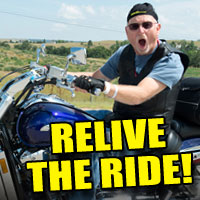 roads to explore, but riders looking for unrivaled camaraderie as well as twists and turns, breathtaking vistas, and fun pit stops find some of the most spectacular rides in the Black Hills of South Dakota. Many of you headed to the Hills this past August to join in on some amazing Sturgis rides, including the Buffalo Chip's Legends Ride®, Freedom Celebration Ride, Biker Belles® and the Trike Owners United Ride! Now you can relive or picture your smiling face on one of these rides by taking this photo journey through some of the Buffalo Chip's most memorable bike events.
Check out what happened as the biggest names in television, film, music and motorcycling kicked off the Sturgis Rally in style with riders from all corners of the world on The Ride That Rocks™, Monday, Aug. 4!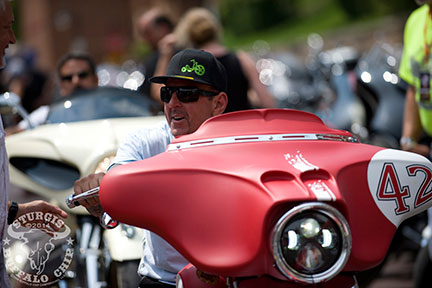 Celebrity builders, including bad boy John Shope of Dirty Bird Concepts and HISTORY's Biker Battleground Phoenix, rolled onto Deadwood's Main Street to check out all the bikes and show off their own.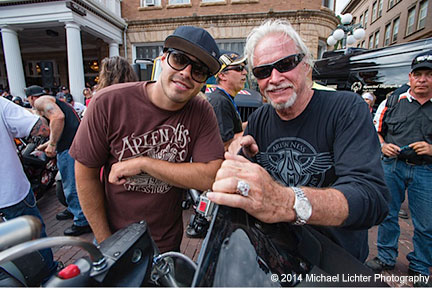 Three generations of Nesses posed for photos with fans from around the globe. Arlen and Zach Ness stopped to show their smiles to Michael Lichter as they geared up for the ride.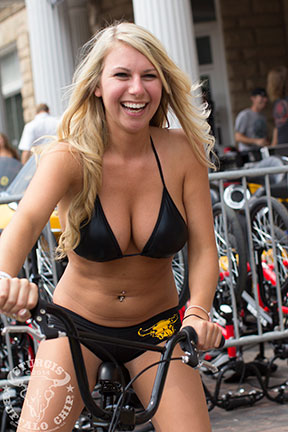 contestants took turns showing Special Olympians how to ride their new donated Strider Bikes.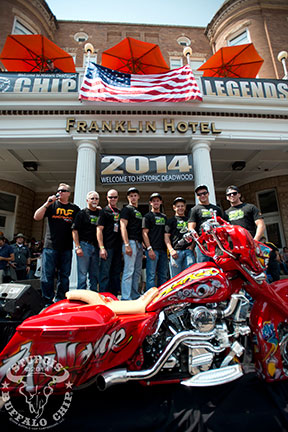 Participants in the Buffalo Chip's 2014 Student Build Challenge™ posed for one last photo next to the Harley-Davidson® Street Glide they customized under the guidance of leading motorcycle industry professionals. This badass bike was auctioned off in support of the Legends Ride!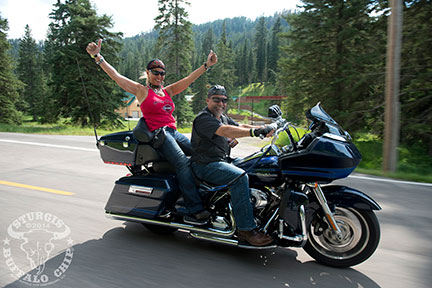 This woman was so excited to enter the canyon that seasoned riders have dubbed "one ride you must take before you die," she practically floated off the back of the bike while passing through scenic Elmore.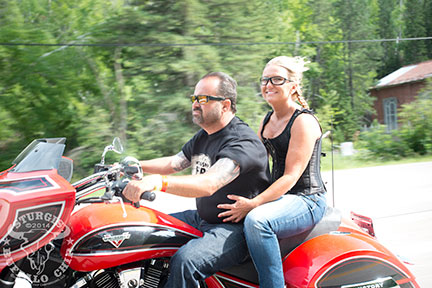 This girl isn't sure what she loves more, the ride or Frank Fritz's bod. Both are pretty breathtaking.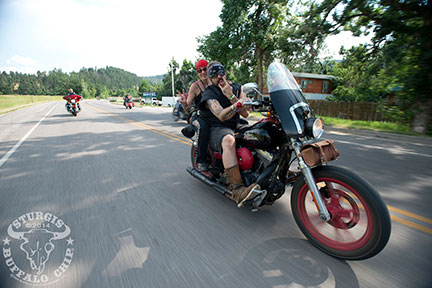 If you knew you had just experienced one of the most beautiful rides in the Black Hills, would you have rocked it hard with a Gene Simmons tongue like this guy, or felt at peace like his passenger?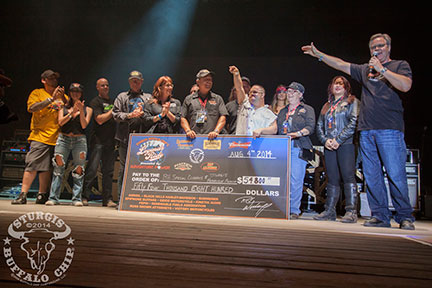 This Special Olympics star commanded the crowd from the main stage by pumping his fists and yelling like a rock star when the Buffalo Chip presented a check to his organization and the Sturgis Motorcycle Museum & Hall of Fame that brought total Legends Ride contributions to nearly $400,000.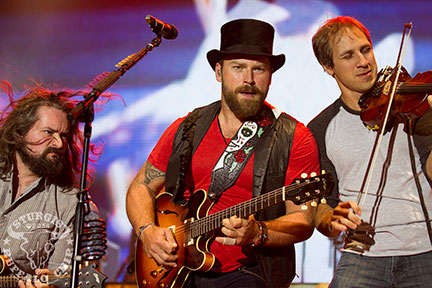 Riders spent the day rubbing elbows with Zac Brown Band guitarist John Driskell Hopkins, and they capped off their night with a grand finale performance by the whole band!
To see more photos from Legends Ride, check out the Chip's Legends Ride Photo Gallery!
Find your smiling face in the official 2014 Legends Ride group photo and buy one for yourself as a memento! Or find a friend and buy it for them as a gift!
The increased attendance for the 75th rally is causing tickets to go faster than ever, so reserve your place on the ride before it's too late to get a spot! You don't want to miss out on the ninth annual Legends Ride during the 2015 Sturgis Rally.
Another Sturgis ride that screamed AWESOME was the sixth annual Biker Belles Celebration, presented by Harley-Davidson. Women, men, family and friends came together on Tuesday, Aug. 5 to celebrate women and the role they play in shaping the culture, sport, art and the history of motorcycling.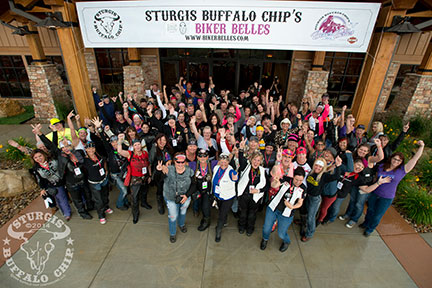 It rained, it poured and then it rained some more. But did that stop this determined group of riders? Heck no!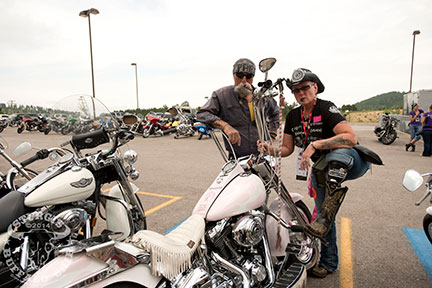 Symposium panelist Cat Hammes showed you that she's got a leg up on handling some of life's biggest challenges and inspired you to live life to the fullest.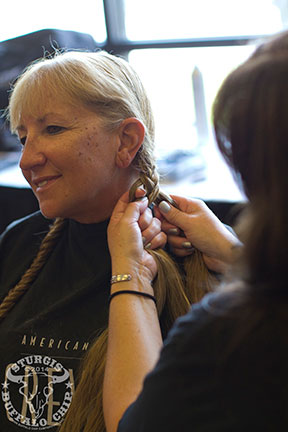 Ride captain Vicky Roberts-Sanfelipo joined in on the pampering of the Comfort Zone by Team Diva.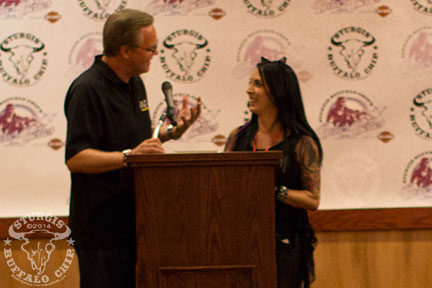 Kat Perkins from "The Voice" joined the Biker Belles group as one of Harley-Davidson's special guests. She was so inspired by the women she met that she changed her schedule so she could stay for the "Ride On" symposium. She vowed to learn to ride this year and return in 2015 after panelist Kathy Tolleson of ROAR Motorcycles showed her it's possible for a small-built woman to find a comfortable fit for a ride.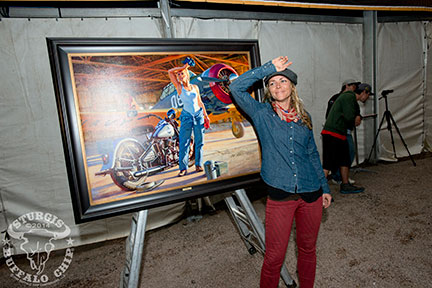 Jessi Combs reenacted the moment David Uhl captured her raw spirit for his painting "Jessi" so we could capture this photo. However, this time it was without the motorcycle, the airplane or the hangar. Many of you stood by watching and secretly planned where you might hang this print after winning it from the Biker Belles auction.
To see more photos from the Biker Belles Celebration, check out the Chip's Biker Belles Photo Gallery!
Why do you and hundreds of thousands of other motorcycle enthusiasts make the annual pilgrimage to the Best Party Anywhere™? Perhaps it has something to do with the music, motorcycles, freedom and camaraderie that are at the heart of everything you and the Sturgis Buffalo Chip do. On Thursday, Aug. 7, you experienced all of these elements wrapped up in one amazing event while honoring America's veterans and raising funds for wounded vets and their families.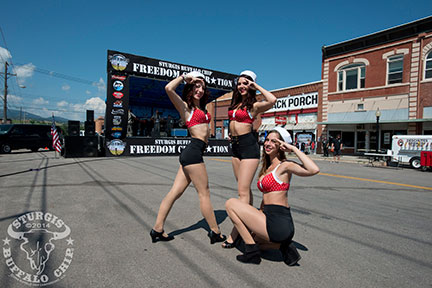 Members of the Buffalo Chip's Sturgis Rider® Rhythm Rockers stood at attention in downtown Spearfish awaiting your arrival. Now just where did those Boogie Woogie Bugle Boys go?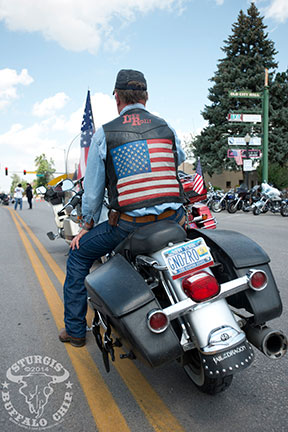 You proudly showed off your unwavering patriotism to those looking on…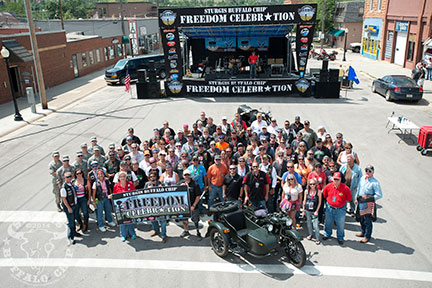 …and met countless other loyal patriots who were doing the same.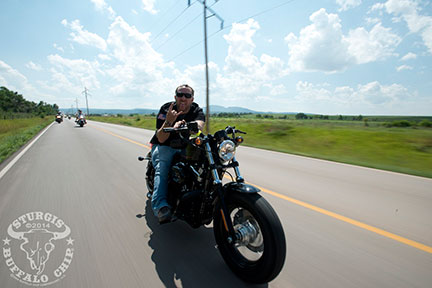 You felt the freedom of the open highway as you rode across scenic high plains and foothills on your way to the Chip.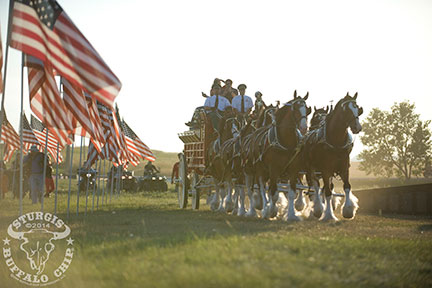 The iconic Budweiser Clydesdales stood as strongly and proudly as the American spirit as they carried an inspiring group of distinguished guests, MSgt William "Spanky Gibson, Debbie Lee and LT Jason Redman, past the Buffalo Chip's Field of Flags and through the amphitheater.

Festivities concluded as LT Jason Redman, Debbie Lee, Dick Marcinko and MSgt William "Spanky" Gibson received the Bob Hanson Distinguished Service Award on the legendary Wolfman Jack Main Stage.
It is with great honor and respect for those who serve that we share this heartfelt video from the Freedom Celebration:
To see more photos from the Freedom Celebration Ride, check out the Chip's Freedom Celebration Ride Photo Gallery!
For those of you who think everything's better experienced on three wheels, the Sturgis Buffalo Chip and Roadsmith truly delivered on Wednesday, Aug. 6 when they brought you together with trike owners from around the world for T.O.U.R.!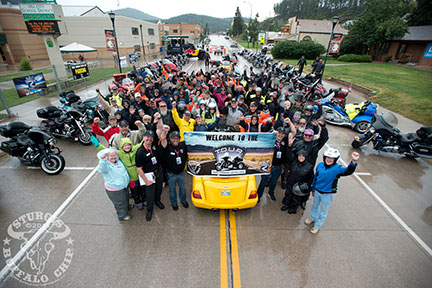 You were thrilled to meet so many other folks who also preferred life on three wheels at the event's kickoff in Hill City!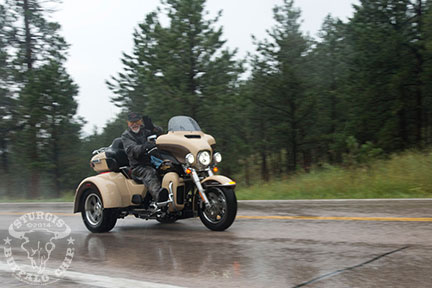 You didn't let a little rain stand in the way of your ride from Hill City down scenic Nemo Road…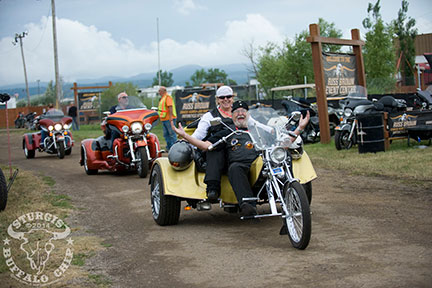 …but you were over the moon when the rain stopped upon your arrival to the Legendary Buffalo Chip!
To see more photos from T.O.U.R., check out the Chip's T.O.U.R. Photo Gallery! To see shots from the rest of the Chip's rides, check out the Sturgis Rides Photo Gallery.
What's your favorite ride to take while attending the Sturgis Rally? Let us know in the comments below!