It can be tough being a motorcycle enthusiast during the first few months of the year. If only a passion for bikes could burn hot enough to change the weather! Hardcore riders might learn the best practices for winter motorcycle riding, but that leaves the rest of us with a bad case of PMS—parked motorcycle syndrome.
Thankfully, winter and spring provide time for builders, manufacturers and aftermarket companies to develop their latest creations. You'll have the opportunity to get out of the house and see all their amazing handiwork during these upcoming custom motorcycle shows.

Colorado Motorcycle Expo
January 28-29, 2023
National Western Complex
Denver, CO
When it comes to cool custom motorcycles, parts and entertainment, you'll find the best of the west in the Mile High City during the Colorado Motorcycle Expo. This two-day event is the largest motorcycle show and competition in the Rocky Mountain region and the largest indoor parts swap in the country.
See around 100 bikes competing in up to 20 categories, search for treasures in the swap meet or hunt for your next ride in the used bike corral. There's something for everyone with a full schedule of entertainment and activities including live music, tattoo contests, adult big wheel races, vendor shopping, kids' activities and more!
WIN 2 COLORADO MOTORCYCLE EXPO VIP PACKAGES AND 2 BUFFALO CHIP RALLY PASSES!
Make sure you pay a visit to the Sturgis Buffalo Chip® display while you're there for a chance to win passes to the Best Party Anywhere® during the 2023 Sturgis Motorcycle Rally.
January 27-29, 2023
Veronafiere
Verona, Italy
Every January, Verona, Italy becomes the capital of the motorcycle world as enthusiasts from across the globe descend on the city for the world's largest custom motorcycle event. This massive expo attracts more than 170,000 visitors to explore over 700 exhibitors in over 1 million square feet of exhibition space.
MBE is the beating heart of the international motorcycle scene. It provides a complete representation of the global two-wheel industry from special to sport to off-road and touring. You'll have the opportunity to admire unique custom motorcycles from around the globe, as well as the latest models from major motorcycle manufacturers. (Not to mention, all the beautiful MBE hostesses.)
Get a taste of the show by checking out the Buffalo Chip's previous trips to MBE in Sturgis Rider News' Highlights from Motor Bike Expo.
February 18-19, 2023
Eagles Ballroom
Milwaukee, WI
To a custom builder, an invitation to display your bike at the Mama Tried Motorcycle Show is as good as getting a golden ticket. This indoor invitational features only the best, with over 100 motorcycles of all calibers––flat tracker, hill climber, chopper, bar hopper, you name it. And you'd be hard pressed to find a cooler venue to see them all in.
In frigid Milwaukee, this two-day event helps builders, riders and enthusiasts keep their fire stoked all winter long. Make sure to plan your trip for an extra day on the front end to check out the Flat Out Friday indoor flat track racing shenanigans.
To catch more of the vibe from this show and the races, check out Sturgis Rider News' No Fun at Mama Tried & Flat Out Friday.

Donnie Smith Bike Show
March 25-26, 2023
St. Paul RiverCentre
St. Paul, MN
You can count on the Donnie Smith Show for a memorable kickoff to your spring riding season. Known as the Midwest Extravaganza, it offers 35 classes of custom motorcycles, the largest swap meet on the planet, tons of vendors and live entertainment. Strolling around the show will also give you the chance to meet industry celebrities, premium sponsors, artists and gear heads.
The Buffalo Chip is the first display you'll spot as you travel down the escalator into the show. Stop by to see a new signature series B4 custom built by Lloydz Garage and a custom Legends Ride® auction bike created by Arlen Ness Motorcycles. Both bikes will be unveiled at the show and available to drool over all weekend. Along with this eye candy, Chip staff will be on-site to answer questions and sign you up for free passes to the Best Party Anywhere.
Check out Sturgis Rider News' The Return of the Donnie Smith Show for highlights from the 2022 event.
April 14-16, 2023
Austin American Statesman
Austin, TX
In an increasingly digital and mass-produced world, the Handbuilt Motorcycle Show is working to revive the culture of physical craftsmanship. This exhibition is an inspiring showcase of works from builders and craftsmen that combine knowledge, skill, and ingenuity to create one-of-a-kind truly hand-built machines.
People crave the satisfaction and creative outlet of producing something truly unique and fit to their own design and functional preferences. This renaissance of working with our hands has helped create the movement that is the custom motorcycle scene.
By sharing this work, The Handbuilt Show adds fuel to a revolution in the making. It is their vision that visiting the show will inspire you to pick up tools and use your hands to make something of your own.
April 28-30, 2023
The Zidell Yards Barge Building
Portland, OR
Grab a pal and come feast your senses on custom motorcycles, cars, art, rock and roll, stunt shows, bike demos, vendors, a little racing, grub, brews and everything else that could possibly be squeezed into an abandoned 14-acre shipyard.
Since its inception in 2009, the One Motorcycle Show has been attracting thousands of bikers, non-bikers and bike enthusiasts to the Pacific North West's booming moto mecca for three days of immersive motorcycle fun each year.
The show features over 300 custom, classic, concept and rare motorcycles from all over the world for all types of folks to enjoy—young, old, mild and wild.
Get a feel from the show by checking out Cool Bikes & Cool Kids from the One Motorcycle Show.
May 27, 2023
Deadwood Mountain Grand
Deadwood, SD
After a two-year break, the Black Hills Motorcycle Show is back—bigger and better than ever! Deadwood Custom Cycles has reincarnated the show and is hosting it in Historic Deadwood, South Dakota. The new venue, fresh entertainment, and exciting vendors are all combining to make this the premiere motorcycle show in the Midwest!
You'll find the best in the biz at this show, including industry leaders like Paul Yaffe's Bagger Nation, Klock Werks, Vision X Lighting, Feuling Parts, Sickboy Motorcycles, Law Tigers and the Sturgis Buffalo Chip.
Bring the kids for family-friendly fun during the day with a bouncy castle, face-painting and temporary tattoos accompanying the motorcycle show and vendor booths. It's adults only after 4 p.m. with a performance by Dirty Sexy Riot, live music and the awards ceremony.
All proceeds for this event will go to the Puppies Healing Heroes Program created by Sacred Mountain Retreat Center.
*******
If you can make it through winter, the best motorcycle event of them all is waiting for you on the other side—the Best Party Anywhere at the Sturgis Buffalo Chip!
It's got everything gearheads, enthusiasts, riders and racers would want, including daily custom motorcycle shows, legendary rides, multiple days and disciplines of racing and thousands of your new best friends. Not to mention nine nights of world-class Sturgis concerts.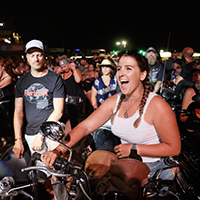 Presented by the Sturgis Buffalo ChipBuffalo Chip®
Known as The Best Party Anywhere®, the Sturgis Buffalo Chip believes festivals should be fun like a high five, reenergize you like a broken rule, and romance you like someone you just met and have to take home.
This nine-day festival of concerts and motorcycle events promises to bring you exciting events like flat track races and live performances from artists like Aerosmith, Willie Nelson, Ozzy Osbourne, Kid Rock, Keith Urban, Rob Zombie and many more.
Find out more or get passes to the Best Party Anywhere at www.buffalochip.com and find out why it continues to be one of the most televised festivals in the world.