2016 was one hell of a year. From endless debates over the merits of presidential candidates to the loss of some of music's biggest names, there was enough shocking news swirling around the internet that it became easy to miss exciting and entertaining content. But all is not lost, because this roundup of articles and videos is giving you a second chance to see what you missed. Leave 2016 on a high note by checking out these 10 kickass articles and videos you never saw, but wished you had.
1. Sizzlin' Hot and Ready to Rock Poster Model Finalists Bare All
Go behind the scenes with the finalists of the 2016 Buffalo Chip Poster Model Search during their boudoir photo shoot with Henry Roy Photography!
2. The Official 2016 Sturgis Buffalo Chip Aftermovie
Experience the most-talked-about highlights from the Buffalo Chip's 35th anniversary party.
3. Studio 14 at the Sturgis Buffalo Chip
Find out what the Buffalo Chip experience was like for the biggest acts in the lineup in this video!
4. Donnie Smith Bike and Car Show 2016
See some of the fascinating details Jody Perewitz was able to uncover while talking shop with custom builders at the renowned Donnie Smith Bike Show!
5. Previously Unreleased Sturgis Daredevil Stunt at the Buffalo Chip
Just when you thought the excitement was over…

Ride along through Boulder Canyon, Highway 385, Nemo Road and Vanocker Canyon in this exhilarating video, and you'll see why this route is a must ride!
Take me down some of the Black Hills best riding roads!

Prevent post-rally depression checking out this intoxicating collection of motorcycles seen at the Chip this year.

Transport back in time to epic face-melting moments from the Chip's 35th anniversary with these 26 concert photos!

Ever heard a song so damn weird that you wondered what the person was smoking when they wrote it, or if the writer was even a person at all? Here's 18 of those that'll leave scratching your head once your done nodding it!

Save yourself from sunburns, hot tents, dead cell phones and other problems that can ruin your fun at a festival with this list of handy gadgets!
I want to forget about camping concerns!
What kinds of articles and videos would you like to see more of in 2017? Let us know in the comments below!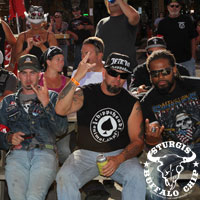 Presented by the
Sturgis Buffalo Chip®
Known as The Best Party Anywhere®, the Legendary Buffalo Chip believes festivals should be fun like a high five, reenergize you like a broken rule, and romance you like someone you just met and have to take home.
This nine-day festival of concerts and motorcycle events promises to bring you exciting live performances from artists like Aerosmith, Willie Nelson, Five Finger Death Punch, Kid Rock, Rob Zombie, "Weird Al" Yankovic, Toby Keith, Lynyrd Skynyrd, Mötley Crüe, Miranda Lambert, 3 Doors Down, ZZ Top, Sublime with Rome, Slash, and many more.
The Best Party Anywhere remains one of the most televised festivals in the world and has been featured on the Travel Channel, the Discovery Channel, CMT Bike Week, HISTORY, TLC, National Geographic and more.
Learn more at www.buffalochip.com.