When you're so into bikes you've got motor oil coursing through your veins, a strong dose of world-class bike shows, raucous races and legendary rides like the ones found at the Sturgis Buffalo Chip® can make you feel like a million bucks. But if you haven't made it to this motorcycling mecca or the high from your last visit has started to wear off, you can prevent depression by checking out this intoxicating collection of motorcycles seen at the Chip this year.
Works of Art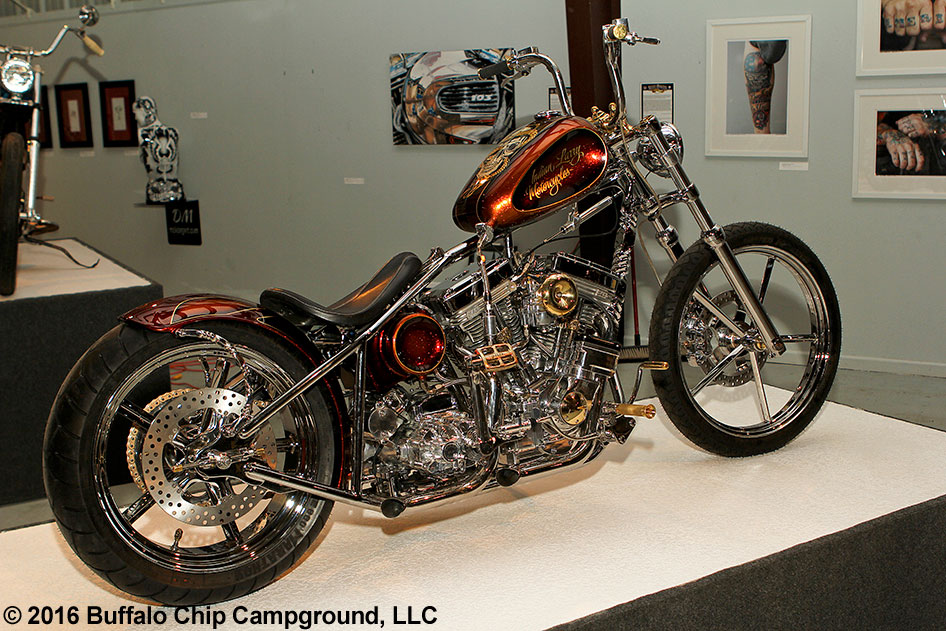 Although this rigid chopper from Indian Larry Motorcycles definitely earns its name "The Nutcracker" while out on the road, it could've just as easily been called "The Head Turner" while on display as part of the Buffalo Chip's 2016 Motorcycles As Art Exhibition, Skin & Bones: Tattoo Inspired Motorcycles and Art. This beauty was one of over 30 tattoo-inspired motorcycles to be selected by curator Michael Lichter for the one-time exhibit that took place at the Buffalo Chip Event Center during the 2016 Sturgis Rally.
See the rest of the custom motorcycles that were part of the exhibit by checking out the Buffalo Chip's 2016 Motorcycles As Art Photo Gallery.
Ornate Details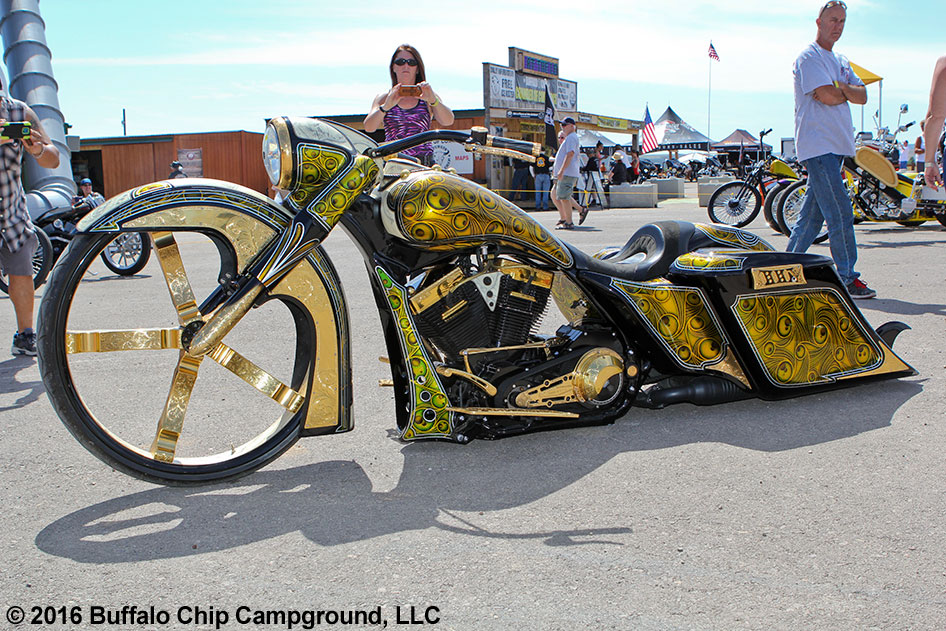 When it comes to custom motorcycles, all that glitters isn't gold. But in the case of this beautiful bagger competing in the Easyriders Bike Show, what glittered really was gold. 14k gold plating completely covered is crazy creation built by John Shope for Norman Lovelace, and its extraordinary mix of ornate hand engraving and vibrantly painted peacock plumage made this a ride for royalty.
Amazing Unveils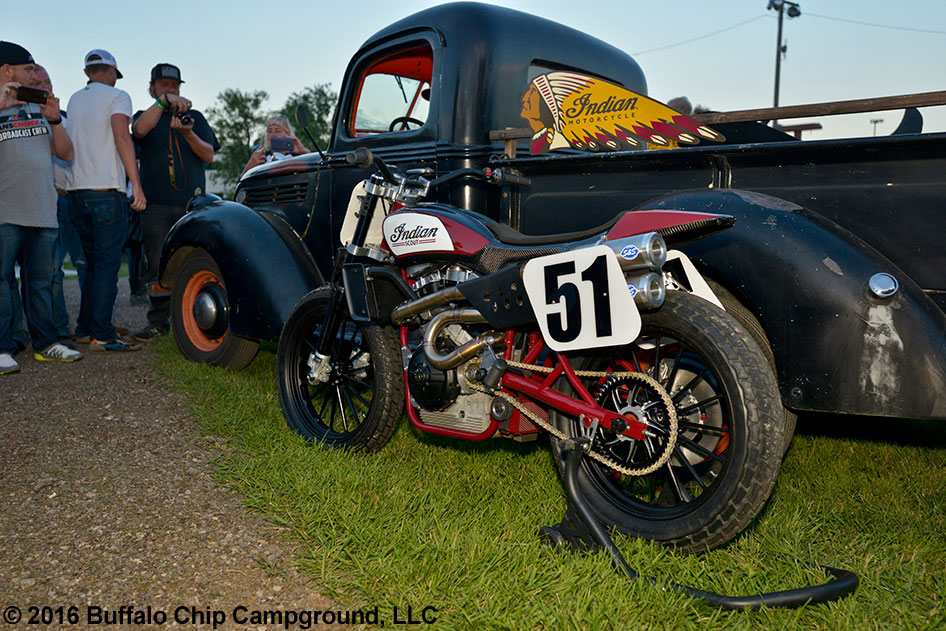 In a historic moment that took place at the Buffalo Chip's annual Industry Party on Aug. 7, Indian Motorcycle revealed its new race-ready FTR750 to a crowd of over 600 leading motorcycle industry professionals, celebrities, dignitaries and media members.
The FTR750 unveiling represents Indian's first reentry into the professional race circuit since the 1950s. What made the event even cooler was that two surviving racers from the original Indian Wrecking Crew, Bobby Hill and Bill Tuman were on hand to bring Indian's racing history full circle at the Chip.
Sick Sportsters
In a sea of big-wheeled baggers adorned with all the bells and whistles, the custom choppers, trackers, vintage and café sportsters on display at the Sportster Showdown on Tuesday, Aug. 9 stuck out like a sore thumb. But for those who love a fast bike they can have some fun with without breaking the bank, they wanted it no other way!
See more from this show by checking out the Buffalo Chip's Sportster Showdown Photo Gallery!
Blazing Hot Baggers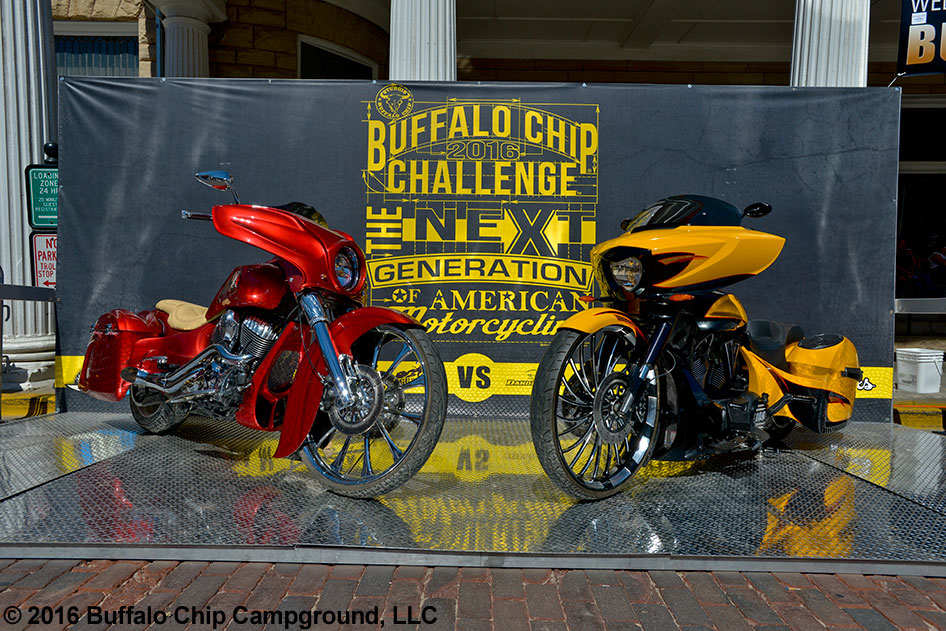 This award-winning, fully customized 2016 Victory Cross Country and 2015 Indian Chief Classic both made their way the Legends Ride® auction block on Monday, Aug. 8 by way of a group of Black Hills area high school students participating in the Buffalo Chip Challenge™. The students transformed the two stock bikes under the direction of industry leaders Keith Terry of Terry Components, Randy Cramer of Dakota V-Twin and Chris Malo of Baggster.
To see some more of the dazzling details and careful craftsmanship that went into each of these builds, check out Indian Chief Classic: The Ultimate Customization from Start to Finish and Victory Cross Country: The Ultimate Customization Guide!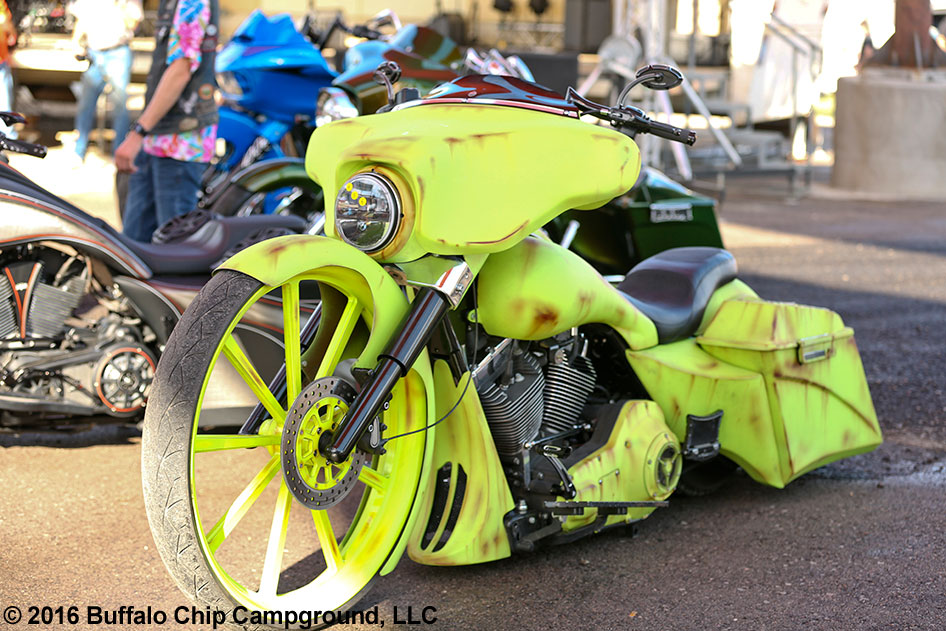 The Full Throttle Magazine Buffalo Chip Bagger Nationals confirmed that a hot bagger is still pretty dang hot! Dozens of stunning motorcycles rolled into the bagger-only show to compete, but this scorcher was one of only a handful to bring home a first place prize.
See more great shots from this show in the Buffalo Chip's Full Throttle Bike Show Photo Gallery!
Larger, Longer and Lower Rides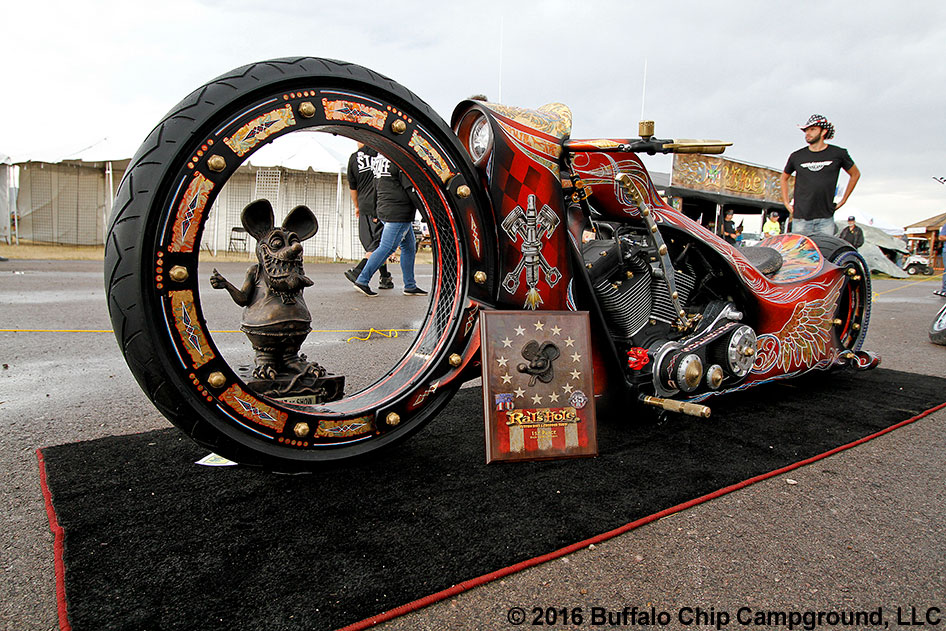 This stunning stretched custom was suitably named "Tough Luck," as that's precisely what all its competitors experienced during the Rat's Hole Custom Bike Show on Thursday, Aug. 11. Competition was stiff during the granddaddy of all custom bike shows, but at the end of the day the unique hubless wheels, flowing bodywork and intricate inlay and paint earned Ned Amin's supercharged custom the award for "Best of Show."
After earning the "Best of Show" title with "Tough Luck," Amin commemorated the occasion with a big-wheeled burnout on another of his radical customs.
See more sweet shots from this show in the Buffalo Chip's Rat's Hole Photo Gallery!
Rockstar Rides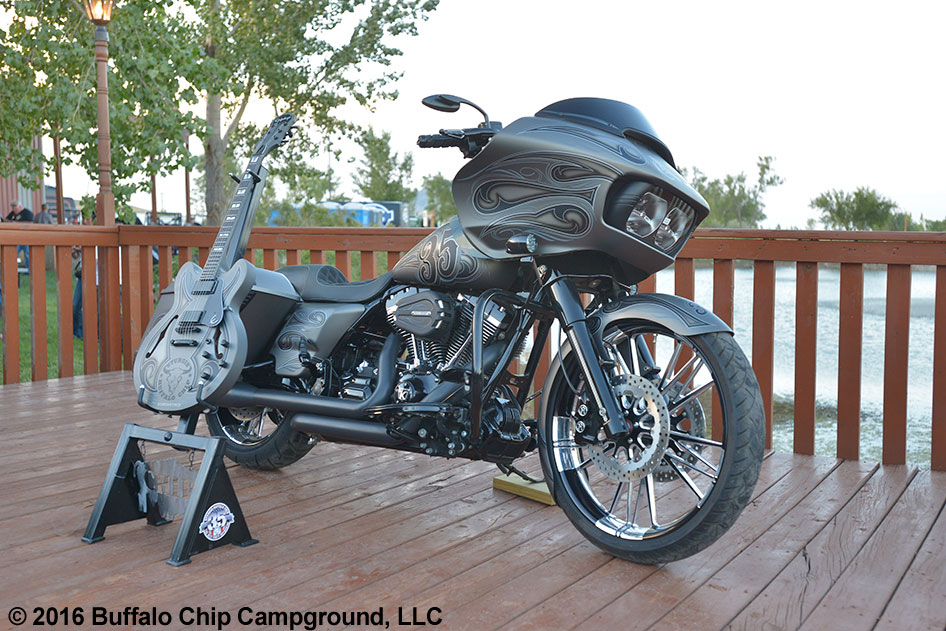 To salute the Sturgis Buffalo Chip's 35 years of Rock, Rumble & Rebellion, Kuryakyn built this custom 2015 Harley-Davidson Road Glide that pays tribute to the annual merging of motorcycle and rock 'n' roll cultures at The Best Party Anywhere®. This commemorative custom motorcycle made its debut during the Sturgis Rally at the Buffalo Chip Industry Party, allowing hundreds of leading motorcycle industry professionals, media members and celebrities to take an up-close look.
If you'd like to rip up the streets in style with this performance bagger, shred like a rock god on its matching Epiphone Sheraton II guitar and see what it's like to experience a lifetime of VIP treatment, click through to find out more about the Buffalo Chip's Ultimate Rockstar VIP Package!
Bold Bobbers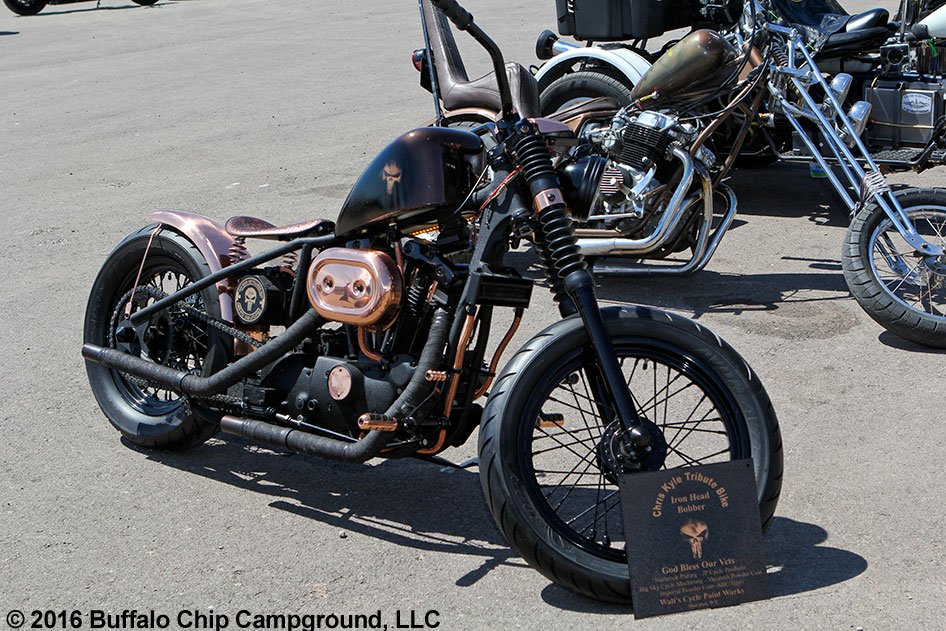 The copper plating on this iron head bobber certainly made it stick out among the expanse of chrome during the Easyriders Bike Show on Wednesday, Aug. 10. The bike was built as a tribute to United States Navy SEAL veteran and sniper Chris Kyle.
See more shots of this bike and others competing in this show by checking out the Buffalo Chip's Easyriders Bike Show Photo Gallery!
Custom Racers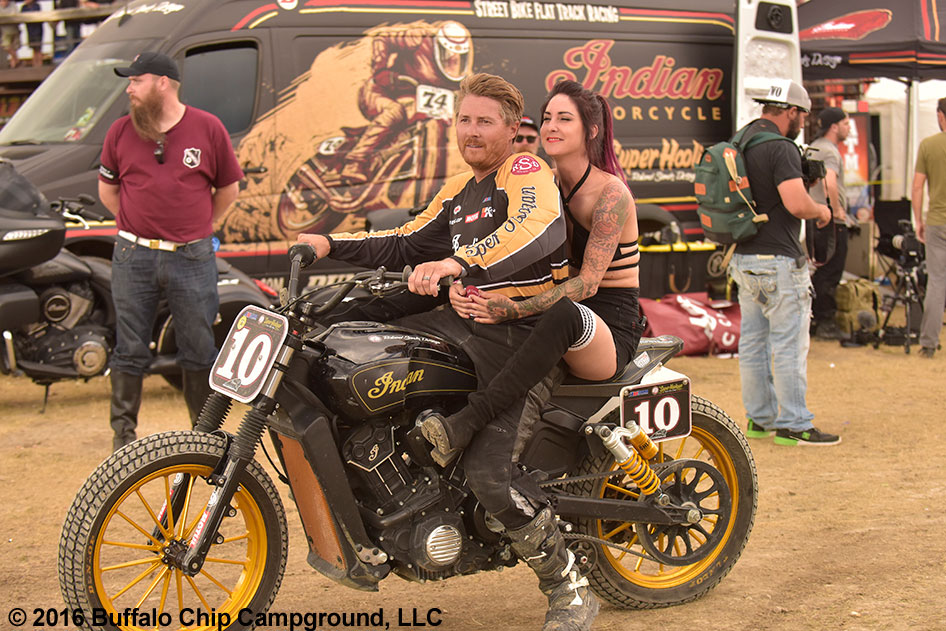 Super hooligan racer Roland Sands and crew gave race fans an up-close look at their Scout Sixty custom racers when they hit the new dirt flat track in the Buffalo Chip amphitheater for the first annual Moto Stampede™ featuring Roland Sands Design Super Hooligan Races presented by Indian Motorcycle.
Dominating Drag Bikes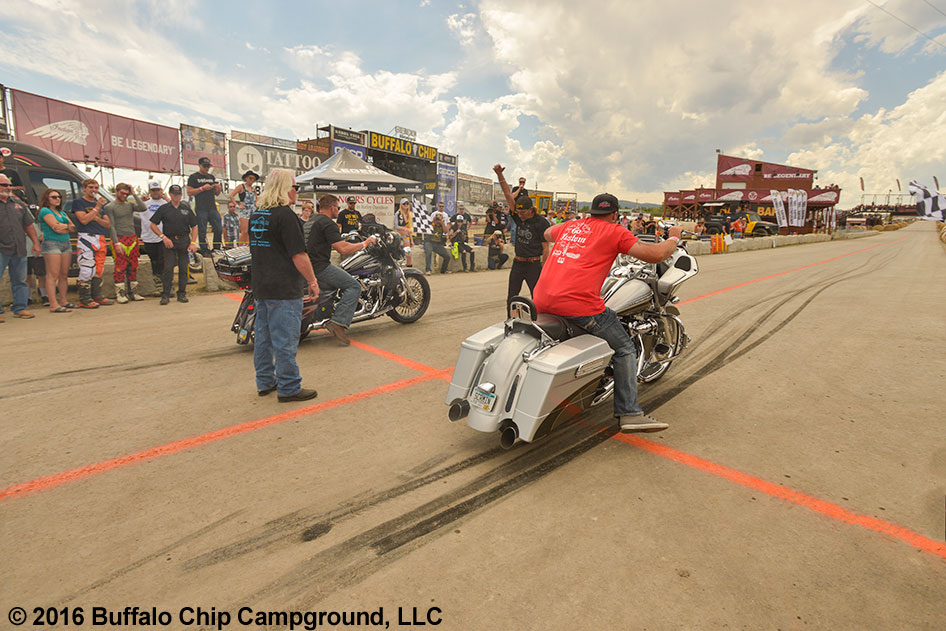 During the Buffalo Chip's Moto Stampede™, a blur of gorgeous custom paint and tire smoke left spectators standing in awe in the Street Drag Invitational with Crazy John. World-class hot-rod motorcycles like these two flashed past at insane speeds down the brand new asphalted Main Street that now bisects the amphitheater.
Unusual Antiques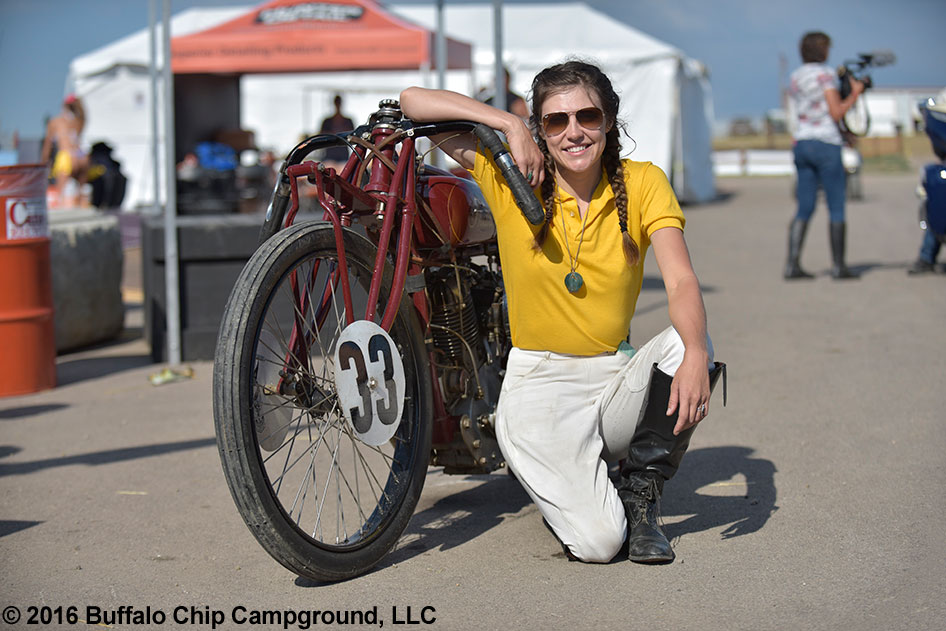 Antique motorcycle racer Brittney Olsen brought this 1928 Indian named "Feebee" to the Biker Belles® Celebration on Tuesday, Aug. 9 and raced it the next day in the Moto Stampede™ during the RSD Super Hooligan Races. The left hand throttle is just one of the interesting quirks that come with racing a vintage Board Tracker like this one.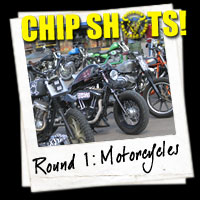 HEY! Did you snap any cool motorcycle shots while on vacation at the Sturgis Buffalo Chip in 2016?Tell us about what you saw in the comments below, then submit your photos into the Chip Shots Photo Contest! You've got the opportunity to win killer prizes just for sharing your experience with the world!
I want to find out how to enter and win!