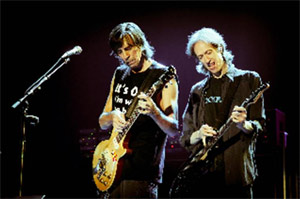 For the first time since 2008, Classic Rock Band BOSTON will hit the road, on a tour that will include a stop at the 2012 Sturgis motorcycle rally to perform one of the many great music Concerts in Sturgis at the Buffalo Chip campground®. The Legendary Sturgis campground, known as the Largest Music Festival in Motorcycling™ and Best Party Anywhere™ will host Boston's debut Sturgis Concert performance one night only on Tuesday August 7th, 2012. Boston will join a spectacular line up of confirmed Sturgis Concerts during the Sturgis motorcycle rally that will include Zac Brown Band, Sugarland, Lynyrd Skynyrd and many more. Passes are available now for BOSTON and other concerts in Sturgis at www.buffalochip.com.
BOSTON exploded onto the music scene in 1976 with their self-titled Grammy nomination album, establishing them as one of rock's biggest acts with chart topping hits such as "Rock and Roll Band," "Peace of Mind," "More Than a Feeling," and "Don't Look Back".
Centered on guitarist, keyboardist, songwriter, and producer Tom Scholz, the band BOSTON is a staple of classic rock radio playlists. The Band BOSTON has sold over 31 million albums in the United States. BOSTON concerts are celebrated for their crowd-pleasing showmanship and high energy. Never before been to the Sturgis rally, Boston's 2012 Sturgis Concert will be like nothing ever before experienced for the band and for fans. The Buffalo Chip's Sturgis concerts and line up just keep getting better.
"Classic Rock has always been a standard at the Buffalo Chip campground." said Rod Woodruff, owner of the Sturgis Buffalo Chip. "BOSTON is a great band that represents one of the best eras in music. We could not be more pleased that they are joining the Chip family of music Concerts during the 2012 Sturgis rally."
BOSTON will perform their classic hits on Tuesday, August 7th 2012 in the Sturgis Buffalo Chip's amphitheater. BOSTON joins a growing list of legendary and contemporary entertainers with many more 2012 Sturgis concerts and headline performers to be announced soon.
Check out the entire lineup of 2012 Sturgis Concerts at the Buffalo Chip Sturgis campground.