Feel the Force Behind One of Sturgis Rally's Favorite Hard Rock Bands Aug. 2
The arresting hooks and maximum metal swagger will practically knock you off your motorcycle when Queensrÿche makes its way to the Best Party Anywhere™ this August! The world-famous powerhouse quintet will be joining the jam-packed lineup of Sturgis concerts on the legendary Wolfman Jack Stage on Saturday, Aug. 2, prior to the headlining performance from The Cult.
Prepare for an immersive live performance as Queensrÿche storms the stage with its arsenal of hit songs including "Silent Lucidity," "I Don't Believe in Love," "Jet City Woman" and "Revolution Calling," as well as songs from its newest self-titled album from 2013.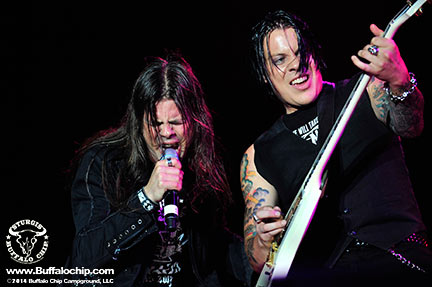 Queensrÿche's tireless touring and an endless commitment to delivering deep musical experiences has helped them to cultivate a staunch foundation of supporters. If you aren't already part of this devout fan base, you're sure to become a diehard after they give it all they've got for the Sturgis Rally crowd.
Don't miss your chance to see one of the most revered hard rock outfits in history during the Largest Music Festival in Motorcycling™. Reserve your passes today!
Seen any great Queensrÿche shows? Tell us about it in the comments below.
"My home away from home. I've been going to the Chip since 1992. I've tried some of the other campgrounds, and it's just not the same. Stay at the Buffalo Chip, you won't regret it." – Keith Howell