Rock Out During a Night of Sturgis Buffalo Chip Concerts Sure to Break All Rules!
Get ready for crashing chords, one-of-a-kind instruments and an irresistible blend of punk, pop and metal, because Cheap Trick is pulling out all the stops at the Buffalo Chip's 2016 August music festival! These storied rock rule-breakers are capping off more than four decades of nearly continuous touring with an unforgettable performance at The Best Party Anywhere®, joining fellow groundbreaking rock rebels Texas Hippie Coalition, on Tuesday, Aug. 9.
Since the '70s, Cheap Trick's revolutionary music genre mash-up has created a whole slew of catchy and instantly recognizable hits like "I Want You to Want Me," "Surrender," and "The Flame." But if seeing over 40 years of timeless classics like these performed live doesn't get your gears turning, experiencing tracks from Cheap Trick's new studio album, "BANG ZOOM CRAZY…HELLO," and seeing the band's boisterous stage show certainly will!
Don't miss your chance to see Rick Nielsen wail on his unbelievable collection of unusual guitars, including his iconic, checkered five-neck Hamer with 36 strings! The legendary guitarist famously breaks out a different guitar for every song in the set. Pack it in tight, because when the band inevitably busts out its Sturgis Buffalo Chip® rendition of "Dream Police," Nielsen also is more or less guaranteed to shower you and the rest of the audience with hundreds of his guitar picks!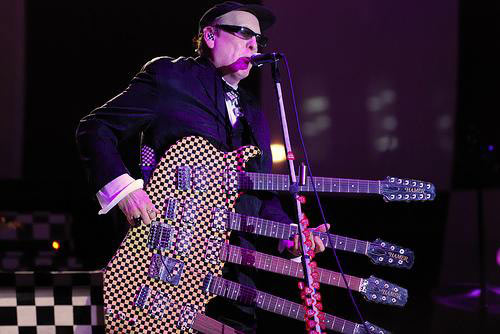 Don't pass up your chance to see this music institution rock the Wolfman Jack Stage on Tuesday, Aug. 9. Reserve your passes and see Cheap Trick with Texas Hippie Coalition during the Largest Music Festival in Motorcycling™!
Tell us how much you want to see Cheap Trick or about some of the amazing shows you've seen them perform below.
"I come back because your acts are great, and I love the fact I could stay there the whole time and not need anything!" – Lindy Newsome