Bust a Gut as this Comedy Bad Boy Emcees & Entertains Sturgis Rally with Outrageous Stories!
After his hysterical Buffalo Chip debut during the 2013 Sturgis Rally, critically acclaimed "Bad Boy" comedian, Toby Roberts, is returning as your host to the jam-packed lineup of 2014 Sturgis events at the Buffalo Chip's free-access CrossRoads destination.
No matter your sense of humor, you'll be in stitches after hearing Roberts deliver one sidesplitting anecdote after another in his trademark storyteller style. His hilarious subject matter is always current, heartfelt and will leave you wishing for just one more story. It's this engaging delivery that's earned Roberts such accolades as 2009 "Destination Vegas" Comedy Competition winner and 2012 Shades of Laughs International Comedy Competition champion.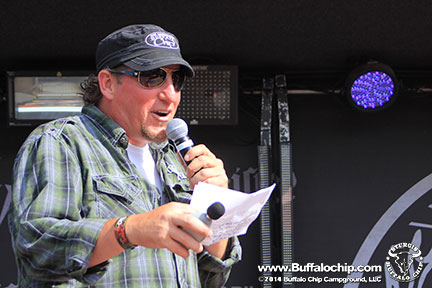 Roberts tours regularly, logging hundreds of shows each year. Although last year was his first performing at the Legendary Buffalo Chip, he is certainly no stranger to the Best Party Anywhere™! For years he has ridden his bike across the country from his home in the Pacific Northwest to party down at the Chip.
Don't miss the chance to bust your gut with the unusual tales of Buffalo Chip veteran comedian, Toby Roberts, throughout the Sturgis Rally at the free-access CrossRoads!
Were you lucky enough to see Toby Roberts host the lineup of Sturgis events at the CrossRoads in 2013? Tell us what you thought of his performance in the comments below!