Don Your Waders and Slosh Through the Sounds of Timeless Americana
Get ready to party at one of the year's most anticipated Sturgis concerts when John Fogerty, lead singer, guitarist, and founding member of Creedence Clearwater Revival, takes to the legendary Wolfman Jack Stage Wednesday, Aug. 5, 2015 during the Buffalo Chip's August music festival.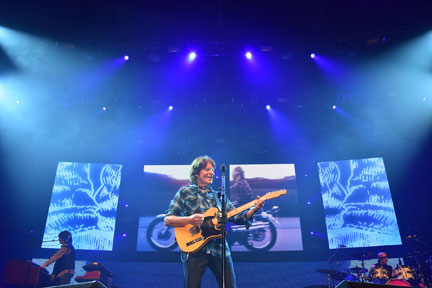 Regardless your age, or whether or not you've even owned an album, you undoubtedly know these enduring songs. One of rock 'n' roll's most admirable figures, John Fogerty has produced dozens of hits with CCR and as a solo artist. Generations of Americans have grown up hearing his music on the radio, on their friends' turntables, and more recently in dozens of movies, television shows, and video games.
John Fogerty's songs are snapshots in the American photo album, telling the stories of the southern United States and civil unrest of the late 1960s and early 1970s. He is timeless Americana included on both of Rolling Stone magazine's lists of the 100 Greatest Guitarists and the 100 Greatest Singers of all time, respectively, as well as having received a Lifetime Achievement Award for Songwriting from the Americana Music Association.
It's unlikely there is an American out there who hasn't heard "Fortunate Son," "Bad Moon Rising," "Who'll Stop the Rain," "Down on the Corner," "Born on the Bayou," "Lookin' Out My Back Door," "Up Around the Bend," or any of Fogerty's other hits which are virtually too numerous to name.