Party Down with the American Badass on Sunday, Aug. 7
Get your rocks off with a night of irresistible rhymes, bad boy party anthems and red-blooded, blue-collar blues from the one and only Kid Rock at the Sturgis Buffalo Chip during the 2016 Rally. The motorcycle-riding, freedom-loving, all-around music icon will again bring his over-the-top attitude and extravagant stage show to the Wolfman Jack Stage this summer. That's right…the show you've been begging for hits the Chip on Sunday, Aug. 7, 2016!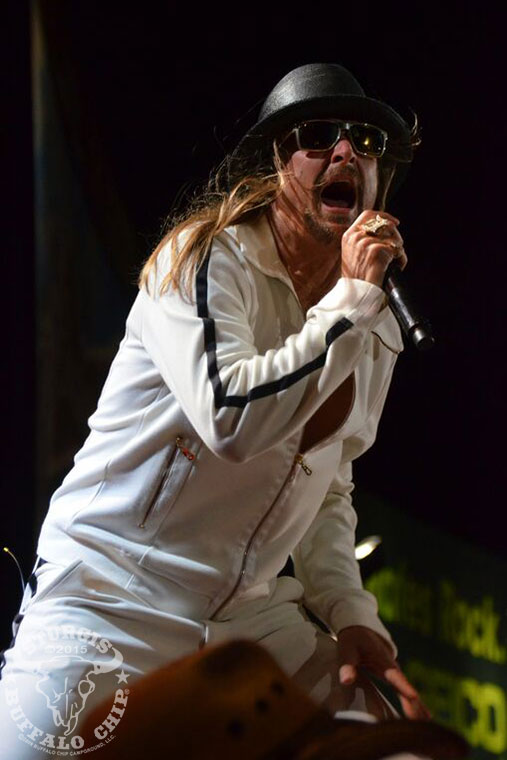 It was no surprise when Kid rocketed to the top of the list of bands you requested for the Chip's 35th anniversary party in 2016. This multi-platinum-selling, award-winning artist's performances are second to none, and few other acts in Sturgis Buffalo Chip history have been as dedicated to fulfilling their obligation to fans.
During his most recent Chip performance, Kid Rock refused to leave the packed house with anything less than a full concert experience when an epic South Dakota thunderstorm rolled in. Instead, it seemed the American Badass called in a favor from above, putting on an unforgettable show that included blinding lightning bolts and booming thunderclaps that synchronized almost perfectly with the performance. Whether you were in the crowd that night or watching CMT's "Kid Rock: Live from Buffalo Chip" broadcast at home, chances are you've been dying to relive the experience of that electric evening ever since.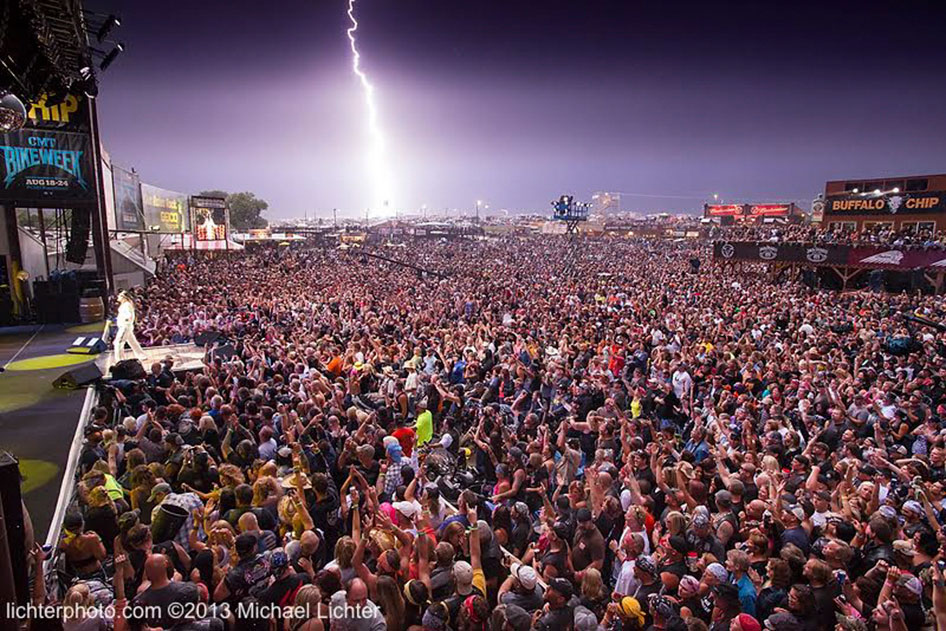 No matter what kind of music takes your party to the next level, Kid Rock's Sturgis Buffalo Chip performance during the 2016 Rally promises to bring it! From the hip-hop and rock of hits like "Bawitdaba" and "Cowboy," to the twang of tunes like "Picture" and "All Summer Long," the man can do it all.
Kid Rock's past performances at the Chip have been the ones to which all other bands have been compared. So on Aug. 7, don't miss your chance to be part of yet another history-making show. Reserve your passes now!
Have you seen Kid Rock perform at the Sturgis Buffalo Chip before? Tell us about your experience in the comments below!
"We were there in 2013 and the lightning show was amazing! Didn't let any of it ruin that awesome concert though! Used my chair for an umbrella because the show was too great to miss!"
​ – Cynthia Morris