Experience the Soundtrack of Multiple Generations Aug. 8 during the Historic 35th Anniversary Party
Get ready to experience the raw freedom of flags waving, engines revving and Freebird-shredding passion that can only be felt during a performance from America's ultimate biker band. The Sturgis Buffalo Chip's longest running and favorite tradition continues when Lynyrd Skynyrd returns to rock the Wolfman Jack Stage during the Chip's 35th anniversary. The godfathers of Southern rock will rain down their fan-pleasing sound on you Monday, Aug. 8, and you're not going to want an umbrella.
Lynyrd Skynyrd's 40-plus-year legacy and 30 million albums sold have earned them fans from all ages and walks of life. No place is that more evident than their concerts at the Chip's August music festival. One look around the crowd, and you'll find folks aged 18 to 80 waving lighters and singing along to "Sweet Home Alabama" in blissful unison. It's scenes like this that prove Skynyrd has withstood the test of time to become a driving force in the lifeblood of American music.
Lynyrd Skynyrd is one of rock 'n' roll's most respected bands, with spots on both Rolling Stone Magazine's and VH1's lists of 100 Greatest Artists of All Time. The Rock and Roll Hall of Famers are also credited with popularizing and shaping the entire genre of Southern rock. The band boasts an extensive catalog of hits including the epic "Free Bird," "Saturday Night Special," "Simple Man," "Tuesday's Gone," "That Smell," "Gimme Back My Bullets," "They Call Me the Breeze," and "Gimme Three Steps," to name a few. Songs like these make it easy to see why generations of music lovers like you have become die-hard Skynyrd fans who just can't ever get enough.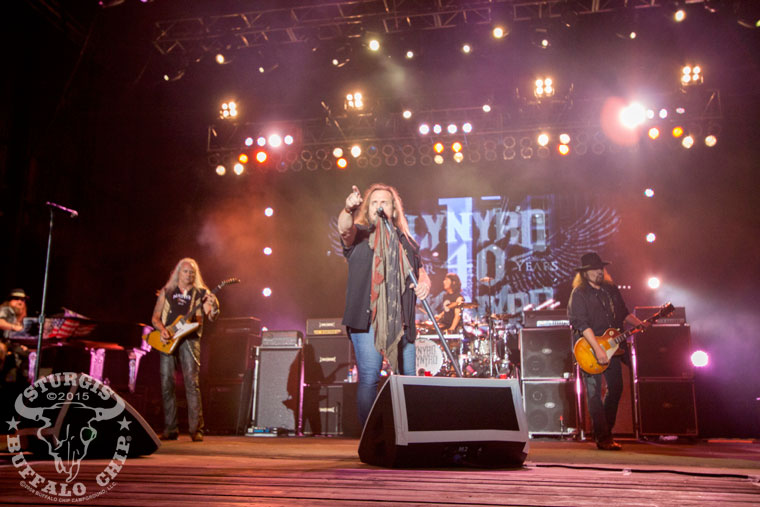 There's no other band more fit to rock the 35th anniversary of the Best Party Anywhere® than the mighty Lynyrd Skynyrd, and no audience will be better able to greet them than you. After all, this band has likely been the soundtrack of your life as far back as you can remember.