Greet these Gentle Giants Daily throughout the Sturgis Rally!
There's something special, almost magical, happening at the Legendary Buffalo Chip this year. It's something most people only get a chance to experience on TV, in commercials or in movies. This year you have the once-in-a-lifetime opportunity to meet the world-famous Budweiser Clydesdales face to face throughout the day, every day, during the Sturgis Rally at the CrossRoads at the Buffalo Chip!
Raise a glass and make a toast to this distinguished team of horses at the CrossRoads with two for $6 Budweiser cans and Big Woodys!
While the Budweiser Clydesdales represent delicious Budweiser beer, more importantly, the mighty horses serve as a living embodiment of America's great industrial spirit. Seeing these magnificent creatures pull their red, white and gold wagon full of beer through the gates of the Buffalo Chip is sure to leave a lasting impression and remind you of the prosperity we enjoy in this great nation!
The Budweiser Clydesdales have been a symbol of Anheuser-Busch since 1933, when they were introduced as a way to celebrate the repeal of Prohibition. Each year the small hand-selected group of Clydesdales travels throughout North America, and occasionally overseas, to perform at hundreds of events ranging from Main Street parades to the Buffalo Chip's legendary Sturgis Rally party.
The Clydesdale originally descended from a Scottish breed used for farm work and as warhorses. Because of their strength and dependability, it didn't take long before the Clydesdale earned its reputation as the strongest horse ever. No other known breed had ever been capable of pulling a ton of cargo while walking nearly five miles per hour, and it was that capability that made the Clydesdale so desirable for hauling beer in the early days.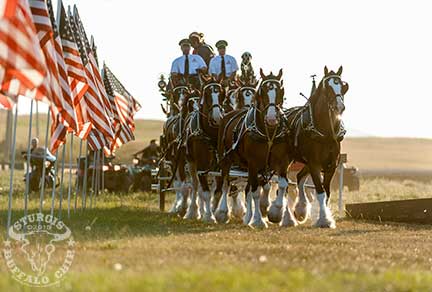 Strong as these horses are, the Clydesdales that make up the Budweiser team exceed the dimensions of their early ancestors, standing nearly six feet high at their shoulders and weighing nearly 2,000 pounds. To be considered for the Budweiser Clydesdale team, a horse must meet certain size and color requirements. They must be geldings, bay in color, have four white legs and a blaze of white on the face, as well as a black main and tail. A gentle temperament is an equally important characteristic, as each year hitch horses meet millions of people who want to touch their noses and take their pictures.
The Buffalo Chip is honored to have the Budweiser Clydesdales as part our the nine-day 2015 Sturgis Rally event. These powerful horses are just important a part of the Buffalo Chip festivities as the beer they haul! So come get an up-close and personal look at these American Icons, only at the CrossRoads at the Buffalo Chip!