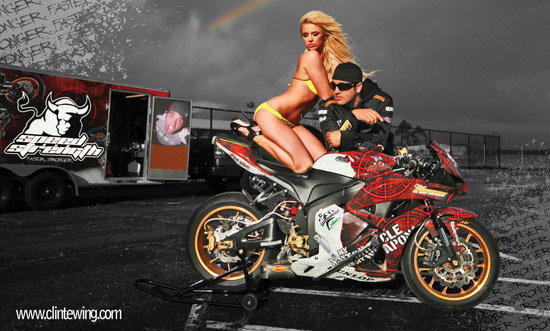 Professional Street Bike Rider and Guinness World Record Holder Clint Ewing will be performing at the Legendary Buffalo Chip for the 2010 Sturgis Bike Rally. At just 29 years old, Clint holds the record for the longest motorcycle ride through a tunnel of fire, measuring 20.96 m (200 ft) long, at Universal City, Los Angeles, USA on January 27, 2008. In front of 7.1 million viewers, this event was featured on an NBC 2-hr live special. His performing nature caught the attention of the world and his cool tricks kept them coming back for more. He has been the center of attention at 89 events and featured on NBC, Discovery and SpeedTV. He performs all over the nation on his 2009 Honda CBR 600's for events such as AMA superbike, National Hot Rod Association (NHRA), for motorcycle riders and enthusiasts. Clint also finds himself as the monthly feature in two magazines "2 Wheel Tuner" and "Super Street Bike".
Clint calls Santa Barbara, California home but makes the trek from Guam to Canada to show his fans the stunts and latest two wheeled tricks. After graduating from College with a Business Marketing Degree, Clint decided to focus his energy into riding and making it his career, which has turned out to be a wise choice!
Clint started riding motorcycles when he was in 3rd grade and found streetbikes at the age of 19. Since he spends 4 days of the week practicing and working on his performance so that he is ready to provide a great show every time he suits up for the fans. Clint's love for motorcycles stems from his need for action and abundance of adrenaline. He looks forward to showing off his favorite stunt at the Buffalo Chip – stalling the motorcycle while in a wheelie with the ground 4 feet below him. "I am looking forward to putting on some great stunt performances for everyone at the Chip. I will be there to show just how technical I can ride." Clint loves punk and metal, the beach, hot women and riding like a madman so be sure to cheer him on during his nightly shows because, the louder the crowd gets, the crazier he rides!