The Biggest Spectacle of Pure Insanity at the Sturgis Motorcycle Rally
Join a Day of Death Defying stunts, Guinness Book world records, fire, speed, adrenaline, and live music as stuntmen brave a Tunnel of Fire, Unimotorcycles Drag Race with no steering and no brakes, and Patch McGillicutty breaks a speed record in the Wall of Death.
Guinness Book of World Records officiates will be on site to substantiate the already planned world record breaking stunts. Be a part of making rally history!
"This day should be one of the most exciting and memorable events of the entire Sturgis rally," says Rod Woodruff, President of the Sturgis Buffalo Chip. "There has never been a more thrilling opportunity for Daredevils and excited onlookers to experience a day that will quite literally go down in the history books, not only of Guinness, but also the motorcycle rally.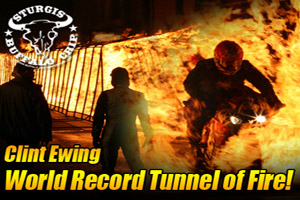 Clint Ewing Tunnel of Fire – Watch, teeth gritted, as Clint Ewing attempts to break the Guinness Book of World Record…again…by traveling through a tunnel of fire. His previous record of 200 feet was taken from him and he's back to prove he's got what it takes again! Don't miss this firey event!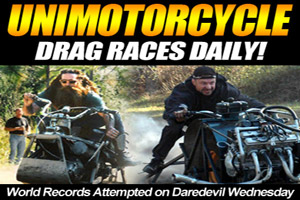 Unimotorcycle Drag Races – The Unimotorcycle Drag Races will aim to bring the world record title back onto American soil, all with just one wheel and no steering or brakes. Sound dangerous enough for you? Wait until you see them in action!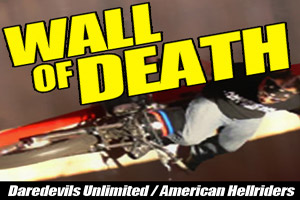 Wall of Death – He was such a hit last year with his daring stunts of riding on the wall of a wooden cage, that this year he's kicking it up a notch and will be attempting to break the world record speed while riding on the side of a wooden barrel. Watch Patch McGillicutty try and reach speeds of 91 mph!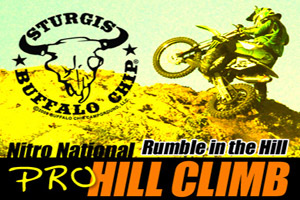 Pro Hill Climb – Watch these motorcycle legends race to the top of this steep hill at the ever popular, separately ticketed Nitro National Rumble in the Hills Pro Hill Climb!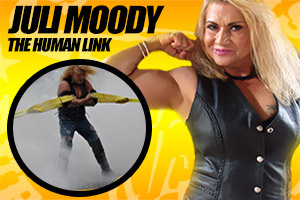 Juli "The Dare Factor" Moody – Make your way to CrossRoads at the Buffalo Chip to see Juli Moody restrain two motorcycles with her arms as they burn out in opposite directions using no brakes during Daredevil Wednesday. Juli "The Dare Factor" Moody likes to live life on the edge by doing daring feats that push the envelope. Her career began with Olympic lifting, power lifting, setting national and world records, while making the prestigious list of "Women's Top 50 All Time" in three different weight classes. She earned herself a spot on Team USA and was able to bring back the gold medal.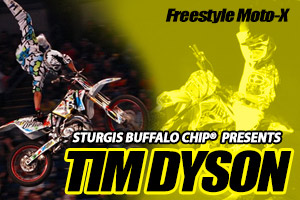 Tim Dyson Freestyle Motocross – The Buffalo Chip Daredevil Wednesday just got better with the addition of Freestyle Motocross Rider Tim Dyson at the newest Sturgis bar, the CrossRoads at the Buffalo Chip. Tim Dyson will set out to perform a double back flip with a passenger on his bike during the all day stunt a thon, joining a full day of other stuntmen completing off the hook stunts. Dyson has mastered the world of motocross with an array of jaw dropping tricks, flips, and stunts that astound crowds.